Today is Truman's Birthday and he is turning seven years old! Wow, hard to imagine he's been around so long. We've shared a lot of adventures together! Camping, flying across the country, going to the Carnival, and many more.

Truman is a Brown-Necked Cape Parrot that I got from a breeder seven years ago. He is named after Truman in the Truman Show (with Jim Carey) because, "While the world he inhabits is in some respects counterfeit, there's nothing fake about Truman himself. No scripts, no cue cards...It isn't always Shakespeare but it's genuine. It's a life." Like the Truman show, Truman Parrot's life has been shared with the world. Thousands of people have been following Truman growing up, learning tricks, and discovering the world of pet parrothood.

Before we get to the hatch day festivities, here are some highlights of Truman's life.

I remember it like it was only yesterday when Truman was a little bird. I had him "mail ordered" from the breeder in Florida.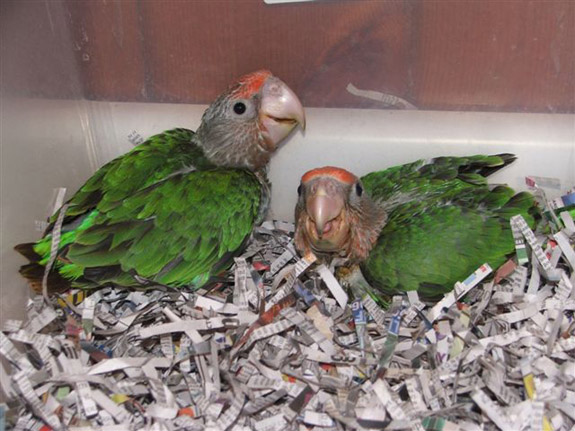 Although he was hatched exactly seven years ago, it was still a few more months until I received him. Here is my first encounter with Truman as I picked him up from the airport:



Truman and Kili always had trouble getting along but when they did it was quite a relief. Here's Kili sharing a perch with Truman for the first time:



And here's teaching Truman his first trick, how to wave:



Something unique about Truman is that he has never had his wings clipped. Unlike most parrots, he came fully flighted and has always stayed that way. He has always been an avid flier and here's a video of him flying around the house and doing good training:



I did a lot of advanced flight training with Truman including freeflight in a gym and outdoor freeflight. Unfortunately, one time freeflying outside he did not fly back to me and was missing for 3 days! I was so very happy and lucky to get him back.



And then Truman was the Bird of Honor at my wedding and inherited Marianna as his best friend:



You can find the full list of articles about Truman on his dedicated page. Scroll to the end of the list and start following them in reverse order to retrace Truman's path to stardom. And finally, here's Truman's seventh Birthday video with Marianna:


Part of: Blog Announcements, Cape Parrots
Truman Cape Parrot Birthday Hatch Day History