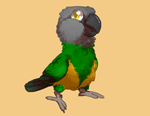 Kili
Type: Senegal Parrot
Genus: Poicephalus
Species: Senegalus
Subspecies: Mesotypus
Sex: Female
Weight: 120 grams
Height: 9 inches
Age: 14 years, 5 months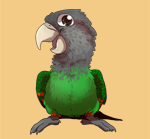 Truman
Type: Cape Parrot
Genus: Poicephalus
Species:Robustus
Subspecies: Fuscicollis
Sex: Male
Weight: 330 grams
Height: 13 inches
Age: 12 years, 9 months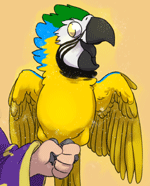 Rachel
Type: Blue & Gold Macaw
Genus: Ara
Species:ararauna
Sex: Female
Weight: 850 grams
Height: 26 inches
Age: 10 years, 5 months

List of Common Parrots:
Parakeets
:
Budgerigar (Budgie)
Alexandrine Parakeet
African Ringneck
Indian Ringneck
Monk Parakeet (Quaker Parrot)
Parrotlets
:
Mexican Parrotlet
Green Rumped Parrotlet
Blue Winged Parrotlet
Spectacled Parrotlet
Dusky Billed Parrotlet
Pacific Parrotlet
Yellow Faced Parrotlet
Lovebirds:
Peach Faced Lovebird
Masked Lovebird
Fischer's Lovebird
Lilian's (Nyasa) Lovebird
Black Cheeked Lovebird
Madagascar Lovebird
Abyssinian Lovebird
Red Faced Lovebird
Swindern's Lovebird
Lories and Lorikeets
:
Rainbow Lorikeet
Conures
:
Sun Conure
Jenday Conure
Cherry Headed Conure
Blue Crowned Conure
Mitred Conure
Patagonian Conure
Green Cheeked Conure
Nanday Conure
Caiques:
Black Headed Caique
White Bellied Caique
Poicephalus Parrots
:
Senegal Parrot
Meyer's Parrot
Red Bellied Parrot
Brown Headed Parrot
Jardine's Parrot
Cape Parrot
Ruppell's Parrot
Eclectus
:
Eclectus Parrot
African Greys:
Congo African Grey (CAG)
Timneh African Grey (TAG)
Amazons:
Blue Fronted Amazon
Yellow Naped Amazon
Yellow Headed Amazon
Orange Winged Amazon
Yellow Crowned Amazon
Cockatoos:
Cockatiel
Galah (Rose Breasted) Cockatoo
Sulphur Crested Cockatoo
Umbrella Cockatoo
Moluccan Cockatoo
Bare Eyed Cockatoo
Goffin's Cockatoo
Macaws
:
Red Shouldered (Hahn's) Macaw
Severe Macaw
Blue And Gold Macaw
Blue Throated Macaw
Military Macaw
Red Fronted Macaw
Scarlet Macaw
Green Winged Macaw
Hyacinth Macaw
Glossary of Common Parrot Terms
Happy 10th Birthday Kili! Kili my Senegal Parrot turns 10 years old today. I have had her for almost as long since she was 4 months old.

It is amazing to look back at all the amazing things we have done together. In the beginning, Kili and I learned parrot training together. On one hand I was training her to do tricks but on the other hand she also taught me all about what works and doesn't. By the time Kili was a year old, she already learned and was able to perform 20 tricks in 2 minutes.

My next challenge was teaching Kili to fly. Her wings were originally clipped by the store I got her from. However, never again. I let Kili's flight feathers grow back out and she has been flying ever since. I used a similar method as the trick training to teach her to fly to me and where she should and shouldn't go. Although, a bird, Kili's first flight was with me in an airplane! Before her feathers grew back and she learned to fly under her own power, I had been taking Kili flying with my in airplanes. She has always been a bird of the air.

I taught Kili to wear an Aviator Harness leash so that I could take her outdoors with me for fresh air, flying, and socialization. We were a team and would go anywhere together. She has traveled across the country with me to Wisconsin, Texas, Arizona, and many more places.

By the time Kili was 2, Kili was no longer an only bird. I added Truman to the family and Kili had to learn to share my attention with others. I continued training Kili and Truman together and they formed the basis of the Trained Parrot team.

I kept training Kili to fly outside with an Aviator Harness and for some time even let her fly free.

Kili got to perform in public for audience big and small. She did trick shows for classrooms, for entire schools, parrot clubs, and even on TV. She performed tricks on America's Got Talent, the Steve Harvey Show, and the Late Show with David Letterman. She also continued to star in her own hit youtube videos including Wrecking Ball, Shake it Off, and Shot my Parrot Dead. Kili has been an ace at playing dead and does a very convincing performance. So convincing in fact, that a follow up video had to be made to analyze whether or not she had really died in another video.

Kili also helps people learn how to teach tricks to their own parrots and has appeared both on How Cast and the Parrot Wizard Youtube channel with valuable lessons. Kili was also the Best Bird at my wedding while Truman was the Bird of Honor.

Lately, Kili enjoys flying in my enclosed backyard and spending time with me. She has always been my go to bird. She is just so good at training and so reliable that I know if the other birds can't manage, that she definitely will.

You can browse all of Kili's videos in chronological order here.

Here is a small Birthday compilation video highlighting Kili's first 10 years:




Here are a few of Kili's most popular videos:






Today is Truman's Birthday and he is turning seven years old! Wow, hard to imagine he's been around so long. We've shared a lot of adventures together! Camping, flying across the country, going to the Carnival, and many more.

Truman is a Brown-Necked Cape Parrot that I got from a breeder seven years ago. He is named after Truman in the Truman Show (with Jim Carey) because, "While the world he inhabits is in some respects counterfeit, there's nothing fake about Truman himself. No scripts, no cue cards...It isn't always Shakespeare but it's genuine. It's a life." Like the Truman show, Truman Parrot's life has been shared with the world. Thousands of people have been following Truman growing up, learning tricks, and discovering the world of pet parrothood.

Before we get to the hatch day festivities, here are some highlights of Truman's life.

I remember it like it was only yesterday when Truman was a little bird. I had him "mail ordered" from the breeder in Florida.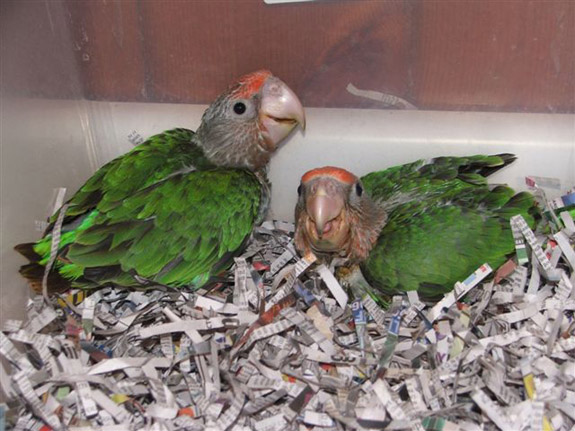 Although he was hatched exactly seven years ago, it was still a few more months until I received him. Here is my first encounter with Truman as I picked him up from the airport:



Truman and Kili always had trouble getting along but when they did it was quite a relief. Here's Kili sharing a perch with Truman for the first time:



And here's teaching Truman his first trick, how to wave:



Something unique about Truman is that he has never had his wings clipped. Unlike most parrots, he came fully flighted and has always stayed that way. He has always been an avid flier and here's a video of him flying around the house and doing good training:



I did a lot of advanced flight training with Truman including freeflight in a gym and outdoor freeflight. Unfortunately, one time freeflying outside he did not fly back to me and was missing for 3 days! I was so very happy and lucky to get him back.



And then Truman was the Bird of Honor at my wedding and inherited Marianna as his best friend:



You can find the full list of articles about Truman on his dedicated page. Scroll to the end of the list and start following them in reverse order to retrace Truman's path to stardom. And finally, here's Truman's seventh Birthday video with Marianna: