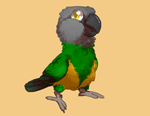 Kili
Type: Senegal Parrot
Genus: Poicephalus
Species: Senegalus
Subspecies: Mesotypus
Sex: Female
Weight: 120 grams
Height: 9 inches
Age: 12 years, 8 months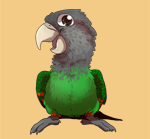 Truman
Type: Cape Parrot
Genus: Poicephalus
Species:Robustus
Subspecies: Fuscicollis
Sex: Male
Weight: 330 grams
Height: 13 inches
Age: 11 years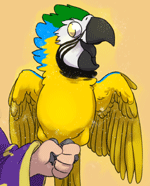 Rachel
Type: Blue & Gold Macaw
Genus: Ara
Species:ararauna
Sex: Female
Weight: 850 grams
Height: 26 inches
Age: 8 years, 8 months

List of Common Parrots:
Parakeets
:
Budgerigar (Budgie)
Alexandrine Parakeet
African Ringneck
Indian Ringneck
Monk Parakeet (Quaker Parrot)
Parrotlets
:
Mexican Parrotlet
Green Rumped Parrotlet
Blue Winged Parrotlet
Spectacled Parrotlet
Dusky Billed Parrotlet
Pacific Parrotlet
Yellow Faced Parrotlet
Lovebirds:
Peach Faced Lovebird
Masked Lovebird
Fischer's Lovebird
Lilian's (Nyasa) Lovebird
Black Cheeked Lovebird
Madagascar Lovebird
Abyssinian Lovebird
Red Faced Lovebird
Swindern's Lovebird
Lories and Lorikeets
:
Rainbow Lorikeet
Conures
:
Sun Conure
Jenday Conure
Cherry Headed Conure
Blue Crowned Conure
Mitred Conure
Patagonian Conure
Green Cheeked Conure
Nanday Conure
Caiques:
Black Headed Caique
White Bellied Caique
Poicephalus Parrots
:
Senegal Parrot
Meyer's Parrot
Red Bellied Parrot
Brown Headed Parrot
Jardine's Parrot
Cape Parrot
Ruppell's Parrot
Eclectus
:
Eclectus Parrot
African Greys:
Congo African Grey (CAG)
Timneh African Grey (TAG)
Amazons:
Blue Fronted Amazon
Yellow Naped Amazon
Yellow Headed Amazon
Orange Winged Amazon
Yellow Crowned Amazon
Cockatoos:
Cockatiel
Galah (Rose Breasted) Cockatoo
Sulphur Crested Cockatoo
Umbrella Cockatoo
Moluccan Cockatoo
Bare Eyed Cockatoo
Goffin's Cockatoo
Macaws
:
Red Shouldered (Hahn's) Macaw
Severe Macaw
Blue And Gold Macaw
Blue Throated Macaw
Military Macaw
Red Fronted Macaw
Scarlet Macaw
Green Winged Macaw
Hyacinth Macaw
Glossary of Common Parrot Terms
| | | |
| --- | --- | --- |
| | | Wednesday November 18th, 2020 |
Having parrots as pets is challenging. Having pet parrots while expecting a baby takes things to another level. This article is about being pregnant with parrots or while expecting a baby as well as tips and personal stories from my experience.

Hopefully this article and videos will help answer questions like is it ok to get a parrot while pregnant or having a baby? Should I rehome my parrots because I am having a baby? What can I do to make it easier to keep my parrot while having a baby? And how to prepare parrots for challenging times?

Parrots can be wonderful pets, but they can also be quite a handful at times. During pregnancy, it may be difficult or impossible to provide them with the same amount of attention as usual. The first thing I want to point out is that this is totally normal. This happens for most people. Do not feel guilty if you are overwhelmed with being pregnant or having a baby and cannot give your parrot as much attention as before. Here are my top 6 suggestions to help get through pregnancy, having a baby born, or even just going through a personally challenging time while having parrots as pets.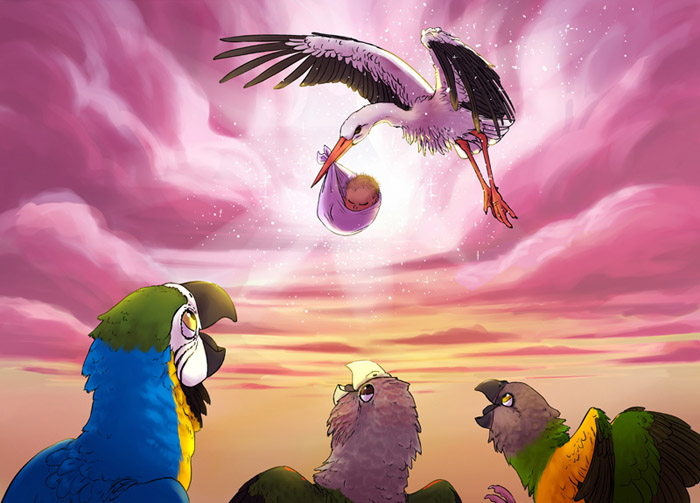 1) Do not get a parrot while pregnant. It is not unusual that people fall in love with a parrot and feel compelled to bring it home while pregnant or expecting a baby. A combination of hormones, expectations, and possibly additional time on their hands (while taking leave from work) may create a drive to want to take care of someone or something.

Seeing a baby parrot at a store or even an adult bird at a rescue could pull on your heart strings more than ever. However, it is very important to resist this temptation. I would argue that this is about the worst time to be bringing in a new parrot into your home whether it is your first or an additional one.

Things change rapidly during pregnancy. One moment you may feel good and have plenty of time on your hands and another moment you may even have a hard time taking care of yourself. The added stress and challenge of a new pet may not be ideal during such quickly changing times. However, this is even more so with parrots. Parrots are wild animals and require extensive training and bonding to come around as good pets. The first year you spend with them will greatly shape their place in your heart and in your home. During pregnancy and after having a baby, you will be unlikely to have the time to really get to know this new pet and teach it how to behave properly as a pet in your home. It is best to leave the introduction of a new pet parrot to either well before or well after the pregnancy and baby stages.

While having pet parrots can be difficult while pregnant, it also has its up sides. Enjoying your familiar, well-behaved, trained, loving parrots can also help cope with difficulties of being pregnant as well. Here's Marianna's story:



2) Keep the bird(s) you already have. Although I would strongly discourage anyone from getting started with a new parrot while pregnant, this does not mean you should get rid of the one(s) you have. Parrots live for a very long time and it is inevitable that in any home they will experience challenging times. The pregnant stage only lasts 9 months and even during those 9 months there will be less chaotic and nearly normal periods. After the baby is born, things may be super hectic for a while, but even then things will eventually settle. There's always daycare or preschool when you may find plenty of time for your feathered family all over again.

If you are entirely unable to cope with having a pet parrot, unable to provide the most basic care, then of course by all means find the bird a new home that can. However, do not feel guilty if you cannot spend as much time with the bird as you did in the past. Don't think that rehoming the bird just because you temporarily cannot be as involved is a good idea. Inevitably any household can run into busy times. Someone else might fall ill, move out to college, have children of their own, move for a job, or have their own busy life changes just the same. Parrots do not need a full time home-attendant, they need a loving/understanding home.

Make sure your parrot's basic needs are met and use the following tips to help make the time you are unable to provide the usual amount of attention go more smoothly.

3) Get an Avian Vet check in advance. It is important to have your parrot checked out by an Avian Veterinarian before having a baby for two reasons. First off, you want to make sure your bird is in good health or address any health concerns before things become too hectic. Secondly, you should get the bird checked for any zoonotic diseases that may impact you or your baby's health. Zoonotic illnesses are those which can be transmitted from animal to human.

Mainly you should have your parrot tested for psittacosis as it can be quite dangerous to babies or even pregnant mothers. However, there can be a few other things birds can carry so consult your vet if there is any suspicion.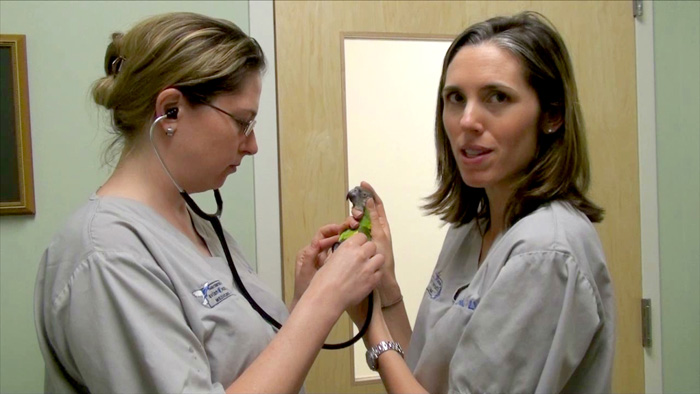 4) Train your parrot ahead of time. Don't wait until you are eight and a half month's pregnant to realize that the parrot bites and does not go back into the cage! Solve behavioral problems and train your parrot up front. Ideally, do the training before even becoming pregnant. If you aren't even expecting a baby any time soon, still do the training now! Having a trained parrot makes you so much more ready to tackle any life challenge and manage your bird while overcoming it.

Make sure your parrot is reliably trained to step up, come out of the cage, and go back into the cage at minimum. Better yet, teach the parrot tricks and flight recall so that the bird is well exercised and good at learning new things. You can learn my complete approach to parrot training from my book, The Parrot Wizard's Guide to Well-Behaved Parrots.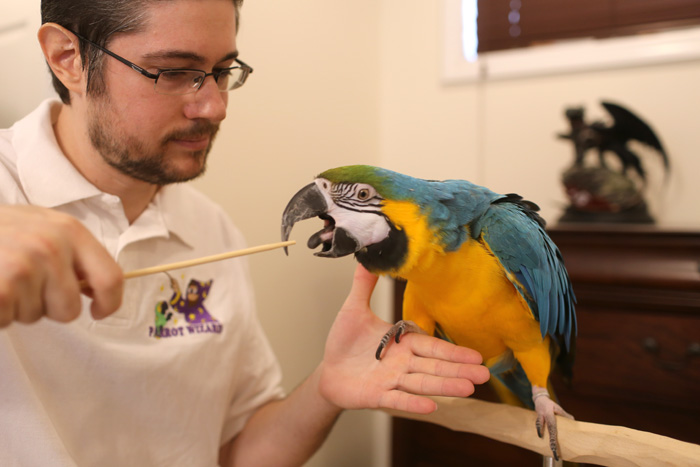 Even if you are already well into your pregnancy, work on some parrot training at any chance you can find. Things will only get harder once the baby is born. So, having a developed routine and basic behavior will make caring for that parrot so much simpler while caring for an infant.

Practice spending varying degrees of time with your parrot from early on. Don't spoil your parrot with more attention than you can typically give. On the other hand, occasionally practice giving a minimal amount of attention while teaching your bird to cope and stay independently busy. My birds have had plenty of practice throughout their lives whether it was because I left them (with someone to feed them) to go on a vacation or even while going through short stressful times. Sometimes you will spend lots of time with your parrot and sometimes very little. As long as they are adapted and familiar with this gradually throughout their lives, parrots can cope just fine.

5) Simplify your parrot care and feeding as much as possible. Don't make things unnecessarily difficult on yourself by holding parrot care to the highest standards. Pregnancy won't last that long and soon enough things will go back to normal. But, in order to get through the challenging times and not feel like giving up, simplify the parrot care as much as you can.

Cut out complexity in the bird's diet. This is not the time to be cooking for the bird and making elaborate meals. You can save a lot of time and difficulty by putting the bird on a simple commercial diet such as pellets or even a seed diet of need be. You can always go back to a more elaborate diet when time allows, but a short time on a simple diet won't harm your bird.

Get precut cage papers that are sold to fit your cage. These may be expensive but save you a lot of time. Just stack a bunch of sheets and pull the top sheet every few days as needed. Take advantage of all time saving parrot supplies and keep things as simple as possible. It is better to coast through challenging times and still have your parrot when things brighten up than to become overwhelmed and feel the need to rehome your bird.

I can say from personal experience that my wife Marianna had varying levels of difficulty throughout the pregnancy. Some months she wanted little to do with the bird or I entirely cared for them myself while other months she was nearly herself and highly involved. Don't think based on a single week or month that the entire pregnancy will go that way. Things change a lot and your involvement with your pet will have to adapt.

This brings me to the final point about simplifying your parrot care and that's to make use of bird toys.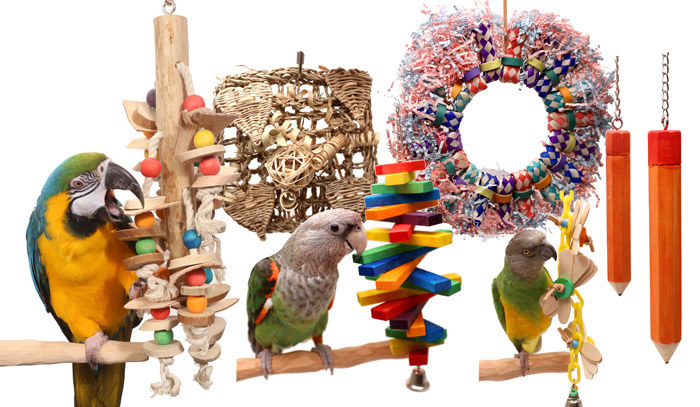 6) Overload on bird toys. Parrots should have lots of toys in general, but especially while you are pregnant, having a baby, or just going through an unusually busy time in your life. Generally, I recommend 8-12 toys in the parrot cage at any time. Aim for the upper quantity of 12-15 bird toys when super busy. A greater variety of toys is more likely to capture your parrot's attention and engagement more frequently throughout the day. They are unlikely to find any single toy interesting enough to stay busy all day.

Quantity of toys alone isn't enough though. You have to provide quality toys. And, by quality, I do not necessarily mean quality of workmanship. Quality bird toys are toys that will effectively keep your parrot engaged for long periods of time. Generally speaking, parrot toys need to be easy enough to destroy that your parrot will not give up on them. Quality toys will be fully or nearly fully destroyed within a few weeks by your bird. There will be nothing left. All the time your parrot spent chewing that toy up into splinters will be quality time that your parrot was occupied and coped well without your attention.

Focus more on destructible toys rather than play toys. A few play toys such as bells, acrylic toys, ropes, or toys that can be moved around are great. However, your main emphasis needs to be on toys that can be chewed, shredded, or destroyed. You can't beat wood. Parrots love chewing wood. Just make sure the thickness of the wood pieces on the toy is appropriate for the size of your parrot's beak and experience level.

Check out the extensive selection of toys your parrot will love from the Parrot Wizard Store. Provide foraging toys instead of training when you can't spend the time. And especially consider the all natural line of destructible Woodland Parrot Toys. An abundance of these kinds of toys will help your parrot keep busy when you have your own issues to deal with.

Here is a video of Marianna at 8+ months pregnant loading up the parrots with a bunch of exciting new toys:


Being creative, making your own toys, letting your parrot roam your home, and spending one on one time is great. However, when you are barely able to cope, keep things simple. Put your parrot on a simple pellet (or seed diet), use supplies like precut cage papers to simplify cleaning, keep your parrot busy on its own in the cage with an abundance of quality toys, train your parrot basic behaviors to make the limited time you are able to spend be easy and fun. Following this approach helped Marianna and I get through the challenge of pregnancy and we look forward to seeing how things play out with raising a baby around parrots. I will update you with any further tips I discover about having a baby with parrots.
| | | |
| --- | --- | --- |
| | | Thursday December 5th, 2019 |
If you are thinking about getting your first parrot, just got your first parrot, or even thinking of getting another parrot, here is a page with videos that will help get you started. These videos will give you guidance and answer questions such as where can I buy a parrot? Should I get a parrot at a bird store, rescue, or breeder? How do I know what kind of parrot to get? How much does a parrot cost? What are the pros and cons of getting a parrot or parakeet? How to adopt a parrot from a rescue? And much more.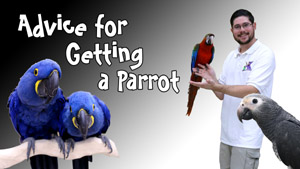 You will find several hours of free video tutorials that will help you make informed decisions when getting your first bird! Videos that will get you on the path to parrot ownership, answer basic questions, and give you guidance to doing it all right. Once you actually get a parrot, then you will find all the rest of my parrot care and training videos to be more relevant.

Be sure to check out my detailed list of essential supplies for first time parrot owners. It covers some essential items that will enhance your parrot keeping experience and relationship right from the start.


Tips About Getting a First Parrot
5 Myths About Parrots Debunked
Shopping for Parrot Supplies at PetSmart??
PETCO!? Can you get parrot suplies at petco?
How to Get a Cheap Parrot - Paying Less Money for a Bird
What Age to Get a Parrot?
What Is Easier, a Small Parrot or a Big Parrot?
Can You Get a Parrot Shipped to You?
8 Bird Store Secrets Bird Stores Won't Tell You!
Positive Reinforcement for Parrots Explained
How to Volunteer, Adopt, and Support Parrot Rescues
Want a Free Parrot?
Getting Another Parrot - Good Idea or Not?
| | | |
| --- | --- | --- |
| | | Thursday October 17th, 2019 |
It was great having a chance to present at Parrot Palooza again this year. My headline presentation was 5 Things you can do with your parrot today to improve your parrot's behavior.

Here is a brief summary of the talk followed by a video of the actual presentation.

#1 - Double up on toys

Parrots are extremely intelligent animals that get bored easily. They need a lot to keep them occupied. Otherwise they will find other ways to occupy themselves and these things generally don't mesh well with the household. If a parrot is out of the cage and bored, it may opt to fly around and chew on moldings, furniture, your keyboard or phone, and wreak havoc on a home.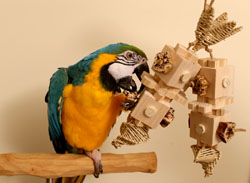 Locked away in the cage, a bored parrot may be more limited in what it can get its beak on. If destroying toys isn't the go-to option, the next one will be destroying perches. However, when both of those are short to come by, their next favorite misbehavior tends to be screaming! Parrots love the sound of their own voice, which can be quite loud, and they can go on all day. Unlike you, parrots aren't prone to hearing damage or loss so there's nothing to stop them. When the screaming runs out, then parrots turn to feather plucking or self-mutilation. Once it starts, it is often difficult or impossible to reverse. Likewise, bad behavior is seldom untaught.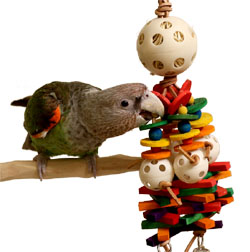 For these, reasons it is far more worthwhile to pile up the bird toys and shovel out hoards of splinters from the bottom of the cage than to leave the parrot to entertain itself. You will want about 8-12 toys in the bird's cage at any given time and 5+ perches to help them get around and get access to those toys. Not only do you need the quantity of toys, but also the quality. Find bird toys that will last your parrot about 2 weeks. That means that after about 2-4 weeks, there is nothing but the chain or rope left behind because the parrot destroyed all of the rest. Toys that last for less time are great too but you will have to keep replacing them frequently so it will get costly. Learning your bird's chewing abilities and habits will help you shop smart and find the toys that will be the right level of challenge to keep your parrot interested and chewing for a reasonable length of time.

Be sure to check out the selection of bird toys and particularly the Woodland Parrot line of artisan bird toys from the Parrot Wizard store.


#2 - 12 hours of sleep

It is very important to give your parrot 12 hours of uninterrupted sleep all year round. This not only ensures that your bird isn't misbehaving from being sleep deprived but also helps tone down the hormones. By reducing the effects of seasons, through variation in daylight cycles, you can largely reduce the highly undesired consequences of a hormonal parrot. A lot of biting, territorial aggression, excessive preference for specific people, and unpredictable mood swings can be curbed by managing the light schedule.

You can cover the cage with a black bed sheet when it is time for the parrot to fall asleep and until it is time to wake up. My preferred way is to have the bird room lights on a timer so that they turn on and off automatically to help control the bird's sleep schedule. Some black out curtains or automatic shutters on a timer are also important in order to keep the sun out when the natural daylight period is longer than 12 hours.

#3 - Provide a tree stand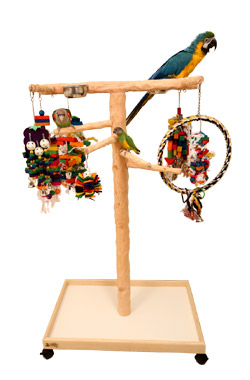 A fantastic way to improve or maintain your parrot's behavior is to provide a tree stand or activity center for your parrot away from the cage. All too often, people allow their parrot to hang out on top of the cage or playtop. This breeds some pretty strongly undesirable behavior. Parrots tend to be territorial and weird around their cages as it is. And on top of the cage it only gets worse. With a tall cage it is difficult to reach the bird so it runs to the distant ends of the cage while you are chasing and it only makes things worse. Instead, having the daily routine of taking the bird to a remote playstand every day not only provides the parrot with something to do but also strengthens the bond.

It's important to provide an extensive, exciting, climbable tree stand with the ability to hang toys. A simple Training Perch or Tabletop Perch is not suitable for this particular purpose. Simple perches are great for the purpose of training or interacting with the parrot. However, when you wish to put the parrot down and for the bird to keep itself busy, a complete tree stand or activity center is required.

Now having a bare tree stand alone isn't enough either. Just like in point 1, double up on those toys! Don't let your bored get bored and revert to undesirable behavior. Outfit the tree stand with toys, ropes, swings, foraging opportunities, and as many things to do as possible. Don't fill the food bowls with food though! Fill them with foot toys and activities instead.

The Parrot Wizard line of NU Perch Climbing Trees provides tree stands ideally suited for this purpose! These, ready to ship online, purpose built tree stands are designed so that your parrot could actually get around on them and reach the toys and activities you set up. The Parrot Wizard Trees are highly customizable to assist you in creating a captivating out of cage experience for your bird! Explore the Parrot Wizard Lifestyle to further learn how you can use the complete line of Parrot Wizard products as behavioral bird furniture to perfect your parrot keeping experience!

#4 - Enrich with variety of foods

Keep your parrot engaged with a more interesting variety of foods. Mix things up and keep it entertaining. Now this isn't to say to feed your parrot unhealthy. It is very important that you research and determine a healthy staple diet for your parrot's well-being. About 50-80% of the diet will be for nutritional purposes. However, for the remainder of your bird's daily intake, providing alternative, fun, and interesting foods will enhance their behavior as well.

Rather than just giving your bird it's favorite treats all the time, holding them back and getting your parrot to explore an assortment of tastes will actually drive better behavior! The parrot will be kept more busy weaving through the different foods, picking and choosing, deciding what it likes and doesn't like. Getting favorite foods all the time just doesn't do that. And a great benefit of this is that the favorite foods will become even more effective treats for training.

Explore a variety of natural fruits, vegetables, nuts, and seeds for your bird. Not the typical seeds you see in a bird-store seed mix, but completely different stuff. Flax seeds, quinoa, sweet potato, papaya, and other exotic things like that. You can shop for some special mixes or come up with your own. But as you expand your parrot's pallet from just pellets + seeds to a wide variety, your bird will be more engaged and also drive a higher motivation for training. Which leads me to the 5th thing you can start doing to improve your parrot's behavior.


#5 - Clicker Training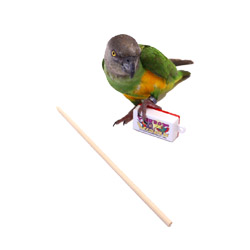 Incorporating clicker training into your daily routine with your parrot will greatly improve your parrot's behavior in so many ways! First and most obviously, you can use clicker training to practice essential skills with your parrot such as step-up, handling, and flight recall. However, the benefits go far beyond just the basics. As you continue teaching your parrot more and more things, you will inadvertently be making the more basic things second nature.

In order to perform many of the tricks that you can teach, your parrot will inevitably have to step-up, be touched, or be in close proximity to hands in the process. As the parrot focuses on dunking the basketball or sorting colors, it won't even notice the proximity to hands or step-ups that it is doing while focused on a goal. This builds a much higher and more automatic level of good-behavior for general pet interactions with your bird throughout the day.

Not only does a daily training habit help build a relationship, it also helps the bird burn off energy in a productive way. Rather than screaming, getting overly amped up and biting, or becoming too destructive, by performing daily training you are having the bird spend energy in a beneficial rather than harmful way! It's a win-win. The bird learns good behavior and the bird is less tempted to engage in bad behavior simultaneously because it is more calm and relaxed after training!

Treat training as a necessary part of your daily parrot care routine. Just as it is important to change food, water, and cage papers, treat training as an equally simple, quick, and essential part of parrot care! Just a few minutes of focused training every day will go a long way in improving your parrot's behavior both directly and indirectly for life!

Grab a copy of my book, The Parrot Wizard's Guide to Well-Behaved Parrots. It comes with a free bonus clicker and target stick to get you started right away! In addition, you'll want a Parrot Training Perch Kit as a comfortable platform for engaging in the training. Not only are the Training Perches going to make it easy to do the training, they will also help your parrot focus and be in the mood for training every day!

So, there are 5 things you can do to start improving your parrot's behavior! Of course, there is a bit more to it, but these 5 things are a great start. You can start making big progress toward having your perfect magical parrot keeping experience with these 5 things. I hope that this advice can help you improve your parrot's behavior and I hope that the Parrot Wizard supplies I came up with will aid you in making this parrot behavior be as simple to achieve as possible! Wishing you success.

Here is a video of my presentation at the 2019 Bird Paradise Parrot Palooza:

| | | |
| --- | --- | --- |
| | | Thursday September 19th, 2019 |
Everyone knows that bird stores sell birds, toys, food, etc., but here are some things you didn't know! Here are 8 bird store secrets that bird stores won't tell you exposed.

At the end of the article is a video of these bird store secrets being revealed at Bird Paradise in Burlington, NJ. But for those who prefer to read rather than watch, this article goes over those secrets in text form.

So here are 8 bird store secrets that bird stores won't tell you:

Secret #1 - Rugs have disinfectant on them

At least at Bird Paradise, they moisten the floor mats at the entrance down with a disinfectant solution to prevent avian diseases from hitching a ride into the store on the bottom of people's shoes. Who knows if those people have a sick bird at home or stepped in some wild bird poop on the way? Best to keep those shoes clean and disinfected before exposing the immune suppressed baby birds!

Different bird stores will have different measures or policies when it comes to preventing diseases. Not a bad idea to look into a bird store's policies and health guarantee on baby birds.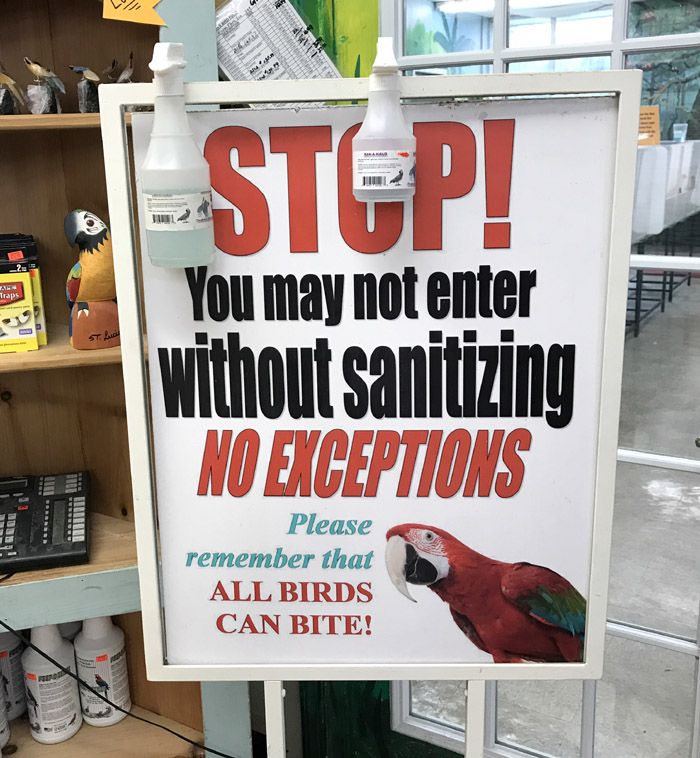 Secret #2 - Stores don't recommend bird shampoos

Bird shampoos don't serve a purpose. Unlike people and dogs, birds don't have hair so they don't need shampoo. In fact parrot's secret their own oils to serve as a conditioner for their feathers naturally so no shampoo needed. Stores sell those products only because customers keep asking for them.

Secret #3 - Food in bulk bins may be fresher than in packages

Some bird stores have a very high turn around on their bulk bin foods. Sometimes the food in the factory packaging is sitting around longer than the food in the dispensers or bins. On the other hand, at smaller stores it may be the other way around. Learn about package shelf life and keep an eye on what is being bought more at the cashier to ensure that you are getting the freshest food for your parrot.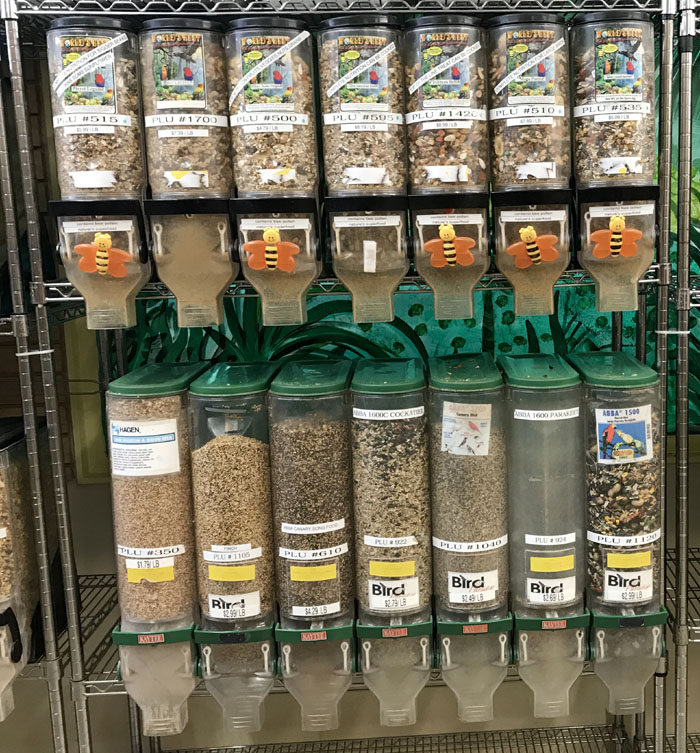 Secret #4 - Don't feed sunflower seeds

Even though bird stores sell them, I have not been to a single bird store in recent years that actually recommends that anyone feeds them to parrots. Everyone with any experience in the bird world will tell you that sunflower seeds are not a suitable diet and in fact unhealthy for pet parrots. Why do stores still sell them? Some customers have older birds that were fed sunflower seeds their whole life and are set in their ways. Other times there are younger birds with older owners that are too set in their ways. If you're going to give sunflower seeds to your parrot, only use them as training treats in extreme moderation (hint if you don't have enough fingers to count them, it's too much).

Secret #5 - Save money by making your own toys

Your parrot needs a lot of toys and activities to prevent boredom, screaming, and self-mutilating behavior while in the cage. This is an important part of parrot ownership and you shouldn't short change the highly intelligent parrot on these activities. However, this can also get quite costly. You can save money by making your own bird toys whether you buy bird toy parts at the bird store or find your own (bird safe, non-toxic) alternatives. But, there's nothing like letting your feathered friend indulge in a nice retail toy every now and then!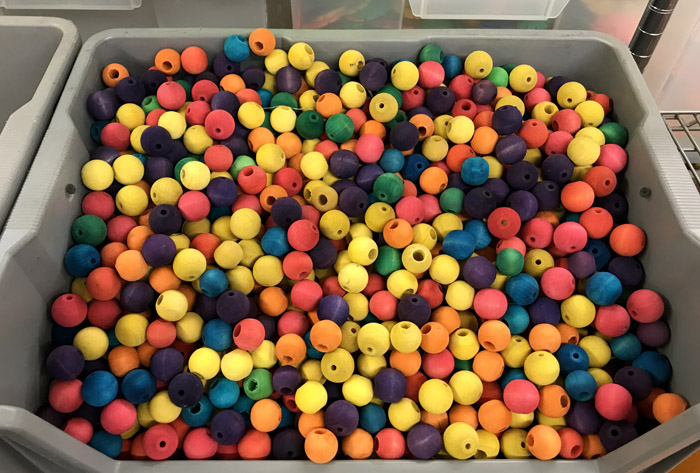 Secret #6 - Boarding can be hazardous to your bird's health

Boarding your bird when you go away can be challenging. Options may be limited and it can get pretty costly. However, take caution because many bird stores that offer boarding have no precautions or health requirements and your bird could pick up an illness from another bird boarding there. Even with a treatable illness, the vet costs are astronomical and many diseases are only preventable but not treatable. Only consider boarding at stores or vet clinics that have health testing requirements. While it may seem like a costly burden to get your bird tested to be able to board, using a facility that mandates this from every bird will help keep yours safe.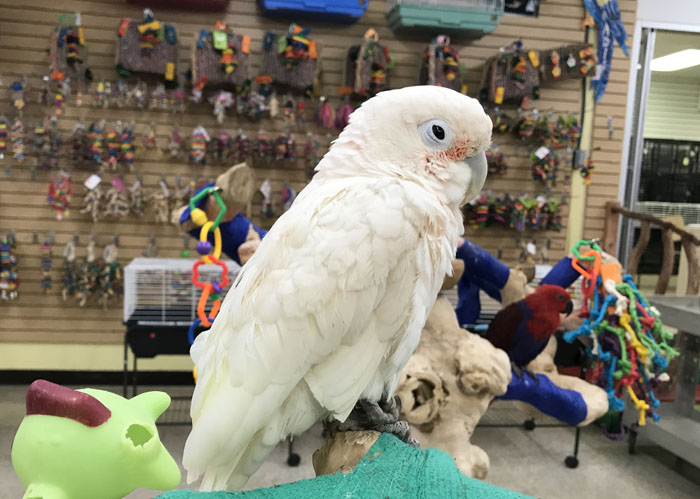 Secret #7 - Out of season parrots are "leftovers"

There are specific breeding seasons that vary by species. Although some like conures and greys will breed year round, most parrots will breed a certain time of year. If you come at the right time of year for the specific species, you will be met with the biggest selection of babies and get to choose the one for you. However, if you come out of season you may not be able to find the species you are looking for. But, if you do find the species, it may be a leftover baby that was passed over by others for one reason or another. Sometimes it is because it has a nastier personality, poor feathering, or a physical abnormality. Other times it could be nothing wrong with the bird at all and just excessive supply and insufficient demand. But whatever the reason, if you take your time and start looking for your baby in the right season, you will have the best chance of finding the one for you.

Secret #8 - Don't get a bird on the spot, plan ahead

Getting a bird from a store shouldn't be a spontaneous decision. You want to take your time and plan ahead. If you start your search early, you will be there when the new batch of baby birds arrives and you will have the best chance to get to know them and pick the one for you. You will get first "dibs" and get to choose the one you want instead of being left getting one only because it is the last one remaining. Put a deposit down early to hold your spot in the line and get first choice on the baby that is right for you.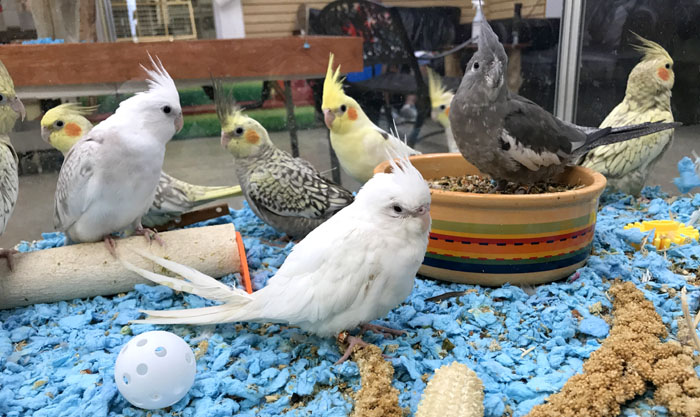 So there's 8 bird store secrets revealed. Feel free to share your bird store secrets in the comments. And watch this video of these bird store secrets exposed at Bird Paradise:



Come out to Bird Paradise October 12/13 2019 for the Bird Paradise Parrot Palooza and come to my free presentations, book signings, and Q&A.
While I was in Arizona for Ginger's Parrot Rescue Grand Opening Event, I had a chance to meet with Christine Wood who runs Christine's Chop Shop.

Christine rescued an African Grey with major malnourishment problems and had to learn how to fix this bird's diet and nurse it back to health. As she started chopping away at loads of fresh vegetables, she learned that other people wanted some too and the Chop Shop was born.

Among many nutritional recommendations, Christine suggests that, "some of the best veggies are dark leafy greens. Any of the greens: carrot tops, beet tops... chard, bok choy, any of the fancy lettuces, the dark leafy greens have the most nutrients. And it's best for the parrots. It's lower in calories and so you can feed them more if you give them the dark leafy greens."

Some parrots tend to be deficient in calcium so Christine adds that, "you also need to feed, especially if you have an African Grey or a Cockatoo (one of the dusty birds), they need a diet that's higher in calcium. Broccoli is great, it's high in calcium. So is Kale, kale is one of top ingredients of what I feed my birds." Keep in mind that in order for the body to properly absorb calcium, Vitamin D is required. The most effective source of Vitamin D is natural outdoor sunlight so be sure to grab an Aviator Harness to get your parrot outside safely!

Christine believes that variety is very important both nutritionally and to keep the parrots entertained. Christine notes that, "the large majority of parrots have Vitamin A deficiencies. They need produce that's high in Vitamin A. The dark winter squashes: butternut squash, acorn squash... those are really high in Vitamin A. Cantelopes if they want something a little sweeter and carrots." What do all those Vitamin A rich foods have in common? They're orange! If your bird is Vitamin A deficient, you can look into feeding more of those orange veggies or get Christine's Mega A Blend that already has just that.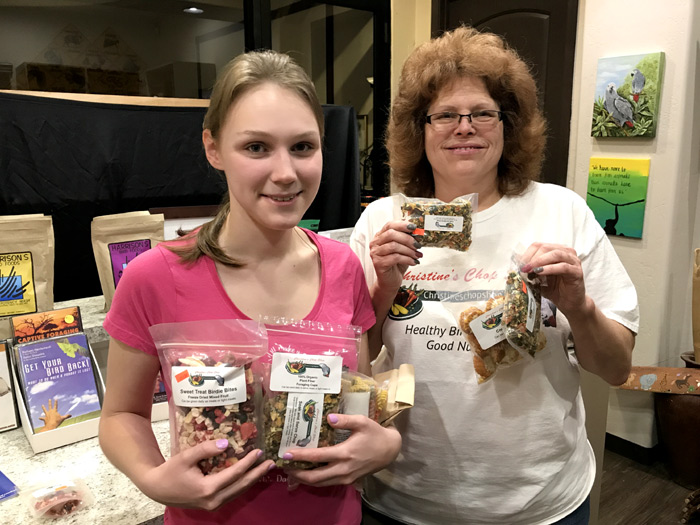 The way I understood it, the advantage of buying Christine's Chop Mix is that it comes with a massive assortment of veggies already in it. Even Christine agrees that feeding fresh is best. But there are plenty of reasons to buy the dehydrated of freeze dried chop mixes. Most notably is the included variety. If you only have one small parrot, buying some 25+ ingredients will get expensive and wasteful. Sure, if you have a huge flock to feed, you might go through it all. But on a small bird or small number of birds, it might be easier to get the benefit of the full variety by ordering your mix instead.

Christine says "I cannot preach enough how important variety is." This is why her chop mix starts with a 15-20% base of barley, quinoa, cooked dried beans, chia and flax seed, no more than 10% fresh seasonal fruits, 70-75% fresh, seasonal vegetables. Ingredients may include; kale and other greens, cabbages, bok choy, carrots, corn, peas, string beans, zucchini and yellow squash, cooked sweet potatoes, beets, broccoli, cauliflower, bell and chili peppers, jicama, radish, snow peas, brussel sprouts, assorted apples, papaya, assorted, seasonal berries and other seasonal fruits and vegetables.

Christine explains that the freeze drying process allows her to ship raw produce around the country while safely preserving it. She says that "when you freeze dry vegetables or produce your retain 97% of the nutrients and so that is considered raw."

Watch the complete discussion with Christine Wood both about her business and lots of tips on fresh feeding for your parrot. And check out what Christine has to offer at ChristinesChopShop.com.