Kili, Truman, and I had an awesome time traveling around Texas for our recent book signing tour. It all started with an 11 hour non-stop flight from Linden, NJ to San Marcos, TX. The flight was initially supposed to take 10 hours but due to headwinds and barely sufficient fuel, I had to slow down to stretch things a little. The reason for going to San Marcos was to take advantage of a special $1/gallon fuel promotion they were running that month.

While in San Marcos, the birds and I took advantage of the time and car rental to go see downtown San Antonio. The parrots remembered the Alamo and strolled down canal ways of San Antonio.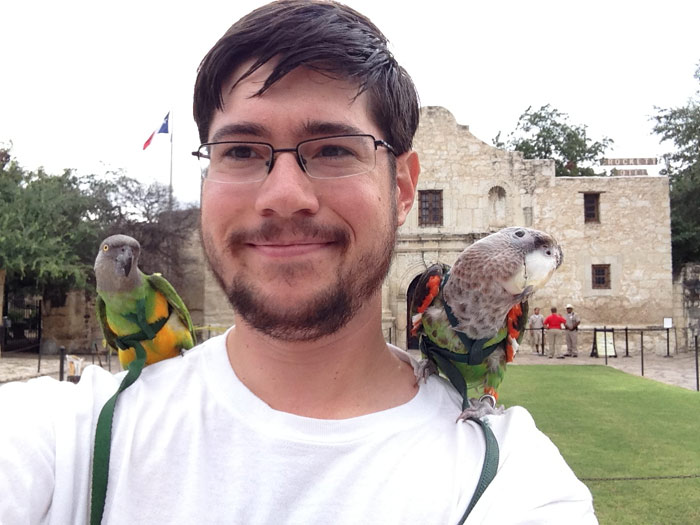 We met the Vintage Mooney Pilots group at San Marcos airport for lunch. The birds showed off some tricks and flying. The more fascinating aspect of this encounter was that I had the birds flying around a conference room enclosed by glass windows on all sides. Despite the amount of potentially crashable surfaces, the birds never hit anything and new exactly what they were doing. I wish I had a picture to share because for a bird that does not grasp the concept of glass, this room could have been a death trap. Kili & Truman understand perfectly.



After gassing up for $88 in San Marcos, we flew onward to Phoenix. We went on a Sunday morning group parrot outing at Joe's and then visited the Arizona Exotic Bird Rescue for a book signing event. I stayed the week with Ginger and worked on a secret project (that you'll have to wait a bit to find out about) and helped out at the rescue. I took care of the morning routine with the parrots by changing food, water, and papers. It's not hard but when there are that many birds, it can take quite a while. Luckily, there's always a bird around who's willing to come along and help out.



Learning that Ginger never gets out for a vacation, I dragged her out and made her forget about the birds for a day. I took her up to Las Vegas which was just a two hour flight in my plane. We walked around the strip and joked about how many parrot themed things we could spot. After gambling away the rescue's veterinary fund (just kidding), we flew back to Phoenix.



As close as Ginger has ever been to New York, New York. But in Las Vegas.




When the week ended I bid Ginger goodbye and returned to Texas with the trained parrot duo for some more weekend book signings. We did a performance for the Tree Top Bird Center in Dallas and then another event for the Fort Worth Bird Club the following day. The birds performed very well and in fact I had to fly them for more treats after each to satisfy their desire to show off, exercise, and get treats. Many books were sold and signed and the events were not only a success but a pleasure as well. Kili & Truman are big showoffs and love a crowd.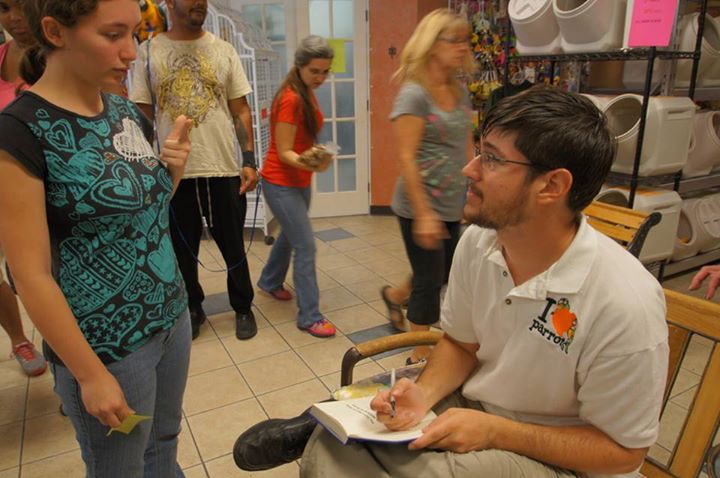 Between events, the birds went all over Dallas and Fort Worth with me. They visited Downtown Dallas and paid homage to JFK (this is the place where Kennedy was assassinated), they paid a lot of attention to frequently passing trains, they saw fish at an aquarium, and they showed off to restaurant patrons at the west end. In Fort Worth, they visited the downtown area and the Stock Yards. The birds had lunch with me outside and watched the famous cow drive. Truman was really intrigued and said he wanted to be a cowbird or at least a cowparrot.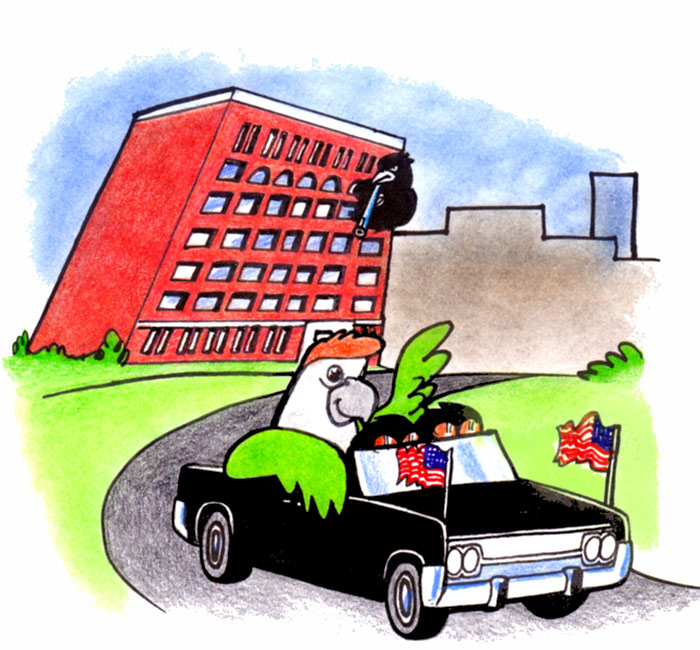 Truman playing dead by the book repository building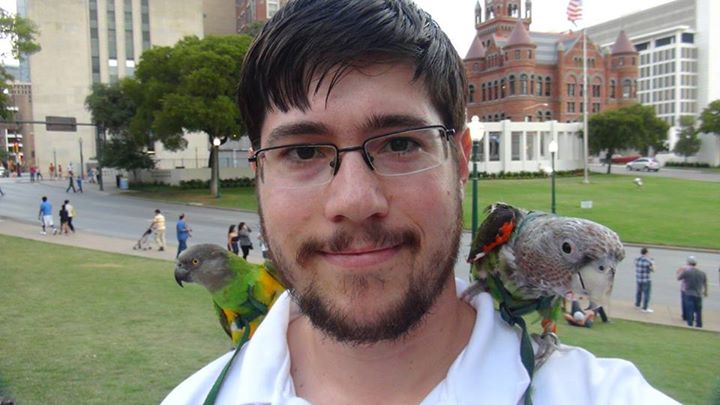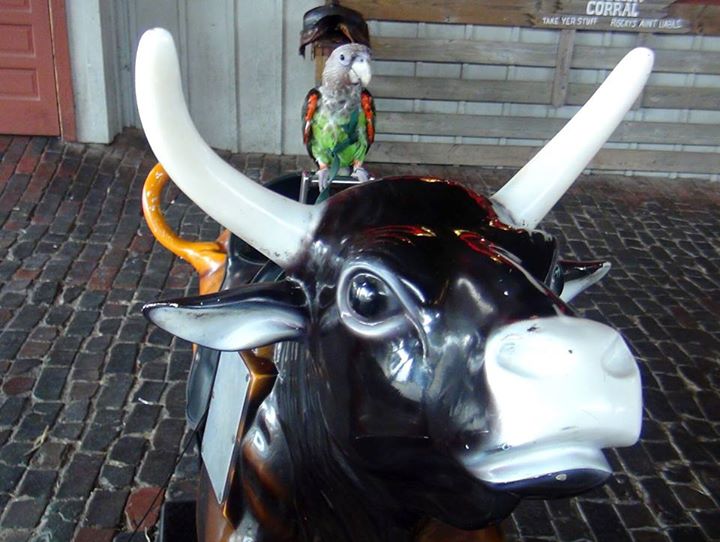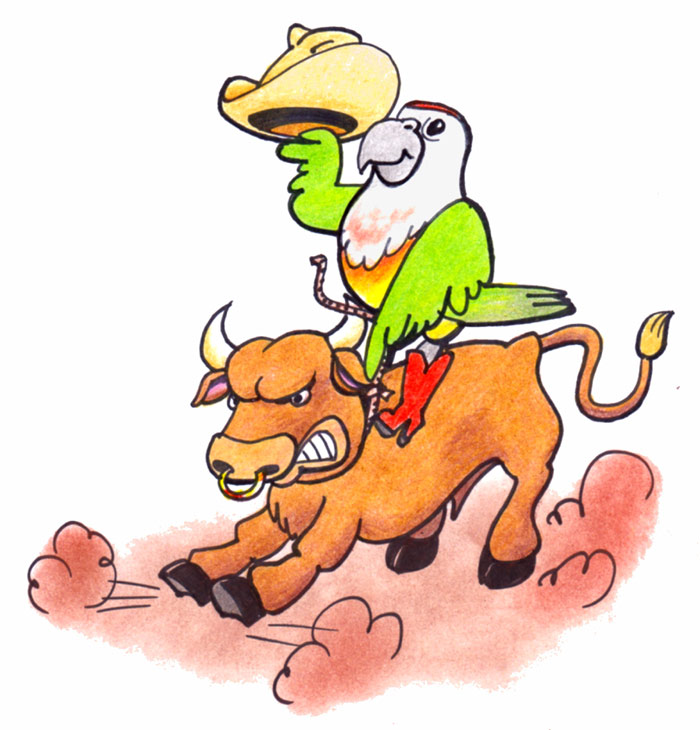 Here's the trip summary video with Kili & Truman touring San Antonio, Dallas, and Fort Worth:



Part of: Blog Announcements, Cape Parrots, Senegal Parrots
Kili Senegal Parrot Truman Cape Parrot Travel Trip Socialization Book Signing Tour