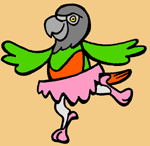 Kili
Type: Senegal Parrot
Genus: Poicephalus
Species: Senegalus
Subspecies: Mesotypus
Sex: Female
Weight: 120 grams
Height: 9 inches
Age: 5 years, 5 months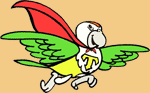 Truman
Type: Cape Parrot
Genus: Poicephalus
Species:Robustus
Subspecies: Fuscicollis
Sex: Male
Weight: 330 grams
Height: 13 inches
Age: 3 years, 9 months

List of Common Parrots:
Parakeets
:
Budgerigar (Budgie)
Alexandrine Parakeet
African Ringneck
Indian Ringneck
Monk Parakeet (Quaker Parrot)
Parrotlets
:
Mexican Parrotlet
Green Rumped Parrotlet
Blue Winged Parrotlet
Spectacled Parrotlet
Dusky Billed Parrotlet
Pacific Parrotlet
Yellow Faced Parrotlet
Lovebirds:
Peach Faced Lovebird
Masked Lovebird
Fischer's Lovebird
Lilian's (Nyasa) Lovebird
Black Cheeked Lovebird
Madagascar Lovebird
Abyssinian Lovebird
Red Faced Lovebird
Swindern's Lovebird
Lories and Lorikeets
:
Rainbow Lorikeet
Conures
:
Sun Conure
Jenday Conure
Cherry Headed Conure
Blue Crowned Conure
Mitred Conure
Patagonian Conure
Green Cheeked Conure
Nanday Conure
Caiques:
Black Headed Caique
White Bellied Caique
Poicephalus Parrots
:
Senegal Parrot
Meyer's Parrot
Red Bellied Parrot
Brown Headed Parrot
Jardine's Parrot
Cape Parrot
Ruppell's Parrot
Eclectus
:
Eclectus Parrot
African Greys:
Congo African Grey (CAG)
Timneh African Grey (TAG)
Amazons:
Blue Fronted Amazon
Yellow Naped Amazon
Yellow Headed Amazon
Orange Winged Amazon
Yellow Crowned Amazon
Cockatoos:
Cockatiel
Galah (Rose Breasted) Cockatoo
Sulphur Crested Cockatoo
Umbrella Cockatoo
Moluccan Cockatoo
Bare Eyed Cockatoo
Goffin's Cockatoo
Macaws
:
Red Shouldered (Hahn's) Macaw
Severe Macaw
Blue And Gold Macaw
Blue Throated Macaw
Military Macaw
Red Fronted Macaw
Scarlet Macaw
Green Winged Macaw
Hyacinth Macaw
| | | |
| --- | --- | --- |
| | | Monday November 25th, 2013 |
My parrots do what I want. This is contrary to most people's parrots that do what they don't want and don't do what they do want. My parrots step up for me whenever I ask them to. They come out of their cages and go back into their cages when expected. They fly to me when called and allow me to touch, hold, handle, and grab them. They never bite me and they don't bite other people either. They voluntarily put on their harnesses and travel with me. They even freefly outside without restraint and come back to me. My parrots do what I want them to do! But why do they do that? I will attempt to explain that in this article.

But before I go further I just want to mention that the winner of the Cage Cleaner contest is: madiyogi99

Note in this article I use examples of my freeflight experiences with Kili & Truman as the ultimate demonstration of my parrots doing what I want with full freedom. I am not recommending that anyone try this with their parrot. I am only hoping to convince you of the extent of the effectiveness of my approaches and to encourage you to use them with your parrot in your home. It is best that you do not attempt outdoor freeflight.



It comes down to training, motivation, challenging, patience, and realistic expectations. Without all of these components, it is unlikely that your parrot will do what you want. Let's start with realistic expectations. In part this means understanding and accepting the wild side of a parrot and that it may never change. On the other hand it's about having expectations that are achievable and relative to the parrot's current level of training. In other words when I work with a less trained parrot, I don't expect it to do what a more highly trained parrot can. If what I want the parrot to do is relative to what it can do, then I am more likely to be pleased that the parrot is doing what I want.

But wanting the parrot to do what I expect it to be capable of doing isn't enough. I also want the parrot to learn to do better and this is where challenging the parrot comes in. I challenge my parrots and other parrots that I train to do better. This is a perpetual process. Even when my parrots are good at what they do, I challenge them to do better still or to move onto tougher challenges that will continue to challenge them. By raising the bar of their capabilities - as well as my expectations - it assures that the easier things will remain while newer challenges will be achieved as well.

Patience is the bridge between expectations and achieving actual challenges. These things may take time. But what's the rush? The bird will live a very long time and it's a fun road for us to share together through the behavior improvement process. But expectations, challenges, and patience simply aren't enough. An infinite amount of these will still keep you exactly where you're at if you don't apply training. Training teaches the parrot how to do the things that we wish to challenge them with. I'm not going to get into how to train parrots because that is the subject of this blog and my book, but it is undeniable that training is a key component.



Yet, even people who apply the training approach end up failing to achieve desired behavior from their parrots. One more component is irreplaceable: motivation. The parrot has to want what you want or at least want what you can do for it in return for doing what you want. Parrots may be highly intelligent but they are also highly selfish. As are we. We want our parrots to do what we want; likewise our parrots want us to do what they want! Having an outstanding relationship and well-behaved parrot lies on the intersection of those two desires! There must be compromise on both sides in order for it to work.

The secret to getting your parrot to do what you want is to make it so that the parrot wants to do that. We can call this motivation. Forcing the parrot to do what you want may work at times. But the down side in most cases is that if the parrot doesn't genuinely want to do that, then at the first opportunity to bail it will. For example, I take my parrots to freefly at the park. On the way to and from the park I have them wear their aviator harnesses just to be safe. However, at the park they are given the freedom to fly. If the only reason they wore harnesses was because at home I forced them to wear the harness, then at the park they could easily fly away from me to avoid having it put on. You see, the difference now between a parrot that WANTS to put the harness on from the parrot that HAS to put the harness on?




Another element that I find to be crucial to success with parrots is not clipping their wings!. I think wing clipping is to a large extent responsible for parrot owners' failure to teach the parrot to do what they want. And it's not the other way around, either. I do believe that people think they are clipping a bird because it does not do what they want. But in reality, they never taught it in the first place. But by clipping the bird's wings, they are actually eliminating the possibility of teaching their parrot to behave the way that it should. The parrot does not stay on its tree because it should, it does it because it has to! The parrot doesn't avoid flying over to people because it doesn't want to bite, but because it can't. Wing clipping ends up forcing a parrot to appear to do what we want (like be with us) but in actuality there is a strong chance the parrot does not want to. In that case, it is a failed application of teaching the parrot to do what we want it to do. This ultimately leads to failure and a highly misbehaved parrot.

Parrots are born to fly. It's not just their feathered appearance that is evolved for flight. Their entire cardio-respiratory system is like a turbocharged engine that is dying for flight. Their brain is capable of processing its spatial surroundings, navigating, planning, and thinking at the speed of flight! Without flight, the muscles and the brain decay from disuse. We need that brain to stay sharp to learn to be the great pet that we desire. Eliminating flight eliminates the intelligence that we need to tap into to teach the parrot to cooperate.

The goal is to have a parrot that looks forward to seeing you and cooperating with you. If the parrot only does these things because it has to, then at the first opportunity to not have to do them, it won't. Yet if the parrot is put in the situation that it wants to do these things and chooses to, success is assured all around.




Here's a great test to figure out if the way you approach your parrot is improving or harming your relationship: if your parrot will fly away from you as a result, it is hurting. If your parrot will voluntarily fly to you to get to participate in your handling, then it is improving. The only way to find out is to have a flighted parrot. Simply guessing what your parrot would do is not enough because there is no concrete feedback. A clipped parrot that cannot fly may be stuck enduring much that it does not want. This will slowly add up and then at some point what seems like "biting for no reason" is actually quite justified because of all the things it had to do that it did not want to do. By allowing the bird to fly and using this as a gauge for what it wants/does not want to do, you can only use approaches that actually work. This reduces the fallout of doing things that the bird does not want and having revenge seemingly out of nowhere.

Most of you know that I use food management to train tricks/behavior to my parrots. It would seem that the parrot is "forced" to do what I want because otherwise it would not get to eat. But actually this isn't the case for several reasons.

First this has to do with a realization I've made some time ago. It's not my job to feed my parrots. It is their job to feed themselves. It is only my responsibility to make food available to them but it is up to them to make the feeding take place. Think about it. In the most basic case, the owner puts food in the bowl and the parrot climbs over to eat from it. The owner is making food available but the parrot is choosing to take the steps to eat the food. Likewise, in the wild, parrots fly distances from tree to tree to feed themselves. What I am doing is shifting the gap from eating from a bowl inches away to something closer to eating from a tree miles away. It is not only natural but also instinctual for parrots to search, forage, and behave in ways that get them food. Through training and soliciting good behavior ("good" is relative and in this case I mean "behavior that is desirable to me") I am directly appealing to a parrot's natural desire to do what it takes to feed itself.

Furthermore, if my parrots are failing the challenges I make for them to "feed themselves," I - in my sympathy - can reduce the challenges to something that they are known to be capable of to ensure they do manage to feed themselves. In other words, they'll still be fed. But it gets even better still. During this process we develop alternative forms of reinforcement that are not food. The birds develop habitual good behavior and maintain it even though they never receive food for it. Not biting, stepping up, coming out of the cage, touching, handling, grabbing, stepping up for other people, putting on harnesses, etc are so much practiced and habitual that my parrots continue to exhibit all these excellent behaviors without receiving any treats for them. So, yes, food was used to teach them these things initially, but as they have become habit, the parrots are no longer dependent on food to maintain these.



As I challenge my parrots to always do more behavior, better, for smaller treats, and for less frequent treats, they become adapted to just doing the behavior. They also become more in tune with very subtle conditioned reinforcers. Getting a click of the clicker or just a smile from my face can become much more effective when the parrot has been challenged to do a certain behavior for a treat once every 10 or better yet every 50 times. By employing variable ratio reinforcement schedules, I am able to make the behavior more reliable while also making the parrot less dependent on food as a reason for doing it. Also, as I challenge my parrots to do harder and harder things (such as extensive amounts of strenuous flying), it makes other things comparatively easier. My parrots perform tricks, step up, and behave well in other ways much more readily because those are far easier ways to earn attention, scratches, and other good subtle non-food things than flying. It's a piece of cake to step up for me for a head scratch rather than to fly to me for it. So step up is absolutely reliable and fool proof. Flying 50ft recalls at home is easier than flying 200ft recalls at the park, so after flying 200ft recalls at the park, the parrots are even more reliable at flying 50ft recalls at home. As I continue to challenge my parrots' ultimate behavior challenges, all easier behavior becomes near automatic.

If you challenge your parrot to go just a little further, do just a little more, with time the behavior will be better and better. First it may be a matter of walking a few inches to the food bowl to eat. Then the parrot can learn to target a greater distance to target and eat. Then you can take this even further and have the bird learn to fly some distances to you to get the same. The bird still gets to eat the full healthy portion that is suitable for it but it will just learn to do more and more for it and this will be normal. In the process the parrot will become more fit and your relationship will blossom. No matter how much we challenge our parrots, it still doesn't even come remotely close to the challenges of nature. But the more we train our parrots, the happier we will be with having a more suitable pet and the healthier the parrot will be as well.




I treat training, and particularly flight recall training, like I am a tree. In the wild, parrots will fly from tree to tree to find the ones with ripe fruit, nuts, or seeds. Some trees may not have anything while others will be more rewarding. I tell my parrots to "forage me with their good behavior." In the wild, they will be challenged to find the food and then to extract it from its natural protections. In the home, they can experience the same mental challenge but in a way that benefits our relationship at the same time. They have to try to work out the puzzle of extracting their food from me by figuring out what I want them to do and doing it to the best of their ability! This is so natural to them. It feels like more of a crime to deny them the opportunities to express these natural tendencies. They love to be challenged.

While my parrots are practicing flight in home and outside, not only are they learning to fly better, they are also building stronger muscles. As long as I keep challenging them to fly a little more or a little further each time, they get stronger and have greater endurance. This also makes it easier for them to fly small distances and makes them more reliable when I really need them to fly. Flying a short distance is easy for a stronger bird so it takes less motivation to elicit it. At the absolute best, I was able to get Truman to fly a total distance of 1.5 miles and Kili to fly 2.6 miles in a single 1 hour long flight training session at home. Considering that Kili came to me clipped as a bird that had never fledged, this amount of flying strength that we have built is colossal! Better yet, watch her flying outside with skill and ease. She will now fly to me from any part of the park, even when she can't see me. She has learned to dodge obstacles, turn, and find me by the call of my voice.




By allowing parrots to fly, we have the glorious opportunity to be that parrot's wild foraging tree. We can tap into that natural instinct to fly across distances and feed not only to exercise the parrot but also to teach them how wonderful it is spending time with us. Through the flight recall training process, you can teach your parrot to think on the fly and to do what we want it to do. As we challenge our parrots with strenuous tasks such as flight (which are otherwise perfectly natural for them), we can develop high endurance levels of motivation. That motivation can be tapped to encompass all the other good behavior that we require of our parrots in order to be good pets.

I feel that the ultimate measure of success in regards to parrot ownership is the combination of the birds' health/well-being and being able to get my parrots be the kinds of pets I want them to be. Success is that bridge of the parrot doing what we want and allowing the parrot to get what it wants from us!

Please learn more about my complete approach to achieving a great companion parrot in my book, The Parrot Wizard's Guide to Well-Behaved Parrots. It is the first book of its kind to provide a complete approach to parrot keeping and also to presume parrots to be the flighted animals that they are. This approach does not come with a caveat that says it will only work if the parrot has its wings clipped because it is an approach to make the bird want/choose to cooperate rather than to artificially force it. It's an approach to teach the animal to want what you want and encourage it to be a willing participant in the pet lifestyle in which it lives. With this approach, everyone benefits both human and parrot alike. You will be happier to have the pet you want but the parrot will also be happier to have ways by which to fulfill it's natural instinct for survival. Ultimately it's a more natural, mutual, and caring approach.


From the Parrot Wizard's Guide to Well-Behaved Parrots
| | | |
| --- | --- | --- |
| | | Friday November 22nd, 2013 |
I hate cleaning cages. I'd much rather be spending my time training or hanging out with the birds. I don't actually mind the "ick" of cleaning poop so much as taking the time to do it. But it's a fact of life when it comes to bird ownership and something that must be done. This is why I am keen on good cleaning products that reduce the amount of time/effort I need to spend cleaning.

Recall my Must Have Cleaning Devices for the Parrot Owner article reviewing cleaning gadgets. Well in addition to good gadgets, you also need good cleaning supplies. Paper towels do just fine, but on a tight budget washable rags are a good idea. I find that dish soap and bleach work very well for a thorough cage cleaning, however, it smells awful and takes a long time to prepare. Worse yet bleach stains and requires gloves for use. I'm so worried about the fumes that I have to lock my parrots out in the stairway. There has to be a better way.

Since I got Truman's Cage from Kings Cages I was already familiar with the brand. I've been using a bunch of their products for a while now and one of them is the Royal Cage Cleaner spray. This spray makes cleaning a whole lot easier. I just spray it on and wait 5 minutes, come back before it dries, and wipe off with a wet paper towel.




Frankly, I prefer my steam cleaner because it is an entirely chemical free way to clean and sterilize the cage. The trouble is that it has a very narrow stream so it takes forever, especially when it's a wide spread mess. For hard to reach crevices like in the grooves of a perch, I'd definitely go with steam cleaner. But on cage bars, grates, and particularly seed catchers, the spray is awesome.

I tried a different cleaner before, don't remember the name, but it was a citrus based cleaner. It smelled good and is supposedly very safe but it would leave a lot of residue after cleaning. I like the Royal Cage Cleaner better because it has very little residue. Wiping with a wet paper towel once gets most of it and a little more effort and it's all gone.



For the absolute worst messes I use a combination of my steam cleaner and spray. First I spray the area to dissolve the poop. Then I wipe what I can and blast the rest out with the steam cleaner. Works like a charm. For spot cleaning, $10 for the spray is well worth it. One bottle lasts me about a year because I combine with the steam cleaner.

I have one bottle of free Royal Cage Cleaner to give away. The contest is very simple. Just leave a comment below or on the Trained Parrot Facebook page telling me about what you currently use for cleaning your parrot's cage. Contest ends midnight Tuesday November 26th and a winner will be chosen at random and announced Wednesday. The only restriction I have here is that free shipping is in the US only. International winner must pay international shipping or decline the prize and another winner will be selected. Winner to be selected from either comments section or facebook comments at random. Thanks for reading and participating.
| | | |
| --- | --- | --- |
| | | Friday November 1st, 2013 |
Stress is necessary for your parrot's well-being. "Whoa, did he really just say that!?" Let me talk about stress and why it's important to expose our parrots to it rather than to shelter them.

I talk to many parrot owners and get to experience stressed parrots. In most cases, the parrots that are overwhelmed with stress (which may manifest itself as plucking, pacing, biting, freaking out, etc) are the ones who were not sufficiently exposed to it in the past. To contrast, my parrots have a good dose of stress and strain in their lives. So when something scary happens, they can keep a head on their shoulders and deal with it rather than becoming overwhelmed.

As you challenge your parrot with more stressful situations (that are absurdly rare and unlikely to recur), you will actually ensure that your parrot lives with much less stress in its day to day life! Think of it as watching enough scary movies that nothing in ordinary ones can scare you. This concept prepares your parrot to deal with rare difficult situations and also makes it immune to excess fear during all normal routines.

Now I'm not saying to suddenly take a sheltered parrot and to start doing all sorts of scary things to it at once. Stress tolerance needs to be built up gradually. You can do this by constantly challenging your bird a little more than before. If you maintain this as part of your lifestyle, within a few years the bird will become much more hardy. Let me get into examples of good ways to stress your parrot to save it from being harmed by stress in the future.

A degree of stress in a parrot's life is perfectly natural. In the wild, parrots will have to deal with stressful situations from time to time. So if anything, the annihilation of stress in a captive parrot's life is the less natural lifestyle. The parrot that lives in a sheltered cage, with a bowl full of food, and no changes in its life is at highest risk of stress related problems. Likewise, boredom (and related problems like screaming or plucking) is a byproduct of insufficient stress in a parrot's life.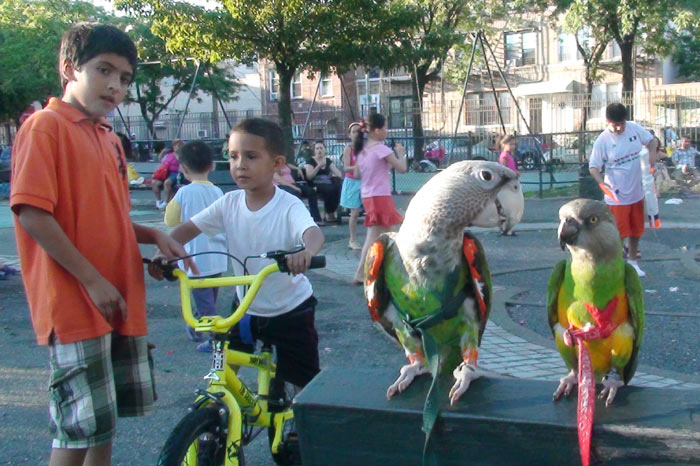 Instead, prepare your parrot to deal with stress in its life through a controlled and continued exposure to stress inducing situations. Providing challenges through foraging and training, socialization, travel, and outings, are great ways to apply modest amounts of stress on a parrot that will prepare it for more.

Folks marvel at how my parrots could venture all over New York City without being scared. I've received many comments of amazement how a fire truck went by and my parrots were not even phased. This is because they have been exposed to similar situations in the past. Even if they haven't seen a fire truck before, they have been to carnivals and other bustling situations in the past. This deliberate exposure to stress has ensured that they do not become overwhelmed in unforeseen circumstances. Not only that, but it has equipped them to enjoy and have fun in all the travel and things we do. Since these things are no longer frightening, they counteract boredom and improve the parrots' quality of life.




I also physically stress my parrots and improve their endurance through extensive flight training. At home, the two trained parrots regularly end up flying dozens of flight recalls. This is tough on their cardio-respiratory systems as much as on their muscles. But this keeps them fit and healthy.

I extend this concept even further. I don't worry much about my parrots. I don't tiptoe around their cages or fiddle with temperature controls too much. While at first, these may have been greater concerns, with time I've allowed them to get used to more variation. They have learned to deal with it and not be bothered. If food or water isn't available while we're traveling a bit longer than usual, they have no trouble dealing with it. Or if the food I have for them is not what they are used to, they are adaptive and can try the new food on the spot. Whether an emergency, or a planned life change, a parrot that is accustomed to dealing with stress in the long term, will be best prepared and least affected.
| | | |
| --- | --- | --- |
| | | Tuesday October 29th, 2013 |
I got this nice big juicy pumpkin the other day. I was thinking to myself how much my parrots will enjoy the stuff I could make them out of it. I open the pumpkin and look what I find inside!




Kili & Truman love Halloween. It's the time of year when food is bountiful and there's a lot going on. They like being involved in things so the holiday events keep them in the spotlight. And of course there's tasty pumpkin and pumkin seeds to be enjoyed. I'm sure they still remember the last time they had Pumpkin a few years ago when we were trying to carve it. Leave comments about what you do with your parrots on Halloween and if they like Pumpkin.







Come and see Kili & Truman live in Connecticut or North Carolina:

Hartford, CT - Saturday November 9, 10AM-4PM

The Parrot Club
Veterans Memorial Clubhouse
100 Sunset Ridge Drive
East Hartford, CT.


Durham, NC - Saturday November 16, 12PM-5PM

Avian Veterinary Services Clinic / The Birdie Boutique
Hope Valley Elementary School Auditorium
3005 Dixon Rd
Durham, NC 27707
| | | |
| --- | --- | --- |
| | | Saturday October 19th, 2013 |
Kili, Truman, and I had an awesome time traveling around Texas for our recent book signing tour. It all started with an 11 hour non-stop flight from Linden, NJ to San Marcos, TX. The flight was initially supposed to take 10 hours but due to headwinds and barely sufficient fuel, I had to slow down to stretch things a little. The reason for going to San Marcos was to take advantage of a special $1/gallon fuel promotion they were running that month.

While in San Marcos, the birds and I took advantage of the time and car rental to go see downtown San Antonio. The parrots remembered the Alamo and strolled down canal ways of San Antonio.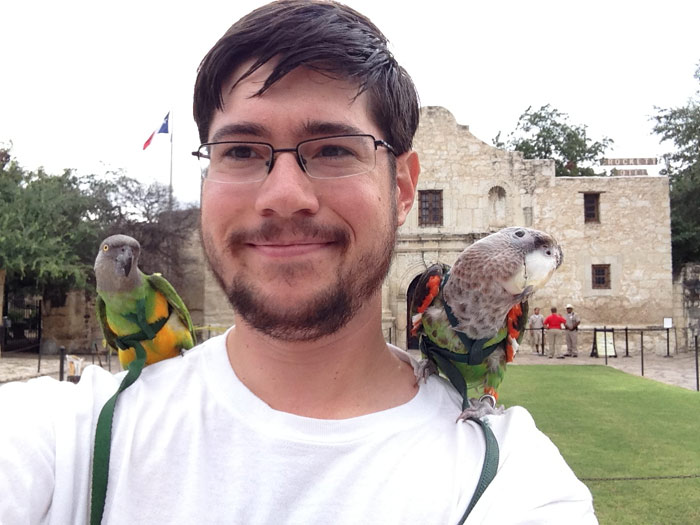 We met the Vintage Mooney Pilots group at San Marcos airport for lunch. The birds showed off some tricks and flying. The more fascinating aspect of this encounter was that I had the birds flying around a conference room enclosed by glass windows on all sides. Despite the amount of potentially crashable surfaces, the birds never hit anything and new exactly what they were doing. I wish I had a picture to share because for a bird that does not grasp the concept of glass, this room could have been a death trap. Kili & Truman understand perfectly.



After gassing up for $88 in San Marcos, we flew onward to Phoenix. We went on a Sunday morning group parrot outing at Joe's and then visited the Arizona Exotic Bird Rescue for a book signing event. I stayed the week with Ginger and worked on a secret project (that you'll have to wait a bit to find out about) and helped out at the rescue. I took care of the morning routine with the parrots by changing food, water, and papers. It's not hard but when there are that many birds, it can take quite a while. Luckily, there's always a bird around who's willing to come along and help out.



Learning that Ginger never gets out for a vacation, I dragged her out and made her forget about the birds for a day. I took her up to Las Vegas which was just a two hour flight in my plane. We walked around the strip and joked about how many parrot themed things we could spot. After gambling away the rescue's veterinary fund (just kidding), we flew back to Phoenix.



As close as Ginger has ever been to New York, New York. But in Las Vegas.




When the week ended I bid Ginger goodbye and returned to Texas with the trained parrot duo for some more weekend book signings. We did a performance for the Tree Top Bird Center in Dallas and then another event for the Fort Worth Bird Club the following day. The birds performed very well and in fact I had to fly them for more treats after each to satisfy their desire to show off, exercise, and get treats. Many books were sold and signed and the events were not only a success but a pleasure as well. Kili & Truman are big showoffs and love a crowd.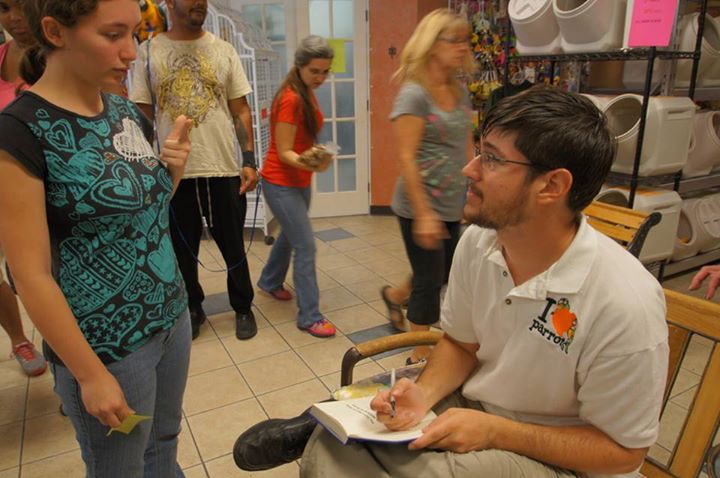 Between events, the birds went all over Dallas and Fort Worth with me. They visited Downtown Dallas and paid homage to JFK (this is the place where Kennedy was assassinated), they paid a lot of attention to frequently passing trains, they saw fish at an aquarium, and they showed off to restaurant patrons at the west end. In Fort Worth, they visited the downtown area and the Stock Yards. The birds had lunch with me outside and watched the famous cow drive. Truman was really intrigued and said he wanted to be a cowbird or at least a cowparrot.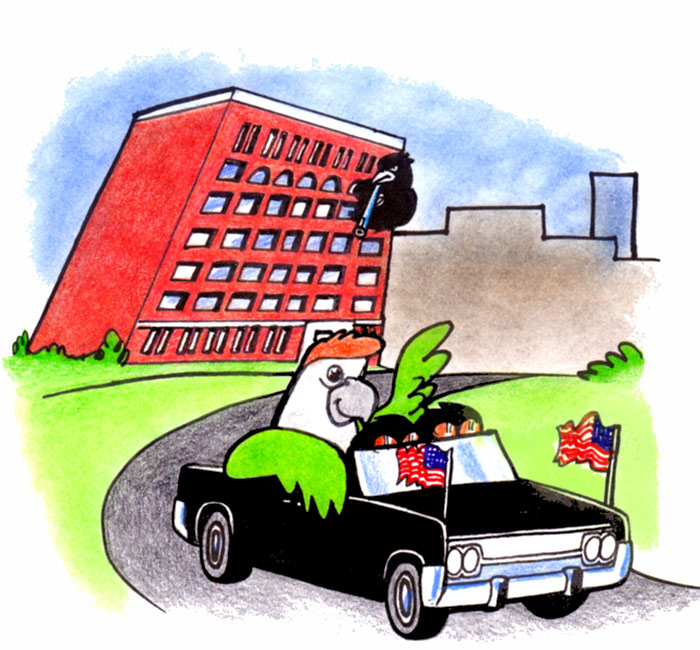 Truman playing dead by the book repository building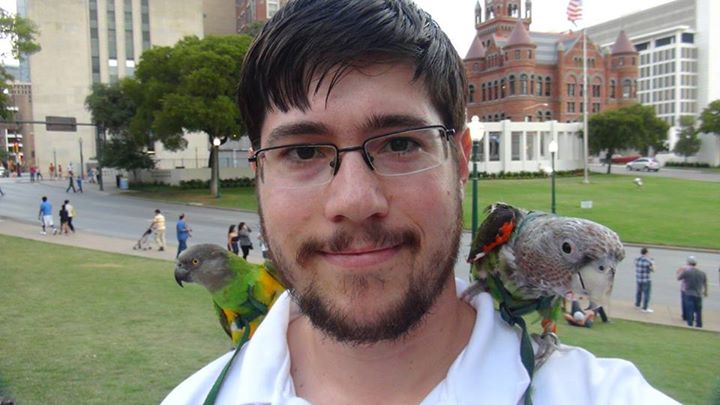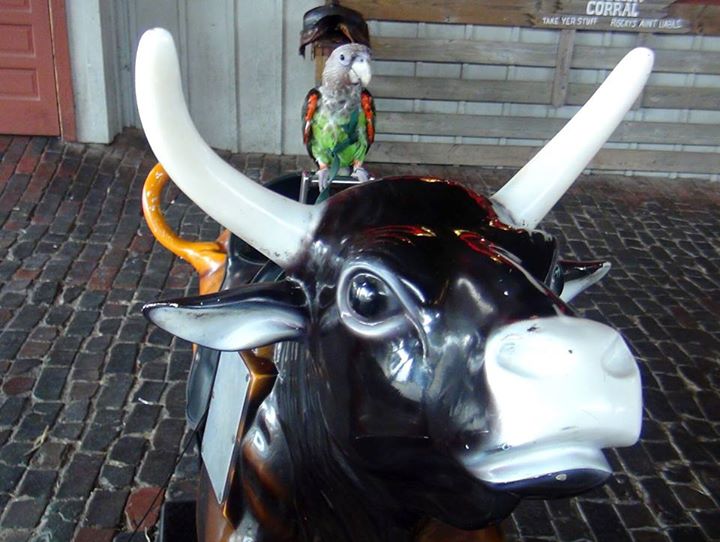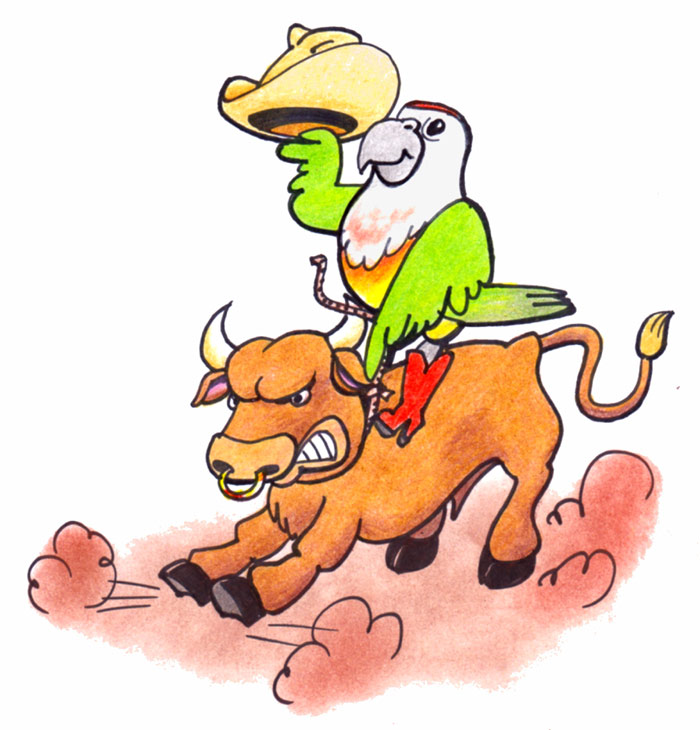 Here's the trip summary video with Kili & Truman touring San Antonio, Dallas, and Fort Worth: