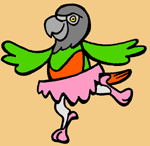 Kili
Type: Senegal Parrot
Genus: Poicephalus
Species: Senegalus
Subspecies: Mesotypus
Sex: Female
Weight: 120 grams
Height: 9 inches
Age: 6 years, 2 months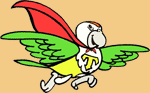 Truman
Type: Cape Parrot
Genus: Poicephalus
Species:Robustus
Subspecies: Fuscicollis
Sex: Male
Weight: 350 grams
Height: 13 inches
Age: 4 years, 5 months

Santina
Type: Green-Winged Macaw
Genus: Ara
Species:Chloropterus
Sex: Female
Weight: 1100 grams
Height: 40 inches
Age: 14 years, 11 months

List of Common Parrots:
Parakeets
:
Budgerigar (Budgie)
Alexandrine Parakeet
African Ringneck
Indian Ringneck
Monk Parakeet (Quaker Parrot)
Parrotlets
:
Mexican Parrotlet
Green Rumped Parrotlet
Blue Winged Parrotlet
Spectacled Parrotlet
Dusky Billed Parrotlet
Pacific Parrotlet
Yellow Faced Parrotlet
Lovebirds:
Peach Faced Lovebird
Masked Lovebird
Fischer's Lovebird
Lilian's (Nyasa) Lovebird
Black Cheeked Lovebird
Madagascar Lovebird
Abyssinian Lovebird
Red Faced Lovebird
Swindern's Lovebird
Lories and Lorikeets
:
Rainbow Lorikeet
Conures
:
Sun Conure
Jenday Conure
Cherry Headed Conure
Blue Crowned Conure
Mitred Conure
Patagonian Conure
Green Cheeked Conure
Nanday Conure
Caiques:
Black Headed Caique
White Bellied Caique
Poicephalus Parrots
:
Senegal Parrot
Meyer's Parrot
Red Bellied Parrot
Brown Headed Parrot
Jardine's Parrot
Cape Parrot
Ruppell's Parrot
Eclectus
:
Eclectus Parrot
African Greys:
Congo African Grey (CAG)
Timneh African Grey (TAG)
Amazons:
Blue Fronted Amazon
Yellow Naped Amazon
Yellow Headed Amazon
Orange Winged Amazon
Yellow Crowned Amazon
Cockatoos:
Cockatiel
Galah (Rose Breasted) Cockatoo
Sulphur Crested Cockatoo
Umbrella Cockatoo
Moluccan Cockatoo
Bare Eyed Cockatoo
Goffin's Cockatoo
Macaws
:
Red Shouldered (Hahn's) Macaw
Severe Macaw
Blue And Gold Macaw
Blue Throated Macaw
Military Macaw
Red Fronted Macaw
Scarlet Macaw
Green Winged Macaw
Hyacinth Macaw
| | | |
| --- | --- | --- |
| | | Wednesday August 13th, 2014 |
It's your fault your parrot bit you and you deserved it too! This is an essential realization to make or you will never be able to solve biting problems. People who refuse to accept responsibility for soliciting biting from their parrot cannot learn to reduce biting. We have to first realize what we do that causes the parrot to bite in order to work on resolving it. Or at least, if we cannot determine the reason, we need to at least follow an approach that will prevent or reduce biting.

The fact that it's your fault when your parrot bites is actually great news as you will come to realize. If it is your fault and something you did that caused the bite, then that means it is also in your power not to cause the bite! If this weren't the case and if the parrot were to bite for truly no reason, you would have a very hard time trying to solve that situation. Keep in mind that even if you are unaware how it is your fault that your parrot bites, it is still present and can still be solved.




I am hard pressed to find good bite stories or videos to share because I hardly ever get bit by parrots. Kili & Truman haven't bit me, or anyone else for that matter, in years. Santina bit me a few times at the rescue but not once since I brought her home. Even when I meet birds at stores, rescues, and other people's homes during consultations, it is very rare that I get bit. This is because most parrots aren't naturally aggressive creatures.

Most parrot species, and birds for that matter, tend to avoid conflict by flying away. Clipping wings denies parrots of the ability to fly away so they are forced to resort to biting in self-defense. Since Kili & Truman can fly away if someone is bothering them, they do just that rather than bite. This has not only eliminated biting but it has also taught them to be more trusting around people. They don't start biting off the bat to avoid all interaction. Instead they tolerate as much interaction as they want or tolerate but if it becomes too much, they can fly to safety.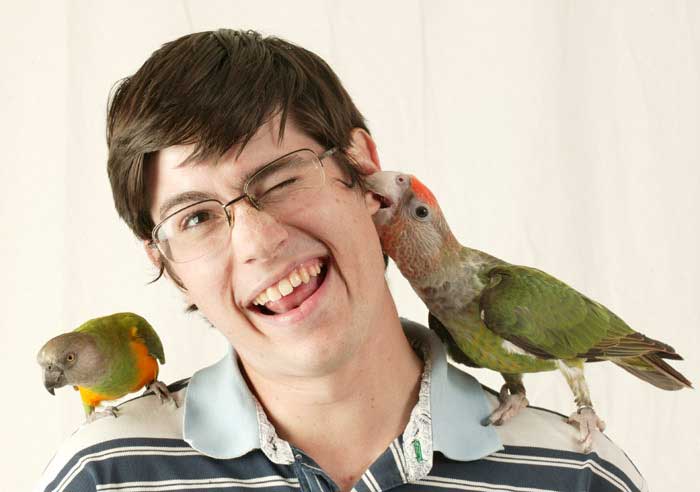 There are many reasons a parrot might bite specifically but for the most part it is because something is being done that the parrot does not want to happen! Most often this comes in the form of self-imposing on the parrot (such as forced step up or touching) but sometimes it can be less direct. It could be indirect such as imposing on the parrot's territory by touching its cage or by making it jealous. Regardless, these situations are created when a human disturbs the peace by imposing an undesired interaction.

The key to reducing biting is to teach the parrot to actually desire the things that would have normally caused it to bite. Teaching a parrot to want to step up, to allow head scratches, to want to go back into the cage, etc makes it such that the parrot would not even think of biting you. My parrots want me to scratch their heads, to take them places, to handle them, and to put them back in the cage. They'd be crazy to bite me because then they'd miss out on the things they actually want from me.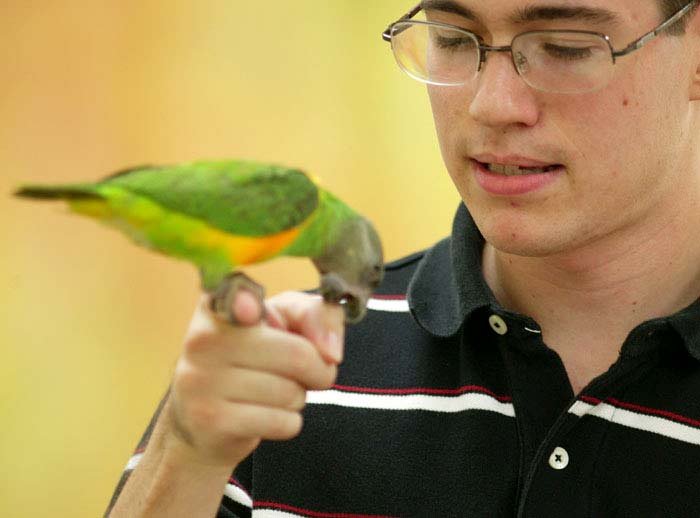 In the short term it's about reading body language and not sticking your hand in a bee's nest. In other words if the parrot doesn't want to be touched, then don't touch it, if the parrot doesn't want to step up for a guest, don't make it. However, this doesn't solve the problem because we as pet owners want friendly pet behavior from our parrots.

Even with unfamiliar parrots, I tend not to get bit. Sometimes it's because I recognize a viciously aggressive parrot that would take a lot of time to tame and keep my hands to myself. But most of the time it is because I take a moment to familiarize myself with the bird, look at its body language, learn what it likes, learn its comfort levels, and built instant trust by not violating existing comfort levels in the short term. One thing that has kept my hands very bite free with unfamiliar birds is that I go up to any parrot with the presumption that it is a biter and uncomfortable with my presence. Until I can determine otherwise, I don't put myself within biting range. I test the bird a little at a time while building trust and discovering its body language and comfort. With some birds things are quick enough that I have it on my hand cuddling in no time, with other birds I realize they are far from ready and avoid getting bit and making them upset.




I want to caution you against reverting to punishment or negative reinforcement as a means of dealing with biting because in most cases it won't help or worse yet encourage more biting. For example "nudging a parrot's belly to make it step up when it is biting" will likely cause it to bite more because it wants to avoid stepping up. This doesn't solve biting. Squirting a parrot with a bottle or using other forms of punishment will make the parrot fear you and parrots bite what they fear so again a counterproductive solution. Negative punishment may work as a solution for mostly well-behaved parrots that are trained and rarely bite ("if you bite me for attention, I just won't give it to you") but for less tame parrots is useless. Rather true negative punishment would be effective but what one might think to be such is not. Threatening to ignore a bird that hates you is hardly upsetting and possibly even desirable to the bird! Putting a bird down or back into the cage as punishment for biting might make it bite even more because it doesn't want to go back. Thus it is best to prevent situations that lead to biting, keep your hands to yourself until you can make it such that the parrot wants your hands there, and ignore biting that you accidentally cause. Ignoring biting does not mean to let the bird bite all it wants. It simply means not to allow the fact that the parrot bit you affect what you do in regards to the parrot in any way. Don't give a toy, don't squirt the bird, don't put the bird away, don't talk to the bird, don't walk away. Just ignore the bite as though it didn't happen. When a bird bites the cage bars and nothing happens at all, the bird loses interest in continuing that sort of biting. This is why ignoring is the best way to avoid encouraging further biting but prevention is better still.



Goodbye nose! Just kidding, I didn't have enough pictures of real bites so I threw this one in of playing around


So the question isn't how to make a parrot not bite (there is nothing you can do directly except keeping yourself out of harm's way), it really should be how can you be such a pal that your parrot wouldn't want to bite you in the first place! To that, the answer is less simple. It's not complicated but the explanation is rather long and comprehensive. For this reason I suggest getting my book, The Parrot Wizard's Guide to Well-Behaved Parrots. You will encounter my complete approach to establishing a well-behaved, non-biting parrot through an array of elements including proper housing, toys, sleep, food, weight, health, exercise, flight, socialization, training, and companionship.



PS A Cape Parrot was recently lost in Oakland California. Everyone please share this facebook post with information about the lost bird so that it can be reunited with its owner.
| | | |
| --- | --- | --- |
| | | Tuesday August 12th, 2014 |
Kili, Truman, and Santina set out on a quest to crack some really tough nuts. Kili, the lightweight, took on an almond in the background. Truman cracked a hazelnut and a brazil nut in less time than it took for Santina to crack her nut. But, Santina takes the prize for cracking the toughest of nuts, the Macadamia.

The patient macaw worked at it for a good half of an hour. She kept rotating and testing the nut looking for the weak spot. Truman uses a similar approach for hazelnuts, which for his beak size, should be nearly impossible. Santina could not just crack the Macadamia. The best she could accomplish with her powerful beak was to just chew a little hole into the top of the nut and then extract the inner goody with the tip of her beak.

I even got Santina to share her bounty with the two smaller birds by trading her a hazelnut which she could easily open. Kili and Truman dug in with their beaks and extracted some of the nut from the shell. Santina of course got her hard earned nut back to finish the job. I can assure you that not one morsel was left inside.

Some people ask me how I taught my parrots to open such difficult nuts. The truth is they learned to do it themselves but it was my encouragement that got them to try hard enough to get to that point. If I am trying to get a parrot to learn to open a new nut, I substitute training for a nut opening session. The same learning mindset comes into play and the same motivation that could be applied to training can be applied to learning to crack tough nuts. In the beginning I try to offer an opened nut or scour the shell with a knife so the bird can learn how good the result is. The next few times I try to find the smaller/easier nuts. And with time the bird learns patience and perseverance and can be kept busy for long periods of time with a tough nut to work on.

This was not just a nut opening exercise but also a tolerance training exercise for the flock. By getting them all busy and goal focused on their own tasks, I am able to teach them to tolerate each other in closer proximity without fighting. The Cape Parrot and Macaw shared the same perch for the entire duration. It's a good way to build friendship while challenging their jaws and minds. Check out this video of how the parrots crack some really tough nuts.


Let's talk about pin feathers. It seems like everyone's parrot has got them right now, must be that time of year.

Feathers aren't permanent. They are replaced once or twice a year across a bird's body. The feather grows from the follicle as a pointy pin. Inside of the sheath of the pin feather, the feather is growing under its protection. When the feather inside is ready, the sheath can be broken and the feather unfurled from its protective casing.

Parrots take care of the pin feathers all across their body. The only place they can't reach with the beak to open pin feathers is right on their head and immediate vicinity. In the wild, the parrot would depend on its mate or flock to assist with pin feathers on the head. But at home, the parrot relies on its owner for a little help with those feathers. Not only is this a potentially reinforcing activity, it is also a fantastic bonding opportunity.

However, if done incorrectly, popping a parrot's pin feathers can lead to frustration and biting. This article will provide you some tips and do/don'ts for opening your parrot's pin feathers.




Don't:

Don't touch or open pin feathers on the parrot's body or anywhere it can reach on its own.
Don't open immature pin feathers
Don't be too rough
Don't force this help on a parrot that doesn't want it


Do:

Do offer to help open pin feathers
Do encourage a request signal
Do open mature pin feathers on the head/neck
Do use this as a training/bonding opportunity



If your parrot is uncomfortable with being touched on the head (especially if it bites), don't just go and try to open pin feathers for it. Even though the bird may enjoy having those uncomfortable pins opened, it will be more preoccupied with the discomfort of being touched. Make sure that your parrot has already been trained and accustomed to touch, handling, and normal head scratches.




Pin feathers will look like little soda straws. If you don't see a bit of feather sticking out, definitely leave this alone. The feather is not yet ready. Not only can opening a feather prematurely damage the feather, it will also hurt your parrot or cause it to bite. If in doubt, leave a pin feather to open later than too soon. Pin feathers that are ready to be opened will often be sticking out just a little above normal feathers, the tip of the pin will be open with the feather slightly visible. The ready pin will have a more flaky appearance compared to the really streamlined and perfect immature pins.

As the pins get more unbearable, the parrot will become more likely to be cooperative with the opening process. In fact you can even make use of negative punishment if the parrot is nippy during the process. If the parrot really wants its pins scratched but gets nippy, simply stop and walk away. The parrot will learn that biting will make the entire process stop rather than tell you not to scratch there. On the other hand if the parrot pulls away from having a certain feather scratched without aggressive behavior, you can negatively reinforce this by leaving that feather alone. Thus a communication and etiquette can develop without harm.

If your parrot starts scratching its head with its own foot, this may be an invitation to you to help open pin feathers. Reward this type of communication by obliging. This teaches the parrot polite ways to ask rather than reverting to unpleasant demanding ones.




Now when it comes specifically to the process of opening pins, the process will vary with parrot size but the concept is the same. You have to apply enough force to flake away the dead sheath without damaging the feather or hurting the parrot. When the pin feather is mature and ready to open, the sheath is fairly brittle and weak so it isn't particularly hard to do. For small parrots like Senegal Parrot, Conure, Ringneck, etc simply rolling the pin feather between two finders is usually sufficient. Just hold the pin between your thumb and forefinger and move the feather in a rolling motion. This will roll the sheath off the feather, crack, and flake it while leaving the opened feather behind.

For even smaller parrots such as cockatiel, lovebird, budgie, parrotlet, and other parakeets, if you can get the pin in your fingers, use the same process. But if the pin is too small to hold, you can just run your finger back and forth across the bird's head blanket rubbing all feathers. Since the pins/sheaths are so small, just passing your finger across the head should flake them up pretty well.

For medium parrots like African Grey, Amazon, Galah, Cape Parrot, etc., it will require a slightly more powerful roll between fingers. Sometimes a little squeeze or scratch with the fingernail will be needed to break the slightly tougher sheaths. Still, if the pin feather is ready for opening, this won't be too tough. Even running your hand back and forth through the parrot's feathers should be enough to scratch a lot of them.

Now for large parrots such as a cockatoo or macaw, even more force may be required to open a big pin feather on the head. Still try to use the techniques recommended for smaller parrots first but if these don't work, you may have to scratch the sheath with your fingernails to break it open. Rolling may be insufficient to break these tougher pins.




For all pin feathers, start from the outward tip and work your way inward. Keep in mind that toward the base of the pin, the quill will remain so don't work your way too far. Once past the easy flaky parts, it is time to stop. As you engage in the pin feather opening process with your parrot, you and your parrot will both be learning ways to cooperate better. The parrot will teach you which feathers are and aren't ok and you will have the opportunity to teach your parrot to be gentle in its warnings and pleasant in its requests for scratches. This is a good opportunity to train desirable pet behavior with non-food based positive reinforcement.

Santina came to me from the rescue with a lot of neglected pin feathers on her head. This gave me a lucky opportunity to jump start our relationship. Since she really wanted those pins scratched, I was able to gain her trust for touch/head scratches much more quickly. Also it was an opportunity to punish snappy behavior by discontinuing the pin scratching session. This has gentled the macaw while teaching me how she likes to have her feathers scratched open.

Santina helped me make a video about pin feathers for you. Kili & Truman's pins are so small that it would be difficult to share. They would be lost behind my fingers. But with Santina's feathers it should be easier to see what I am doing and then appropriately scaled the action to the size of your parrot.


Kili flew to Oshkosh for the annual EAA Air Venture, the world's greatest aviation event. I have been flying for over 9 years but have not yet had the pleasure of going to Oshkosh. Before owning my own plane, I never felt right going in a rental. Since acquiring my plane, for a few years I felt too novice to be able to undertake the arrival procedure into the world's busiest airport (during the event). But, with greater experience and my trusty copilot, I decided that it was time to make the pilgrimage to Oshkosh.

I brought Kili, my 6 year old Senegal Parrot, along for the ride. It was out of the question to take all of my birds but I definitely wanted to bring one. Kili is both my smallest and most trusted so I knew she'd be the right one to take for the journey. On the other hand, Truman and Santina each got a room to themselves while we were gone. On our way there, we battled fierce headwinds and took close to 6 hours to get there.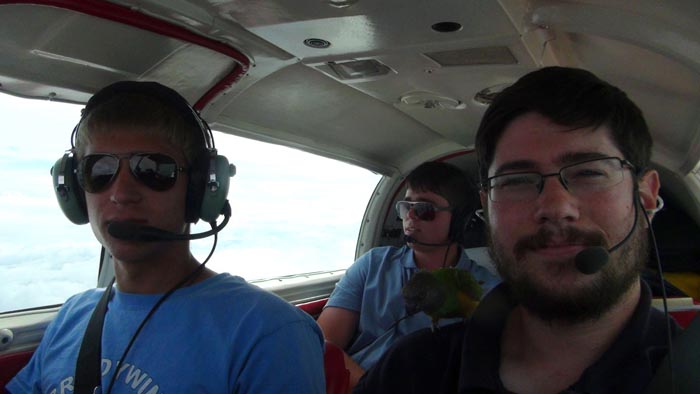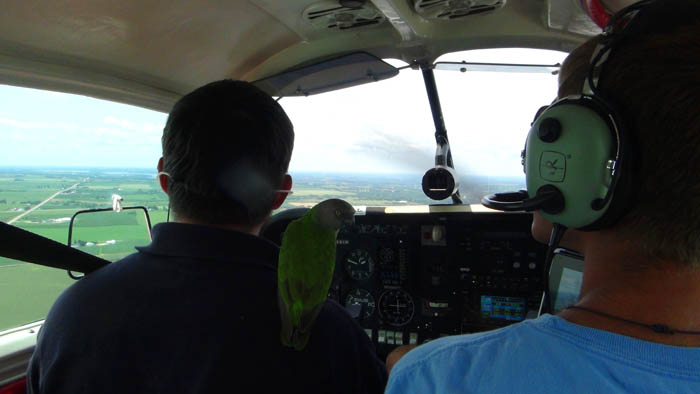 I expected all hell to break loose on the busy FISK arrival. It was busy but surprisingly manageable. Not nearly as bad as New York Approach on a Friday night. In fact, the air traffic controllers at Oshkosh were extremely courteous and understanding. These controllers realize that they are dealing with amateur pilots of varying levels of experience. Someone previously mentioned to me that they thought the Oshkosh arrival isn't as hectic as flying the Hudson river and I think they were right.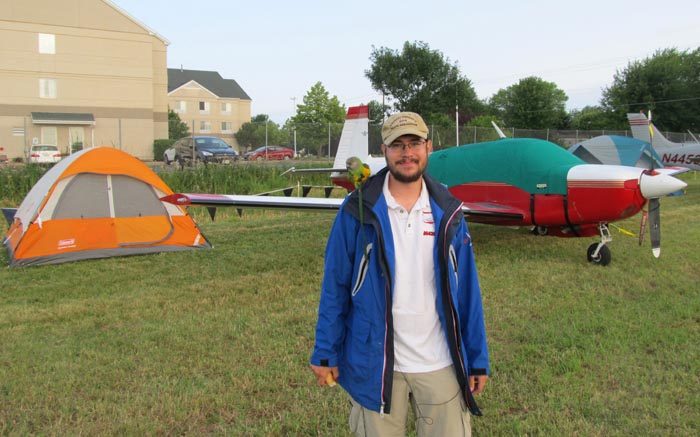 Kili was a big help. She just hung on without causing any trouble or distraction. I think she too enjoys flying! We landed in Oshkosh and after what seemed like an eternity taxiing all over the airport, we arrived at our camp site. We set up camp next to the plane and headed over to the main fairgrounds for the best part. Air Venture is like Disney World for aviators! It was incredible! Airplanes come from all over the United States and the world for this event. Around 15,000 aircraft and a quarter million people participate.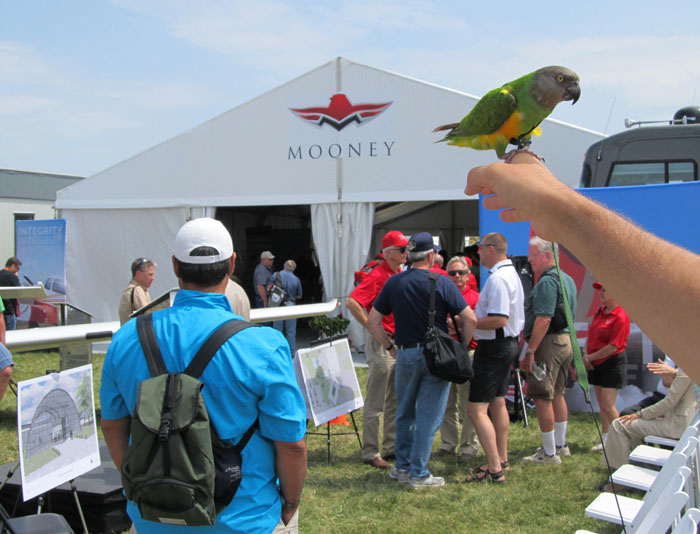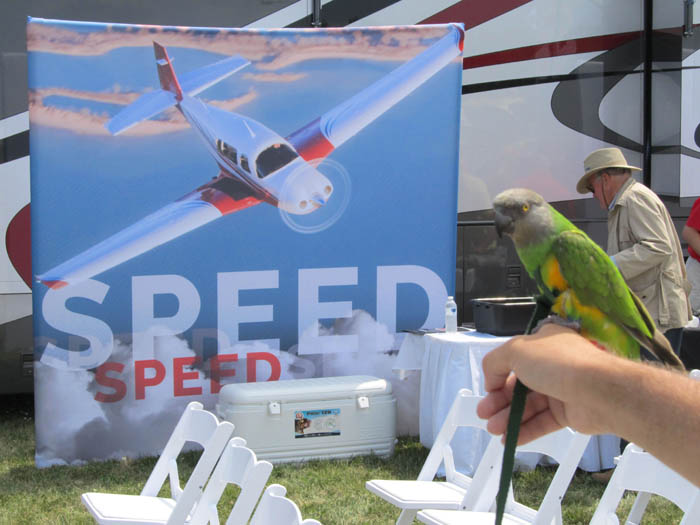 Since I own and fly a Mooney airplane, it was exciting to see Mooney back from bankruptcy at the event. They demonstrated the first Mooney Acclaim off the production line in 5 years and held a press conference. Kili whispered in my ear to ask the CEO about what safety and style improvements they had made to the airplane since changing the company motto from Speed Speed Speed to Safety Speed and Style. I don't think Kili was impressed with Jerry Chen's roundabout answer that the plane has always had those elements and that they were simply beginning to emphasize them better. Nonetheless, the Mooney acclaim is still to this day the world's fastest four seat single engine production airplane.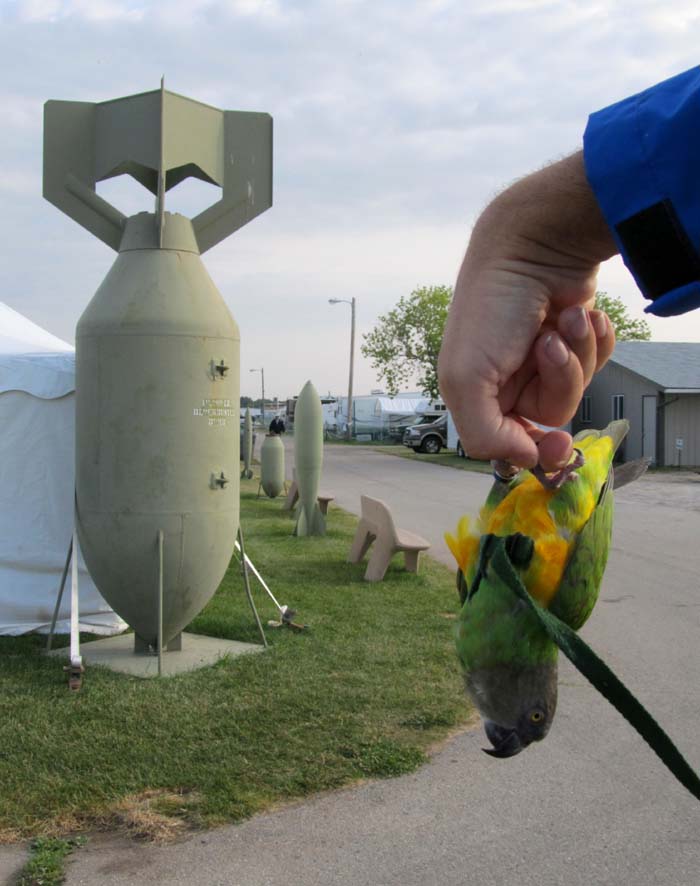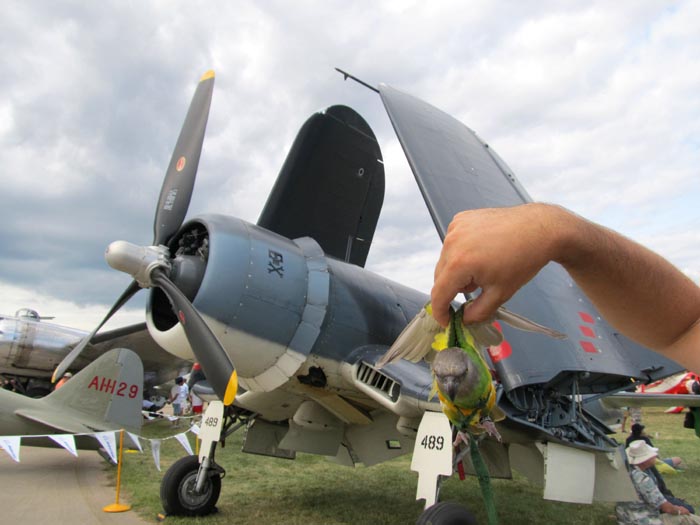 For 3 days we watched air shows, visited vendor displays, and met loads of pilots. Funny how it's a small world, we bumped into many people we know. Also many people I don't but know me were able to recognize me with Kili. It was a splendid trip and Kili enjoyed all the attention and travel as well. Here are some photos and video from our 2014 Oshkosh Air Venture adventure.


What size pellets should I feed my parrot is a frequent question I receive. And now that I have become a Roudybush distributor, I am even more in tune with the different kinds of pellets out there. However, I somewhat disagree with the manufacturer recommended pellet sizes and some of the recommendations out there in regards to pellet size.

So first off, keep in mind that all pellets from a manufacturer (of the same line) contain the same nutritional content regardless of the parrot that is pictured on the package. Even if the package says that the pellet is for Amazons, they only mean that the size is recommended for Amazons and not that the diet is especially modified for the requirements of Amazons. Unfortunately species specific diets are not generally available.




Now when it comes to pellet size, the most important thing is how it is relative to the bird itself. Feeding excessively large pellets can make it difficult to impossible for a bird to eat. On the other hand, feeding excessively small pellets can leave it uninterested. Generally though, too small is safer than too large.

In this article I am going to refer to pellet sizes based on Roudybush because it is the pellet I am most familiar with. I think other manufacturers sell roughly similar sized pellets or refer to the size as relative to each of my birds for reference. Besides a few mini sizes, Roudybush basically comes in small, medium, and large. I have a small, medium, and large parrot so it is a perfect opportunity to compare the sizes.

For really smaller parrots like GCC, Cockatiel, Lovebird, Parrotlet, Budgie, the pellets I will be referring to in this article are too big. Mini or Crumble sizes are good for those birds. Choosing between the two really comes down to what your bird likes best because both are small enough and recommended.




Once you get to a Senegal Parrot sized bird or larger, you have more freedom of choice between the three main pellet sizes. My feeling is that the medium Roudybush pellets are actually perfect for all parrots small, medium, and large (again, excluding really small parrots). This has to do not only with parrot sizes but also personalities.

Initially I started out feeding medium to save money by using the same size for my Senegal and Cape Parrot. But with time, I discovered that even if I only had one or the other, medium would still be ideal. The Senegal is accustomed to eating big foods. Whether it's a baby carrot, a grape, or a piece of broccoli, these are all way big in relation to the size of a Senegal. Yet, she is used to manipulating large foods and gravitates toward them. The Medium size pellets are big enough that she has to hold and work on them, but far from overwhelming. I'm not even going to get into why Medium size pellets are good for medium size parrots.

Now when it comes to the Macaw, conveniently Medium size pellets turned out to be ideal for her as well. The Macaw on the other hand is used to dealing with smaller foods relative to her size. Whether it's working a pine nut out of the shell or a sunflower seed, she is accustomed to eating stuff that's pretty small relative to her hulking size. I have tried small, medium, and large pellets on all 3 of the birds and have found that in a bind they could eat any of the three sizes. However, the medium is not only the central size for 3 birds, but it is also their favorite for their personalities.




Another reason I like to use medium pellets is because it enables me to keep track of how much the birds are eating. In all three sized parrots, I am able to count out the amount of pellets they get and be able to see if something is left over. If the pellets are too small, it is difficult to keep count. On the other hand, excessively large pellets take long to consume and don't work as well for treats. Medium Roudybush actually works as a superb treat for training my parrots.

So when you are picking a pellet size for your parrot, don't worry about the size that is recommended on the package. If you have a lot of small through large parrots, just get the medium and feed it to everybody to save the hassle and money of getting different sized pellets. If you have just one bird, try the medium first and only if it's a problematic size, try changing to small or large. At this point, even if I had just one of the 3 birds, I would still choose to feed the medium Roudybush pellets for the reasons mentioned.

ParrotWizard.com, an official Roudybush Distributor with low prices, quick shipping, and fresh bird food.