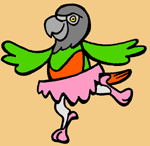 Kili
Type: Senegal Parrot
Genus: Poicephalus
Species: Senegalus
Subspecies: Mesotypus
Sex: Female
Weight: 120 grams
Height: 9 inches
Age: 5 years, 8 months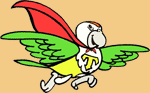 Truman
Type: Cape Parrot
Genus: Poicephalus
Species:Robustus
Subspecies: Fuscicollis
Sex: Male
Weight: 330 grams
Height: 13 inches
Age: 4 years

List of Common Parrots:
Parakeets
:
Budgerigar (Budgie)
Alexandrine Parakeet
African Ringneck
Indian Ringneck
Monk Parakeet (Quaker Parrot)
Parrotlets
:
Mexican Parrotlet
Green Rumped Parrotlet
Blue Winged Parrotlet
Spectacled Parrotlet
Dusky Billed Parrotlet
Pacific Parrotlet
Yellow Faced Parrotlet
Lovebirds:
Peach Faced Lovebird
Masked Lovebird
Fischer's Lovebird
Lilian's (Nyasa) Lovebird
Black Cheeked Lovebird
Madagascar Lovebird
Abyssinian Lovebird
Red Faced Lovebird
Swindern's Lovebird
Lories and Lorikeets
:
Rainbow Lorikeet
Conures
:
Sun Conure
Jenday Conure
Cherry Headed Conure
Blue Crowned Conure
Mitred Conure
Patagonian Conure
Green Cheeked Conure
Nanday Conure
Caiques:
Black Headed Caique
White Bellied Caique
Poicephalus Parrots
:
Senegal Parrot
Meyer's Parrot
Red Bellied Parrot
Brown Headed Parrot
Jardine's Parrot
Cape Parrot
Ruppell's Parrot
Eclectus
:
Eclectus Parrot
African Greys:
Congo African Grey (CAG)
Timneh African Grey (TAG)
Amazons:
Blue Fronted Amazon
Yellow Naped Amazon
Yellow Headed Amazon
Orange Winged Amazon
Yellow Crowned Amazon
Cockatoos:
Cockatiel
Galah (Rose Breasted) Cockatoo
Sulphur Crested Cockatoo
Umbrella Cockatoo
Moluccan Cockatoo
Bare Eyed Cockatoo
Goffin's Cockatoo
Macaws
:
Red Shouldered (Hahn's) Macaw
Severe Macaw
Blue And Gold Macaw
Blue Throated Macaw
Military Macaw
Red Fronted Macaw
Scarlet Macaw
Green Winged Macaw
Hyacinth Macaw
| | | |
| --- | --- | --- |
| | | Wednesday March 5th, 2014 |
While I am abroad traveling through Iraq, Iran, and Afghanistan, my parrots are being cared for back at home. I am posting this blog from Terhan, Iran! Sorry for not being on top of my facebook and other pages lately, the dictatorial regime in Iran blocks much of the web because they are afraid of their people experiencing freedom and good things.

It has only been 2 months since I brought Santina home from the rescue but I already had a scheduled trip. No problem. I worked extensively during the time I had to prepare her as best as possible for my eventual absence. But not only that, I prepared her to receive care from someone other than me.

Kili & Truman are so used to the routine that they don't blink an eye so I won't be discussing them. Santina on the other hand is less accustomed to being cared for by different people. From what I know, she was accustomed to being cared for by a single person until she ended up at the rescue. Even at the rescue it was the same people all the time. Santina had little experience being cared for by different people. Bonding with her in such a short span of time was a major achievement but unbonding her so that she would tolerate someone else was an even bigger one.

In the weeks prior to my departure, I began the process of preparing Santina for the fact that nobody will be around for most of the day. I jumbled her schedule with me or didn't come entirely (except minimum food/water care) to prepare her for this change. I tried to socialize her toward people but at this stage this is complicated because she doesn't want others to handle her.

A week prior to my departure, I began having my brother come over during evenings to begin the transition process. The first time was so that he could watch what I do with her and subsequent times were to take on more and more of the process. Although it would conceivably be possible to change her food/water and wash the floor without ever handling her, this would be difficult. If she were so aggressive that her caretaker could not remove her from the room, then it would be awkward to impossible to get her dishes. Thus we set the goal of two step ups per session. One to come out of the cage room and one to go back in.

During my trip, Santina would be on pellet freefeed. She would not be provided with alternate foods because they are not essential and it would make more difficulty and mess for my brother to take care. The feeding is simple and a non-factor. What was more of a concern was how to get Santina to be good about stepping up for my brother without much motivation for food. If this were Kili or Truman, this would not be a problem as they are used to stepping up for anyone. But Santina is not.

So we decided to leverage Santina's favorite thing to get her to step up, nuts. She would not get any nuts the entire time I was gone except when stepping up. No foraging toys, no training, no freebies. The only way she could have her fill of nuts would be to by stepping up for my brother when needed. We practiced this before I left. Between my brother's confidence in handling her and her desire to get to have a nut, there was no problem teaching her to step up for him. Thus the routine became step up for a nut, eat it outside cage room and watch the clean up, and then step up for another nut to go back inside.

Just to play it safe we also did some practice of having my brother put Santina on a scale and in the carrier so that he would be able to take care of those things if necessary. It was much the same as the other step up exercises and proved to be no problem.

I showed my brother how to clean and take care of all other bird specific business and let him practice a few times before I left. This was both good for him to learn, for me to gain confidence that things will be alright, and to introduce Santina to the way things would be for a few weeks. Here is a video we recorded of the final practice session before I left that shows how my brother would be taking care of Santina while I was away.


| | | |
| --- | --- | --- |
| | | Thursday February 27th, 2014 |
This is a special edition of the Trained Parrot blog coming to you from Baghdad, Iraq. Kili & Truman are at my old place, Santina still in quarantine in my new place, and I'm in Iraq. Yet everyone is doing just fine. The reason is that all of my birds have been accustomed to my absence beforehand, including Santina who I got just 2 months ago. I am also fine, knowing that they are handling things with ease.

Obviously Kili & Truman have been used to me going away at times since I've had them as babies. But Santina is different. She's a 14 year old rescue macaw that has known a single home, a rescue, and my home just recently. I did not want to chance coming home to a plucked bald bird. Although I have had this Green-Winged macaw just briefly, she has already bonded to me. So without preparation, my absence could be traumatizing.




Since shortly after acquiring Santina, her preparation for my eventual absence had begun. For the first week or so, I was careful to build schedule, routine, and trust. But once she took to me, the importance of preparing for my absence was even more essential than further taming and bonding. Having a parrot melt down in your absence is even worse than having insufficient bonding. Over-bonding is something best avoided because the psychological ramifications on the parrot in your absence would be devastating.

I talk about absence rather than vacations because there can be many different reasons why your parrot doesn't see you when it may expect to. It could be coming home late, meeting a friend, having a situation to deal with, getting injured/hospitalized, or just having something else that needs to be taken care of. So as much as this article is about preparing a parrot for being absent on vacation, it is also about preparing your parrot for you being gone for any reason.

The first steps in preparing Santina for my eventual absence was to break routine schedule from time to time. Most days I would play with, train, and take care of her at around the same time. Well some days I would do this an hour earlier or later than usual so that she would not absolutely expect me at a certain time. As I removed my own constraints on the timing of her care, I would even go so far as to skip occasional sessions entirely or come at a completely unexpected hour.




When my friend Ginger was in town, that really turned things upside down. Some days we spent a lot more time with Santina and other days I did not do anything with her at all. Ginger and I were busy running around town so this was a healthy introduction to my absence for Santina at the same time.

Usually I don't intentionally skip sessions with my birds. Life happens and I just let it. I try to be routine and there for them 6 out of 7 days a week. Normally I avoid making plans that make me miss my normal parrot sessions but once in a while I allow this to happen full knowing that it is the best thing for my birds in the long run. If I didn't occasionally have reasons to miss my bird sessions, then I would intentionally do so from time to time because it is so important for their long term well-being. But since there are naturally occurrences for this from time to time, I just allow them to happen and don't have to go out of my way to skip bird time.

In this way, little by little, Santina became accustomed to the fact that I usually come to spend time with her at certain times but not always. In the week prior to my departure, I was very busy catching up on work and preparing to leave. This again caused me to miss or delay bird sessions and helped make the transition from being there with her for extensive periods twice a day, to being gone much smoother. Of course I have someone taking care of her while I'm gone but obviously it's not the same. So I began skipping single sessions and at times even both sessions in a day so that she would not be surprised when I was not there at all. On the other hand I also started transitioning in my brother who would be taking care of her while I would be away. Kili & Truman have been through the routine countless times so I did not bother doing anything at all to prepare them this time. I'm sure they had it all figured out from the moment they saw me crack out the suitcase and they were just eagerly awaiting party time the moment I'd be out the door. With Santina, I took stronger precautions as this would be the first time I left her since coming home from the rescue.

Here are some tips for preparing your parrot for your absence:
-Practice throughout the year by occasionally not showing up at normal parrot times
-Keep routines but sometimes mix them up
-Take your parrot places because this prepares it for greater changes
-Socialize your parrot to other people so they can be cared for by others
-Put lots of favorite toys in the cage a week or two before you go
-Ease the transition prior to your departure (if planned) by having the care taker fill a greater role

The most important thing is to start this process NOW! Don't wait until the day or even week before you need to be away to start preparing your parrot. Begin now. Whether or not you have trips or events planned down the line, it is imperative that you begin preparing your parrot for your absence now because it will eventually happen and quite likely unpredictably. To prevent agony to your bird and for your own peace of mind during that inevitable time when you cannot be with them, make these preparations now. And take a break from your birds from time to time. It will do everyone some good and provide for a healthy long lasting relationship.


| | | |
| --- | --- | --- |
| | | Saturday February 22nd, 2014 |
This article is about how to do bad things to your parrot. Scratch that, you shouldn't be doing bad things to your parrot. Let's call it doing "sucky" things to your parrot. Sucky things may be inevitable or necessary such as going into a carrier, being toweled, going to the vet, putting on a harness, moving to a new house, getting groomed, receiving medication, etc. These aren't necessarily bad things, some may even be life saving, but they can certainly be seen as sucky and undesirable from the parrot's perspective. This guide provides some tips on making these things go by more easily. I'm not going to look into the specifics of each task (such as teaching the parrot to go into the carrier) but rather an approach to dealing with these situations in general.

The first step is to try to make the best of any situation. If you have to do something sucky to your parrot, try to make it as harmless as possible. For example if your parrot is terrified of carriers, towels, and grooming, perhaps you can do just the grooming at home without a towel to avoid making the experience triply terrible. Try to make uncomfortable situations go by quickly and smoothly. But do not rush or be too forceful in trying to make it go by faster. Instead try to be efficient by thinking the experience through in advance and even practicing it out before putting the parrot into it.

Whenever possible, try to use positive reinforcement to desensitize the parrot to sucky things or situations. Teach the parrot to go into the carrier by itself, teach it to put the harness on voluntarily, etc. Anything that is meant to be for the pleasure of the parrot must not be applied in a sucky way. In other words forcing the harness so the parrot can enjoy being outside is terribly counterproductive. The parrot will be so preoccupied being upset about the harness being forced on that it will miss the enjoyment of being outside.

Being wrapped in a towel for veterinary procedures on the other hand is not be for the parrot's pleasure (though it may be essential for the parrot's health, the bird does not realize this). Still, you can greatly eliminate the stress of the veterinary visit by ensuring that all the other aspects aren't sucky for the parrot. If you use positive reinforcement to train a parrot to be comfortable with the towel and use the towel in non-threatening ways at home, the experience of being toweled by the vet won't in itself be traumatizing. Nor will the carrier to get there, the handling, etc. This leaves the parrot to be stressed only by the actual blood draw or other medical procedures. Instead of being traumatized by all the uncomfortable handling and force, the parrot is left with much less to worry about.

A great counter condition to necessary sucky experience is to make it desirable beforehand. For example, rather than letting your baby parrot's first encounter with a towel be a bad one at the vet, make hundreds of good experiences at home first. Then when one bad exception time happens at the vet, the parrot won't hold a grudge because the good times far outweigh the bad ones. If your parrot hates towels already, you can take the time to undo the damage and counter condition the towel as something desirable. If hundreds of good experiences at home outweigh the infrequent bad ones, it will remain less sucky to the parrot and your parrot will suffer less for it.

Things like new toys should never be sucky at all. Sure, many parrots are scared of new stuff. But the last thing you want to do is make the bird scared of what it is actually meant to enjoy. For skittish parrots, hanging a toy straight into the cage figuring it will get over it is not always the best idea. The bird will still have prolonged anxiety in the process of desensitization. Instead, offer a social modeling form of learning by being proactive. Play with the toy yourself in view of the parrot or use targeting to teach the bird to come closer to the toy to get comfortable on its own.

The more "sucky" things that you turn into neutral or better yet "awesome," the better prepared your parrot will be to deal with any life changes as they are to come. The more you train, socialize, travel with your parrot, and build good experiences, the easier this process continues to become.

As you teach your parrot how to overcome and even enjoy sucky things, your parrot will begin to develop a trust for anything you provide. For example, Kili used to get scared of new trick training props. I would work with her using targeting to have her walk around in the vicinity of the new toy and progressively closer until she was no longer scared. Over time, these targeting sessions became quicker and quicker because she was already familiar with the desensitization process. Eventually we reached a point where if Kili was scared of something new, I could just show her the target stick and ask "do we really need to even go through this?" and then Kili would stop being scared of the new toy and just proceed to learning the new trick. Not only are new toys not sucky to Kili anymore, she looks forward to them. I have reversed the appearance of something new from being sucky to something to look forward to. Kili knows that new training props mean fun new tricks to learn.

Occasionally there are some rare non-recurring sucky things that must be done. Preparation may be impossible. In those cases just get it done. But for all other things that you can control, take the time to make them pleasant and your parrot will have an overall better life. The fewer things that inevitably have to be sucky, the less stressed your parrot will be and the more trusting of people it will remain. Preempt experiences that may be bad with a lot of similar good experiences beforehand. Less suckiness in your parrot's life is already a better way to live.

Check out this video of how I handle Kili & Truman in a positively reinforcing way in preparation for grooming and other necessary handling. Basically it's just how we play but it has useful benefits in the long run:

| | | |
| --- | --- | --- |
| | | Sunday February 16th, 2014 |
I hate getting bit. In fact I hate it so much that I make sure that I don't. I have approached countless birds – that aren't mine – at stores, rescues, and other people's homes and I rarely if ever get bit. This is because I don't put myself in harm's way. I adjust to the bird and let the bird adjust to me. I read the bird and act in a predictable way to help the bird read me. This article is about offering food to a parrot from your hand that you don't know or think will bite.

If you don't personally know a bird (and by personally I mean where it has stepped up for you before; just cause it has stepped up for others doesn't mean you know that it will do the same for you), the safest approach to keeping your blood inside your skin is to take caution as though the bird could bite. On the other hand, if you already got bit by the bird offering food in the past or know that others have, then you especially need to follow these steps. Even if your bird doesn't bite you, you will still want to familiarize yourself with these steps in case you encounter someone else's parrot or someone else needs to encounter your parrot!

Being able to read and understand body language is important but sometimes you just don't know. If it's your own parrot that you have a long experience with, you may be able to read the body language and avoid a bite on yourself or someone else. But if you are visiting a bird or just acquired a new one, until you see body language in context, you just may not know.

Offering food from your hand is the first essential step to being able to apply positive reinforcement training to teach the bird to step up, accept head scratches, and more. Until you can get within touching range of the parrot, inevitably you will end up relying on negative reinforcement and positive/negative punishment. So to have greater success with the parrot and to get it to like you, it is important to get to the point of being able to safely offer food as soon as possible. There are safe ways of offering food and then there are ways to get bit instead.




I really came to realize the importance of this procedure when my friend Ginger, from Ginger's Parrots Rescue, got bit by Santina. Here is someone who deals with many birds and surely knows what to do but still mistakenly put herself in harms way. A few weeks prior, my little sister got bit while offering food to Santina as well. On the flip side, I watched my brother use my same approach and was able to handle the large macaw with no trouble.

One of the problems I have is that Santina is super sweet to me and never bites me (since I brought her home from the rescue) so I don't really know her aggressive body language. It kind of has to do with dancing around and being fluffy but then again she looks much the same way when she wants a head scratch from me. Since she has experienced so few other people, inevitably the first few end up being test dummies to see if she will bite and what kind of postures she displays at that time.

First, you are going to need to find out what the parrot actually likes as a treat. Offering something the bird doesn't like won't protect you from a bite. On the other hand offering something the parrot would like can quite likely become a sufficient distraction from biting. Finding out the bird's favorite treats was already covered in this article. But if you're approaching a bird without knowing what it likes, some go to treats include millet spray for budgies/cockatiels, sunflower seeds for small parrots, almonds for medium parrots, and Brazil nuts for large ones. Not only are these treats favored by most parrots but they are also large (relative to the size of the bird's beak). This will improve the likelihood that the bird's entire beak will be occupied by the treat and not leave room for a bite. Also, the treat is so big that you can protect yourself behind the extended treat as I will explain.

The first step is to leave the bird alone! All too often people get too excited about wanting to handle a bird that they overwhelm it. Instead, give the bird some time to get comfortable with your presence. If you have a visitor apply the same procedures to guide their interaction with your bird. At first, ignore the bird completely. Don't even look at it. With a little more time, from a distance begin to interact with it remotely. Make slow but deliberate steps toward the bird with the special treat in hand. If at any point the bird begins to flip out (jumping off perch, flying away, snap biting toward you in the air, etc), you've got a lot more of an issue than just offering food without getting bit. That type of situation is beyond the scope of this article, please refer to my book instead. But if all you are dealing with is slightly aggressive posture, eye pinning, or other agitation that is not extreme, continue slowly moving closer. Maintain a pace that evokes the least of this type of reaction until you can get into range.

Never put yourself closer to the parrot than the distance it would take for the bird to bite you. Except in some extreme cases, most flighted parrots will not fly to attack you. If they get too scared they will just fly away. If in a cage or clipped, the parrot is left with no choice but to bite if it feels trapped. This is why we are going to work on the careful no-bite food exchange to show the bird that first of all absolutely nothing bad will happen (negative reinforcement) and that in fact something good will happen (treat, positive reinforcement). At first the negative reinforcement element actually plays a more substantial role in early training but if the treats are desirable, positive reinforcement will quickly take over.

When you can reach the distance within a few feet from the bird, it is time to slow down and exercise greater caution. Show the treat in very plain sight. Maybe even pretend to eat it and make a big deal about how nice it is. So while up till this point the goal was to move closer to the bird without freaking it out too much, from this point the goal is to move the treat toward the bird without getting bit. Realize that the bird has different ranges of reach. It can bite what is right at its beak, it can reach forward and bite and it can make a lunge snap bite that can reach furthest. What I do is walk up to a point where I can reach the bird with my arms without moving my feet any more. I reach the treat at a slow but constant rate toward the bird. I keep going closer and watch for the bird to teach to take it. I put the treat just far enough that the bird can stretch its maximum range to try to get it from me. If the bird is looking at and reaching for the treat, I am strongly assured that the bird wants the treat and shouldn't bite. I don't let my guard down completely yet. While holding the treat at the furthest point, I continue to reach it closer toward the bird until it is just close enough to take the treat but not close enough to bite yet. I hold the treat loosely and make it easy for the bird to take it out from between my fingers. As soon as the bird grasps the treat I take my hand back out of bite range but I don't go away. I stand around while the bird eats the treat to build more trust. If the bird avoids eating because I am imposing too much, I might take a step or two back but I still try to stay close while it eats. Then I recede to get another treat and try again.




After several treats, the parrot should start to become more at ease because it knows that all you want to do is provide a treat. On the other hand you should be able to get more confident that the bird isn't trying to bite. Depending on how aggressive/scared the bird is, the rate of your continued progress will vary. Maybe you have now gained the trust of an already tame bird and it will let you scratch its head and step up. Or maybe this is just the beginning of a long taming process. But either way, with the power to apply positive reinforcement in your training, things have the potential for major improvement from this point further.

Try to make the first approach happen within the span of about 30 seconds from when you begin to approach the bird to when the treat is in the beak. With success, keep trying to cut that time in half. You don't want to take too long any more than you want to rush. A rush can scare the bird into biting. But drawing the process out too long can lose the parrot's interest in the treat and hinder your chances at success.

If the parrot drops the treat but doesn't bite, try finding a more desired treat. Look for greater interest from the parrot's gaze. If the parrot bites, end the session and focus more on finding very desired treats and practice your approach to be able to bring in a treat without giving the parrot enough reach to bite. If done properly, you should not end up receiving a bite using this approach. The more times the parrot can take food without biting, the less likely the bird will consider biting as something to do in similar circumstances in the future.

This approach helps you have a more confident approach because it protects you from being bit but also is more comfortable for the parrot (thereby reducing the desire to bite just the same). The parrot will learn just to get treats for nothing and success will come with practice. For more information about taming and training parrots, please refer to my complete approach presented in my book, The Parrot Wizard's Guide to Well-Behaved Parrots. Here is a video in real time of me teaching Ginger to approach Santina in a way that gets her to take the treats rather than bite.


| | | |
| --- | --- | --- |
| | | Wednesday February 5th, 2014 |
Kili & Truman are well adapted to the cold. They have thick down feathers that they molted in during the fall. So now when I take them outside on 40 degree days, they aren't bothered by the cold.

You see during the fall I would put the birds out in the outdoor aviary on progressively colder days. First the days were in the 70s, then 60s, 50s, and eventually 40s. Their bodies and feathers adapted to this. When the winter got colder and I stopped taking them out, the only other thing I did to keep them more winter ready was to keep the indoor temp a bit lower (high 60s) so that the change to outdoor temperature would be less substantial.

The down feathers on Kili & Truman's heads are much much ticker than Santina's. Especially for Truman, he spends a lot of time out in the aviary during the colder months. His feather density feels nearly double what is is during the summer. When I run my hands through his feathers, they feel almost twice as thick and this is because the down feathers underneath the plumage are much thicker than usual.

On the other hand, Santina had come from a rescue where the temperature was constant. Her down is not much thicker than in the summer. For her going outside was much colder.




In just 5 minutes outside in 50F and direct sunlight, Santina was already shivering and had to be taken back inside. Kili and Truman managed to spend an hour outside at the park freeflight in 40F weather and sunlight. The flying definitely helped keep them warmer but since they take turns to fly and the other bird sits, flying wasn't the biggest factor.

This is why aviary parrots can manage most above freezing temperatures but housebirds should not be taken outside in strongly contrasting temperatures. As a rule of thumb, 10F less than indoors is no problem at all. 20F less than indoors is usually ok if it's sunny, not windy, and not for a prolonged period of time. Less than that only if they are under your jacket (and briefly) or well acclimated to colder temperatures. Avoid taking baby, old, sick, or frail birds outside in colder temperatures. If the bird's feet or beak feel cold, it is definitely time to move it inside and you should generally try not to stay out long enough for it to get to that. More tips on taking parrots outside in winter here.