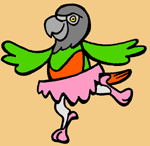 Kili
Type: Senegal Parrot
Genus: Poicephalus
Species: Senegalus
Subspecies: Mesotypus
Sex: Female
Weight: 120 grams
Height: 9 inches
Age: 9 years, 6 months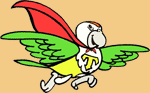 Truman
Type: Cape Parrot
Genus: Poicephalus
Species:Robustus
Subspecies: Fuscicollis
Sex: Male
Weight: 330 grams
Height: 13 inches
Age: 7 years, 9 months

List of Common Parrots:
Parakeets
:
Budgerigar (Budgie)
Alexandrine Parakeet
African Ringneck
Indian Ringneck
Monk Parakeet (Quaker Parrot)
Parrotlets
:
Mexican Parrotlet
Green Rumped Parrotlet
Blue Winged Parrotlet
Spectacled Parrotlet
Dusky Billed Parrotlet
Pacific Parrotlet
Yellow Faced Parrotlet
Lovebirds:
Peach Faced Lovebird
Masked Lovebird
Fischer's Lovebird
Lilian's (Nyasa) Lovebird
Black Cheeked Lovebird
Madagascar Lovebird
Abyssinian Lovebird
Red Faced Lovebird
Swindern's Lovebird
Lories and Lorikeets
:
Rainbow Lorikeet
Conures
:
Sun Conure
Jenday Conure
Cherry Headed Conure
Blue Crowned Conure
Mitred Conure
Patagonian Conure
Green Cheeked Conure
Nanday Conure
Caiques:
Black Headed Caique
White Bellied Caique
Poicephalus Parrots
:
Senegal Parrot
Meyer's Parrot
Red Bellied Parrot
Brown Headed Parrot
Jardine's Parrot
Cape Parrot
Ruppell's Parrot
Eclectus
:
Eclectus Parrot
African Greys:
Congo African Grey (CAG)
Timneh African Grey (TAG)
Amazons:
Blue Fronted Amazon
Yellow Naped Amazon
Yellow Headed Amazon
Orange Winged Amazon
Yellow Crowned Amazon
Cockatoos:
Cockatiel
Galah (Rose Breasted) Cockatoo
Sulphur Crested Cockatoo
Umbrella Cockatoo
Moluccan Cockatoo
Bare Eyed Cockatoo
Goffin's Cockatoo
Macaws
:
Red Shouldered (Hahn's) Macaw
Severe Macaw
Blue And Gold Macaw
Blue Throated Macaw
Military Macaw
Red Fronted Macaw
Scarlet Macaw
Green Winged Macaw
Hyacinth Macaw
My book is here! The Parrot Wizard's Guide to Well-Behaved Parrots is the most complete book about parrot keeping. It's not just a book about trick training, it is an entire approach to having an outstanding relationship with your parrot.

I have been writing this book for the last half year but more importantly it is the culmination of five very intense years of parrot education, training, consulting, and performing. I've taken everything that I have learned, applied it, and then wrote down for you the essentials that you can apply to your bird. This book isn't there to teach you how to teach a million tricks or become a performer. It's about how to achieve a well-behaved parrot and ultimately a mutual relationship!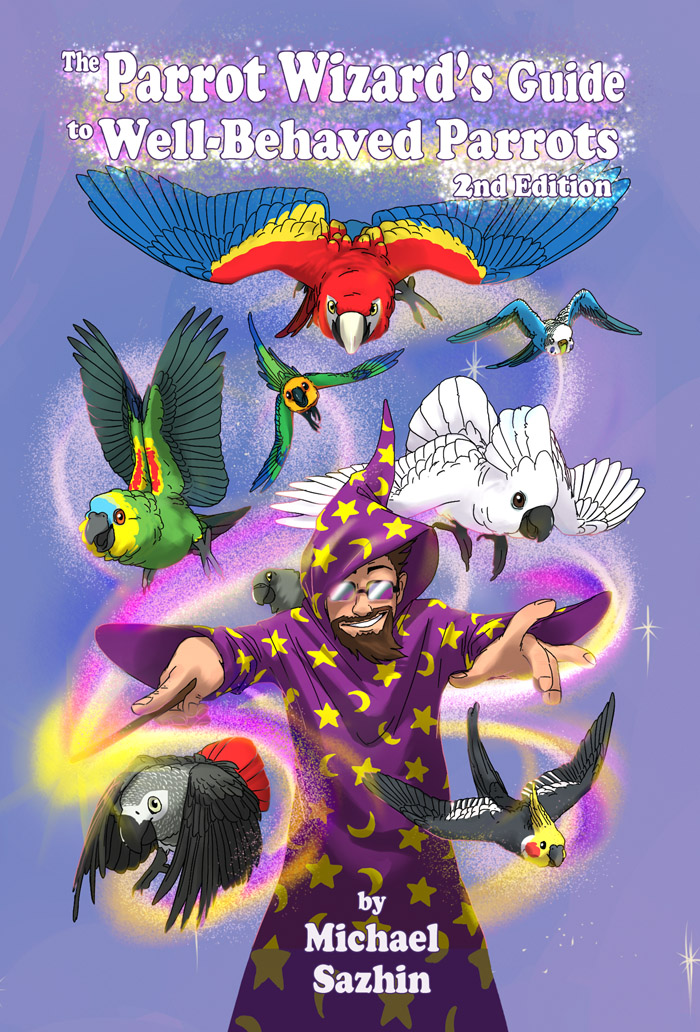 Click to order a copy from ParrotWizard.com/Book



It's not that I think I know better than others, but I just was never very pleased with the other books I've read about parrot keeping. Many of them are obsolete and don't recommend best practices. But even some of the books I agree with, I just found terribly boring. They are written by experts for experts and really leave the common parrot owner in the dust. Parrot owners don't need the nitty gritty technical stuff, they need something accessible that they can apply and that will work! I understand this because I'm a pet parrot owner and it wasn't long ago that I was desperately seeking help on the most basic things.

Instead of teaching you how to do absurdly complicated tricks with your parrot, my book is there to teach you all the essential stuff from merely approaching your parrot's cage without it freaking out to being able to grab it. A lot of emphasis is placed on taming, health, safety, and other things that are essential elements of keeping a pet parrot. Also the first chapter is entirely about how to choose a parrot in the first place for folks who do not yet have one and attempts to answer the classic question, "what kind of parrot should I get?"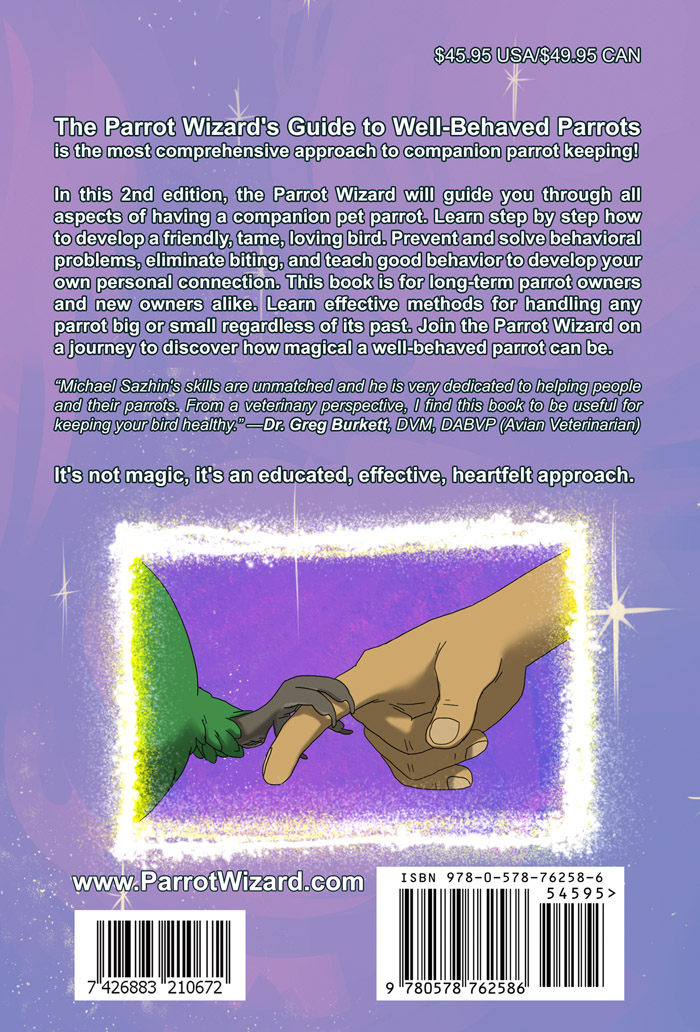 In my book, I tell it how it is. I don't try to sugar coat things or make a parrot owner out of everybody. The purpose is to help those who want the help and to get them to achieve a good relationship with their parrot. The book takes a very balanced approach keeping both the parrot's well-being but also the parrot owner's sanity in mind. I realize that people are busy, have other commitments, may not have the means to buy fancy stuff. That is why my book is down to earth and really about finding a way that anyone can make it work rather than a professional approach to training performing parrots.

Unlike any other parrot book I've ever come across, mine presumes that parrots are flying creatures and takes an approach to keeping them as such. Despite the recommendation of keeping them flighted, the book presents countless ways to get more out of your parrot than if it were clipped! Flight safety, flight recall training, flight trick training, and managing flighted parrots are key themes throughout the book. Even if your parrot is clipped you will find this book extremely helpful and I think it will convince you that you can still have a relationship with your parrot by allowing it to fly. Better yet, you will have a better behaved, healthier, safer, and more fun parrot than it could ever be while clipped!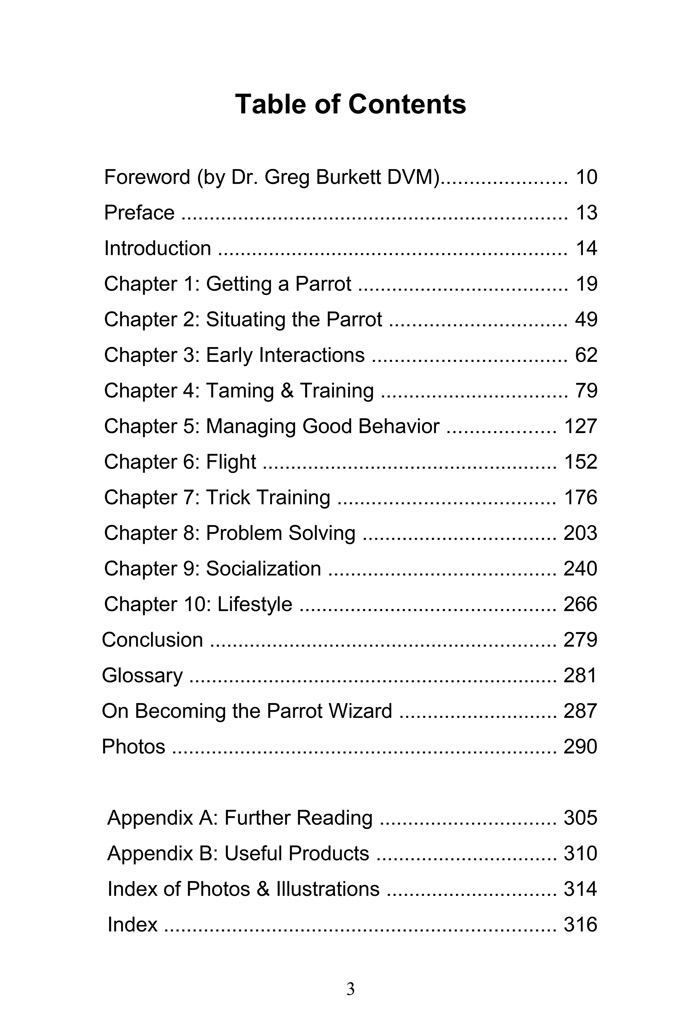 Problem solving receives an entire chapter in the book. Solving problems such as biting, screaming, plucking, and even flighted related issues are extensively covered. However, the main purpose of the book is to present an approach to follow from day 1 to ensure that those problems don't arise in the first place. This information is all based on problems I have solved in my own parrots or have helped others solve with theirs.

You'll find it interesting that I barely wrote any of this book at home. It has bits written all over the world on planes, trains, and automobiles. I've been writing it on the go during my travels. Guyana, Suriname, French Guiana, Guadeloupe, Haiti, Ethiopia, Sudan, Eritrea, Djibouti, and Somalia are some of the places I was in while writing the books. During those trips I got to observe parrots in their natural habitats so it was especially encouraging to me to help owners find the best compromise between a parrot's nature and desirable household pet qualities.