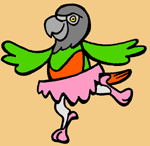 Kili
Type: Senegal Parrot
Genus: Poicephalus
Species: Senegalus
Subspecies: Mesotypus
Sex: Female
Weight: 120 grams
Height: 9 inches
Age: 10 years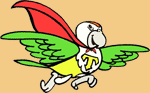 Truman
Type: Cape Parrot
Genus: Poicephalus
Species:Robustus
Subspecies: Fuscicollis
Sex: Male
Weight: 330 grams
Height: 13 inches
Age: 8 years, 3 months

List of Common Parrots:
Parakeets
:
Budgerigar (Budgie)
Alexandrine Parakeet
African Ringneck
Indian Ringneck
Monk Parakeet (Quaker Parrot)
Parrotlets
:
Mexican Parrotlet
Green Rumped Parrotlet
Blue Winged Parrotlet
Spectacled Parrotlet
Dusky Billed Parrotlet
Pacific Parrotlet
Yellow Faced Parrotlet
Lovebirds:
Peach Faced Lovebird
Masked Lovebird
Fischer's Lovebird
Lilian's (Nyasa) Lovebird
Black Cheeked Lovebird
Madagascar Lovebird
Abyssinian Lovebird
Red Faced Lovebird
Swindern's Lovebird
Lories and Lorikeets
:
Rainbow Lorikeet
Conures
:
Sun Conure
Jenday Conure
Cherry Headed Conure
Blue Crowned Conure
Mitred Conure
Patagonian Conure
Green Cheeked Conure
Nanday Conure
Caiques:
Black Headed Caique
White Bellied Caique
Poicephalus Parrots
:
Senegal Parrot
Meyer's Parrot
Red Bellied Parrot
Brown Headed Parrot
Jardine's Parrot
Cape Parrot
Ruppell's Parrot
Eclectus
:
Eclectus Parrot
African Greys:
Congo African Grey (CAG)
Timneh African Grey (TAG)
Amazons:
Blue Fronted Amazon
Yellow Naped Amazon
Yellow Headed Amazon
Orange Winged Amazon
Yellow Crowned Amazon
Cockatoos:
Cockatiel
Galah (Rose Breasted) Cockatoo
Sulphur Crested Cockatoo
Umbrella Cockatoo
Moluccan Cockatoo
Bare Eyed Cockatoo
Goffin's Cockatoo
Macaws
:
Red Shouldered (Hahn's) Macaw
Severe Macaw
Blue And Gold Macaw
Blue Throated Macaw
Military Macaw
Red Fronted Macaw
Scarlet Macaw
Green Winged Macaw
Hyacinth Macaw
I visited the Gabriel Foundation outside of Denver recently. This is a spectacular parrot rescue that should serve as a role model not only for other rescues but even stores and private owners as well!

The Gabriel Foundation was started by Julie Weiss Murad over twenty years ago. The foundation is more than just a rescue. It is a parrot welfare center. They take in relinquished birds, they find homes and adopt out birds, they rescue abused birds in emergency need, and the provide lifelong sanctuary to birds that cannot be adopted to homes. But their efforts extend beyond the birds. They offer educational programs, assistance, and volunteer opportunities to people so that they could become better connected with their parrots.

I found several things extremely impressive during my brief two day visit to the Gabriel Foundation. The most noticeable thing is how incredibly clean everything is! The cages there are cleaner than those at any bird store, rescue, or even most private homes I have ever visited. And I know parrots well enough to tell you that it's not because the parrots aren't making a mess. It's the endless cleaning efforts of the staff that make this happen.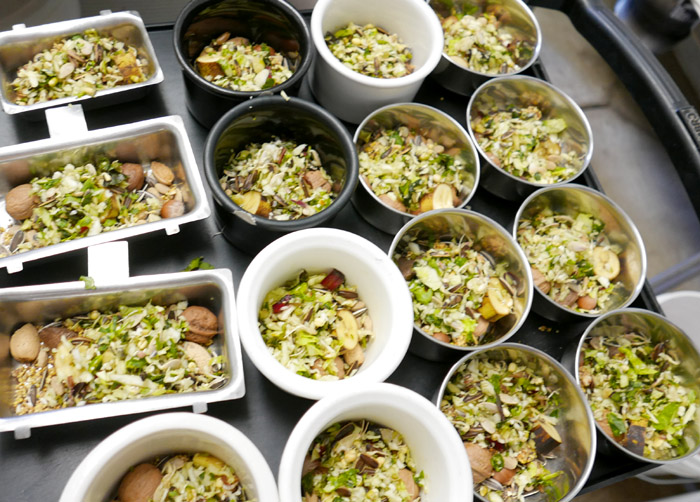 Every cage is filled with a multitude of perches and toys suitable to the parrot enclosed. Again, a better and more suitable effort than even many parrot owners in their home. The same holds for the feeding routine. They feed an extensive variety of foods on a twice daily schedule with proper portion sizing.

Perhaps the most impressive thing of all is that none of the parrots have their wings clipped! You cannot find a store or almost any other rescue where the birds don't have their mobility hindered for the convenience of the care takers. Yet, at the Gabriel Foundation, the birds are given the chance to be birds! Off the bat this ends up solving many of the problems that the birds may have been relinquished to the rescue for in the first place. Most parrot behavioral problems come as a side effect of wing clipping and the owner's misunderstanding of how to properly keep a bird.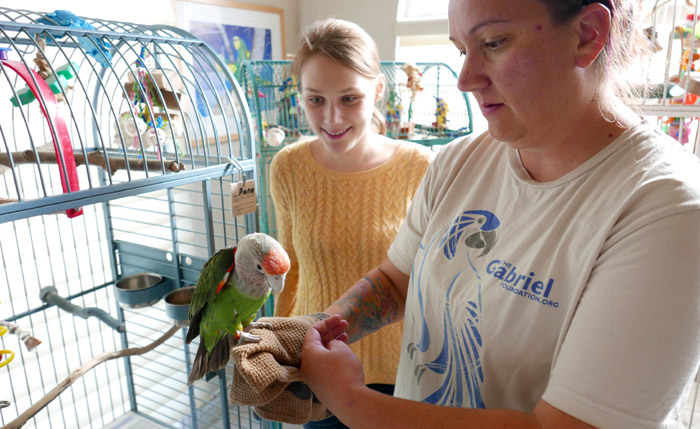 One more thing that the birds at the Gabriel Foundation get that most other rescue, store, and even home pet birds don't is outside time with access to direct natural sunlight. This is as important for the birds' mental well-being as it is to their physical health. I am so impressed to encounter such a large scale organization that really gets it. The Grabriel Foundation is doing things right. They are not taking any shortcuts. They are providing the birds in their care with the kind of care the bird's should really be receiving in a home. Things are almost too good to be true and begs the question, why even adopt a parrot from the Gabriel Foundation if they have it so good there?

Well, according to Julie, the parrots are better off in a home because of the greater human contact. These parrots were domestically bred and raised in homes with people. Although they might have a grand time in aviaries with other parrots of their species, ultimately, they are more comfortable in the human environment in which they were brought up. The Gabriel Foundation simply offers those birds the best possible interim solution until they can find the right home. This also frees up a space at the foundation so that another parrot in need could have the opportunity to make it through the system as well.

By setting the standards so high and so right at the Foundation, it makes it a bit challenging for adopters to meet those kind of standards. The good news is that they are not without help. The foundation goes through great lengths to educate and assist adopters as much as they require so that they could continue the wonderful legacy that the Foundation had started.

I have to say that most times I visit a parrot store or rescue, I end up leaving with a painful feeling in my gut. I get quite upset at the dark, dirty, insufficient perch, insufficient toy, clipped, and ignorant conditions that I come across. Frankly, I tend to avoid visiting stores and rescues to shield myself from the distress that they cause me over the treatment of the birds. Coming to the Gabriel, I had heard good things, but didn't really know what to expect. Incredibly, it was the exact opposite of the typical experience. I would like to encourage any parrot owners, bird store owner, breeder, or rescue staff/volunteer visiting the Denver area to pay the Gabriel Foundation a visit and learn about how good parrot care and parrots themselves can be.

Ginger's Parrots Rescue is following a similar model but on a smaller scale and specifically focused on Senegal Parrots and Cockatiels in the Phoenix area.

Here's a video tour of a portion of my visit to the Gabriel Foundation:

| | | |
| --- | --- | --- |
| | | Thursday February 23rd, 2017 |
Lovebirds are very popular parrots as pets because of their small size and large personality. If you are wondering what Peach Faced Lovebirds are really like and does a Peach Faced Lovebird make a good pet, then knowing a bit about what they are like in the wild may help answer your question. It was really exciting to get to see where their pet qualities come from during my trip to Namibia where I got to see Peach Faced Lovebirds in the wild.

Peach Faced, also known as Rosy Faced, Lovebirds (Agapornis roseicollis) are native to the southwest corner of Africa. Their habitat is woodland savanna bordering on semi-desert. It is a harsh dry climate where these birds come from. They have it pretty tough. These lovebirds go on various kinds of trees and on the ground. However, palm trees seem to be their favorite. They mainly stay in pairs and groups made up of pair units.

The birds stay in a more tight area (a lot like conures) going back and forth between their nesting trees and food sources, as opposed to Cape Parrots and other Poicephalus that make long commutes to food area. The Peach Faced Lovebirds are quite noisy chirping and calling to each other throughout the day. They definitely aren't shy and they make their presence known.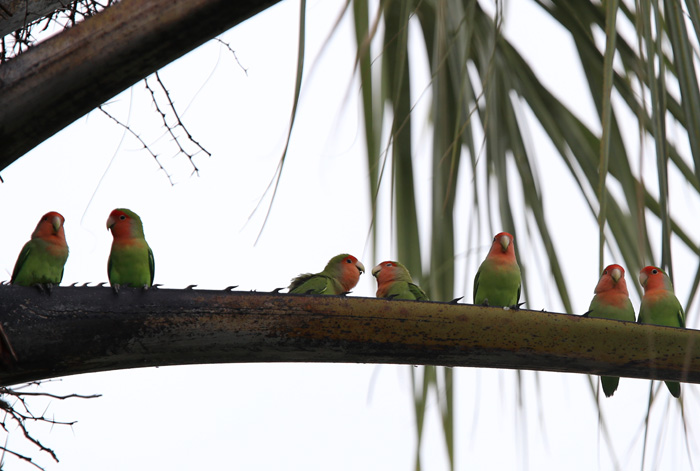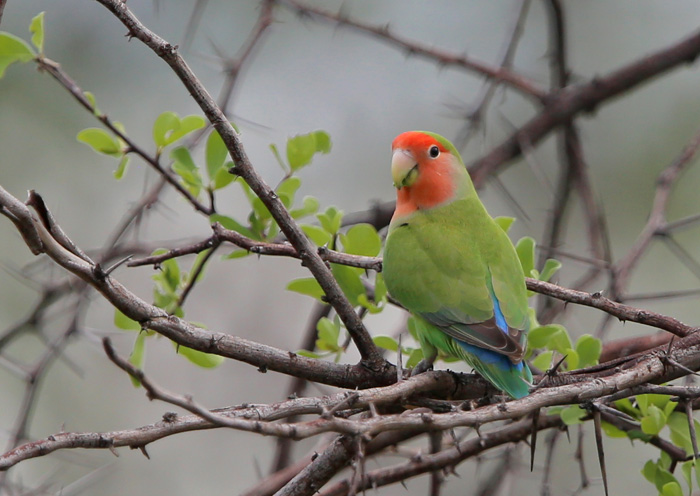 The boldness of the lovebirds is not just obvious by their calling and colors, they are bossy birds. They go after much larger birds to maintain their nesting and feeding areas. Lovebirds may be one of the smallest kinds of parrots but they act like they don't know this.

The wild behavior of these Peach-Faced Lovebirds should not be surprising to anyone who has seen them in captivity. They are high energy, active, bold, fairly aggressive birds in a small package. When considering lovebirds as pets, don't let their small size trick you into thinking that they are less trouble or require less responsibility. The only way their small size should impact your decision to get one should be that they can reside in a smaller space and that the overall costs are smaller (less food, smaller cage, smaller toys). Otherwise they can be aggressive, tough, noisy, and messy like any bigger parrot. In fact, it might be a surprise that a bird so small could create a presence of a much bigger bird.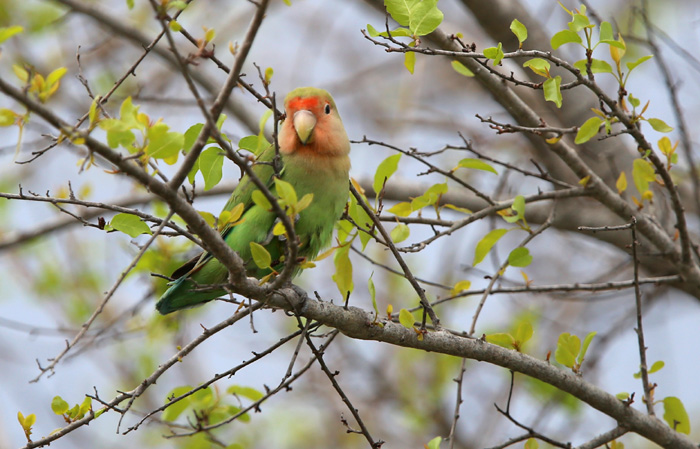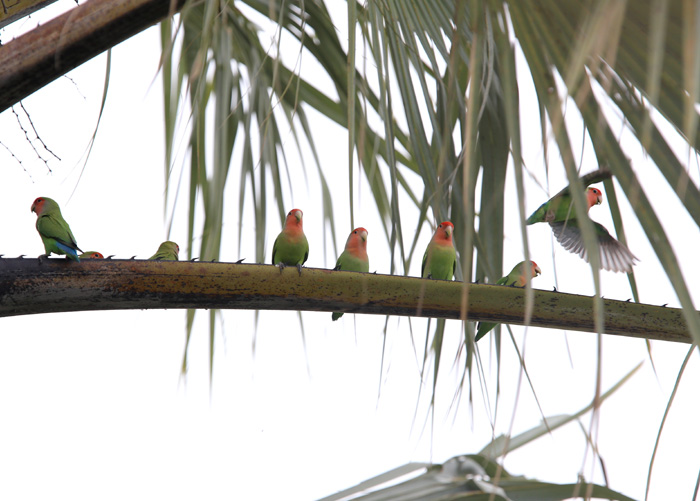 In some ways, lovebirds can be more difficult to keep as pets and train than larger parrots. They tend to be more poorly raised. Breeders put less effort into providing individual care and taming as they crank out many small birds. They grow up more quickly so the "baby stage" may already be over by the time you even get to purchase a weaned baby. Chances are that almost any lovebird you get, young or old, it will be quite a wild bird. Not only will it be more wild but it will do this at a high pace. Keeping up with a hyper bird jumping and flying about won't make it easy to have it on you or in your hand.

However, lovebirds are very intelligent. They may well be more intelligent than other small parrots and parakeets like budgies, cockatiels, and even parrotlets. This intelligence does not mean that they will comply with you or cooperate. In fact, if anything, it will mean they are more shy of human contact. Being shy of human contact does not mean they won't have the boldness to attack. Like the lovebirds I observed in the wild (you will see in the video below), household lovebirds may try to attack and drive humans away. Not the best recipe for a pet.

The good news is that their intelligence makes lovebirds quite trainable. They are opportunistic and driven. So if you properly set up your home environment, balance their diet, and get involved in their training, they have potential just as any bigger bird to be a great companion. Lovebirds can learn quickly and be taught many tricks. All of the basic cued tricks taught on the TrainedParrot Blog (such as Target, Turn Around, Wings, and Fetch) can be taught to lovebirds. They can even be flight recall trained. I recommend that lovebird owners read my book, The Parrot Wizard's Guide to Well-Behaved Parrots to learn the effective application of training and how to get their lovebird to become a wonderful family pet.

Here's a video of my experience watching Peach Faced Lovebirds in the wild:

| | | |
| --- | --- | --- |
| | | Thursday January 26th, 2017 |
On a recent trip to South Africa, I had the amazing opportunity to see Cape Parrots in the wild. I also got to meet Sanjo from the Cape Parrot project to learn more about the project and about the wild Cape Parrots.

The South African Cape Parrots are restricted to a fairly small habitat, the subtropical cloud forests of the eastern Cape. It is a dense wet forest environment with frequent mist and rainfall. The temperatures are cooler because of the 3,000ft+ elevation. It can be fairly warm in the summer but in winter time, these birds can be dealing with below freezing conditions.

This is why it should be no surprise that it was very difficult to get to see them. Not only did we have to travel to a fairly remote part of South Africa, that was only the beginning! Their population is very small and they are quite hard to find. They are considered quite large for an African Parrot, however, they are still a medium parrot at best when you compare with Cockatoos and Macaws. Green parrot, green trees, misty forest, and a broad range makes them a tremendous challenge to see. They travel for many miles from roosting to feeding sites so there is only a brief span of time when you can see them where they live. At night they are sleeping and in the day time they are spread out feeding. Only in the early hours of morning and at dusk can you catch a glimpse of them heading out and coming back.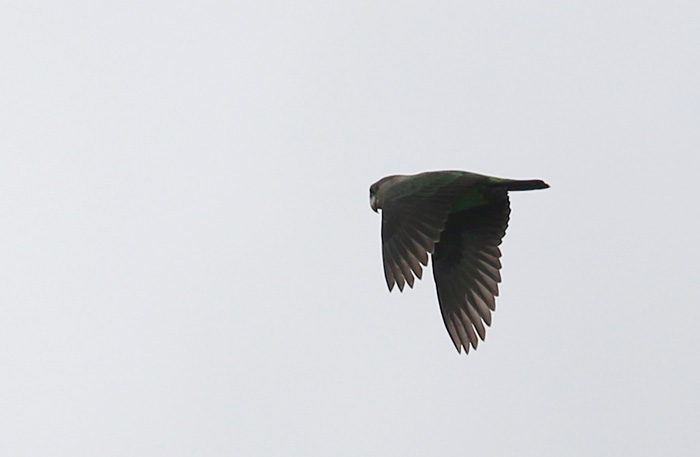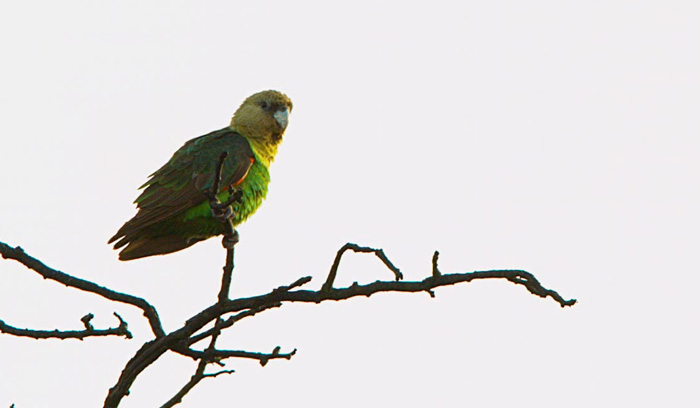 With the help of Sanjo from the Cape Parrot Project, we set out early in the morning looking for the birds. We woke up and were out by 5AM to catch them as the sun was rising. Unfortunately a thick fog blanketed the entire area. We drove to higher ground to break out of the fog but still could not find them. We walked around several places known to be visited by Capes before we so much as heard a single call from them. Following the calls we saw a small group flying and followed them to the tree they finally landed in. We were lucky to be standing in enough of a clearing to even see where they went. Standing in the forest, it would be impossible to track them.

It was a joy to watch flocks of Capes flying and to listen to their familiar calls. The beautiful South African Cape Parrots are truly a sight to behold. But finding and seeing them is extremely tricky. Although they stay in groups, they aren't quite a "flock bird." The trees they land on are high and dense. They aren't ostentatious like Conures and other parakeets I've seen in the wild. Nor are they shy like Senegal Parrots and other small Poicephalus. They really do fall somewhere in between. They are certainly more shy and prone to spook than other types of parrots but at the same time, they are the most courageous of the Poicephalus genus.

What does that mean? Well, in regards to how close you can approach them or how predictable their movements are, that is how I rank them to be somewhere in between. It was not impossible to get footage of them but it was quite difficult. You have to be very patient, know where to look, and be even more patient still. It took us hours of observation across two days to get to spend just about 15 minutes in their majestic presence. And then, as quickly as they had come, they were gone.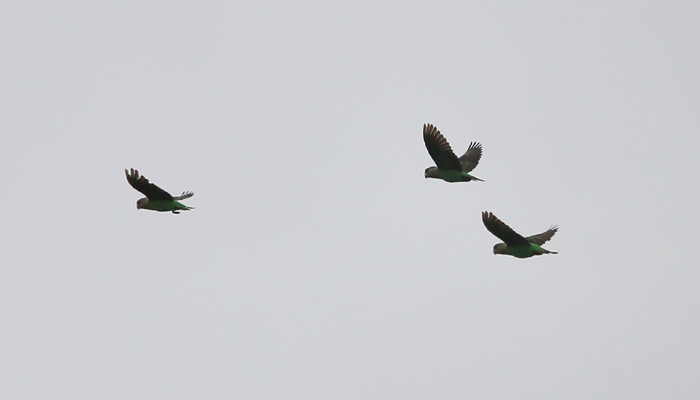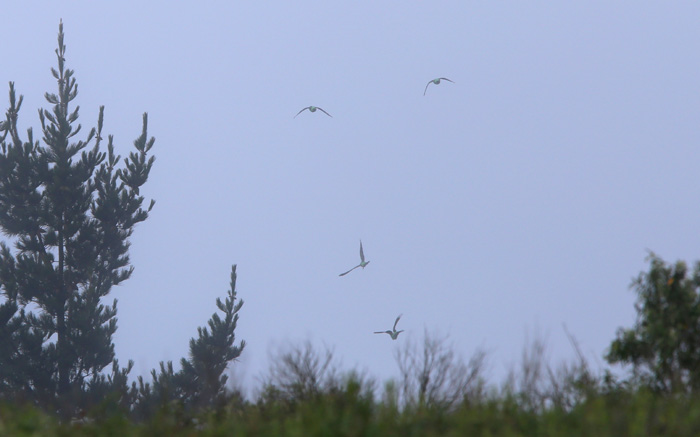 It was so exciting to watch the resemblance of these wild Cape Parrot to Truman, my pet Cape Parrot at home. I got to see preening, calling, and playing behavior in the wild Capes that was essentially identical to the behavior that Truman exhibits. It was just so familiar even though I had never seen a South African Cape in person before.

What is the difference between Truman and the Cape Parrots in South Africa?
Truman is a different subspecies. He is definitely not the Poicephalus robustus robustus subspecies. He is one of the other two and most likely the Brown-Necked subspecies (Poicephalus robustus fuscicollis) which is endemic to the semi-rainforests of Sierra Leone region of West Africa. You will notice in the pictures that Truman's subspecies is a bit larger while the South African Cape Parrots have an olive yellow head. Otherwise, they do look the same.

The South African Cape Parrots are extremely rare to find in aviculture or captivity. The ones you find as pets in the US and Europe are of the Brown-Necked Fuscicollis or Grey-Headed Suahelicus subspecies. They are more similar to each other than to the South African Robustus Cape Parrot. We encountered one Robustus Cape at a bird park in Johannesburg and heard that there are a few breeders of them in South Africa. I have yet to see or hear of any Robustus Capes outside of South Africa.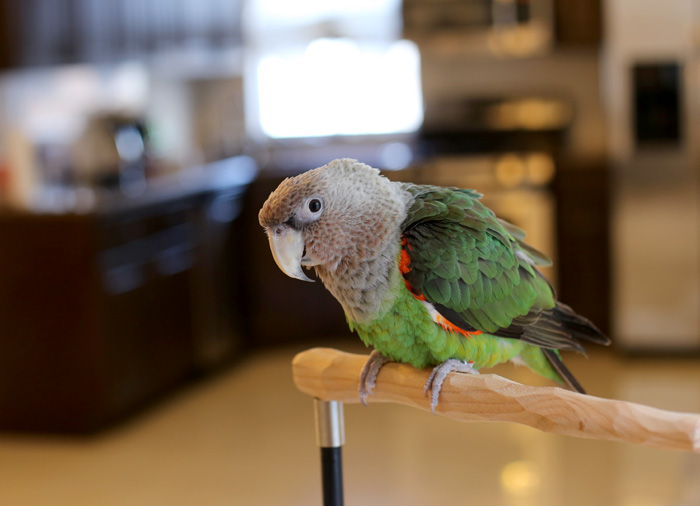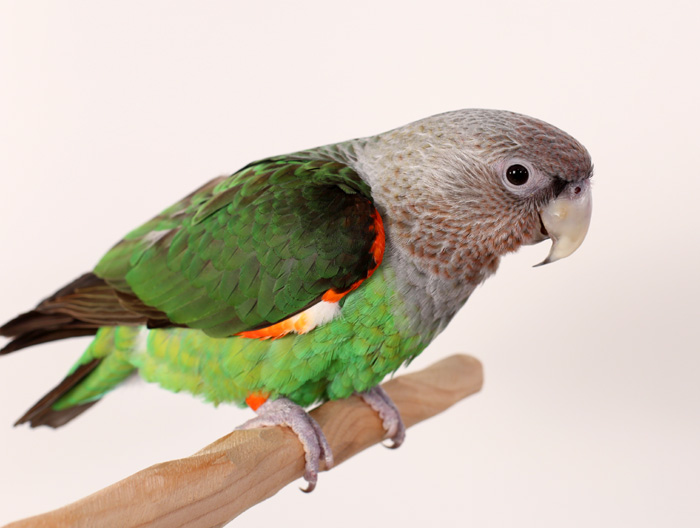 There has been research done by South African researchers and the Cape Parrot project to reclassify the South African Cape Parrot (P. r. r.) as a separate species from the two northern subspecies. They hope that by naming it a separate species, it could end up on the endangered species list and receive CITES protection. However, even as of 2016, Bird Life International and the IUCN Redlist, have not accepted there to be sufficient evidence to name them separate species. Heck, the differences between Timneh and Congo Greys or between Jardine's Parrot subspecies are far more significant than between the most distant Capes.

The biggest difference between South African Cape Parrots and the other two subspecies are not in their appearance but in their living habits. The South African Capes rely almost religiously on the yellowwood tree. They refuse to nest in anything but natural cavities of the yellowwood tree and they also rely on it for food. Not only do they eat the seeds of the fruit of the yellowwood tree, it has been discovered that properties of the yellowwood fruit help give these birds an immune system boost that helps them battle a beak and feather disease epidemic. Their survival depends on the yellowwood tree for fighting disease as well as for feeding and nesting.

Still, regardless of classification, science, politics, or what you call it, the fact that the South African Cape Parrot is critically endangered still stands. There are fewer than 2,000 known South African Parrot Parrots remaining. Deforestation of their peculiar habitat, widespread disease, and some remaining poaching is making their survival questionable. The Cape Parrot Project is performing research to learn more about these birds in order to focus best efforts on their protection. A main focus is replanting yellowwood forests to protect the Capes' natural habitat. The Cape Parrot project receives funding through donations to the Wild Bird Trust.

Here is an interview with Sanjo about Capes and the Cape Parrot Project along with my footage of Cape Parrots in the wild:

| | | |
| --- | --- | --- |
| | | Thursday January 19th, 2017 |
Ginger's Parrots Rescue, a 501c3 Rescue based in Arizona, is really innovative when it comes to bird rescue. It is the first of its kind. Ginger's Parrots Rescue specializes in Senegal Parrots and Cockatiels. By being a species oriented rescue, Ginger's is able to put a greater amount of expertise and knowledge into rescuing, rehabilitating, and adopting out these parrots.

The Birdie Bus is the newest innovation of Ginger's Parrots Rescue. The bus allows the rescue to go mobile and cruise around the Phoenix area to search for potential adopters for the birds in need. The bus can transport many (but not all) of the rescue's birds at once so that the public can learn about parrots and consider adopting one. Ginger takes the bus to PetSmart adoption days to offer a bird adoption in addition to cat/dog adoptions normally performed inside.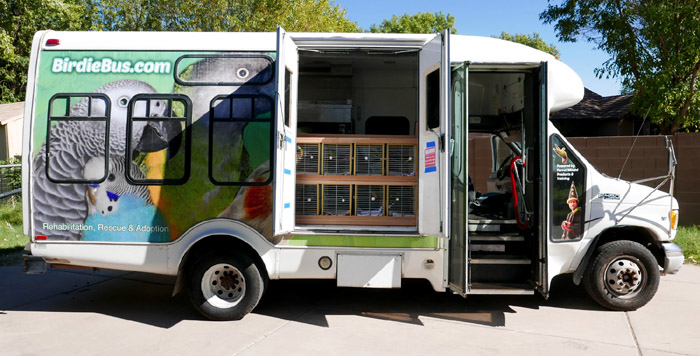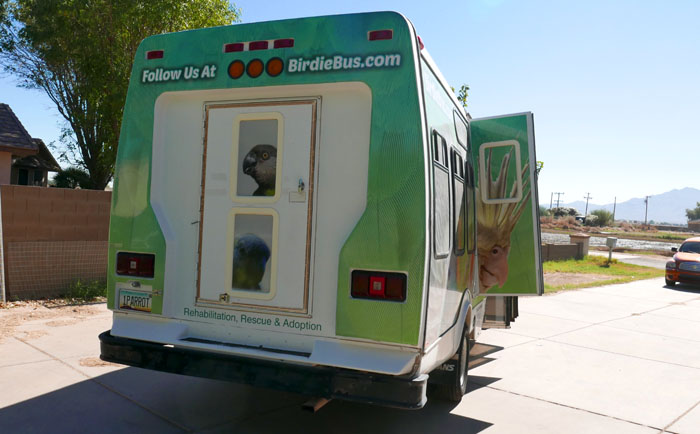 The Birdie Bus itself is really cool. It has 4 different doors so that the bird can get an outside experience in safety. The side and rear door open exposing the bird cages to the outside. Viewers can see and interact with the birds while the cages are securely locked inside the bus. There is also plenty of capacity for moving a tent, tables, chairs, and other items needed at rescue outings.

I went down to Phoenix in November to help Ginger with the Birdie Bus unveiling event. Bird owners from the local parrot community stopped by to show support and people looking to adopt or volunteer came by as well.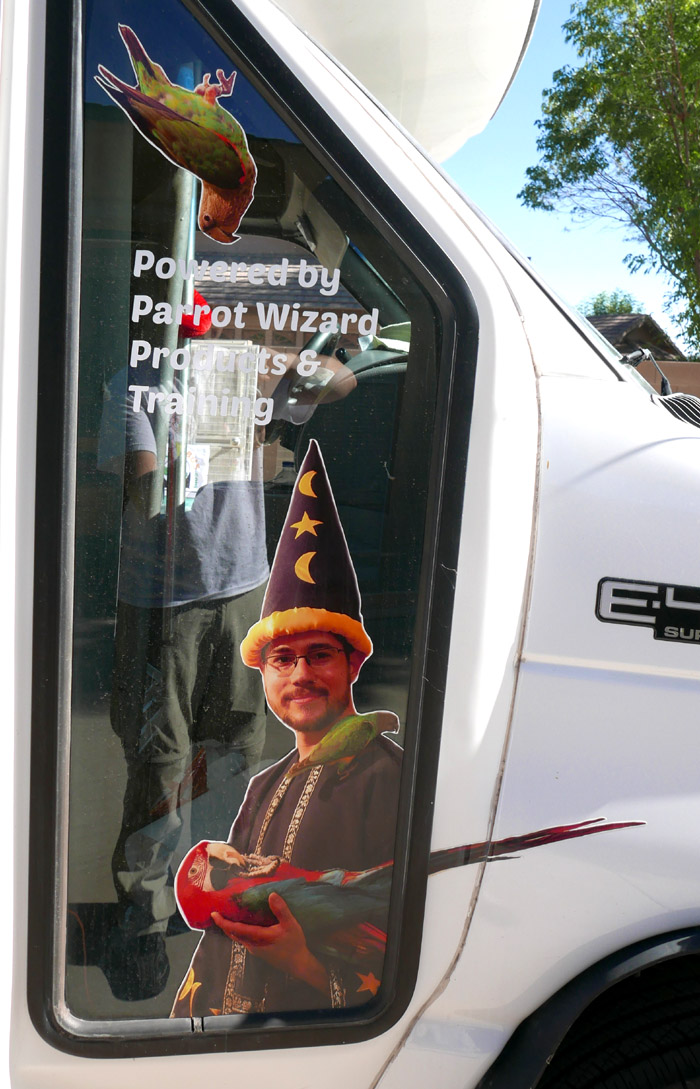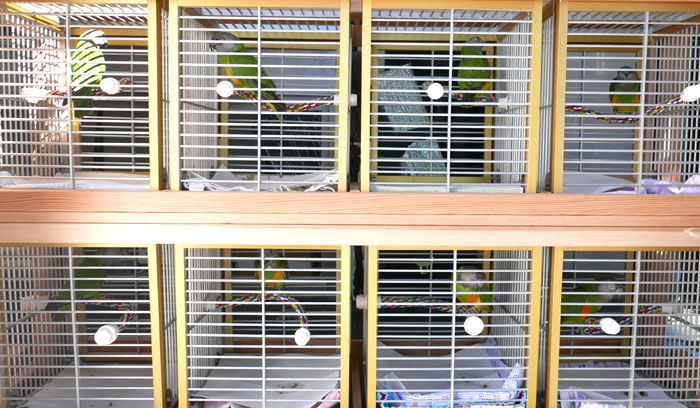 Three purposes are served by the Birdie Bus. The first is to get birds out of the rescue for socialization and fresh air. Even if a bus outing does not result in adoptions that day, it is still a victory for the birds to gain experience being out of the rescue and seeing new people. The second purpose is to help the birds find adopters. This is a chance for the birds to meet people and people to meet the birds. Folks going shopping who may have always wanted a parrot have the opportunity to realize that bird adoptions are available! The third goal is to solicit support for the rescue project through donations and volunteers. The bus is fueled not only by gas money but also through a lot of help. The bus does a good job at attracting existing bird owners out of curiosity. They aren't always the best candidates for more birds if they are at their capacity, but having experienced bird owners volunteering is also a big help to the rescue.

There are several ways you can help the Birdie Bus project. The best way is adopting a parrot from Ginger's Parrots Rescue. If you are anywhere near Phoenix and looking for a Senegal Parrot or Cockatiel, this is the place to adopt! Also, Ginger can always use help from local volunteers. But just because you're not adopting or don't live near Arizona, doesn't mean you can't help. The bus needs corporate sponsors, donors, and social media support. If you can send some money, the bus is in need of repairs, maintenance, upgrade, and gas. The rescue is non-profit and depends entirely on donations. Your support will help the rescue get these birds seen by the public and promote the concept of adoption. Finally, even if you don't have any money to spare, you can help by spreading the word. As more people hear about the rescue and the Birdie Bus project, they may choose to adopt, donate, volunteer, or spread the word and the Bus can drive on! Thanks for your help.

Here is a video of the birds going for a ride on the Birdie Bus:


And this is a video of the Birdie Bus unveiling event:

| | | |
| --- | --- | --- |
| | | Thursday January 8th, 2015 |
A year ago, I flew a circumnavigation flight around the Caribbean in my airplane with my dad and we visited many fascinating places. I didn't get a chance to prepare this footage before but I don't want you to miss out so I worked really hard to get some of this together to share right now.

Belize is a small Central American country bordering Mexico and Guatemala. The country is native to 10 species of parrots. Besides one species of Pionus, Scarlet Macaw, and some parakeets, all the native parrots are Amazon species.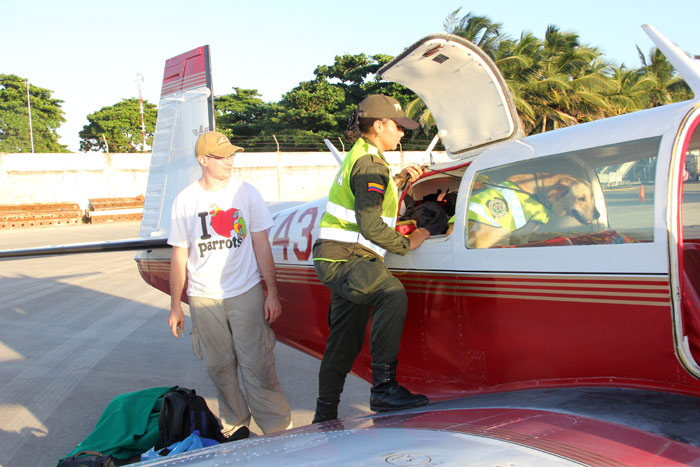 The Belize Bird Rescue takes in wild-caught parrots confiscated from locals keeping them illegally. These parrots go through a two year rehabilitation program before they can be released back into the wild. Most of these birds were pulled from the wild as chicks so they must learn to fly, operate in a flock, and learn to feed themselves before they can be released. The rescue mainly deals with White Crowned Pionus and White-Fronted Amazon parrots but they occasionally have the endangered Yellow Headed Amazon and other bird/parrots.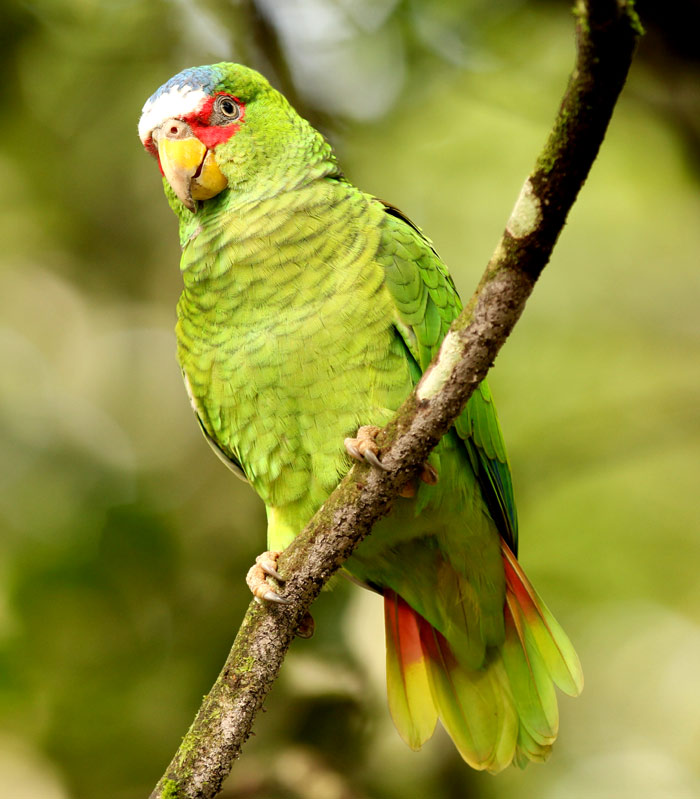 White Fronted Amazon Parrot in the Wild in Belize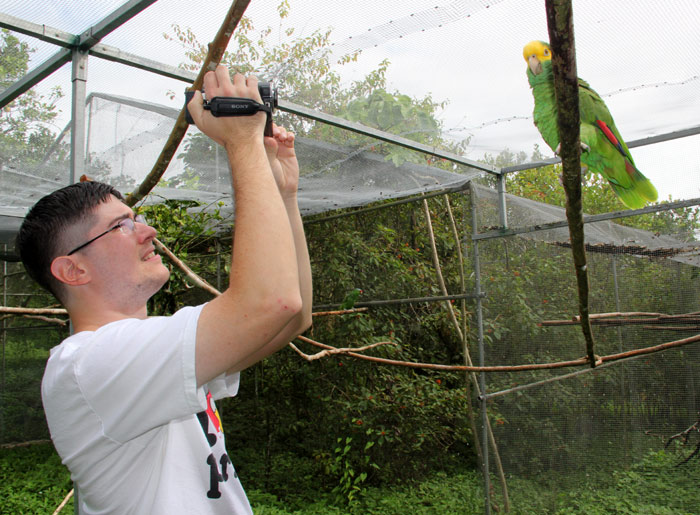 Yellow Headed Amazon Parrot in Rehabilitation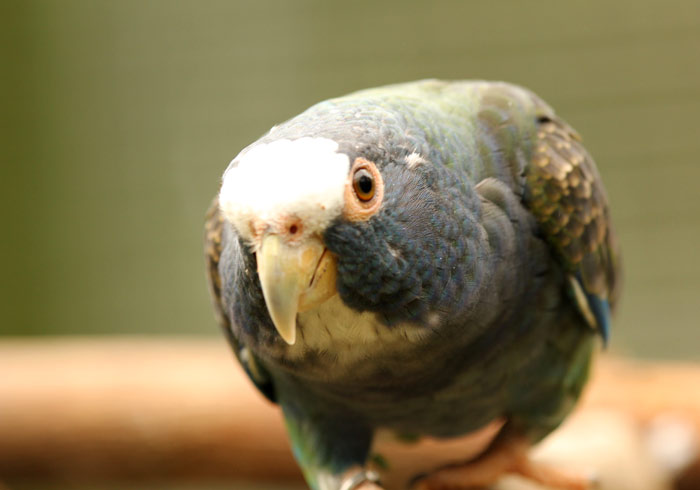 White Crowned Pionus Parrot in the Belize Bird Rescue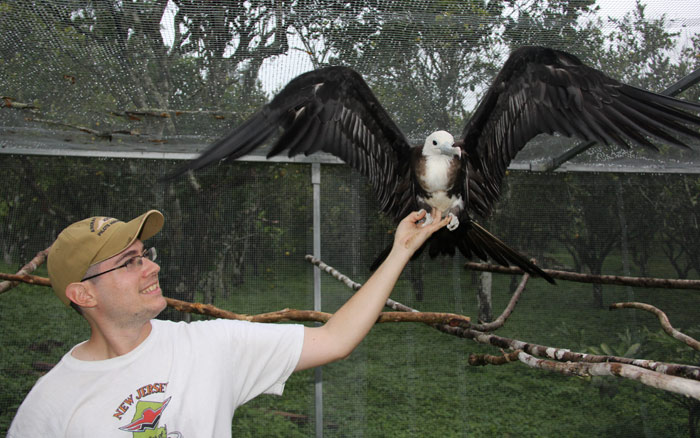 Holding a rehab frigate bird. Surprisingly light and weak lift from flapping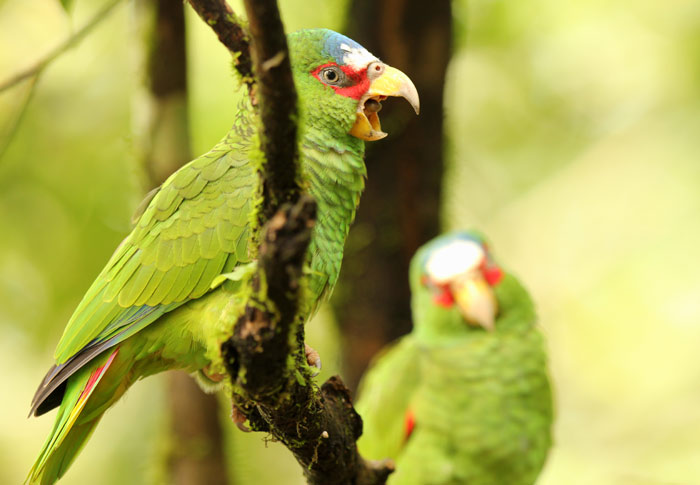 Pair of wild White Fronted Amazon Parrots in Belize


Check out the video of my visit complete with interviews and wild parrots. Learning about parrots in the wild also helps us learn about our pet parrots in captivity.