If you are thinking about getting your first parrot, just got your first parrot, or even thinking of getting another parrot, here is a page with videos that will help get you started. These videos will give you guidance and answer questions such as where can I buy a parrot? Should I get a parrot at a bird store, rescue, or breeder? How do I know what kind of parrot to get? How much does a parrot cost? What are the pros and cons of getting a parrot or parakeet? How to adopt a parrot from a rescue? And much more.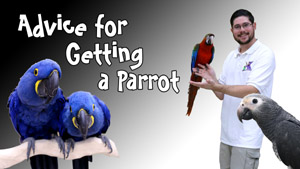 You will find several hours of free video tutorials that will help you make informed decisions when getting your first bird! Videos that will get you on the path to parrot ownership, answer basic questions, and give you guidance to doing it all right. Once you actually get a parrot, then you will find all the rest of my parrot care and training videos to be more relevant.

Be sure to check out my detailed list of essential supplies for first time parrot owners. It covers some essential items that will enhance your parrot keeping experience and relationship right from the start.


Tips About Getting a First Parrot
5 Myths About Parrots Debunked
Shopping for Parrot Supplies at PetSmart??
PETCO!? Can you get parrot suplies at petco?
How to Get a Cheap Parrot - Paying Less Money for a Bird
What Age to Get a Parrot?
What Is Easier, a Small Parrot or a Big Parrot?
Can You Get a Parrot Shipped to You?
8 Bird Store Secrets Bird Stores Won't Tell You!
Positive Reinforcement for Parrots Explained
How to Volunteer, Adopt, and Support Parrot Rescues
Want a Free Parrot?
Getting Another Parrot - Good Idea or Not?




Part of: Parrot Trick Training, Health, Nutrition, and Diet, General Parrot Care, Blog Announcements, Rescue
Beginner First Bird Beginner Bird Beginner Parrot Shop Adopt Buy Parrot Parakeet