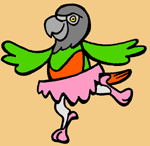 Kili
Type: Senegal Parrot
Genus: Poicephalus
Species: Senegalus
Subspecies: Mesotypus
Sex: Female
Weight: 120 grams
Height: 9 inches
Age: 9 years, 11 months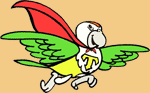 Truman
Type: Cape Parrot
Genus: Poicephalus
Species:Robustus
Subspecies: Fuscicollis
Sex: Male
Weight: 330 grams
Height: 13 inches
Age: 8 years, 2 months

List of Common Parrots:
Parakeets
:
Budgerigar (Budgie)
Alexandrine Parakeet
African Ringneck
Indian Ringneck
Monk Parakeet (Quaker Parrot)
Parrotlets
:
Mexican Parrotlet
Green Rumped Parrotlet
Blue Winged Parrotlet
Spectacled Parrotlet
Dusky Billed Parrotlet
Pacific Parrotlet
Yellow Faced Parrotlet
Lovebirds:
Peach Faced Lovebird
Masked Lovebird
Fischer's Lovebird
Lilian's (Nyasa) Lovebird
Black Cheeked Lovebird
Madagascar Lovebird
Abyssinian Lovebird
Red Faced Lovebird
Swindern's Lovebird
Lories and Lorikeets
:
Rainbow Lorikeet
Conures
:
Sun Conure
Jenday Conure
Cherry Headed Conure
Blue Crowned Conure
Mitred Conure
Patagonian Conure
Green Cheeked Conure
Nanday Conure
Caiques:
Black Headed Caique
White Bellied Caique
Poicephalus Parrots
:
Senegal Parrot
Meyer's Parrot
Red Bellied Parrot
Brown Headed Parrot
Jardine's Parrot
Cape Parrot
Ruppell's Parrot
Eclectus
:
Eclectus Parrot
African Greys:
Congo African Grey (CAG)
Timneh African Grey (TAG)
Amazons:
Blue Fronted Amazon
Yellow Naped Amazon
Yellow Headed Amazon
Orange Winged Amazon
Yellow Crowned Amazon
Cockatoos:
Cockatiel
Galah (Rose Breasted) Cockatoo
Sulphur Crested Cockatoo
Umbrella Cockatoo
Moluccan Cockatoo
Bare Eyed Cockatoo
Goffin's Cockatoo
Macaws
:
Red Shouldered (Hahn's) Macaw
Severe Macaw
Blue And Gold Macaw
Blue Throated Macaw
Military Macaw
Red Fronted Macaw
Scarlet Macaw
Green Winged Macaw
Hyacinth Macaw
| | | |
| --- | --- | --- |
| | | Tuesday February 13th, 2018 |
February 13, 2018 marks the 5 year anniversary of the Parrot Wizard company. Looking back across the years, there has been so much progress. I have really enjoyed working on all the novel parrot supplies and would like to thank my buyers and followers for helping me accomplish that.

Although it's officially 5 years, I've been making parrot supplies even longer.

Here's a brief timeline of my parrot activities over the years.

September 2008 - Bought Kili from a bird store
September 2009 - Launched TheParrotForum.com
May 2010 - Launched the Trained Parrot Blog
June 2010 - Received Truman from the breeder
July 2010 - Started selling Parrot Training Perches
October 2010 - Launched Parrot Wizard.com and started selling Ring Toss and Clickers
October 2012 - Started selling NU Perches
November 2012 - Appeared on the Late Show with David Letterman
February 2013 - Incorporated Parrot Wizard and went full time
June 2013 - Published The Parrot Wizard's Guide to Well-Behaved Parrots
June 2014 - First met Marianna and Rachel in Coney Island
August 2017 - Awarded patent for NU Perch
September 2017 - Launched a line of NU Perch Trees
February 2018 - Rerelease of new and improved Birdie Ring Toss

Even more cool new Parrot Wizard stuff coming soon.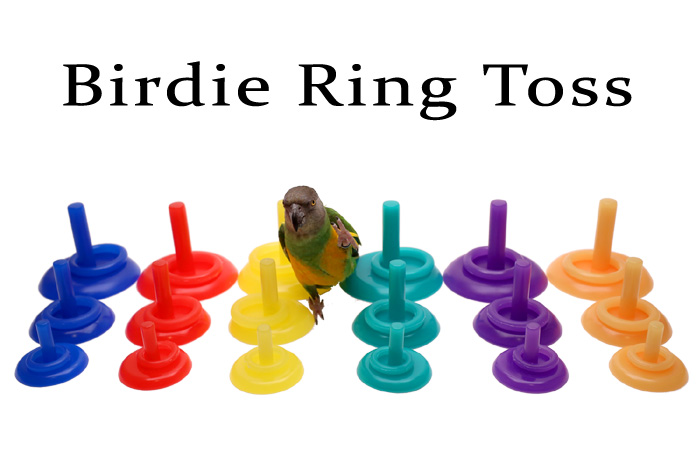 Today, on the 5 year Anniversary of the Parrot Wizard company, I am releasing a new and improved version of the Birdie Ring Toss. Now it is made entirely of parrot safe plastic so that the rings and pegs match perfectly. Going to plastic allowed me to offer more sizes as well. So now the Ring Toss trick is available in 3 sizes and 6 colors for all parrots.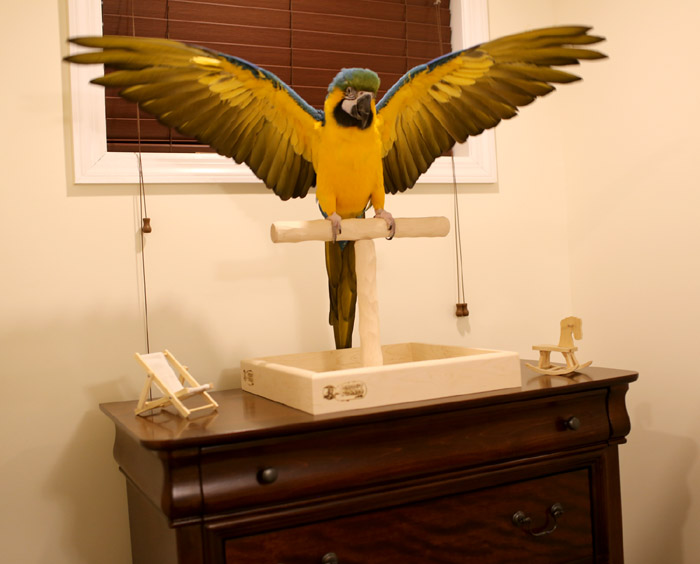 My line of NU Perches has been a pivotal part of Parrot Wizard company. I wanted to have a comfortable, natural, consistently reproducible, safe perch to use for my Parrot Training Perches but all natural perches that I could find had inconsistencies and potential hazards. So I focused my attention on developing the NU Perch. It has been the basis of a whole line of perching products including a tabletop perch, scale perch, window perch, trees, and more. Having familiar perches in the cage, for training, and around the house helps the parrot know the spots it is intended to go and helps keep the parrot off of furniture.

One more anniversary release is a Limited Edition Hardwood Large Tabletop NU Perch, an all hardwood version of the popular tabletop perch.

I've added a Video Browser to make it easy to watch all 500+ Parrot Wizard videos I have made over the years. A few more days for a chance to win some serious prizes in the Video Trivia contest.

Thank you very much for your participation and interest. Helping my viewers and customers achieve a magical experience with their pet parrots is what it's all about!


| | | |
| --- | --- | --- |
| | | Thursday February 1st, 2018 |
Looking for a fun and easy trick to teach your parrot? Wondering how you can teach a parrot to put coins in a piggy bank? This free trick training guide is about how you can train the Birdie Treasure Chest trick to your parrot!

I love the Birdie Treasure Chest trick because it's two tricks in one. First the bird can learn to put the coins or its toys away into the open chest. Later you can close the chest and teach it to deposit coins into it like a piggy bank. The advantage of the Treasure Chest toy over a regular piggy bank is that it allows the bird to learn and expand its ability. By practicing at first with the open chest, the bird can learn to be better at fetching things and will pick up on the piggy bank part even better later on. The Birdie Treasure Chest comes with safe plastic coins so that you don't risk contaminating your bird with real coins.




The Birdie Treasure Chest Trick is suitable for most sized parrots including Senegal Parrot, Caique, Sun Conure, Amazon, African Grey, Eclectus, Cockatoo, and Macaw. However, it is probably too big for most Cockatiels, Parakeets, and Green Cheek Conures.



So here's a step by step guide on teaching a parrot to hide its treasure:

Step 1: Get the Birdie Treasure Chest for your parrot from ParrotWizard.com.

Step 2: Make sure that your parrot is trained to fetch. If it isn't already, here is a free article on teaching a parrot to fetch things to your hand.

Step 3: Desensitize the parrot to the treasure chest toy. Most parrots get scared of new stuff. The good news is that the more tricks you teach, the more the bird will get used to accepting new things. The best way to desensitize the bird to the treasure chest is to target it near the toy. Place the treasure chest on a table beforehand. Bring your parrot and set it on the table far from the toy. Get the bird into a rhythm targeting. Target it randomly in different directions and not strictly toward the chest or it may get suspicious. Target it around randomly but little by little, more and more toward the treasure chest. Let the parrot pay more attention to the targeting exercise and forget about the chest until you are able to target it right by the toy at ease. It is better to take the time to do the desensitization exercise even if the bird didn't get scared than to scare the bird with the toy first and then try to change its mind.

Step 4: Open the treasure chest and have the parrot fetch the included plastic coins to your hand near the treasure chest. Hold your open hand above the treasure chest and ask the parrot to fetch the coin to your hand. Click and reward the parrot as per usual training whenever it successfully puts coins in your hand. After practicing a few times, withdraw your hand just as the parrot is dropping the coin into your hand. It will fall into the open treasure chest by accident. Click and reward so that the parrot knows this was good. Show your hand above the treasure chest and have the parrot continue fetching the coin to the chest as you withdraw your hand. You can begin to replace the withdrawing hand with a point toward the treasure chest instead. Eventually you won't have to say or do anything. The parrot will just go and pick up a coin and drop it into the open treasure chest on its own. You just need to click and reward. You can further teach your parrot to put other objects into the treasure chest like its toys.

Step 5: Close the lid on the treasure chest and teach the parrot to put the coin into the piggy bank coin slot. The method for teaching this is similar to the prior step but with some modification. Hold your open hand above the coin slot and have the parrot fetch the coin to your hand. After a few times, pull your hand away so that the parrot ends up placing the coin on top of the treasure chest and reward this. Once the parrot is good and eager to put coins on top of the treasure chest, you just need to teach it to direct the coin into the slot better. You can help the parrot out by putting your finger near the slot and as the parrot is placing the coin down on top of the chest, you help aim it into the slot. When the parrot drops the coin into the slot, make a big deal about this with big rewards. Don't reward placing the coin near but not into the slot anymore. After a few more times, the parrot will learn to work the coin into the slot on its own. Now your parrot is a certified pirate and can stash away its plunder in a treasure chest! Argh!


| | | |
| --- | --- | --- |
| | | Thursday January 18th, 2018 |
Ever wonder if a parrot can make itself go deaf from its own screaming? Do parrots hear better than humans? Do parrots have particularly sensitive hearing? Read on to learn about parrot hearing!

I'm surprised to learn that some people think parrots have sensitive hearing. I have observed this mindset a few times over the years so I would like to address it in greater detail.

For example in my "Shot My Parrot Dead" trick video on youtube, there have been numerous viewers objecting to me yelling at Kili when pretending to be mad. Vicky Abramowitz commented, "Cute trick aside. Why do you two knuckleheads have to shout? Parrots have sensitive hearing. Try to keep that in mind."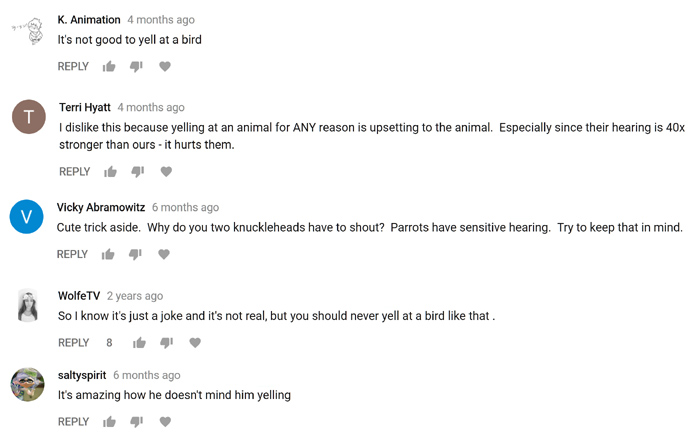 At least they don't think the parrot is actually dead like a thousand other comments but they are still misinformed about avian hearing. For those still questioning if the parrot really dies or not in the video, then be sure to check this analysis video.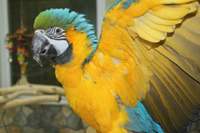 I had researched bird hearing years ago when I began taking my parrots flying with me in airplanes. While it is recommended that people, and even dogs, wear hearing protection while flying in small piston airplanes, there is no option for parrots. I was interested in whether or not there was a danger to my parrots. I learned that it is not. However, with little information on the subject and continued discussions, I decided to share with you what I have learned.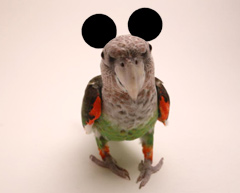 So how does bird hearing compare to human? Not as good. First of all, birds lack a certain organ that helps funnel in sound waves into the ear cavity. What could that be? Oh yeah, external ears! Birds do not have those floppy things sticking out of their heads. I guess so much for my idea of making bird-earrings or glasses (birds have excellent vision so I guess they won't be needing them anyway). Birds lack external ears to be more streamlined for flight so that is already one hearing advantage that they lack.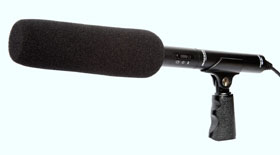 Not only do birds lack external ears, their internal ears are actually covered by feathers. You can't normally see their ears and could almost think they don't even have any. However, when the feathers are parted, we can in fact see that birds do have ears. The feathers covering the ear openings help keep wind out while flying and reduce wind noise similar to a fluffy mic muff cover. However, this adds a further reduction in sound that reaches the bird's ear.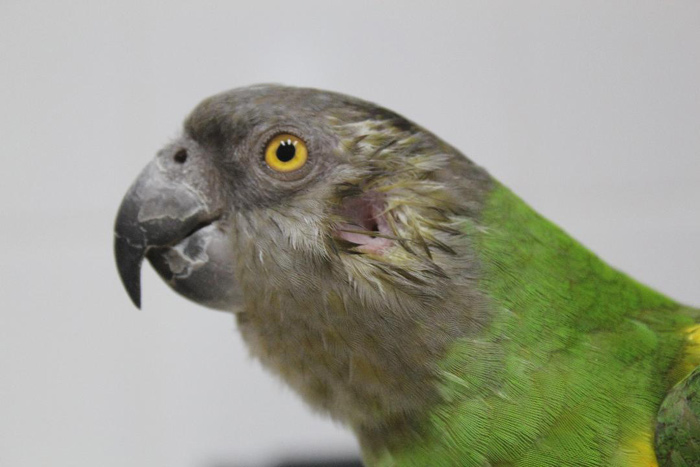 As we travel deeper inside a bird's ear, the next difference we can find is a more primitive ear structure. Like their reptilian ancestors, birds have just one inner ear bone called the columella (analogous to the stapes bone in mammals). One of the defining features of mammals that distinguishes them from reptiles is the evolution of a 3 boned ear structure featuring the malleus, incus, and stapes ear bones. This 3 boned ear structure allows mammals to have more sensitive hearing, particularly in the higher pitch ranges.

For this reason, parrot hearing is limited to the 200 Hz-8.5 kHz range while humans can hear in the range of 31 Hz-19 kHz. That means your parrot won't hear the deep bass notes and high pitch cymbal crashes in your music. However, they can hear just fine across the human vocal range.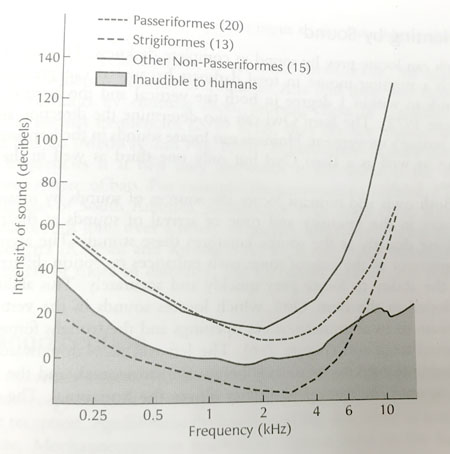 Ornithology 3rd Edition Frank B. Gill, Page 193


What this chart shows is that birds, with the exception of owls, need sound volume to be louder in order for them to be able to hear it in the first place than humans do.

This means that a parrot cannot hear a watch ticking, a pin drop, or leaves rustling because they simply are not loud enough for them to be able to hear. Since their hearing drops off precariously in the high pitch range, this also means that high pitch sounds have to be very loud for them to hear them at all. But don't worry, before you start speaking loudly to your parrot like it's your grandfather, parrots can hear normal human speech at 70db just fine! A quiet whisper just meets their minimum hearing threshold.

Now what about noise, how much does it bother them? Not nearly as much as it bothers us! Besides the somewhat reduced hearing ability in birds, they are better equipped to handle noise. This should be no surprise to parrot owners. Why is it that when a parrot screams in your ear, you can go temporarily deaf in that ear while a parrot can scream all day without causing hearing damage to itself or the other parrots near it? It turns out that it has to do with the inner ear hair cells.

Hair cells detect the transmission of sound vibrations and turn them into an electrical signal that gets processed by the brain. Extreme noise or prolonged exposure to loud noise in humans damages these hairs and causes hearing loss. However, in birds these hair cells regenerate and return full hearing ability! "Most NIHL [Noise Induced Hearing Loss] is caused by the damage and eventual death of these hair cells. Unlike bird and amphibian hair cells, human hair cells donít grow back. They are gone for good." (National Institute on Deafness).

And this all makes perfect sense. Humans as all mammals, evolved from small nocturnal ancestors who relied heavily on hearing for navigation and predator avoidance. This explains why birds have superior vision but mammals have the better hearing.



But what about parrots being able to hear and learn to mimic sounds so well? Just because parrots learn to mimic speech and sounds exceptionally well does not mean they have the best hearing apparatus. This is mainly coming from their brain. Parrots live in a different time scale than we do. They can see and hear quicker than we can! They can distinguish more sounds or sights per second than we can. Similar to how blind people can learn to listen and distinguish sounds better, parrots can take the lesser sound they hear and do more with it!

If loud noise bothered our parrots, they would try harder to evade that noise and also wouldn't be so noisy themselves. If my yelling act bothered Kili too much while making the Shot My Parrot Dead video, she would have simply flown off to a quieter part of the room. People don't give the animal enough credit for having the sense to be able to take care of itself. Saltyspirit made a good observation in the video, commenting "It's amazing how he doesn't mind him yelling."

But before you get the impression that I'm suggesting that you yell at your parrot, think twice! Not because I'm worried for your bird's hearing. No, it will be just fine. Because of your hearing! Giving your parrot the impression that you're into yelling too could encourage the parrot to join in. You on the other hand will experience hearing loss and unlike your parrot, your hearing won't restore itself.

In conclusion, parrots have less sensitive hearing, less hearing frequency range, better hearing perception, and innate protection against hearing damage. So use the Parrot Wizard approach to quieting your parrot down or invest in a good set of ear plugs.

Sources:
Ornithology 3rd Edition Frank B. Gill, p191-194
https://www.nidcd.nih.gov/health/noise-induced-hearing-loss
http://www.cell.com/current-biology/fulltext/S0960-9822(09)01170-1
https://www.earthlife.net/birds/hearing.html
| | | |
| --- | --- | --- |
| | | Friday October 27th, 2017 |
Kili and Rachel have been enjoying the fall weather flying in my backyard flight area. They have been building strong flight muscles, breathing fresh air, and getting natural sunlight all at the same time.

I'll share details about the enclosure at a different time but simply put it's a netting enclosed area that is safe for supervised time but not for leaving the birds unattended.

Truman has been left out of the flight activities lately because of his own issues. He hasn't been too eager to flight recall and on the other hand, he's been randomly flying into stuff. He will need some separate one on one attention to get him on the right track. But since Kili and Rachel are already doing the right stuff, I've been focused on getting them flying.

Kili, the trained Senegal Parrot that used to freefly outdoors, had no trouble adjusting to flying in the enclosed yard at all. She immediately knew what to do and did not try to fly away. Kili recalls with great reliability and is definitely my go-to bird.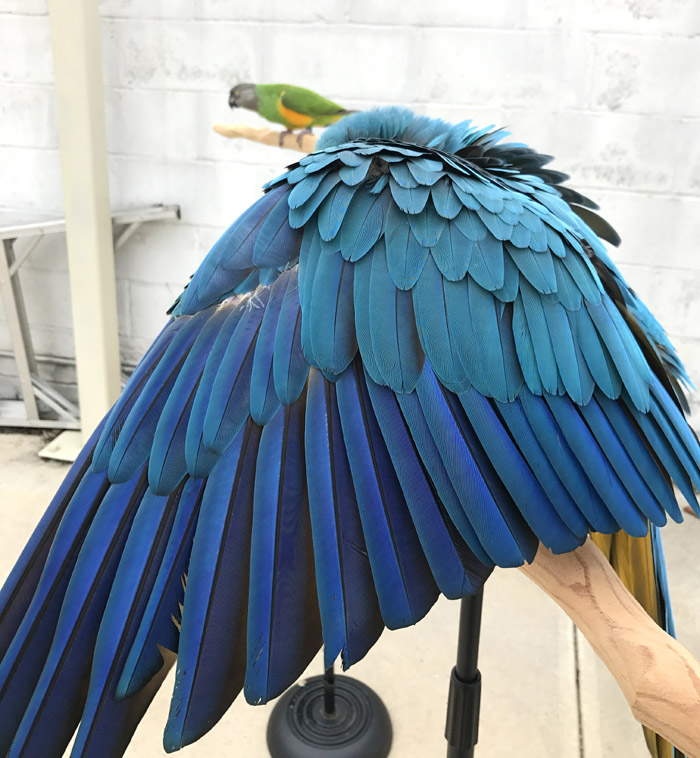 Rachel being shy out in the yard



Rachel, the blue and gold macaw, is a bit new to the concept of flying outdoors. She has been out and about wearing an Aviator Harness but really does not have outdoor flight training experience. During the winter, I trained her up to being pretty good at short indoor flight recalls. And you may recall how not too long prior, Marianna trained Rachel to flight recall in the first place. So when brought out to the enclosed yard unrestrained, it was no surprise that Rachel did not know what to do.

The way I got Rachel to start flight training outside was to bring her out every day to watch Kili reliably flight training. On one hand, Rachel got to see Kili earning treats and showing what to do. But on the other, Rachel was getting accustomed to the sights and sounds of being out in the yard. It took some time for this to all sink in because Rachel was cautiously reluctant to leave the safety of her Training Perch.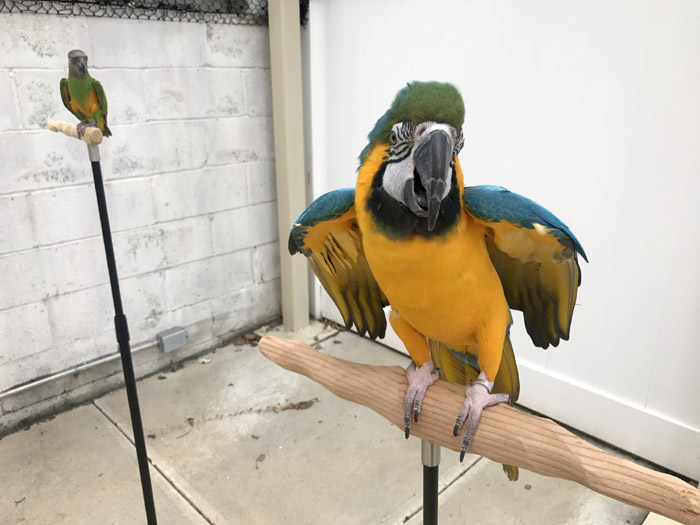 Eventually Rachel started to make sure flights, then slightly longer ones. With time and practice, reliability started to improve. It was a combination of building confidence, security, practice, and exercise to improve muscle strength. Now, Rachel makes 10-20ft flight recalls with ease. As the autumn temperatures continue to drop, our chances for further training are quickly diminishing. Over the winter we will continue training other skills indoors and pick up where we left off with the outdoor training in the spring.

Here is a 360 degree video of Kili and Rachel flight training in the yard. You can move the image 360 degrees by dragging with your mouse or tilting your phone to get a feeling of what it's like having these parrots flying around you.


| | | |
| --- | --- | --- |
| | | Wednesday October 18th, 2017 |
Marianna and I recently got to visit Steve Hartman from The Parrot University and learn about how the Aviator Harness is made. He took us on a personal tour of the production facility and shares with you in the video at the end.

This article is about how to make a bird harness in a professional way beyond just a nylon strap and some buckles. You will get to find out some of the hidden features of the Aviator Harness that you never knew about. Getting to see how the harness is made first hand, gave me an even greater appreciation of the product that I have been using and selling for years. Much more goes into making it than I had previously realized. Here are some things that you probably never heard about the Aviator Harness as it was pretty new to me as well:

It's all in the material. The strap material used to make the Aviator Harness is carefully chosen for a combination of strength and comfort. Not only has the company tested and rejected a multitude of materials, every batch of material is tested to conform to stringent standards.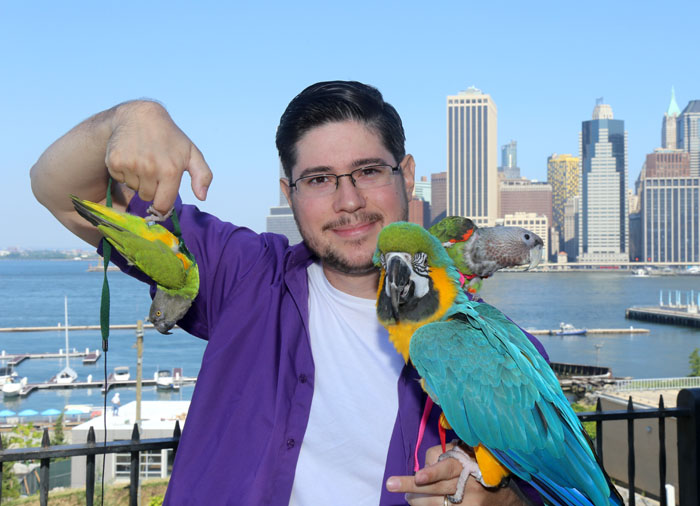 Welded, not sewn.. I've known for some time that the Aviator Harness is "welded" but never truly understood what this means or why it is done this way. It turns out that they were originally sewn together but that the parrots would immediately go for the stitches and chew them out. The weld isn't exactly a weld. It's not like they take a hot torch or iron to melt the strap to itself. Instead, they have a special machine that vibrates a pin into the material so fast that it melts together locally. It's quite strange really. The machine does not apply heat. Instead, it uses the friction of the vibration to make the material melt itself. This creates a bunch of contact points that hold it all together that the parrot cannot separate.

One metal slide is all. There is only one point of adjustment on the Aviator Harness and that is the black metal slide. Not to be confused with plastic, the slide on the Aviator is made from black powder coated steel. I got to hold these in my hand and I realized that they are much heavier and tougher than they look. This would appear to be the single point of failure for a harness, but in all my years of using these harnesses, the slide is one part that never got damaged in the slightest.

Grooming is everything. They call it grooming but it's really just a process of smoothing everything out with a torch. There are naturally a lot of rough spots such as the ends, the welds, and contact points on the strap. Each strap is held up to a flame by hand to get it smoothed out wherever there is a rough edge. It might be hard to realize this with a finished harness in hand but when you feel how they come out before they are groomed, you would realize it would be quite uncomfortably poking the bird.

They're already stretched. The strapping itself is pretty firm, especially when scaled down for the smaller birds. I remember how I used to tell people to wash their new Aviator a few times before initial use to soften it up. Well, it turns out that now all of the Aviator Harnesses are per-processed to be ready for use out of the box. They are each stretched, shrunk, or washed as necessary to be soft and ready for use out of the box.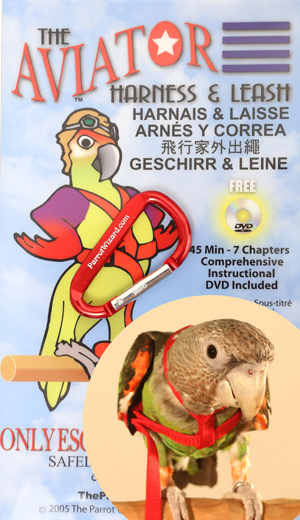 Each harness is tested. Not by a parrot but by multiple quality control checks built into the system. Because multiple different people are involved in the various stages of production, any mistakes or defects are caught early. There is virtually no chance that a bad Aviator makes it out to customers and breaks allowing the bird to fly away. They are pulled and checked over many times to make sure this does not happen.

They're made in the US. The Aviator Harnesses are made in the US by US employees. Steve employs local college students part time in addition to full time employees to produce the harnesses. He explained to me that he tried to have them made in China but that the quality was not sufficient or consistent enough to satisfy parrot owners. It is really important that each harness is safe and works out of the box but with outsourced manufacturing, it just wasn't possible to control this. So, the Aviator is put together in the US for the highest quality standards.

It takes a long time to make. By the looks of it, you'd think it could be made in a few minutes but that is not the case. There are over 20 steps in making an Aviator Harness. Multiply that by 8 sizes and 7 colors and that is a heck of a lot of steps! As the harnesses are produced, they can spend over a month moving from station to station to go through the various stages before they are finally packaged and shipped. If you wanted to make one yourself, it would take a really long time and even then, you would not have access to the specialized machinery and would have to compromise the quality. Basically, it would not be worth spending the kind of time it would take to make one from scratch.

I learned another secret during my visit, the price of the Aviator Harness is about to go up on November 1. If you don't have one or need another, order now before the price goes up worldwide at every store (including mine).

I have to say, I was genuinely impressed with how the Aviators are produced. A lot of thought, experience, and care for the parrots' welfare has gone into how they are made. It was a pleasure getting to meet Steve and his wife Judy. I'm as proud as ever to be one of the biggest vendors of the Aviator Harness in the United States. Every size and color is available for the lowest price at ParrotWizard.com. Also, please check out my own, personally made, support products such as my Training Perches, Book, and Harness Training DVD.

Here is a video of Steve showing Marianna the process of making an Aviator Harness for Parrots: