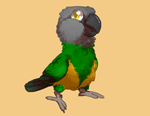 Kili
Type: Senegal Parrot
Genus: Poicephalus
Species: Senegalus
Subspecies: Mesotypus
Sex: Female
Weight: 120 grams
Height: 9 inches
Age: 15 years, 5 months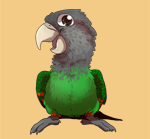 Truman
Type: Cape Parrot
Genus: Poicephalus
Species:Robustus
Subspecies: Fuscicollis
Sex: Male
Weight: 330 grams
Height: 13 inches
Age: 13 years, 8 months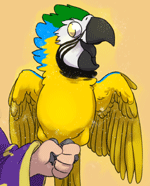 Rachel
Type: Blue & Gold Macaw
Genus: Ara
Species:ararauna
Sex: Female
Weight: 850 grams
Height: 26 inches
Age: 11 years, 5 months

List of Common Parrots:
Parakeets
:
Budgerigar (Budgie)
Alexandrine Parakeet
African Ringneck
Indian Ringneck
Monk Parakeet (Quaker Parrot)
Parrotlets
:
Mexican Parrotlet
Green Rumped Parrotlet
Blue Winged Parrotlet
Spectacled Parrotlet
Dusky Billed Parrotlet
Pacific Parrotlet
Yellow Faced Parrotlet
Lovebirds:
Peach Faced Lovebird
Masked Lovebird
Fischer's Lovebird
Lilian's (Nyasa) Lovebird
Black Cheeked Lovebird
Madagascar Lovebird
Abyssinian Lovebird
Red Faced Lovebird
Swindern's Lovebird
Lories and Lorikeets
:
Rainbow Lorikeet
Conures
:
Sun Conure
Jenday Conure
Cherry Headed Conure
Blue Crowned Conure
Mitred Conure
Patagonian Conure
Green Cheeked Conure
Nanday Conure
Caiques:
Black Headed Caique
White Bellied Caique
Poicephalus Parrots
:
Senegal Parrot
Meyer's Parrot
Red Bellied Parrot
Brown Headed Parrot
Jardine's Parrot
Cape Parrot
Ruppell's Parrot
Eclectus
:
Eclectus Parrot
African Greys:
Congo African Grey (CAG)
Timneh African Grey (TAG)
Amazons:
Blue Fronted Amazon
Yellow Naped Amazon
Yellow Headed Amazon
Orange Winged Amazon
Yellow Crowned Amazon
Cockatoos:
Cockatiel
Galah (Rose Breasted) Cockatoo
Sulphur Crested Cockatoo
Umbrella Cockatoo
Moluccan Cockatoo
Bare Eyed Cockatoo
Goffin's Cockatoo
Macaws
:
Red Shouldered (Hahn's) Macaw
Severe Macaw
Blue And Gold Macaw
Blue Throated Macaw
Military Macaw
Red Fronted Macaw
Scarlet Macaw
Green Winged Macaw
Hyacinth Macaw
Glossary of Common Parrot Terms
| | | |
| --- | --- | --- |
| | | Thursday December 5th, 2019 |
If you are thinking about getting your first parrot, just got your first parrot, or even thinking of getting another parrot, here is a page with videos that will help get you started. These videos will give you guidance and answer questions such as where can I buy a parrot? Should I get a parrot at a bird store, rescue, or breeder? How do I know what kind of parrot to get? How much does a parrot cost? What are the pros and cons of getting a parrot or parakeet? How to adopt a parrot from a rescue? And much more.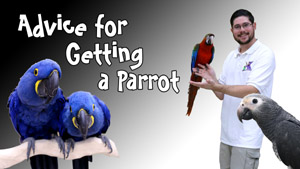 You will find several hours of free video tutorials that will help you make informed decisions when getting your first bird! Videos that will get you on the path to parrot ownership, answer basic questions, and give you guidance to doing it all right. Once you actually get a parrot, then you will find all the rest of my parrot care and training videos to be more relevant.

Be sure to check out my detailed list of essential supplies for first time parrot owners. It covers some essential items that will enhance your parrot keeping experience and relationship right from the start.


Tips About Getting a First Parrot
5 Myths About Parrots Debunked
Shopping for Parrot Supplies at PetSmart??
PETCO!? Can you get parrot suplies at petco?
How to Get a Cheap Parrot - Paying Less Money for a Bird
What Age to Get a Parrot?
What Is Easier, a Small Parrot or a Big Parrot?
Can You Get a Parrot Shipped to You?
8 Bird Store Secrets Bird Stores Won't Tell You!
Positive Reinforcement for Parrots Explained
How to Volunteer, Adopt, and Support Parrot Rescues
Want a Free Parrot?
Getting Another Parrot - Good Idea or Not?
| | | |
| --- | --- | --- |
| | | Friday September 2nd, 2016 |
I have some good news to share, I'm rehoming Santina. It's a hard thing to talk about so I'm glad I got that off my chest. Read till the end and watch the video to understand the situation, how the rehoming went, and how a win/win situation came out of it all that really is good news.

I adopted Santina from the rescue on December 23, 2013. She's been a great bird and a wonderful pet. However, from early on we ran into issues. I'm not talking about behavioral ones because those we solve through training. I'm talking about Santina's health problems.

From the beginning, it was clear that she had some issues, but I was optimistic that veterinary medicine could cure her. I spent a small fortune getting Santina tested for everything under the sun, yet the results were inconclusive. It was a wild goose chase because results would contradict each other and no specific cause could be found. I treated Santina with antibiotics and kept her quarantined from Kili & Truman for triple the normal quarantine period. In the absence of a specific diagnoses and under the impression that the treatment helped, I went ahead and put all of the birds together.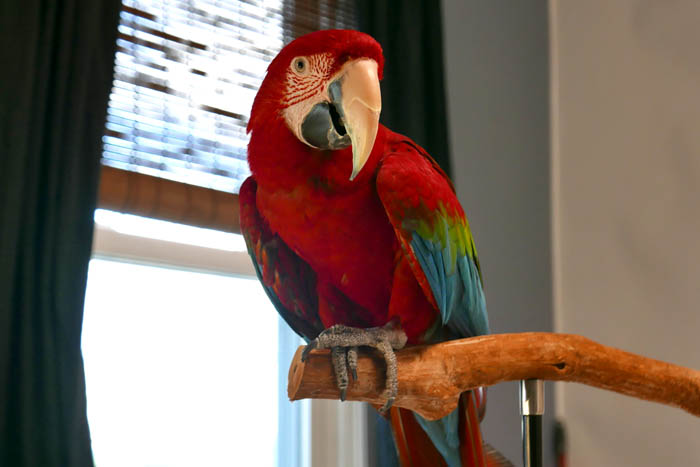 It wasn't long until Kili and Truman began exhibiting similar symptoms to Santina. It was not clear at first because they were all close together. But as Marianna started borrowing birds for a few days at a time, in the isolation of her room, she discovered that Kili & Truman had the same things going on. All the birds went on antibiotics. While on medication, things would seem to improve. But, once off, things would go right back to before.

Marianna moved in with her Blue and Gold Macaw, Rachel. Rachel got sick too which made things even more clear. We started by keeping Rachel in a cage in a separate room and treating her.

Over the course of the last two years it has been a nightmare of juggling treatments and quarantines. We went so far as keeping each bird in a separate room and showering between birds. This has led to a few things. First of all, it led us to discover that antibiotic treatment appears to cure all of the birds but Santina. After several different medications and a long trial of isolated treatments, we have concluded that Santina's condition is most likely incurable. The curable bacterial infections that she has been spreading to the other birds may be a symptom and not the cause. When removed from Santina's presence, after a course of antibiotic treatment, the other birds have been infection free going on for over half a year.

The other thing we had come to realize was that Santina's condition has been taking a toll on our bird and family life. Instead of focusing on making new training videos, taking the birds places, writing articles, and doing the sorts of bird things I usually do, I have been plagued with vet visits, quarantines, and depression. We could not travel with multiple birds, could not keep the birds together as a family, nor spend time with more than one bird at a time. The wedding was a distraction and kept us busy. We had to jump through hoops to make arrangements to get the birds involved in the wedding without impacting their quarantine.

Since the time I introduced Santina to the other birds, my entire bird life has become stagnant. I stopped training Santina because I was afraid to risk her illness becoming worse. The other birds, I could not get to training because much time was being spent on work and handling all of the birds separately. Marianna has made all of the quarantine efforts possible by splitting the tasks of caring for each bird. Life had become a rut. There was no motivation or pleasure from doing bird stuff and thus a giant set back in the online realm as well.

We never planned things to go on as long. It always seemed like there would be an end in sight. First it would be a week of medication, then two, then a month. When we split the birds into different rooms, it was just going to be a trial to see how they do separately. But, weeks turned to months and months to years. Nothing was changing. We were exhausting all ideas and possibilities. The conclusion was becoming more and more apparent that Santina would not be able to be kept together with the other birds.

All of the birds were short-changed throughout the whole process. Instead of spending one collective time taking care of them all, time had to be spent on separate feedings, separate cleanings, and quarantine procedures. Although more time was being spent on birds than the normal situation, individually the birds were receiving less time. What started as a health problem and temporary solutions was turning into a long term problem. We were getting nowhere.

This summer, I was contacted by a lady that had seen my picture used in a bird sale scam. These things happen left and right and there's nothing I can do about them (most of them are overseas and create a new page every week). She was looking to get a Green-Winged Macaw. We got talking and before long, Lori and my wife became great friends. Lori read my book, The Parrot Wizard's Guide to Well-Behaved Parrots, and discussed the finer points of owning macaws with Marianna.

Lori was still trying to decide if a Green-Wing was right for her or not, so Marianna and I paid Lori a visit with Santina. After meeting Santina, Lori told us she would like a bird just like her. Coming home from that visit, we realized that there was a strong potential here for an ideal situation all around. We stayed in touch with Lori and helped her develop her understanding of parrots. Then there came a point where I asked Lori if she would be interested in adopting Santina. She was ecstatic beyond words and the answer was yes.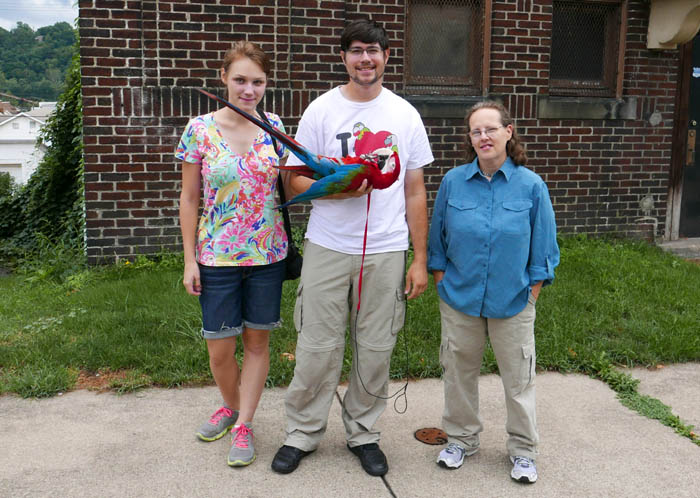 Lori is the ideal candidate for adopting Santina. Lori has a house but no other people or parrots living there. She can afford the upkeep for a macaw which is quite expensive. She loves animals, has time on her hands, and has no plans for adding any other birds. She is patient and willing to follow the training methods for developing trust. Also she is willing to give up an entire room in her house to give Santina the lifestyle she has become accustomed to. Likewise, Santina is just the kind of birds that Lori was looking for.

We spent the rest of the summer making preparations for the rehoming process. There was no rush to get it done and no deadline. However, due to conveniently overlapping summer schedules, it worked out to be easier to do things more quickly than to wait for the fall. It just so happens that the more you are willing to take your time, the more quickly things end up actually happening.

Lori put up plastic sheeting on the walls, replaced the flooring with vinyl, repainted the ceiling, removed all loose wiring, and prepared the room to be bird safe. It was a lot of work but best done before having a bird in the home.

We took another trip to Pittsburgh to help Lori prepare the bird room for Santina. We built a custom NU Perch stand and hung it from the ceiling. Also, the ceiling light was upgraded to a bright LED fixture and the light switch was replaced with a timer. We brought over some of Santina's old and new toys so that things would be as familiar as possible. We even used her old food bowls and Training Perches.

The room was ready but there was one more thing to prepare: Santina. Santina is a great bird with people she is familiar with but can be a menace to anyone new. I've done a fair bit of socializing her over the years, particularly using the Aviator Harness to take her outside. However, Santina still would not be at the point like the other birds to just step up for someone else for sure.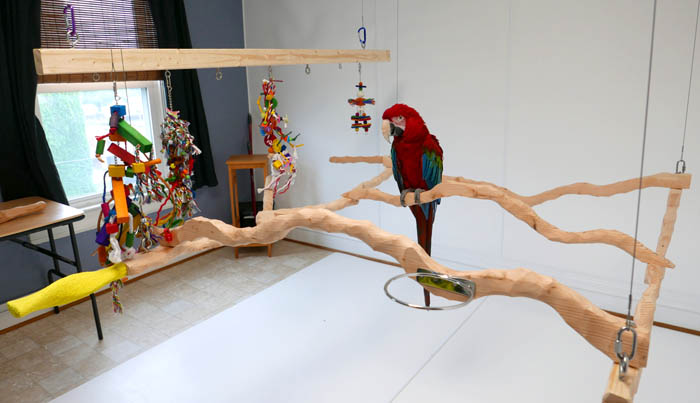 There was no way I could fully prepare Santina for the exchange. So instead I focused on preparing Lori and Santina for the training process to build a relationship. I spent time reminding Santina of the training exercises I had already done with her initially to teach her to be good with me. I wanted them to be fresh in her mind so that Lori could use them. I emphasized target training and stepping up onto a handheld perch so that Lori would be able to use those tools to move her about in the first few weeks without contact. I also spent a lot of time talking to Lori about the steps to follow to win over Santina. To put it simply, don't try to touch her or force her to step up, use the training tools she knows to relearn to do those things for you.

On August 21, 2016, nearly 3 years since adoption from the rescue, I rehomed Santina. I flew Santina out to Pittsburgh to see Lori again. Santina seemed to recognize her and was in a great mood. We moved slowly in the introduction stage and Lori did a great job. I know it took effort to hold back some of her excitement but in reality it made things go much more quickly than expected. We stayed the weekend and got to witness progress in the making.

Santina went from just barely taking treats from Lori to jumping on a Training Perch to get treats from her. Santina was becoming more at ease with Lori's presence. Otherwise, Santina was perfectly at home on the familiar NU Perch stand I built her. We practiced Santina's feeding/cleaning routines a few times with Lori doing it more and more on her own. Although the rehoming process only lasted two days, it felt like weeks of progress because we made a gradual transition. Santina had the chance to get used to her new home and new owner with me around so she actually felt quite at ease.

We would leave to go get lunch, then come back and work with her. Then we would go out for dinner and come back. This coming and going got Santina more relaxed, and when I left without coming back, she already had a new friend in Lori. And this is really great news. Santina has been taking to Lori very quickly. They have a wonderful understanding and connection developing. Lori adores Santina. The dedicated passionate attention that Santina is receiving is definitely uplifting to her.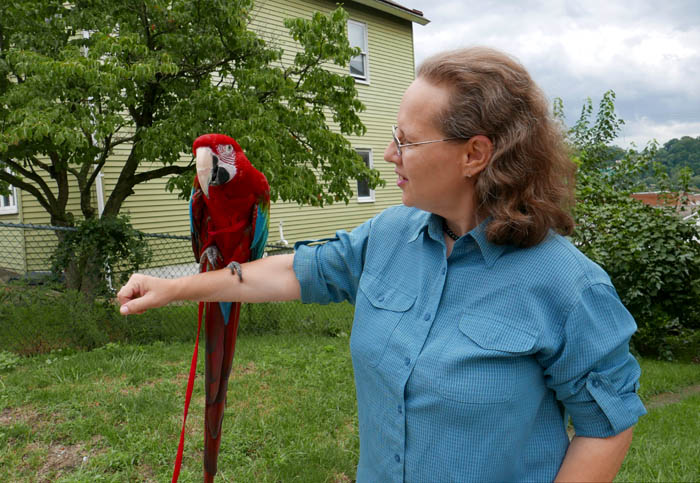 Santina was always a one-person bird before. She grew up as an only bird and I have found her to like attention as an only bird. The group environment was not ideal for her and she did not deal so well with the little green guys buzzing around so much. On the other hand, with Lori, Santina can be the center of all attention.

As I left Santina with Lori, I was actually quite happy. Certainly there was a feeling of sadness in going home without her. However, seeing how well she is doing with Lori and how happy Lori is to have her, I knew it was all right. Kili, Truman, and Rachel are for the better. They will be able to recover their health and get back to training. Santina will be in a home environment that she actually enjoys best. Lori got the exact kind of macaw that she was looking for. And Marianna and I have a wonderful new friend. This just goes to show that a rehoming situation, when done right, can have an all around happy ending!


| | | |
| --- | --- | --- |
| | | Wednesday October 22nd, 2014 |
There's no such thing as a free parrot. I get offered other people's parrots for free all the time and yet I do not accept them. People who offer will look at me in shock and think I'm crazy to turn down a $500 (retail) bird for free. The thing is, I don't see pets the way they do. To me, they are a part of the family and will cost a lot in terms of time and money to take care of. I don't want to have more than I can afford.

Now when it comes to the "price" of a parrot, the price up front is really a tiny part of the overall cost of owning a parrot. The costs of ownership far outweigh the acquisition costs of any parrot, including one from a store. Costs of keeping a parrot include vet bills, cage, food, perches, toys, cleaning supplies, house modifications (like bird proofing), and replacement of personal possessions destroyed by the bird. This does not even include the cost of educating yourself about parrot ownership because this will vary for people.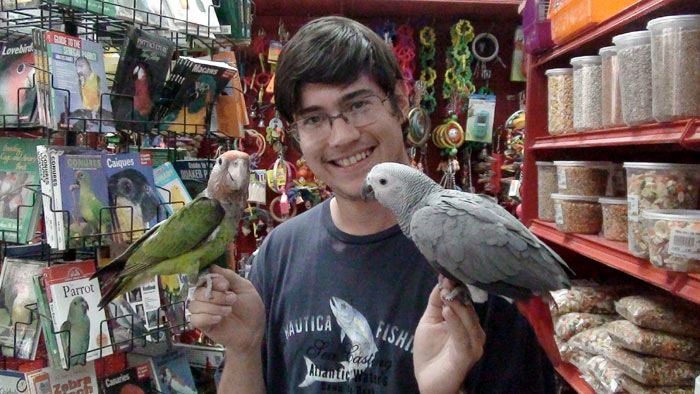 Walking around any bird store or rescue, I've been finding that the tameness of available birds is not much different. You'd be lucky to find a bird store where even 1/4 of the available birds are tame to the point of just stepping up on your hand.The ratio isn't much worse at a rescue.

Now when it comes to rehoming a parrot, I want to point out why you should never give it away for free (unless you personally know who the bird is going to). There are plenty of cases where con artists take free birds that they get and then sell them to make a profit. If you give away or sell a bird for less than the baseline market price for it, there is the possibility of it being resold for a profit. Who's hands it ends up then is entirely uncontrolled. Sometimes, an even worse fate awaits "free" birds being given away (especially budgies). Owners of snakes or other exotic pets will take free parrots and use them to live feed their exotics. Some might argue that it's the circle of life and natural. But there is nothing natural about being cornered in a glass aquarium with no chance of escape.

Because people get overly fixated on the price of exotic parrots, they become shortsighted about the far greater costs of keeping them. Giving away a parrot for free or for too cheap, gives the false impression that this is not only a worthless creature but also that it is easy to afford. Given the high expense of specialized products like food, perches, and toys to keep a parrot healthy, it is unreasonable to keep one on an extremely tight budget. While other types of pets may handle depravity better, parrots are known to self mutilate and develop major problems when void of adequate care and supplies.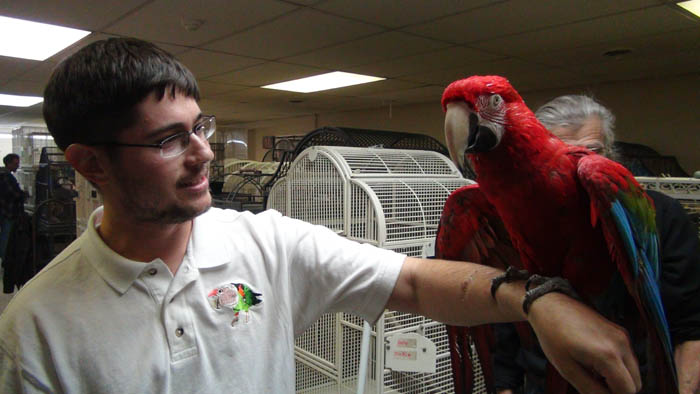 Although there are many good reasons to acquire a parrot from a rescue, being cheap is not one of them. If a certain species of parrot will cost $1,500 at a store or $500 at a rescue, in the grand scheme of things, this is a negligible difference in cost and should not play a role in which to get. The initial vet visit can easily run $500-$1000 when done properly. A cage will be $500-$1000 either way. And on a parrot of that size, toy can easily expect to spend $1,500 every year thereafter for basic supplies to do an adequate job of caring for that bird. Even if kept for just 10 years at a cost of $1,500 per year, the total of $15,000 dwarfs the $1,000 saved by going to a rescue.

The adoption fee, price, or what have you of a parrot helps to establish a baseline cost of keeping such a creature. It also ensures the pay-worthiness of the adopter/buyer to being able to pay the costs of keeping the animal in the future. A parrot given away for free can easily get passed around by people because they have no financial or emotional investment so it is important to always include a reasonable rehome/adoption fee whether you need the money or not. Better still, find information, do training, and find ways to keep your parrot in the first place without the need to give it away. Just remember, there's no such thing as a free parrot. It will always involve a lost of cost and time to keep these creatures successfully.


| | | |
| --- | --- | --- |
| | | Wednesday August 27th, 2014 |
It has now been about eight months since Santina's adoption and things are going splendidly. She has taken to her new living conditions, diet, cohabitants, training, and fits right into the trained parrot family. In just a few months, the 14 year old rescue macaw has been changing many people's perceptions of what a rescue bird can be.

I hope Santina can serve as an example and a role model in the adoption of rescue parrots. On one hand, may she show that even "second hand" birds are worthy of care and love. But on the other hand, she serves to show what a training minded approach can achieve. Without teaching her a single "trick," I have been able to tame Santina and build a relationship as well as the cooperation that is necessary to be able to keep this pet.

Kili came from a store, Truman from a breeder, and Santina from a rescue. Not only do I frequently speak to owners of parrots from these differing sources but even my own birds come from each. So I know what these are all like. Ultimately what I have found is that it doesn't matter where you get your parrot, what matters is what you do with it.




The myth that you have to get a parrot as a baby so that it would like you is downright untrue. All you have to do is visit a rescue to see all the adolescent parrots that were relinquished because the owner couldn't get along with it. This has nothing to do with the bird and all to do with the owner not taking the time to teach, train, and take proper care. On the other hand, there are plenty of people who have adopted parrots from rescues and had tremendous success with parrots that even as babies couldn't develop a relationship with their owner. What this goes to show is that it is not about age or source but what you can do with the bird.

The best reason to adopt a parrot from a rescue is not out of sympathy. Many rescues and people will try to convince you that you should adopt/rescue because you feel bad for the bird. The problem with this approach is that it is very shortsighted. At first, there certainly is the temptation to save a living creature from a bad situation. But in the long term this will wear off and there will be infinitely more parrots that need rescuing. So while compassion should play a role, it is not a good reason to adopt.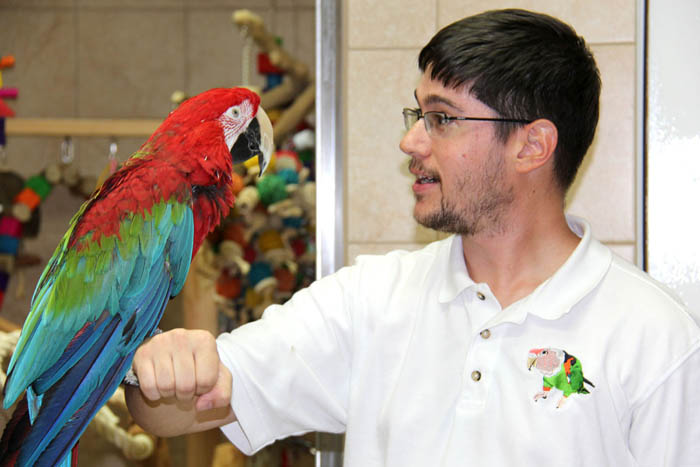 In reality, the best reason to adopt a parrot is because you and the bird will have the freedom of choice. Unlike the arranged marriage of "buying a baby" - where the grown adult personality is not yet known – when you visit and mutually choose an adult parrot, what you see is what you get. Adoption allows you to see the adult parrot as it is and likely will remain (at least in general, a lot of behavior can be shaped with training but personality won't change). If you like the parrot and the parrot likes you, you've really got a good shot with this bird. On the other hand, a baby's allegiance may drift with time as it matures.

Having one of each, a parrot from a store, breeder, and rescue, I have come to realize that it makes far less difference where you get the bird from and that it all comes down to the training and relationship you develop. Thus I encourage anyone looking for their first or another parrot to consider adopting. Check out my book to learn about my complete parrot owning approach that has worked on all three of my parrots regardless of their source.




To promote rescue and awareness of how wonderful rescue birds can be, I made this video. I hope you enjoy and share it with everyone you know. It is not only important that people know that there are rescue birds that need help/adoption but also that they can become absolutely wonderful pets and deserve a chance.

Here is your chance to help a rescue parrot find its roar. To help the rescue cause and get the word out there, I am running a contest along with this video. Simply nominate your favorite rescues in the video comments (on youtube). When the video exceeds one million views, I will be holding a random drawing to select a rescue from the comments to receive $1,000.00. There will also be a second and third prize of wizard merchandise for rescues as well. Second prize is 3x 25lb bags Roudybush pellets (small, medium, and large). Third prize is a Parrot Wizard Gift Set.

I also have some prizes for participants as well! Another set of drawings will take place along with the rescue drawing. Viewers who nominate rescues will be eligible for a first prize of a Parrot Training Perch Kit, second prize Parrot Wizard Gift Set, third prize a signed copy of the Parrot Wizard's Guide to Well-Behaved Parrots.

Briefly, here are the contest conditions. Viewers can nominate as many parrot rescues as they would like in the video comments, one comment per rescue. First put the name of the rescue and then below you are welcome to talk a little about the rescue. What you say about the rescue won't affect its chances of winning but may help encourage other readers to donate or rescue from there. Please no spamming. Genuine nomination of many rescues is encouraged but if you post the same rescue over and over again, youtube will automatically block it as spam. Only US based Parrot rescues are eligible for the contest. For the cash prize, only a 501c3 non-profit rescue is eligible. For the other prizes, they only need to be a verifiable parrot rescue that accepts donations and adopts out parrots (even if unofficially). Random drawings will be held consecutively until an eligible winner is drawn. For the participant prizes, the participant simply needs to nominate an eligible rescue for their comment to count as a raffle ticket toward the random prize drawings. Free-shipping to US based participants only. Participants from outside the US are welcome to receive their prize if they pay the international shipping costs. When Santina's video roars for the millionth view, the drawings will be held to celebrate so much exposure for parrot rescue.

Nominated rescues will be added to a list at the back of the video and on this page to help viewers learn about all the local adoption options and where to donate! Help rescues win, and I'm not talking just about prizes but about awareness and donations, by sharing and spreading the word.

Watch Santina's Roar video and then help another rescue parrot find its roar by:

1) Comment, Like, and Share Santina's Roar Video
2) Donate to a parrot rescue
3) Adopt a rescue parrot


| | | |
| --- | --- | --- |
| | | Monday December 30th, 2013 |
On Monday December 23, 2013 I adopted Santina a rescue Green-Winged Macaw. But the story goes back a bit and I'd like to take this opportunity to share it with you.

I have been preparing to move to a new house for over a year now. The renovations have been ongoing and delayed. As a part of the move, I had a big bird room being built and this was an opportunity to house any sized parrot I could dream of.

About this time last year I began looking into acquiring a baby Green-Winged Macaw. I was on a waiting list for a baby once eggs were hatched. Infertile eggs and cold temperatures kept pushing things back until what was supposed to be my baby hatched in the spring. The plan was to acquire an unweened baby macaw to be trained for outdoor freeflight. By that point, I have been noting tremendous success indoor freeflying Kili & Truman and craved the challenge of flying a parrot outside. But according to most expert sources that I had encountered, the consensus was that you can only succeed with outdoor freeflight with a large parrot that was weened by the trainer. Furthermore the bird was to become a performer much like Kili & Truman and I was warned that anything but a baby might not be good for that purpose.

Note: hand feeding unweened baby parrots and/or outdoor freeflight bears a high level of risk and is complicated beyond the scope of any advice I can give. Virtually all pet parrot owners should not attempt either and those who do should seek out expert advice.

Unfortunately the baby greenwing aspirated while still under the care of the breeder.

During my preparations to freefly the baby macaw outdoors, I had done a lot of contemplation that led me to begin freeflying Kili outdoors. Kili was already on track to be a star free flier with her gym flying, harness flying, outdoor super socialization, nyc visit, and motivation optimization. In a way, it was the prospect of freeflying the baby macaw that got me used to and accepting of the idea enough to try it with my adult bird.



Big bird room and indoor aviary. Soon to be Santina's room



Smaller cage room and temporary setup for Santina



From that point on, everything changed. I released my book, The Parrot Wizard's Guide to Well-Behaved Parrots. I was touring all around the country presenting my training methods. And I had done a lot of work with rescue parrots. The culmination of these factors, personal growth in training capability, difficulty in finding the right baby, and the importance of helping rescue birds lead me to seeking an adult macaw for adoption.

I don't believe in adopting rescue birds just because or simply out of sympathy. I see a lot of people in the bird community burn out because of these reasons. I think rescue parrots should be adopted on merit and benefit to bird and owner. There are too many reasons to go over here but there are definite pros/cons to adopting and there are plenty of cases where adopting a rescue rivals getting a baby. I may write another article later about how it turned out better to adopt Santina.

Finding the right rescue is not necessarily an easy matter either. You have to research around and find the right rescue with the right attitude and most importantly the right bird for you! This may require some distant travel but for a bird that will live with you a lifetime is not something to skimp on! I had already been looking nationwide for a suitable baby so distance made little difference on finding a rescue. When I learned that Lazicki's Bird House & Rescue is in Rhode Island, that felt like right in my backyard compared to the far search I had been making.

The first thing you want to learn when choosing a rescue (after all there are many bird rescues but you only have the ability to support one at a time) is about their reputation in the bird community. Talk to local bird clubs, people who have adopted from that rescue, and volunteers at that rescue to get an impression what it's all about. I was hearing about Lazicki's in the news, from other rescues, and from adopters so I already had a favorable first impression. The rescue had several Green-Winged Macaws but everyone thought off the bat that Santina would be the right one for me. Given that those people have been around the bird and I haven't it was wise to take their advice and then test it out for myself. The next step was to go and visit the rescue and the bird.

To an extent it does matter what kind of care the rescue provides the birds. Naturally supporters of rescues want to support the ones that do a good job and let the ones that do a poor job go bust. However, it is impossible to hold them to the highest standards. They do things on a tight budget, they have a lot of birds, etc. So discounting these things, the things to look for are that the birds are healthy, treated properly, and that the rescue's policies are acceptable. Things like cleanliness, out of cage time, cage size, etc can be discounted from ideal (as long as they are not abysmal) as the rescue is only a temporary location for the birds. You want to look for minimum standards being met at the rescue and use that as an opportunity to provide maximum ones in your own home.

I won't spend too much time commenting on the appearance of the rescue facility when I visited because they will have moved to a new location by the time this article is released. So there's no sense in analyzing the facility I was visiting that they were in the process of replacing. The things that I didn't like were much the same as would be the case in most any rescue: the birds are clipped, not trained, cages are too small, etc. What was more important was that the rescue was open to the ideas of training, flight, cage-free lifestyle, etc. What I would not accept is a rescue that would mandate me to clip the bird or engage in similar unacceptable practices. I did not have any expectations to find a flighted rescue macaw.

I visited the rescue a month prior to adoption to meet Santina and go over preparations I would need to make in order to adopt her. We discussed diet, space requirements, behavior, and medical care. Santina did not want to step up for me but Steve did put her on my arm. She gave me a few nips but otherwise was content to just sit on my arm and preen herself. What I found was that she is not aggressive but rather regressive. In other words she does not come over to bite you but if you come after her, then she will. This is a much easier situation to work with. Just don't do the things that make the bird have to defend itself (and that is usually unwanted handling).

When it comes to adoption fee, I was not particularly interested. I knew it would be less than I had already agreed to pay for a baby but more importantly I knew it would be negligible compared to the cost of keeping the parrot long term. In a single year that bird could chew through more toys, food, or perches than the price I'd pay for her at the rescue. In fact, without even knowing what the adoption fee would normally be, I offered $1000 to the rescue for hooking me up with such an awesome bird. I had since learned that I donated double what the adoption fee would have been. I'm glad that I did because the rescue can really use the help right now and they had done the best they could for what would become my bird! You can't put a price on a living/loving creature; you can only do your best to support the rescue/store/breeder for being a temporary care giver. This is why I want to encourage everyone to give as much as you can to rescues and don't look at it as a cheap alternative. Nothing about keeping parrots is cheap. (In making preparations with the avian vet for Santina's upcoming first visit, I learned that it would cost over $800 for all the testing she would require. I would have felt terrible if I had paid any less an adoption fee for the entire bird!)

Steve, the founder of the rescue, is a nice guy (even if he tells you that he doesn't give a damn about you as long as the bird is ok!). His heart is in the right place and he is foremost concerned about the long term welfare of the birds. He shares my view that flight is essential for parrots and that they enjoy working for food (even if they are unable to provide those opportunities at the rescue). On adoption day, Steve and I went over pictures of the place I'd be keeping Santina and took care of some paperwork. Then we went over to check out Santina. I could tell that she did not want to step up for me so I tried to divert the animosity by chatting with Steve nearby.

I learned that Santina was hatched on September 13, 1999, had a single owner who had to give her up for personal medical reasons, and that she had a tendency to hate men. Also it turned out Santina was previously named Santino and thought to be a male until she laid an egg at the rescue. Otherwise little is known about her past and I would be left to discover her behavior and personality on my own.



Santina did not want to step onto my arm and tried to bite. Steve forced her onto my arm and then Santina gave my arm a bit of a bite. There's no question why she bit. She did not want to go and then was forced to so she bit in order to not have to be on my arm. A large part of the problem was that the bird was bonded to Steve, had nothing to gain, and everything to lose by stepping up for me. She was already fed, uninterested, and defensive. She could not be sure if I was sturdy or safe so her best course of action was to bite rather than step up. This is one place I fault the rescue on not using socialization techniques to make visitors a highlight of the birds' day rather than a downside. It certainly makes the prospect and decision of adopting a parrot that does little more than bite you quite a difficult one.

The decision to adopt Santina was bitter-sweet. From a logical stand point she was a good bird, the right kind, and had a lot of potential. But in the introductory phase there was little bond or relationship between us that would be indicative of any sort of preference. Furthermore the rescue gave me little stimulation that the bird was ideal for me. Most of what I was hearing was about how I'd be ideal for the bird and little the other way around. What I had to remind myself of was the fact that a clever rescue could have just as well manipulated the situation (like a used car salesman) to make it seem like a good idea. Ultimately the decision and the risk was entirely mine. I decided that with my training capability I should be able to turn any bird around regardless if it chose me or not.

Santina did not want to go into the carrier. Let me rephrase that, she desperately did not want to go into the carrier and Steve had to do a double take to shove her in. Absolutely not the approach I'd wanna use but this was not the time to stand around figuring it out. I learned that Santina is phobic of carriers during that episode and also while walking her near a carrier since. Once in the carrier, I wasted no time loading her in the car and heading home.

The giant macaw clung to the bars during the span of most of the car ride despite the perch I put inside for her. At home I opened the door and tried to coax her out. After the bites she had given me at the rescue I was a bit leery of putting my arm in a confined space with her. Worse yet, every time I reached in her beak would come for me so I was unsure if she was using it to hold on or bite. Eventually I just bit the bullet and went for it and I was relieved to know that she was trying to step up rather than bite. I took her out and set her up in the smaller of the two bird rooms that will provide her temporary lodging. Since she has been accustomed to a cage for so long, I did not want to overwhelm her by letting her loose in the big room all at once.

Within 24 hours Santina has been stepping up for me, dancing, and taking scratches. This will be the subject of future blog posts so be sure to check back. In the meantime, here is the video of Santina at the rescue and coming home!