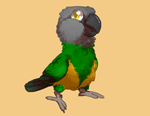 Kili
Type: Senegal Parrot
Genus: Poicephalus
Species: Senegalus
Subspecies: Mesotypus
Sex: Female
Weight: 120 grams
Height: 9 inches
Age: 14 years, 5 months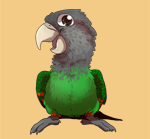 Truman
Type: Cape Parrot
Genus: Poicephalus
Species:Robustus
Subspecies: Fuscicollis
Sex: Male
Weight: 330 grams
Height: 13 inches
Age: 12 years, 9 months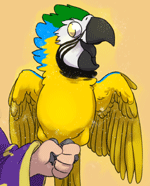 Rachel
Type: Blue & Gold Macaw
Genus: Ara
Species:ararauna
Sex: Female
Weight: 850 grams
Height: 26 inches
Age: 10 years, 5 months

List of Common Parrots:
Parakeets
:
Budgerigar (Budgie)
Alexandrine Parakeet
African Ringneck
Indian Ringneck
Monk Parakeet (Quaker Parrot)
Parrotlets
:
Mexican Parrotlet
Green Rumped Parrotlet
Blue Winged Parrotlet
Spectacled Parrotlet
Dusky Billed Parrotlet
Pacific Parrotlet
Yellow Faced Parrotlet
Lovebirds:
Peach Faced Lovebird
Masked Lovebird
Fischer's Lovebird
Lilian's (Nyasa) Lovebird
Black Cheeked Lovebird
Madagascar Lovebird
Abyssinian Lovebird
Red Faced Lovebird
Swindern's Lovebird
Lories and Lorikeets
:
Rainbow Lorikeet
Conures
:
Sun Conure
Jenday Conure
Cherry Headed Conure
Blue Crowned Conure
Mitred Conure
Patagonian Conure
Green Cheeked Conure
Nanday Conure
Caiques:
Black Headed Caique
White Bellied Caique
Poicephalus Parrots
:
Senegal Parrot
Meyer's Parrot
Red Bellied Parrot
Brown Headed Parrot
Jardine's Parrot
Cape Parrot
Ruppell's Parrot
Eclectus
:
Eclectus Parrot
African Greys:
Congo African Grey (CAG)
Timneh African Grey (TAG)
Amazons:
Blue Fronted Amazon
Yellow Naped Amazon
Yellow Headed Amazon
Orange Winged Amazon
Yellow Crowned Amazon
Cockatoos:
Cockatiel
Galah (Rose Breasted) Cockatoo
Sulphur Crested Cockatoo
Umbrella Cockatoo
Moluccan Cockatoo
Bare Eyed Cockatoo
Goffin's Cockatoo
Macaws
:
Red Shouldered (Hahn's) Macaw
Severe Macaw
Blue And Gold Macaw
Blue Throated Macaw
Military Macaw
Red Fronted Macaw
Scarlet Macaw
Green Winged Macaw
Hyacinth Macaw
Glossary of Common Parrot Terms
Some potential parrot owners wonder at what age is it best to get a parrot? It is a very important and responsible question. And I don't mean what the age of the parrot should be when it is acquired but rather what the age of the owner is.

You'll hear a lot of people saying how young people are too young to have a parrot, old people are too old to have a parrot because the parrot will outlive them, and everyone in between is too busy with work and kids to have a parrot. That doesn't leave any age at which a person could responsibly acquire a parrot and yet lots of people of all ages do it all the time.

What it really comes down to isn't age but responsibility. Instead of focusing on how old someone needs to be to make a good parrot owner, what it really comes down to is what they are able and willing to put in. Anyone at any age who is going to neglect and take poor care of an animal, shouldn't subject a living being to that.

So instead of looking at an age, let's look at some qualities and requirements that parrot ownership entails. First of all, taking care of a parrot takes money. Quite a lot of it because our human lifestyle often is not conducive to keeping birds in our homes. Not only do you need to budget toward direct bird expenses such as a cage, toys, perches, and food, but also indirect expenses such as changing to non-PTFE cookware, possibly altering doors/windows to provide a safe environment, and having sufficient savings for emergency vet care.

Money alone isn't enough though. Time is perhaps the single biggest expense of parrot keeping. It takes a lot of time to keep a parrot. Cleaning, feeding, and training are big time consumptions but just spending time with the parrot and making it a part of your lifestyle is by far the biggest. Everyone thinks they will have time for this and at first they usually do. However, you really have to think ahead by years and decades because parrots live for a very long time.

Another way in which age can indirectly play a big role in parrot care is the individual's standing and authority within the household. Does the potential parrot owner have the authority within a family to say, doors/windows have to remain closed while the parrot is out or choose how much money is spent on the animal's care? This does not only have to do with age but in general with the person's standing and relationship within the family. Ideally, the entire family should be in agreement and on board with sharing their entire home with a parrot.

You will hear lots of people say "you should not get a parrot that will outlive you" or "anyone over 50 should not get a baby parrot because it will outlive them." And although it may not be the most sensible thing for an 85 year old to get a hatchling, the reality of parrot ownership is that few people actually keep them long enough for natural death by age to be the biggest factor. Many parrots are rehomed or die from other causes. Instead of solely focusing on keeping a parrot for its entire life, it is best to focus on giving a parrot the best possible life while in your care. Also, regardless of how long you intend to keep the bird, it is best to prepare it for life with or without you. If you should for any reason have to give it up or not be around any more, it is best to prepare that parrot to do alright living with other people.

My parrots have been socialized extensively to other people so I know that even without me, they will still be comfortable being cared for by others. These birds are great with my wife, family, and even random strangers. I do not deliberately get a parrot that I don't plan to keep, but on the other hand if this turns out to be the case, they are prepared. I had to rehome Santina the Green-Winged Macaw to a new owner and all of the training and preparation helped her adjust to her new home an owner very quickly.

Although taking care of a parrot is both time consuming and expensive, it really comes down to how big of a priority and passion it is for you. Just about anyone with any paycheck can afford at least a smaller parrot if it is one of their top passions. However, if you have a car modding hobby, a drinking hobby, TV watching past time, etc that are a higher priority than the pet, then perhaps not enough time/money will be left for the bird. But for someone for whom parrots are a life passion, most of the time they can find a way to make it work out. What you put in largely affects what you get out.

I hope this little summary helps you understand that it is not so much about age but about priority and responsibility that it takes to be able to be a good caretaker for a companion parrot. You can learn more about how to take care of a parrot and develop a great relationship with the help of my book, The Parrot Wizard's Guide to Well-Behaved Parrots.



Part of: General Parrot Care
Parrot Age
Comments
Post Your Response
Pajarita

Posted on July 1, 2018 02:20PM

After reading your article, Michael, it seems to me that, although you state that an adopter should not discriminate against young people, the list of 'necessities' for good care strongly implies that age does matter.