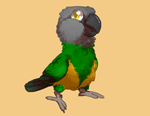 Kili
Type: Senegal Parrot
Genus: Poicephalus
Species: Senegalus
Subspecies: Mesotypus
Sex: Female
Weight: 120 grams
Height: 9 inches
Age: 10 years, 11 months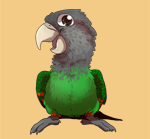 Truman
Type: Cape Parrot
Genus: Poicephalus
Species:Robustus
Subspecies: Fuscicollis
Sex: Male
Weight: 330 grams
Height: 13 inches
Age: 9 years, 2 months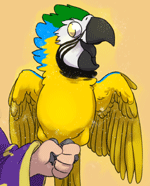 Rachel
Type: Blue & Gold Macaw
Genus: Ara
Species:ararauna
Sex: Female
Weight: 850 grams
Height: 26 inches
Age: 6 years, 11 months

List of Common Parrots:
Parakeets
:
Budgerigar (Budgie)
Alexandrine Parakeet
African Ringneck
Indian Ringneck
Monk Parakeet (Quaker Parrot)
Parrotlets
:
Mexican Parrotlet
Green Rumped Parrotlet
Blue Winged Parrotlet
Spectacled Parrotlet
Dusky Billed Parrotlet
Pacific Parrotlet
Yellow Faced Parrotlet
Lovebirds:
Peach Faced Lovebird
Masked Lovebird
Fischer's Lovebird
Lilian's (Nyasa) Lovebird
Black Cheeked Lovebird
Madagascar Lovebird
Abyssinian Lovebird
Red Faced Lovebird
Swindern's Lovebird
Lories and Lorikeets
:
Rainbow Lorikeet
Conures
:
Sun Conure
Jenday Conure
Cherry Headed Conure
Blue Crowned Conure
Mitred Conure
Patagonian Conure
Green Cheeked Conure
Nanday Conure
Caiques:
Black Headed Caique
White Bellied Caique
Poicephalus Parrots
:
Senegal Parrot
Meyer's Parrot
Red Bellied Parrot
Brown Headed Parrot
Jardine's Parrot
Cape Parrot
Ruppell's Parrot
Eclectus
:
Eclectus Parrot
African Greys:
Congo African Grey (CAG)
Timneh African Grey (TAG)
Amazons:
Blue Fronted Amazon
Yellow Naped Amazon
Yellow Headed Amazon
Orange Winged Amazon
Yellow Crowned Amazon
Cockatoos:
Cockatiel
Galah (Rose Breasted) Cockatoo
Sulphur Crested Cockatoo
Umbrella Cockatoo
Moluccan Cockatoo
Bare Eyed Cockatoo
Goffin's Cockatoo
Macaws
:
Red Shouldered (Hahn's) Macaw
Severe Macaw
Blue And Gold Macaw
Blue Throated Macaw
Military Macaw
Red Fronted Macaw
Scarlet Macaw
Green Winged Macaw
Hyacinth Macaw
Some potential parrot owners wonder at what age is it best to get a parrot? It is a very important and responsible question. And I don't mean what the age of the parrot should be when it is acquired but rather what the age of the owner is.

You'll hear a lot of people saying how young people are too young to have a parrot, old people are too old to have a parrot because the parrot will outlive them, and everyone in between is too busy with work and kids to have a parrot. That doesn't leave any age at which a person could responsibly acquire a parrot and yet lots of people of all ages do it all the time.

What it really comes down to isn't age but responsibility. Instead of focusing on how old someone needs to be to make a good parrot owner, what it really comes down to is what they are able and willing to put in. Anyone at any age who is going to neglect and take poor care of an animal, shouldn't subject a living being to that.

So instead of looking at an age, let's look at some qualities and requirements that parrot ownership entails. First of all, taking care of a parrot takes money. Quite a lot of it because our human lifestyle often is not conducive to keeping birds in our homes. Not only do you need to budget toward direct bird expenses such as a cage, toys, perches, and food, but also indirect expenses such as changing to non-PTFE cookware, possibly altering doors/windows to provide a safe environment, and having sufficient savings for emergency vet care.

Money alone isn't enough though. Time is perhaps the single biggest expense of parrot keeping. It takes a lot of time to keep a parrot. Cleaning, feeding, and training are big time consumptions but just spending time with the parrot and making it a part of your lifestyle is by far the biggest. Everyone thinks they will have time for this and at first they usually do. However, you really have to think ahead by years and decades because parrots live for a very long time.

Another way in which age can indirectly play a big role in parrot care is the individual's standing and authority within the household. Does the potential parrot owner have the authority within a family to say, doors/windows have to remain closed while the parrot is out or choose how much money is spent on the animal's care? This does not only have to do with age but in general with the person's standing and relationship within the family. Ideally, the entire family should be in agreement and on board with sharing their entire home with a parrot.

You will hear lots of people say "you should not get a parrot that will outlive you" or "anyone over 50 should not get a baby parrot because it will outlive them." And although it may not be the most sensible thing for an 85 year old to get a hatchling, the reality of parrot ownership is that few people actually keep them long enough for natural death by age to be the biggest factor. Many parrots are rehomed or die from other causes. Instead of solely focusing on keeping a parrot for its entire life, it is best to focus on giving a parrot the best possible life while in your care. Also, regardless of how long you intend to keep the bird, it is best to prepare it for life with or without you. If you should for any reason have to give it up or not be around any more, it is best to prepare that parrot to do alright living with other people.

My parrots have been socialized extensively to other people so I know that even without me, they will still be comfortable being cared for by others. These birds are great with my wife, family, and even random strangers. I do not deliberately get a parrot that I don't plan to keep, but on the other hand if this turns out to be the case, they are prepared. I had to rehome Santina the Green-Winged Macaw to a new owner and all of the training and preparation helped her adjust to her new home an owner very quickly.

Although taking care of a parrot is both time consuming and expensive, it really comes down to how big of a priority and passion it is for you. Just about anyone with any paycheck can afford at least a smaller parrot if it is one of their top passions. However, if you have a car modding hobby, a drinking hobby, TV watching past time, etc that are a higher priority than the pet, then perhaps not enough time/money will be left for the bird. But for someone for whom parrots are a life passion, most of the time they can find a way to make it work out. What you put in largely affects what you get out.

I hope this little summary helps you understand that it is not so much about age but about priority and responsibility that it takes to be able to be a good caretaker for a companion parrot. You can learn more about how to take care of a parrot and develop a great relationship with the help of my book, The Parrot Wizard's Guide to Well-Behaved Parrots.


Toys and perches are very important for your parrot's health and well-being. They're more than just for your parrot's entertainment, although that is a very important role as well. They provide necessary exercise to your bird's beak and feet!

Having a huge cage for your parrot is great. But if that huge cage isn't extensively filled with perches and toys, it is just as well a tiny cage. The main advantage of a huge cage is that there is an opportunity to put a lot of perches for your parrot to move around on and many toys to motivate it to come to. Without them, you'll just have a parrot sitting in one part of the cage all day doing the same as it would if it were in a smaller cage.

Perches are the foundation of your parrot's living space. The bird spends all day on its feet. Having a good variety of different perches provides diversity and comfort to your parrot's feet by allowing it to change and choose its perching. Forget about dowel and plastic perches. Throw them out. They are no good for your parrot. Take caution of natural perches that are straight and smooth as a dowel. Just because they are natural, doesn't do any good if they act the same way as a dowel.

The four typical kinds of perches are:

Natural
Rope
Cement
NU Perches

I would strongly encourage you to offer all four types so that your parrot has the most variety and choice. Wood perches should be the Natural perches are fun because each one is different. The diameter, texture, and shape will vary. This is great for your parrot. Unfortunately, you don't always know what you are getting when ordering online and some natural perches don't offer all of the advantages of being natural. Sometimes it isn't possible to make wildly wavy perches properly fit the rectangular orientation of a bird cage. For this reason, I came up with and patented the NU Perch. These perches offer the maximum amount of variation, choice, and comfort while also being totally safe and affordable. Provide a variety of different lengths, thicknesses, and hardness of perches so that your bird can experience different perching techniques as it moves about the cage.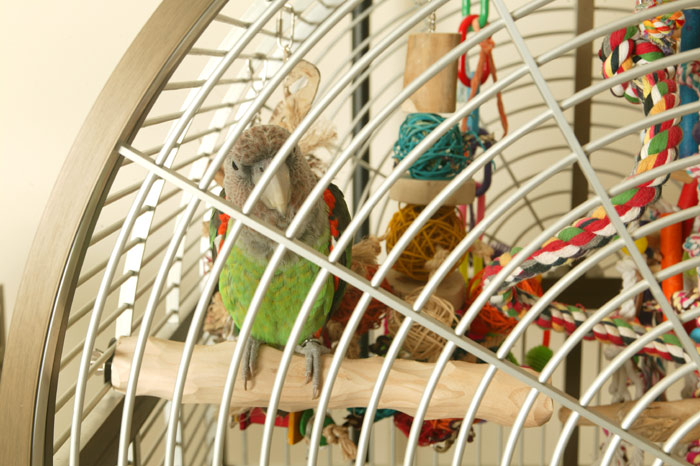 Rope perches and cement perches are good additions to wood perches but only in moderation. The cement perches can help keep your parrot's claws trimmed and it's a different texture than all other perches. However, excessive use of cement perches can greatly irritate the bird's feet. Never put a cement (or other sanding type) perch where your parrot sleeps. In other words, don't put the cement perch up high or where your parrot goes a lot. Ideally, place a cement perch in a place your parrot visits just a few times a day. For this reason, a cement perch serves very well by the bird's water (bottle or bowl). It only takes a few drinks a day but otherwise does not spend an excessive amount of time in that area.

Rope perches are the exact opposite of cement perches. Instead of being hard and harsh, rope perches are smooth and comfy. This is a good thing but in moderation. Rope perches can provide relief from firmer perches. But if used excessively, they may cause the bird's feet to be too sensitive on harder surfaces. Also, extreme caution must be taken if the bird chews on the rope perch. Two major hazards can be caused by chewed rope perches. First of all, some birds ingest the rope and can develop a crop infection. Another hazard is that the bird can get its foot or claw caught in the chewed strands of rope and get stuck. So, to avoid either case, inspect the rope perches regularly and replace preemptively if there is any sign of damage.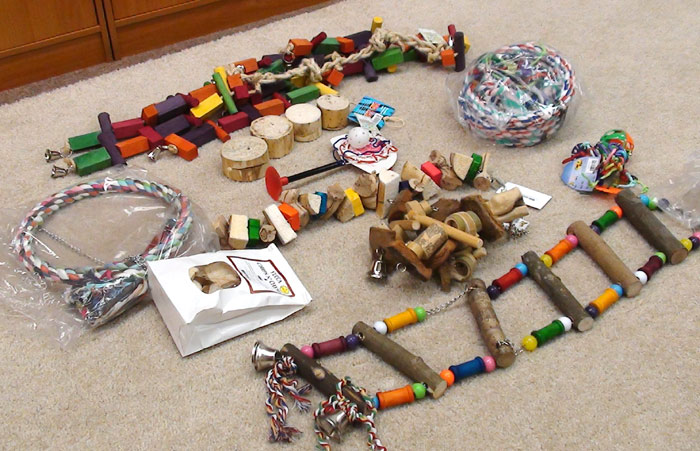 Just as perches are to your parrot's feet, toys are a health requirement for your parrot's beak. Parrots use their beaks quite extensively in the wild for feeding, nest cavity making, and playing. We won't be providing nesting opportunities to our pet parrots but we should nonetheless give them lots of chances to chew. Toys are a good human alternative to the chewing challenges that parrots would encounter in the wild. Abundance of toys is very important. Different shapes, textures, materials, and challenges will keep your parrot and its beak busy in different ways. Some materials such as plastic are tougher and will require harder chewing than softer materials like wood. Providing variety and abundance will improve your parrot's activity and provide the pleasure of choice.

Perches can also be a source of chewing pleasure and beak exercise. My parrots love the NU Perches in their cages not only because they are comfortable on their feet but also because they provide a reasonable chewing challenge. On one hand, the perches are soft enough that the birds can chew them if they choose to. On the other hand, they are tough enough that it takes them a while to really destroy them. I don't know why sometimes they leave perches alone and chew only toys and other times focus on the perches instead of toys. But by providing them the abundance and variety, I can ensure that they are kept busy, happy, and healthy in any case.

Keep in mind that the best deterrent against developing a feather-plucking problem is keeping the bird busy chewing things that are not on its body. Just because there are toys in the cage doesn't mean they are serving much useful purpose if they don't end up in a pile of splinters on the bottom of the cage. Looking, touching, and playing with the toys is only a small portion of their purpose. Getting the beak and mind exercised in the process of chewing them up is the biggest purpose. In the case of most parrots, something is going to get chewed up at the end of the day be it the bird's toys, perches, your furniture or stuff, or its feathers. In order to avoid it being the feathers or furniture, it is best to focus on toys and perches.



Some toys are just too difficult, thick, hard, or boring for your parrot to chew up. Offering a variety of different kinds of perches is a good way to improve the likelihood of the toys working out. However, sometimes the parrot just won't chew any of it up. The best way to get it started is to get smaller or easier toys that are meant for a smaller species than what you have. Letting the bird have success with a toy that is too easy can give it the motivation to tackle some of the tougher toys that are meant for its size. The toys gotta get chewed up in order to be serving their purpose.

Every parrot is different so what works for some parrots may not work for others. Let your parrot exhibit its own personality and develop its own preferences. Provide abundant variety of perches and toys so that it can make the most of them and grow its choices.

Here's a video of Marianna getting some new perches and toys for the flock and then rearranging their cages with the new goodies:


| | | |
| --- | --- | --- |
| | | Tuesday August 12th, 2014 |
Kili, Truman, and Santina set out on a quest to crack some really tough nuts. Kili, the lightweight, took on an almond in the background. Truman cracked a hazelnut and a brazil nut in less time than it took for Santina to crack her nut. But, Santina takes the prize for cracking the toughest of nuts, the Macadamia.

The patient macaw worked at it for a good half of an hour. She kept rotating and testing the nut looking for the weak spot. Truman uses a similar approach for hazelnuts, which for his beak size, should be nearly impossible. Santina could not just crack the Macadamia. The best she could accomplish with her powerful beak was to just chew a little hole into the top of the nut and then extract the inner goody with the tip of her beak.

I even got Santina to share her bounty with the two smaller birds by trading her a hazelnut which she could easily open. Kili and Truman dug in with their beaks and extracted some of the nut from the shell. Santina of course got her hard earned nut back to finish the job. I can assure you that not one morsel was left inside.

Some people ask me how I taught my parrots to open such difficult nuts. The truth is they learned to do it themselves but it was my encouragement that got them to try hard enough to get to that point. If I am trying to get a parrot to learn to open a new nut, I substitute training for a nut opening session. The same learning mindset comes into play and the same motivation that could be applied to training can be applied to learning to crack tough nuts. In the beginning I try to offer an opened nut or scour the shell with a knife so the bird can learn how good the result is. The next few times I try to find the smaller/easier nuts. And with time the bird learns patience and perseverance and can be kept busy for long periods of time with a tough nut to work on.

This was not just a nut opening exercise but also a tolerance training exercise for the flock. By getting them all busy and goal focused on their own tasks, I am able to teach them to tolerate each other in closer proximity without fighting. The Cape Parrot and Macaw shared the same perch for the entire duration. It's a good way to build friendship while challenging their jaws and minds. Check out this video of how the parrots crack some really tough nuts.


The time has come to move. Santina's health cleared up, her quarantine is over, and Kili/Truman are ready to go. In a previous article I wrote about how I set up Kili & Truman's new aluminum Kings Cages. The only thing missing was toys and birds.

Kili & Truman buckled up their harnesses and rode on my shoulders the few blocks to the new house. I had a bug problem at the old apartment so I've been leaving as much behind as possible and only bringing clean things. This is why Truman's old aluminum cage had to be abandoned and not because there was anything else wrong with it. This is also why I opted to move the birds wearing harnesses rather than carriers.

We walked in through the bird room door and surprised Santina. She was sitting on the edge of her stand, excited to have company. Santina watched eagerly as her first bird visitors were settling in to the room next door. Kili & Truman watched me assemble water bottle holders, mount perches, and add toys to their bare cages. I bought two water bottles for each cage and mounted both brackets. Although I will normally only be using a single water bottle, when I need to go away for a weekend I will be able to leave twin water bottles for the unlikely event of a failure (in 5+ years using water bottles for my birds I have not had a problem).




The parrots sampled the toys as I was putting them into their cages. Truman gave his approval for a long strand of stars and Kili immediately began chewing up a cute shredding toy. These parrots love new toys, places, and situations. This is why it was an absolute non-event to move them to a new house. They have not shown the slightest sign of upset such as not eating, being quiet, or just inactive.

The reason it was so easy to move to a new house with my parrots without them freaking out is because we have already done this plenty of times before! Every outing, every trip, every household change we have ever made was a preparation for the unknown but inevitable eventual move. People often ask me "I am moving to a new house tomorrow, what can I do to make it easier for my parrot?" At that point it is already too late. The time to begin preparing your parrot for a move is now.




I occasionally took Kili and/or Truman with me to visit other people's houses. I took the birds for drives and outings. I had the parrots living out of their travel cages during trips and when we went camping. I even had the parrots living in completely different bird cages when we were visiting Ginger's Parrots Rescue. All of these different encounters prepared Kili & Truman to live in any sort of cage or house. And since they get excited about new toys, moving to a new cage with new toys is an opportunity rather than a burden for them.

Not long after I had the birds on top of their respective cages, Kili hopped over to Truman's cage and kicked him off to the smaller one. The funny thing is that the first time I let them out since, the first thing Truman did was to go and climb up into Kili's cage and stay there. It was as though she convinced him that if he just yields the bigger cage to her that she won't beat him up for it.




As for Santina, well she came from a rescue so she was already used to other birds. I could tell that Santina was excited to see other birds around and not upset. Kili & Truman have been to places with other parrots so to them it was no surprise to see a big bird next door. The move was such a non-event that it makes for a boring story. But that's what you want it to be. So begin preparing your parrot for any sorts of unforeseen changes by socializing and traveling with your parrot now.


| | | |
| --- | --- | --- |
| | | Wednesday April 2nd, 2014 |
Kili & Truman are moving to the new house where Santina has already been in quarantine. Now that Santina is clear of infection and moved to the big room, the smaller room - originally planned for cages - is now vacant. Having had a powder coat steel cage for Kili and aluminum Kings cage for Truman, I knew immediately what I'd be getting the birds at the new house.

After having Truman and his cage for 4 years, I continue to stand by the original review I did of the aluminum cage. It's expensive and it's not perfect. But it's the best cage for the money hands down. Powder coat cages just aren't sufficient in quality. Inevitably after a lot of use and washing, the coating comes off and they rust. Stainless steel cages are unbearably expensive. The aluminum cage is lighter in weight, easy to assemble, and overall good quality.

For the price, I think the aluminum cage line provides the best bang for the buck. At roughly double the price of a comparable powder coat cage, you get the benefit of non-corrosiveness that you can get from stainless steel at even twice more. As you folks probably know by now, I'm more value driven. I don't mind spending more but I hate spending more when I don't feel a sufficient benefit to justify the price. That's why I think a cage made from aluminum is the perfect compromise.

When you think about the long lifespan of a parrot and estimate the value you will get out of a cage, paying more up front for a cage makes more sense. Let's say the parrot will live 20+ years but the cage won't even make it that far. Depending on how bad you're willing to let the cage get before replacing it, I'd say it is reasonable to say that 5-10 years is realistic for the powder coat and 10-20 for the aluminum. Stainless might last even longer but if it's poor quality stainless it might not. Usually the hardware, hinges, food doors, etc will fail before the bars and the hassle will make the cage need replacement regardless. So if the aluminum cage can solidly last twice as long, at about twice the price it's a good deal. This is because you're getting a better cage with thicker bars during that time. There won't be any rust or chipping even when the cage begins to be less than desirable to keep.

Only one company makes aluminum parrot cages so there's no shopping around, Kings Cages. There is only one cage design to choose from but two sizes. I just call them the small aluminum cage and the big one. Kili is getting the small one which measures in at a sizable 25"x22"x45". This cage has 5/8" bar spacing and is great for Senegal Parrots, Conures, Cockatiels, Quakers, and other similar sized parrots. Considering that Kili is moving up from a 18x18x32 powder coat cage, it's an immediately obvious improvement. Back when I got Kili and that cage, I didn't know any better and until I was moving didn't find the chance to replace it. Truman on the other hand is getting a new version of the same cage he used to have as well. This one is 33"x25"x49" and makes a good sized cage for a Cape Parrot, Timneh Grey, Galah, or Smaller Amazon. I'm not sure if I would keep a CAG in this cage though. Maybe a smaller CAG yes but not the really big 600g ones.

The Aluminum Kings cages in 2 sizes come in 3 styles: standard, arch top, and play top. To me, all but the dometop are a waste of money. The playtop is expensive and not beneficial. Parrots will play on top of their cages with or without one and frankly a separate tree or stand is much better to have. The standard cage loses a lot of good living space without the archtop (playtop version included). For just a few $100 more and not a substantial amount in proportion to the main price, the living space is greatly expanded. There is a downside to the dometop though. Clumsy and baby birds can have trouble climbing around on it. When Truman was a baby he used to have trouble getting around and would fall off. But for agile adult birds this is no factor. It's also a bit of a pain trying to reach up and around to clean the dometop from inside.



I am handy with tools so the fact that the Kings Cage is so easy to put together plays little role. But, for most consumers this is a huge plus. It comes in just 8 pieces and all but the top two of the arch just snap together. The arch top connects with just 4 standard screws. Assembly is easy but you must pay attention that alignment is perfect or it won't come together. It only took 10 minutes to assemble the small cage by myself and then 10 minutes to assemble the big one with the help of my brother.

As I said in my first review, I don't like the wood dowels and plastic food cups.I immediately replace these with stainless steel cups and natural or NU Perches. The cage is actually a bit harder to clean than the powder coat one but not substantially enough to make it less worthy. The lighter weight and mobility make up for that. Another issue is plastic handles for the food doors can potentially be chewed off by any parrot. Most of the flaws are little nit picks and nuisances whereas the cage overall is solid, durable, and reliable.

So is it my dream cage? Does it have every feature/quality I'd want in a bird cage? No. But it is by far the best quality and value cage I have encountered and the one that I choose for my parrots Kili & Truman.