Lovebirds are very popular parrots as pets because of their small size and large personality. If you are wondering what Peach Faced Lovebirds are really like and does a Peach Faced Lovebird make a good pet, then knowing a bit about what they are like in the wild may help answer your question. It was really exciting to get to see where their pet qualities come from during my trip to Namibia where I got to see Peach Faced Lovebirds in the wild.

Peach Faced, also known as Rosy Faced, Lovebirds (Agapornis roseicollis) are native to the southwest corner of Africa. Their habitat is woodland savanna bordering on semi-desert. It is a harsh dry climate where these birds come from. They have it pretty tough. These lovebirds go on various kinds of trees and on the ground. However, palm trees seem to be their favorite. They mainly stay in pairs and groups made up of pair units.

The birds stay in a more tight area (a lot like conures) going back and forth between their nesting trees and food sources, as opposed to Cape Parrots and other Poicephalus that make long commutes to food area. The Peach Faced Lovebirds are quite noisy chirping and calling to each other throughout the day. They definitely aren't shy and they make their presence known.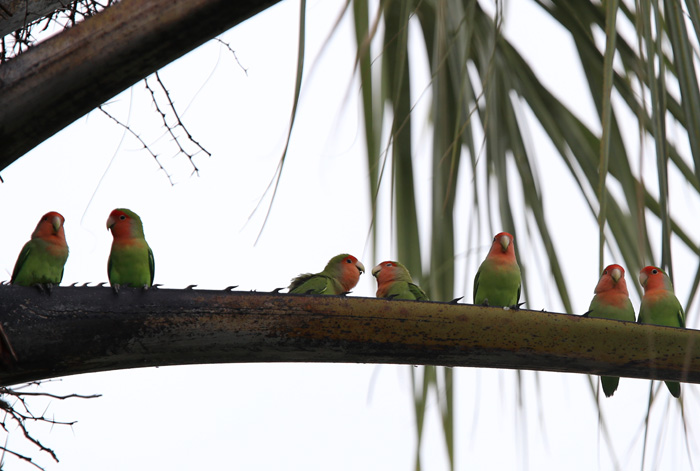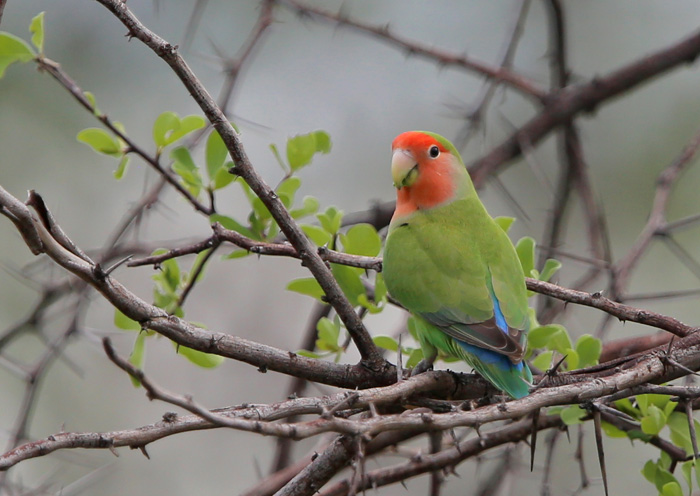 The boldness of the lovebirds is not just obvious by their calling and colors, they are bossy birds. They go after much larger birds to maintain their nesting and feeding areas. Lovebirds may be one of the smallest kinds of parrots but they act like they don't know this.

The wild behavior of these Peach-Faced Lovebirds should not be surprising to anyone who has seen them in captivity. They are high energy, active, bold, fairly aggressive birds in a small package. When considering lovebirds as pets, don't let their small size trick you into thinking that they are less trouble or require less responsibility. The only way their small size should impact your decision to get one should be that they can reside in a smaller space and that the overall costs are smaller (less food, smaller cage, smaller toys). Otherwise they can be aggressive, tough, noisy, and messy like any bigger parrot. In fact, it might be a surprise that a bird so small could create a presence of a much bigger bird.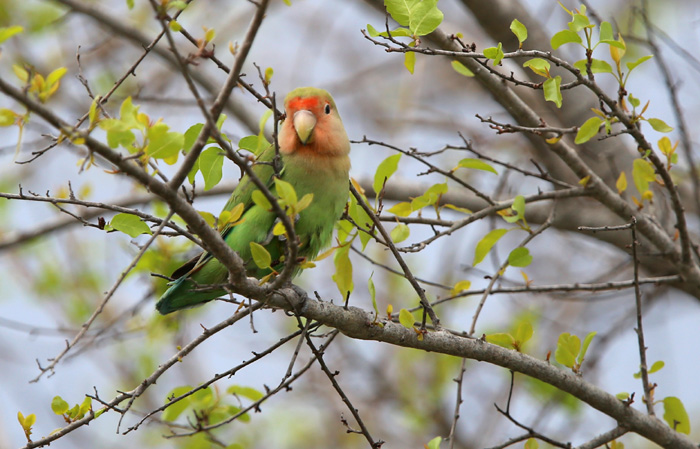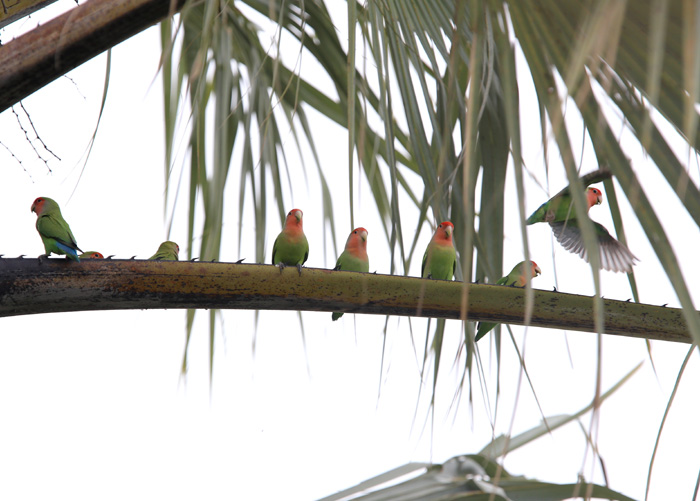 In some ways, lovebirds can be more difficult to keep as pets and train than larger parrots. They tend to be more poorly raised. Breeders put less effort into providing individual care and taming as they crank out many small birds. They grow up more quickly so the "baby stage" may already be over by the time you even get to purchase a weaned baby. Chances are that almost any lovebird you get, young or old, it will be quite a wild bird. Not only will it be more wild but it will do this at a high pace. Keeping up with a hyper bird jumping and flying about won't make it easy to have it on you or in your hand.

However, lovebirds are very intelligent. They may well be more intelligent than other small parrots and parakeets like budgies, cockatiels, and even parrotlets. This intelligence does not mean that they will comply with you or cooperate. In fact, if anything, it will mean they are more shy of human contact. Being shy of human contact does not mean they won't have the boldness to attack. Like the lovebirds I observed in the wild (you will see in the video below), household lovebirds may try to attack and drive humans away. Not the best recipe for a pet.

The good news is that their intelligence makes lovebirds quite trainable. They are opportunistic and driven. So if you properly set up your home environment, balance their diet, and get involved in their training, they have potential just as any bigger bird to be a great companion. Lovebirds can learn quickly and be taught many tricks. All of the basic cued tricks taught on the TrainedParrot Blog (such as Target, Turn Around, Wings, and Fetch) can be taught to lovebirds. They can even be flight recall trained. I recommend that lovebird owners read my book, The Parrot Wizard's Guide to Well-Behaved Parrots to learn the effective application of training and how to get their lovebird to become a wonderful family pet.

Here's a video of my experience watching Peach Faced Lovebirds in the wild:


Part of: Blog Announcements
Wild Lovebird Peach Faced Lovebird Travel Africa Namibia