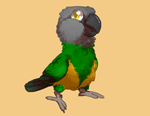 Kili
Type: Senegal Parrot
Genus: Poicephalus
Species: Senegalus
Subspecies: Mesotypus
Sex: Female
Weight: 120 grams
Height: 9 inches
Age: 15 years, 5 months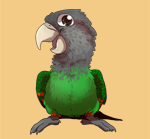 Truman
Type: Cape Parrot
Genus: Poicephalus
Species:Robustus
Subspecies: Fuscicollis
Sex: Male
Weight: 330 grams
Height: 13 inches
Age: 13 years, 8 months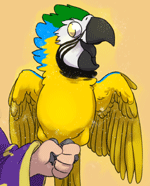 Rachel
Type: Blue & Gold Macaw
Genus: Ara
Species:ararauna
Sex: Female
Weight: 850 grams
Height: 26 inches
Age: 11 years, 5 months

List of Common Parrots:
Parakeets
:
Budgerigar (Budgie)
Alexandrine Parakeet
African Ringneck
Indian Ringneck
Monk Parakeet (Quaker Parrot)
Parrotlets
:
Mexican Parrotlet
Green Rumped Parrotlet
Blue Winged Parrotlet
Spectacled Parrotlet
Dusky Billed Parrotlet
Pacific Parrotlet
Yellow Faced Parrotlet
Lovebirds:
Peach Faced Lovebird
Masked Lovebird
Fischer's Lovebird
Lilian's (Nyasa) Lovebird
Black Cheeked Lovebird
Madagascar Lovebird
Abyssinian Lovebird
Red Faced Lovebird
Swindern's Lovebird
Lories and Lorikeets
:
Rainbow Lorikeet
Conures
:
Sun Conure
Jenday Conure
Cherry Headed Conure
Blue Crowned Conure
Mitred Conure
Patagonian Conure
Green Cheeked Conure
Nanday Conure
Caiques:
Black Headed Caique
White Bellied Caique
Poicephalus Parrots
:
Senegal Parrot
Meyer's Parrot
Red Bellied Parrot
Brown Headed Parrot
Jardine's Parrot
Cape Parrot
Ruppell's Parrot
Eclectus
:
Eclectus Parrot
African Greys:
Congo African Grey (CAG)
Timneh African Grey (TAG)
Amazons:
Blue Fronted Amazon
Yellow Naped Amazon
Yellow Headed Amazon
Orange Winged Amazon
Yellow Crowned Amazon
Cockatoos:
Cockatiel
Galah (Rose Breasted) Cockatoo
Sulphur Crested Cockatoo
Umbrella Cockatoo
Moluccan Cockatoo
Bare Eyed Cockatoo
Goffin's Cockatoo
Macaws
:
Red Shouldered (Hahn's) Macaw
Severe Macaw
Blue And Gold Macaw
Blue Throated Macaw
Military Macaw
Red Fronted Macaw
Scarlet Macaw
Green Winged Macaw
Hyacinth Macaw
Glossary of Common Parrot Terms
| | | |
| --- | --- | --- |
| | | Sunday December 16th, 2012 |
I recently was on a trip to northeast South America and the Caribbean which involved visiting five countries in six days so it was very intense. This is a brief story about the trip and the parrots I got to see in the wild there. I went on this trip with my dad while my brother took care of the parrots at home.

Shortly after arriving in Guyana, we boarded a Cessna 206 Stationair for a private charter flight to the Kaieteur Falls. This spectacular waterfall is four times higher than the Niagra Falls and considered to be the largest single drop waterfall in the world. But unlike the Niagra Falls and so many other popular destinations, this waterfall is located in a remote part of an even remoter country so it is seen by few. What was most amazing was the ability to walk right up to the cliff's edge or stand amidst the waterfall without any regulation, safety ropes, or anyone around. Truly a remarkable experience.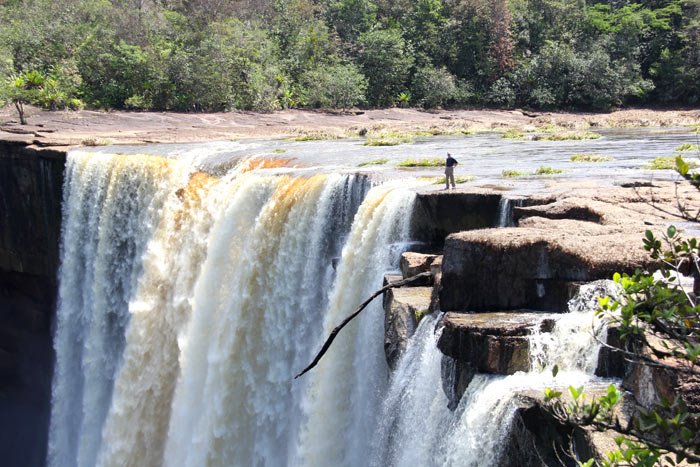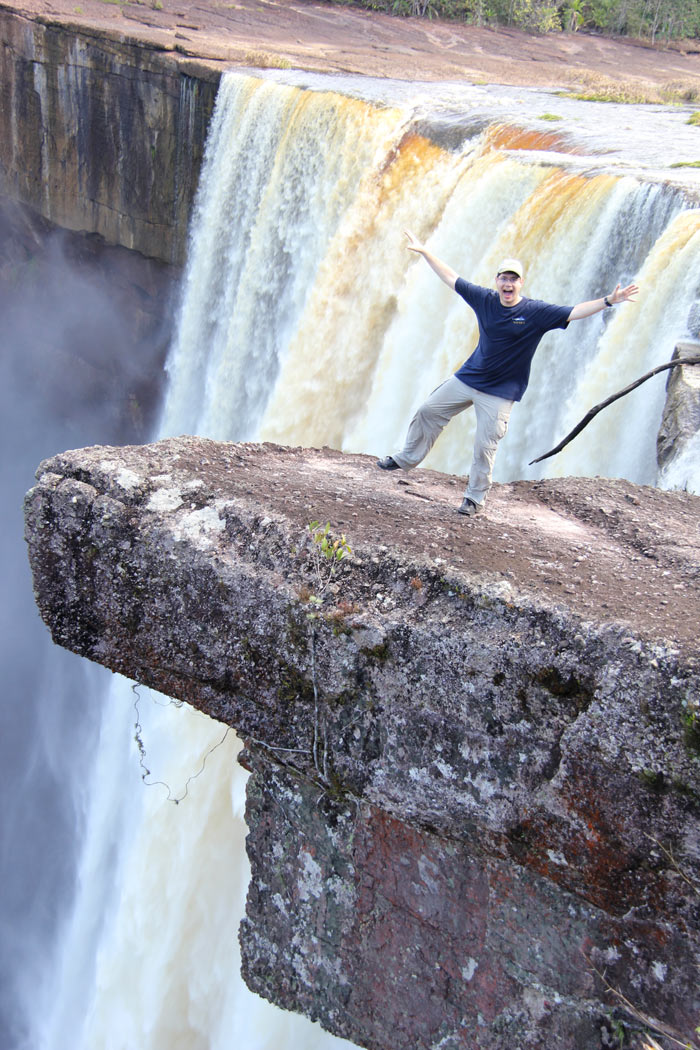 From Kaiteur we flew on to nearby Orinduik Falls not more than 20 minutes away. However, unlike the Kaieteur which flows into the Atlantic, the Orinduik flows into the Amazon! The Orinduik Falls is not so much a single waterfall but a series of cascades. The cool thing is that it's possible to walk around the falls and my dad rolled up his pants and did just that. I stayed behind to video in case he slipped and fell cause it would give me more youtube fodder but unfortunately he managed to stay dry.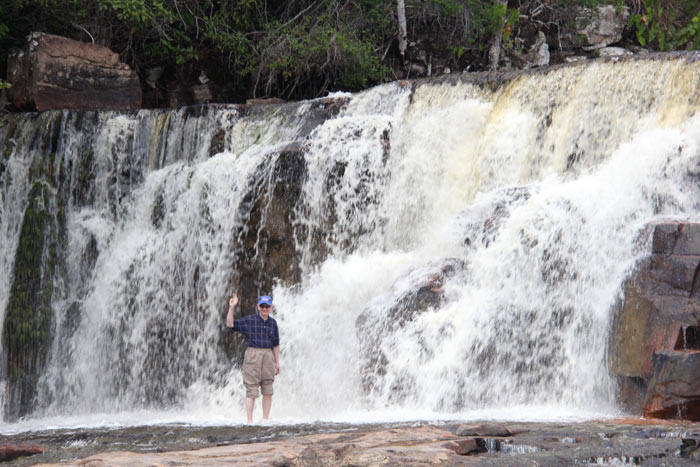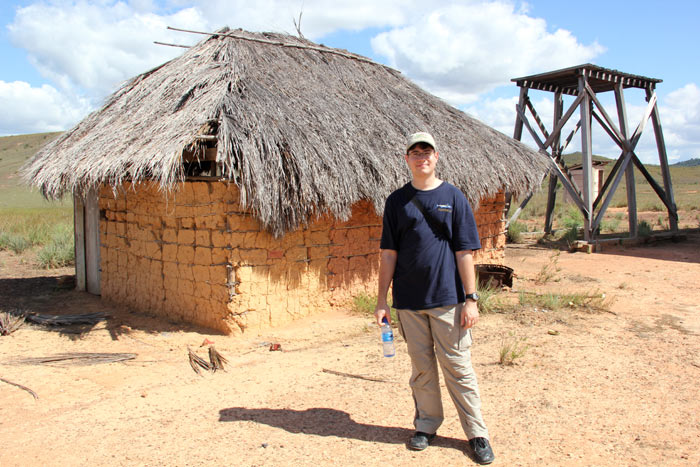 Upon returning to Georgetown, the capital city, we spent the remaining part of the day walking around. The impoverished littered streets display a fading glory of the once prevalent British colonial influence. We spotted a pet shop that was just closing up but they held off a bit to let us see their parrots. For sale they had Budgies, Cockatiels, and some locally wild caught Amazon Parrots. While the IUCN regulates export and trade of parrots, it really does next to nothing to stop local trapping and sale of wild parrots in these types of countries. A wild caught Amazon Parrot sells for a mere $40 including a shabby wire cage meant for a Budgie.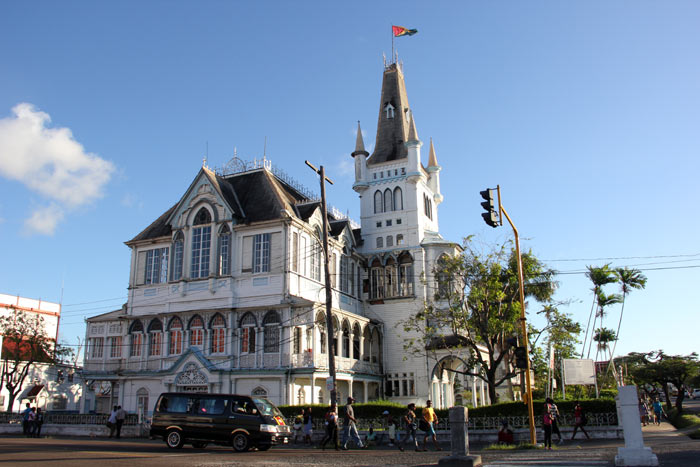 The same day as we got to Guyana we were gone. We flew to neighboring Suriname and arrived to Paramaribo well after dark. The Dutch influence on their former colony is apparent in the architecture and canals. We walked all about the city and visited Fort Zeelandia. After a short drive we walked about the New Amsterdam Open Air Museum which is the remains of the old Dutch fort that occupied that area. Besides relics and the botanical decor, I caught my first glimpse of wild parrots on this trip. The little green birds on the ground turned out to be Green Rumped Parrotlets. They blend in perfectly both in color and size to the leaves of the plants they land on. They actively forage on the ground and in the low grasses but fly up high into trees when disturbed. They were moving about alone or in pairs but joined a flock of closer to twenty when they took off.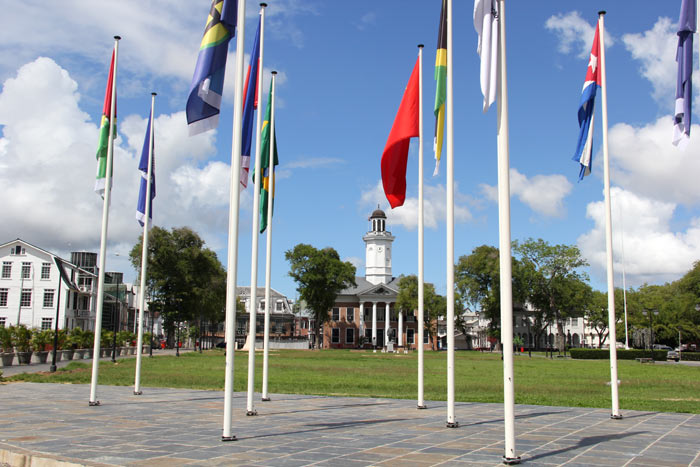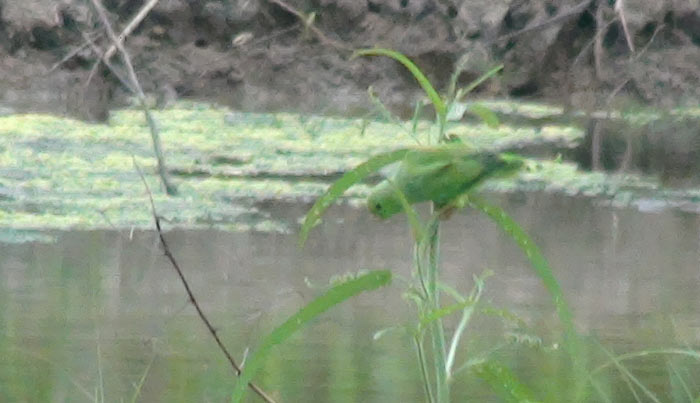 We continued to the town of Zanderij while passing an abandoned rum distillery. With sunset approaching, the town was alive with endless bird chatter. Among the calls was the unmistakable shrill call of conures and sure enough there was an entire flock of them amidst the trees and shrubs in the field of the town center. Every so often they would zoom across the field and land in a tree on the other side. In the distance I caught glimpse of a toucan with it's enormous beak fly between some taller trees. It was difficult to see the conures and catch a photo of them because every time I would walk within range, they would fly away. I finally chose a new strategy by staying put at the location of what seemed to be their favorite tree. The long patient wait paid off because all at once they raised the entire flock of over 30 and flew a few laps of the field before coming to the tree I was waiting by. What a show they put on as they hopped from branch to branch foraging and allopreening. I identified the species as the Brown-Throated Conure, also known as the St Thomas Conure. Almost certainly this was the Suriname subspecies, Aratinga pertinax surinama. The audible volume diminished as though it was set on a dimmer switch connected to the sun as it set. The Conures were gone and so were we.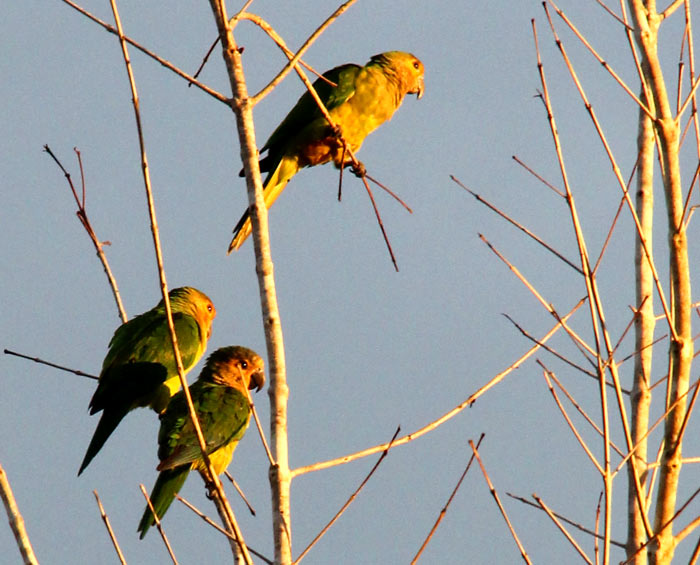 The following morning we had to leave by 4AM in order to rush to the border to catch the 8AM ferry. After crossing immigration control we found out we could just as well use one of the local long boats instead of waiting for the ferry to set off and thus we went across the border with the locals to French Guiana. After a mishap with the car rental, we were finally off and making haste across Guiana to reach the European Space Agency in time for our preorganized tour of the facility. On the road I caught a glimpse of a green bird flying between trees and just bigger than Truman and with round wings. It must have been an Amazon parrot because I don't anything else that big, round winged, and green!

We made it to the space center just in time and got to see the launch sites where the European Space Agency takes advantage of the equatorial position for launching unmanned rockets into space orbit. Afterward we continued to the capital city of Cayenne and made it before sunset to see the city. Cayenne was by far the most touristy city of the trip with its countless souvenir shops, fine restaurants, and white people on the streets. This remote department of France is a fairly popular travel destination for the French. What was interesting was that most of the gift shops had depictions of parrots on their signs and sold many parrot themed souvenirs from paintings to towels. I guess tourists have to settle for the pictures because there aren't many parrots to be seen in Guiana. We had dinner in a restaurant called Hippo but couldn't figure out why it's called that until we walked out stuffed like one.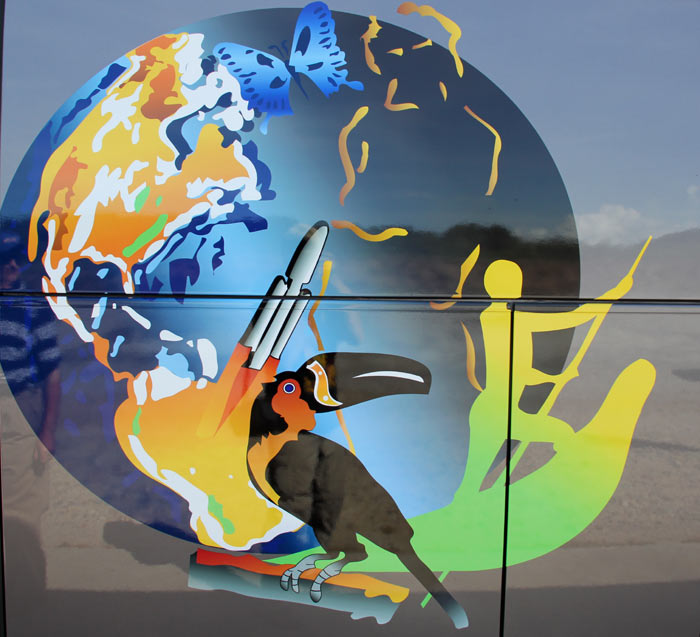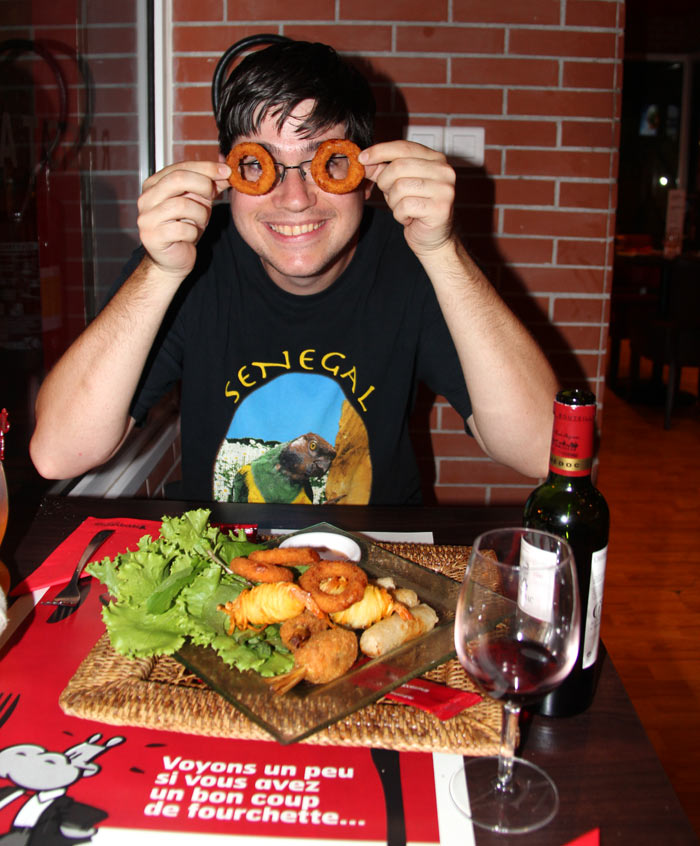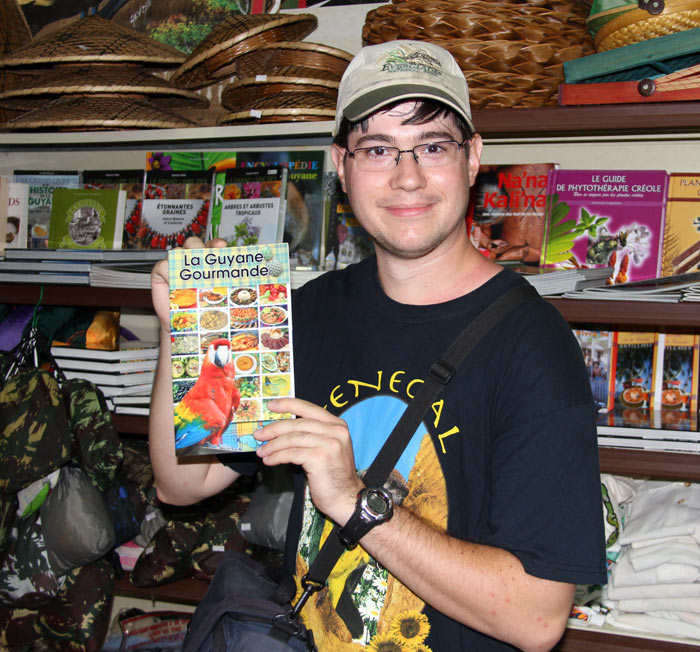 Parrot cookbook featuring 30 delicious ways to prepare those Guiana parrot delicacies


The next destination was the Caribbean island of Guadeloupe which is also considered a part of France. The island produces rum, bananas, and is a fairly popular resort destination. We did not spend any time at resorts though as we made haste to drive all around the two parts that make up the island.

As the finale of the voyage, we ventured to the western half of the island Hispaniola known as Haiti. Haiti is the poorest nation in the Western Hemisphere and this is apparent. In fact, visiting Haiti made me feel like I was back in Africa. Although I would not compare Haiti to the poorest of Africa but somewhere in the middle. To add insult to injury, the country was devastated by a tremendous earthquake that leveled the region back in 2010. While some sections of Port Au Prince were largely unaffected, the devastation is apparent in the city center. Many buildings are shattered and abandoned. People have reverted to selling in street markets instead of stores in the buildings. Virtually all trade is thus done outdoors. There still remain some humanitarian services but not even close to the amount that occupy countries such as The Republic of Congo or East Timor that possibly need them far less. Still, the local people seem to carry on with their lives.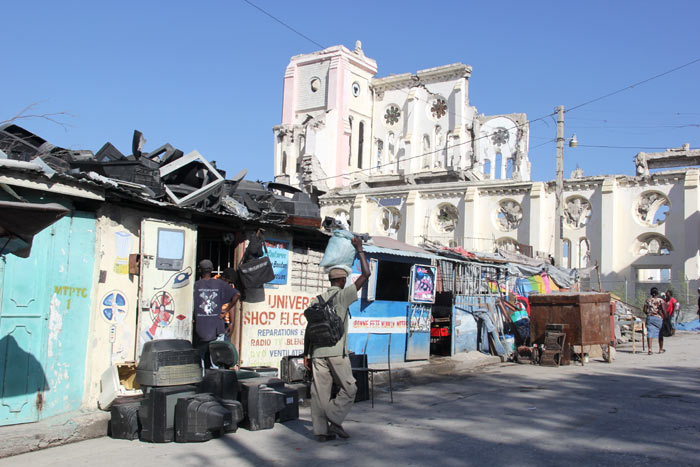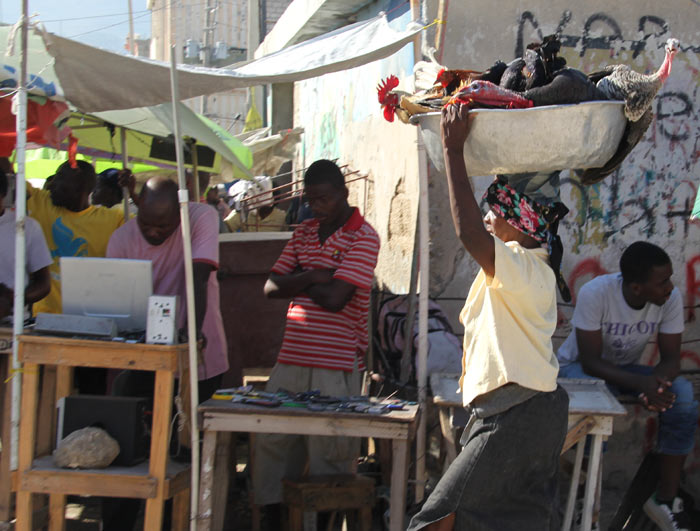 My parrots were excited as usual when I returned and were well behaved in my absence. My brother reported that Kili did not even bite him once while I was gone. Surprisingly Truman was the one that was giving more trouble, although not biting by any means. With a lot of training, socialization, and patience, Kili has gotten past that stage of adolescence while Truman is just moving into it.



Part of: Blog Announcements
Travel South America Wild Parrot Conure Parrotlet
Comments
Post Your Response