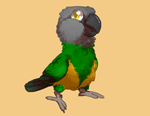 Kili
Type: Senegal Parrot
Genus: Poicephalus
Species: Senegalus
Subspecies: Mesotypus
Sex: Female
Weight: 120 grams
Height: 9 inches
Age: 14 years, 3 months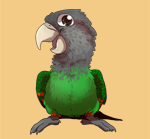 Truman
Type: Cape Parrot
Genus: Poicephalus
Species:Robustus
Subspecies: Fuscicollis
Sex: Male
Weight: 330 grams
Height: 13 inches
Age: 12 years, 7 months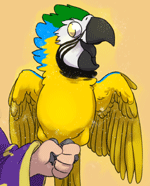 Rachel
Type: Blue & Gold Macaw
Genus: Ara
Species:ararauna
Sex: Female
Weight: 850 grams
Height: 26 inches
Age: 10 years, 3 months

List of Common Parrots:
Parakeets
:
Budgerigar (Budgie)
Alexandrine Parakeet
African Ringneck
Indian Ringneck
Monk Parakeet (Quaker Parrot)
Parrotlets
:
Mexican Parrotlet
Green Rumped Parrotlet
Blue Winged Parrotlet
Spectacled Parrotlet
Dusky Billed Parrotlet
Pacific Parrotlet
Yellow Faced Parrotlet
Lovebirds:
Peach Faced Lovebird
Masked Lovebird
Fischer's Lovebird
Lilian's (Nyasa) Lovebird
Black Cheeked Lovebird
Madagascar Lovebird
Abyssinian Lovebird
Red Faced Lovebird
Swindern's Lovebird
Lories and Lorikeets
:
Rainbow Lorikeet
Conures
:
Sun Conure
Jenday Conure
Cherry Headed Conure
Blue Crowned Conure
Mitred Conure
Patagonian Conure
Green Cheeked Conure
Nanday Conure
Caiques:
Black Headed Caique
White Bellied Caique
Poicephalus Parrots
:
Senegal Parrot
Meyer's Parrot
Red Bellied Parrot
Brown Headed Parrot
Jardine's Parrot
Cape Parrot
Ruppell's Parrot
Eclectus
:
Eclectus Parrot
African Greys:
Congo African Grey (CAG)
Timneh African Grey (TAG)
Amazons:
Blue Fronted Amazon
Yellow Naped Amazon
Yellow Headed Amazon
Orange Winged Amazon
Yellow Crowned Amazon
Cockatoos:
Cockatiel
Galah (Rose Breasted) Cockatoo
Sulphur Crested Cockatoo
Umbrella Cockatoo
Moluccan Cockatoo
Bare Eyed Cockatoo
Goffin's Cockatoo
Macaws
:
Red Shouldered (Hahn's) Macaw
Severe Macaw
Blue And Gold Macaw
Blue Throated Macaw
Military Macaw
Red Fronted Macaw
Scarlet Macaw
Green Winged Macaw
Hyacinth Macaw
Glossary of Common Parrot Terms
| | | |
| --- | --- | --- |
| | | Thursday November 15th, 2018 |
It's not only a thrill having my parrots fly in my yard, it's also great exercise for them!

Rather than a small free standing aviary, my entire yard is enclosed so that I could be there together with my parrots. This allows me full use of the yard space with or without the birds and it gives the birds a lot of space to fly.

Flying is by far the best form of exercise for a parrot. It not only works their wing muscles, but their entire body! They need to tuck their feet in, steer with their tail, adjust their feathers, user their mind, and of course breath and move blood quickly! It is only during flight that the parrots entire body is working up to its capacity.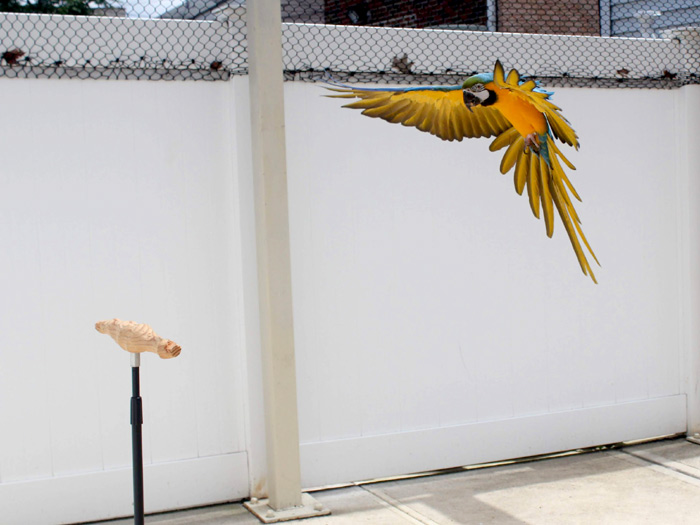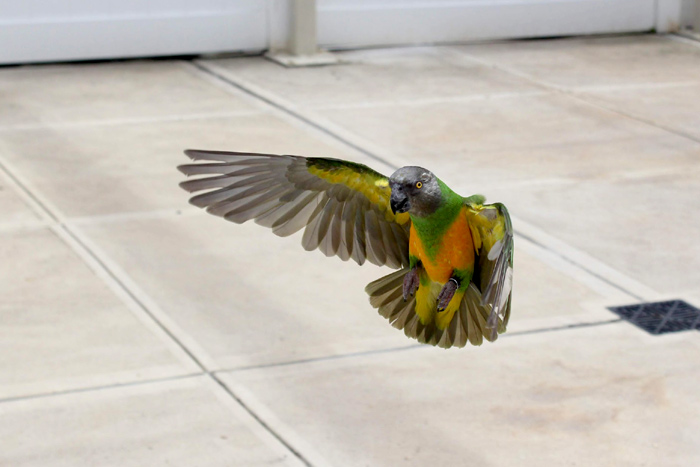 However, don't expect that just because you put your parrot in a large enclosure that it will just fly. Parrots are generally pretty lazy and won't fly unless they really want to or there is danger. Of course in the wild, necessity is what gets parrots to fly many miles in search of food sources. At home, flight training using positive reinforcement will be the closest simulation to their natural ways while also building a bond with you.

Parrot Wizard Training Perches are the best way to get a parrot trained and accustomed to flying at home. Not only is it necessary to teach the parrot how to fly in a home environment but it is also essential to provide the physical therapy to get their muscles and systems strong enough to be able to fly effortlessly.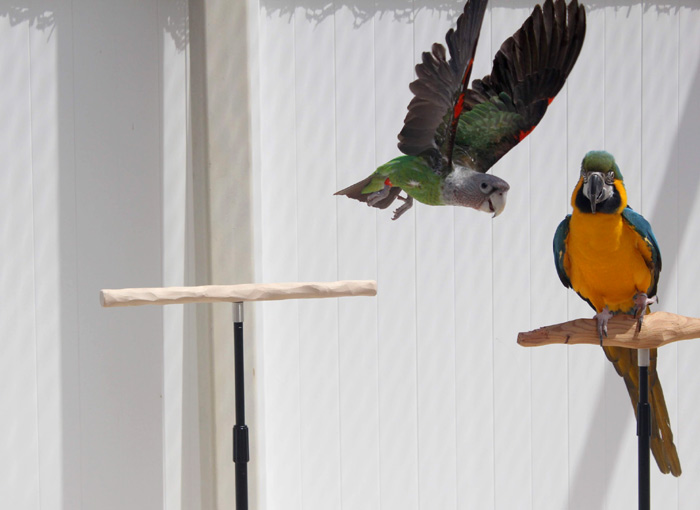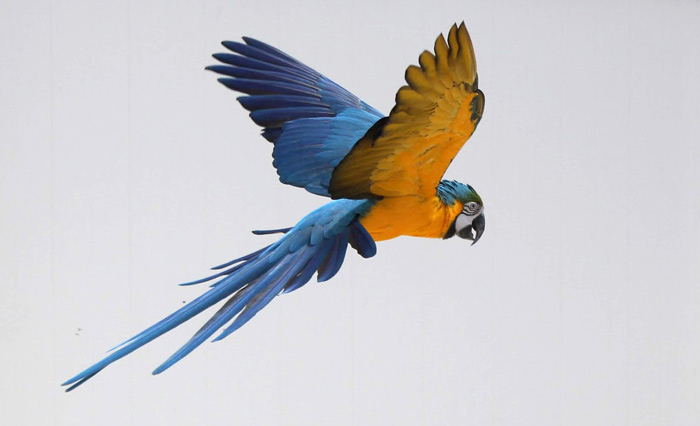 Then, the commands and methods used to train the parrot to fly indoors can be extended to large indoor spaces such as a gym or outdoors. However, it is imperative to have a back up safety measure when flying a parrot outdoors. When spooked, even well-trained parrots can fly away. So make sure that you do any outdoor flight in an aviary or with the use of an Aviator Harness as a safety net.

Although it may look effortless in the video, it is actually quite difficult to teach parrots to fly on command (especially outdoors). It takes weeks of consistent, and sometimes frustrating, training to get the parrots not only mentally in shape to fly but also physically. After a long winter restricted to indoor flying, it takes a bit of exercise before they can be good at flying longer distances again.

In this video, you can see how well Kili, Truman, and Rachel fly their daily exercise routines in my enclosed back yard flying area:





Photos by Marianna

Part of: Taming & Basic Training, Indoor Freeflight, Flight Recall, Outdoor Harness Flight, Outdoor Freeflight, Cape Parrots, Senegal Parrots, Macaws
Kili Senegal Parrot Truman Cape Parrot Rachel Blue and Gold Macaw Aviary Backyard Fly Flying Flight Flight Recall Training
Comments
Post Your Response
TIGGER

Posted on November 16, 2018 03:23AM

hi I love your backyard set up its awesome.i thought by the look in your home u lived in a house in Brooklyn cause of the birds room its huge and very nice set up.i see u live at looks like apt homes that has 2 floors I have a good friend who lives at a home like the ones around your neighborhood but in queens.its been a long time since I visit around other Brooklyn areas.thanks for sharing would like to see more of the birds room set up thanks
Pajarita

Posted on November 16, 2018 03:43PM

But where is Truman? Was he there? I did not see him...



Michael

Posted on November 16, 2018 09:06PM

You probably saw the 2nd (older 360 video). Watch the more recent one above it.
Shilden_72

Posted on December 14, 2018 04:23PM

That video's mesmerizing! I actually have a redneck version of this at home for my birds to fly in; right now, we don't let our quaker parrot out because it's too cold, but our dove and pigeon don't mind the weather. Actually, we've been considering for the last few months buying [url=https://tranio.com/spain/adt/1709400/:1g2hi3hj]this house[/url:1g2hi3hj] on the Costa Blanca in Spain since I've gotten a job I can do from home (I have gotten somehow much more productive since I began working with a bird on my shoulder!) and I think that building an outside flying space for our birds could be something good. Plus, the climate there would be much, MUCH better for our little Molniya, since we have to come up with makeshift measures for her to be okay during winter here. So, if you had the choice, what would you do for your birds to enjoy some fresh air? Would it e better to build a chain-link flying space, to have them fly semi-freely with bird harnesses, or to go for another solution? So far, nothing's already built, so all options are open.
Pajarita

Posted on December 14, 2018 05:26PM

OMG, one of my brothers lives in Torre Vieja which is in the Costa Blanca!!! It's beautiful there and yes, the climate is perfect for quakers.
Shilden_72

Posted on December 19, 2018 01:46PM

Thanks, awesome! I had a small doubt in terms of climate due to the ambient humidity (since the region is relatively dry, while parrots naturally live in very humid jungles) but if the weather is right for my quaker, then it's great.
Post Your Response