It's not only a thrill having my parrots fly in my yard, it's also great exercise for them!

Rather than a small free standing aviary, my entire yard is enclosed so that I could be there together with my parrots. This allows me full use of the yard space with or without the birds and it gives the birds a lot of space to fly.

Flying is by far the best form of exercise for a parrot. It not only works their wing muscles, but their entire body! They need to tuck their feet in, steer with their tail, adjust their feathers, user their mind, and of course breath and move blood quickly! It is only during flight that the parrots entire body is working up to its capacity.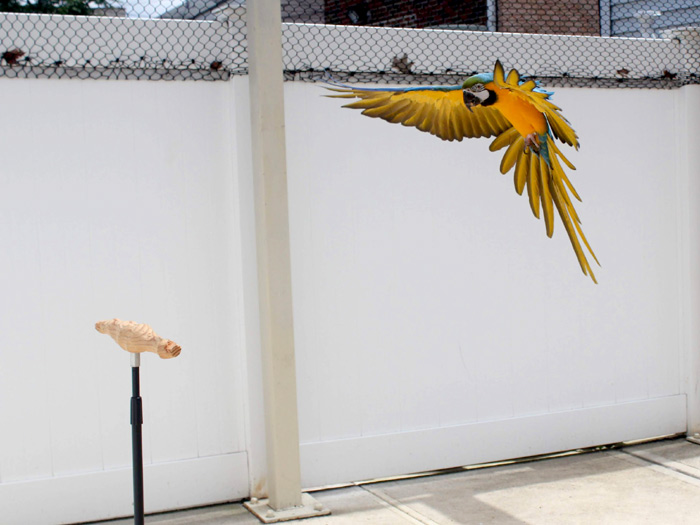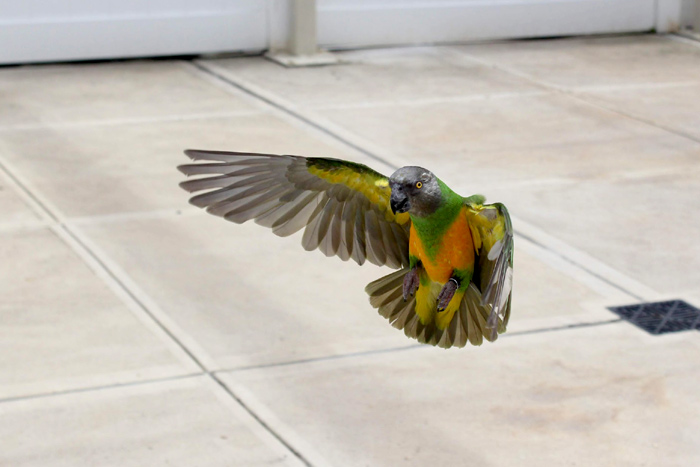 However, don't expect that just because you put your parrot in a large enclosure that it will just fly. Parrots are generally pretty lazy and won't fly unless they really want to or there is danger. Of course in the wild, necessity is what gets parrots to fly many miles in search of food sources. At home, flight training using positive reinforcement will be the closest simulation to their natural ways while also building a bond with you.

Parrot Wizard Training Perches are the best way to get a parrot trained and accustomed to flying at home. Not only is it necessary to teach the parrot how to fly in a home environment but it is also essential to provide the physical therapy to get their muscles and systems strong enough to be able to fly effortlessly.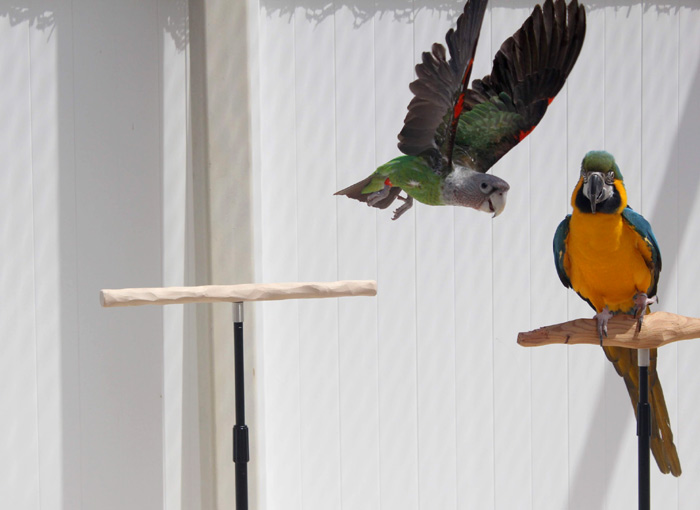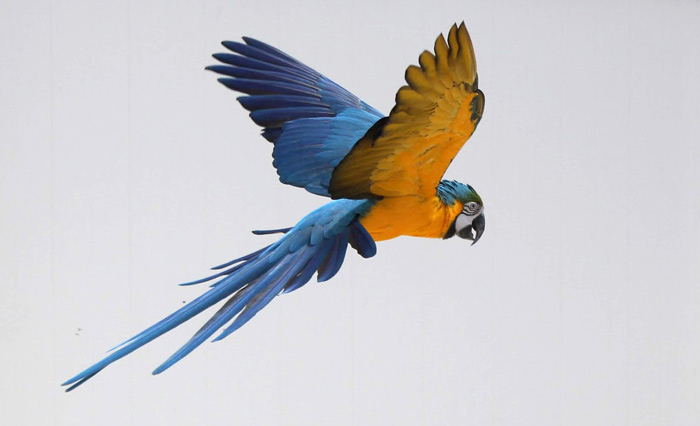 Then, the commands and methods used to train the parrot to fly indoors can be extended to large indoor spaces such as a gym or outdoors. However, it is imperative to have a back up safety measure when flying a parrot outdoors. When spooked, even well-trained parrots can fly away. So make sure that you do any outdoor flight in an aviary or with the use of an Aviator Harness as a safety net.

Although it may look effortless in the video, it is actually quite difficult to teach parrots to fly on command (especially outdoors). It takes weeks of consistent, and sometimes frustrating, training to get the parrots not only mentally in shape to fly but also physically. After a long winter restricted to indoor flying, it takes a bit of exercise before they can be good at flying longer distances again.

In this video, you can see how well Kili, Truman, and Rachel fly their daily exercise routines in my enclosed back yard flying area:





Photos by Marianna