Kili and Rachel have been enjoying the fall weather flying in my backyard flight area. They have been building strong flight muscles, breathing fresh air, and getting natural sunlight all at the same time.

I'll share details about the enclosure at a different time but simply put it's a netting enclosed area that is safe for supervised time but not for leaving the birds unattended.

Truman has been left out of the flight activities lately because of his own issues. He hasn't been too eager to flight recall and on the other hand, he's been randomly flying into stuff. He will need some separate one on one attention to get him on the right track. But since Kili and Rachel are already doing the right stuff, I've been focused on getting them flying.

Kili, the trained Senegal Parrot that used to freefly outdoors, had no trouble adjusting to flying in the enclosed yard at all. She immediately knew what to do and did not try to fly away. Kili recalls with great reliability and is definitely my go-to bird.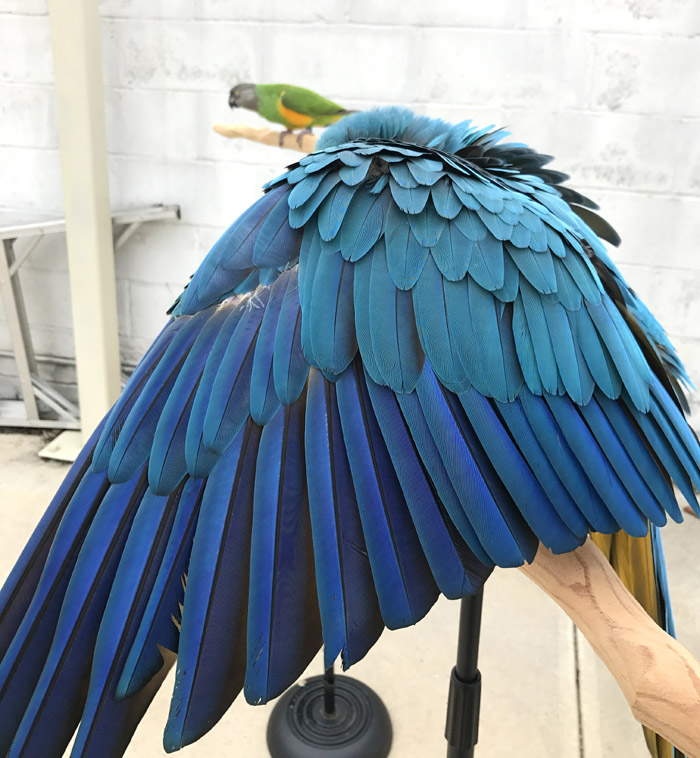 Rachel being shy out in the yard



Rachel, the blue and gold macaw, is a bit new to the concept of flying outdoors. She has been out and about wearing an Aviator Harness but really does not have outdoor flight training experience. During the winter, I trained her up to being pretty good at short indoor flight recalls. And you may recall how not too long prior, Marianna trained Rachel to flight recall in the first place. So when brought out to the enclosed yard unrestrained, it was no surprise that Rachel did not know what to do.

The way I got Rachel to start flight training outside was to bring her out every day to watch Kili reliably flight training. On one hand, Rachel got to see Kili earning treats and showing what to do. But on the other, Rachel was getting accustomed to the sights and sounds of being out in the yard. It took some time for this to all sink in because Rachel was cautiously reluctant to leave the safety of her Training Perch.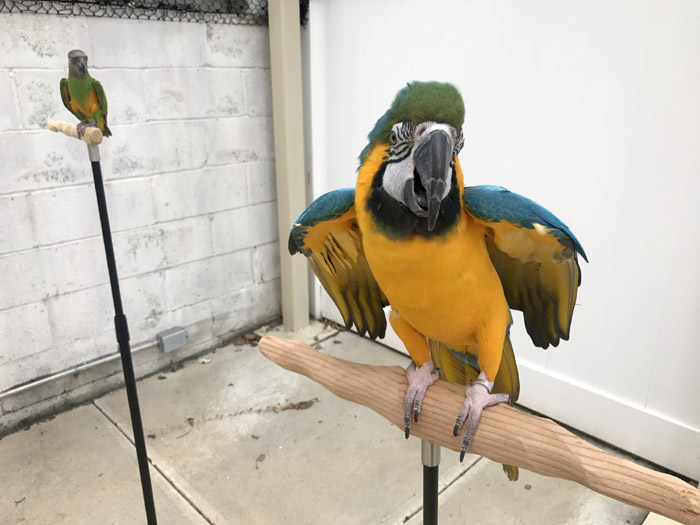 Eventually Rachel started to make sure flights, then slightly longer ones. With time and practice, reliability started to improve. It was a combination of building confidence, security, practice, and exercise to improve muscle strength. Now, Rachel makes 10-20ft flight recalls with ease. As the autumn temperatures continue to drop, our chances for further training are quickly diminishing. Over the winter we will continue training other skills indoors and pick up where we left off with the outdoor training in the spring.

Here is a 360 degree video of Kili and Rachel flight training in the yard. You can move the image 360 degrees by dragging with your mouse or tilting your phone to get a feeling of what it's like having these parrots flying around you.



Part of: Indoor Freeflight, Outdoor Harness Flight, Outdoor Freeflight, Senegal Parrots, Macaws
Kili Senegal Parrot Rachel Blue and Gold Macaw Outdoor Yard Aviary Enclosure Flight Training 360 Video