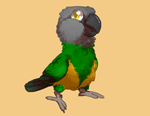 Kili
Type: Senegal Parrot
Genus: Poicephalus
Species: Senegalus
Subspecies: Mesotypus
Sex: Female
Weight: 120 grams
Height: 9 inches
Age: 15 years, 5 months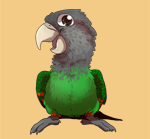 Truman
Type: Cape Parrot
Genus: Poicephalus
Species:Robustus
Subspecies: Fuscicollis
Sex: Male
Weight: 330 grams
Height: 13 inches
Age: 13 years, 8 months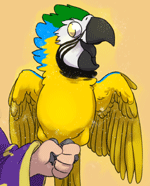 Rachel
Type: Blue & Gold Macaw
Genus: Ara
Species:ararauna
Sex: Female
Weight: 850 grams
Height: 26 inches
Age: 11 years, 5 months

List of Common Parrots:
Parakeets
:
Budgerigar (Budgie)
Alexandrine Parakeet
African Ringneck
Indian Ringneck
Monk Parakeet (Quaker Parrot)
Parrotlets
:
Mexican Parrotlet
Green Rumped Parrotlet
Blue Winged Parrotlet
Spectacled Parrotlet
Dusky Billed Parrotlet
Pacific Parrotlet
Yellow Faced Parrotlet
Lovebirds:
Peach Faced Lovebird
Masked Lovebird
Fischer's Lovebird
Lilian's (Nyasa) Lovebird
Black Cheeked Lovebird
Madagascar Lovebird
Abyssinian Lovebird
Red Faced Lovebird
Swindern's Lovebird
Lories and Lorikeets
:
Rainbow Lorikeet
Conures
:
Sun Conure
Jenday Conure
Cherry Headed Conure
Blue Crowned Conure
Mitred Conure
Patagonian Conure
Green Cheeked Conure
Nanday Conure
Caiques:
Black Headed Caique
White Bellied Caique
Poicephalus Parrots
:
Senegal Parrot
Meyer's Parrot
Red Bellied Parrot
Brown Headed Parrot
Jardine's Parrot
Cape Parrot
Ruppell's Parrot
Eclectus
:
Eclectus Parrot
African Greys:
Congo African Grey (CAG)
Timneh African Grey (TAG)
Amazons:
Blue Fronted Amazon
Yellow Naped Amazon
Yellow Headed Amazon
Orange Winged Amazon
Yellow Crowned Amazon
Cockatoos:
Cockatiel
Galah (Rose Breasted) Cockatoo
Sulphur Crested Cockatoo
Umbrella Cockatoo
Moluccan Cockatoo
Bare Eyed Cockatoo
Goffin's Cockatoo
Macaws
:
Red Shouldered (Hahn's) Macaw
Severe Macaw
Blue And Gold Macaw
Blue Throated Macaw
Military Macaw
Red Fronted Macaw
Scarlet Macaw
Green Winged Macaw
Hyacinth Macaw
Glossary of Common Parrot Terms
| | | |
| --- | --- | --- |
| | | Thursday April 13th, 2017 |
Kili, Truman, and Rachel have been settling in the bird room together well. I have been getting back into flying them for exercise. For now, I'm just having them fly in the bird room.

All three parrots are at ease with each other and know their own perches well. They all already know their names and only fly when called. But now they are mixing it all together.

Flying three parrots for exercise can be quite intense. I alternate my attention between the birds. Each bird flies to receive food. While two parrots are busy chewing their reward, the third already finished and is ready to fly. This leaves at least one parrot ready to go at any time.

This routine not only keeps things moving for me - it sure does take a while to get three birds to fly enough to go through an entire meal - but it also gets a rivalry going between the birds that keeps everyone trying. If one of the birds gets lazy and doesn't come, I will simply move on to the next. The next bird is happy to have a sooner opportunity to come. Meanwhile the bird that didn't come gets punished by missing a turn and having to wait for the next chance to come around. This has been extremely effective and virtually eliminated disobedience.

In the past, flight training just one bird at a time, I would encounter a lot of frustration when the bird wouldn't come. I have limited time to spend on training, so when the bird isn't coming, the session will either take longer or the bird won't be exercised as much. Whenever the bird would stop cooperating to look around or worse yet just sit there for no reason, I would be powerless at that moment to keep things moving. But now with three birds training together, there is always a bird or two that will pick up the slack for the others. This keeps me from just standing around waiting for birds to resume cooperation. But not only that, it makes the lazy bird(s) realize that others are getting their treats! This fixes things in a hurry.

When the birds finish chowing down their food reward, they are attentively waiting for the next opportunity to be called. I occasionally mix up the order of the recalls to keep them on their toes. On the rare occasion that the wrong bird comes, it receives no food and is just sent back to the perch. They realize quickly that it is a 100% chance they won't receive a reward if they come when I call another, so they learn to stay put unless called. This is important when there is a bunch of birds so that they don't interfere with each other.

Starting out, Rachel was definitely the weak link. While Kili and Truman would come reliably from years of experience, Rachel would often not come or take too much time. Since the added competition of the other birds, Rachel's success has more than tripled! She is almost as good as the others. She has made years of solo improvement in a month with the added competition. I think the improvement was so huge because Rachel got both a dose of example as well as rivalry! She got to see how well the other birds do and how much they get rewarded. She realized that this is the way to be if you're a bird!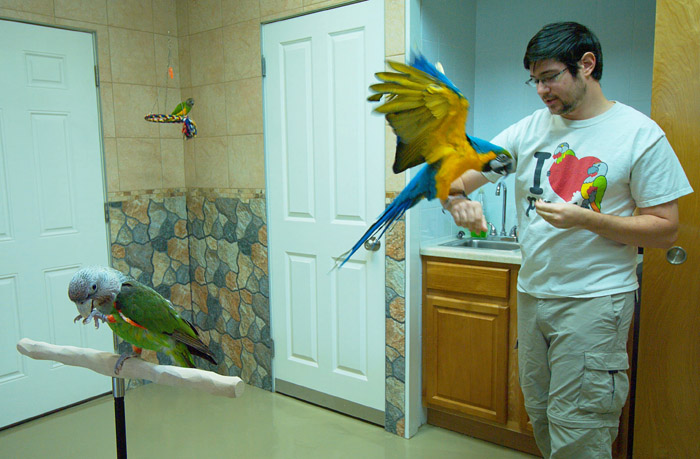 Another interesting improvement came in Truman. Truman has always been second rate to Kili in everything. If Truman flew 50 recalls, then Kili flew 100. When Truman improved to being capable of 100, Kili was at 150! Because he could never accomplish being better than her at anything (at least training wise), I don't think he ever really tried. But when Truman realized he could be better than Rachel, he was all over it! Truman became much more attentive and quick to respond. On the other hand, Rachel is now close on his tail with her improvement so I hope to keep this competition going.

There's no doubt that Kili is simply the best. Her mantra is anything you other birds can do, I can do better. Even when she's training solo, she'll work as hard as the other birds would in a competitive environment. But when the other birds are trying too, Kili can keep flying reliably even after she is completely full or not even hungry at all in the first place. I'm pretty sure that I could get her to fly as much as the other birds without any treats at all. She is just so competitive and has to be best!

Oftentimes toward the end of the flying session I am trying to compensate the bigger birds with extra food. Kili is already too full and clearly done eating. Truman and Rachel might have missed a few treats when they were being obstinate. Kili got every single one. So just to get the others to fly as much as Kili, I need to park Kili and give them a chance to catch up. Well, Kili keeps begging to come so I call her but don't give treats. I know she is full and can't/shouldn't have more. As long as the other birds keep coming, she does too, even when she is obviously getting nothing. But she plays a good model and it helps me keep the others going till they finish.

It is important to note that getting or training more birds is not necessarily going to improve things for other people. If you have a bird that is uncooperative or bad at training, I would first focus on your training techniques and the birds motivation. Only when that bird without doubt knows what it is doing, does it right most of the time, and does an overall pretty good job is it ok to think about training along another bird. Competitive training isn't a solution to poor training/motivation. Instead it is a superlative booster for already effective training.

So, check out this video of Kili, Truman, and Rachel's morning flying routine:


Part of: Taming & Basic Training, Health, Nutrition, and Diet, Flight Recall, Poicephalus, Cape Parrots, Senegal Parrots, Macaws
Kili Senegal Parrot Truman Cape Parrot Rachel Blue and Gold Macaw Macaw Parrot Flight Training Flight Recall Training Flying Competition Rivalry
Comments
Post Your Response



Bird woman

Posted on April 14, 2017 01:38AM

HOW COME KILI WASNT GETTING A TREAT OR DO I NEED TO PUT ON MY GLASSES.



Bird woman

Posted on April 14, 2017 01:42AM

Near as I can figure it your in debt to kili about 11 goodies.
Pajarita

Posted on April 15, 2017 03:10PM

He explained that Kili gets full before the others do because she is so much better at everything so she always gets a reward.



Michael

Posted on April 15, 2017 04:07PM

Well she's also a little bird. I give her half pellets and she still manages to out eat everyone if I don't keep it under control.



Bird woman

Posted on April 16, 2017 12:03PM

My smaller birds seem to be the biggest piggys too. My little LSC lumie requires a whole green chili or red pepper for herself . If I cut her veggies up she refuses to eat them. Some of these peppers are just as big as she is. BW
Trick or 'Tiel

Posted on April 26, 2017 06:05PM

Love this! How can I improve the reliability of flight recall with my cockatiel if my other bird, a budgie, is also not very reliable? I really don't want to do any kind of food management (taking the pellets out during the day so they can train better) but how can I REALLY motivate him to come every time I call him? He gets less reliable with distance. Thanks.
Post Your Response