Kili and Truman love Christmas. They enjoy all the activity, decorations, attention, and treats. I had to help put up the Christmas tree over at my parent's house so I brought the parrot duo along with me. In the beginning they just watched from their carriers but eventually I started letting them out and closer.

I brought a Parrot Training Perch along to give the birds a familiar place to fly to. They watched as my brother and I erected the artificial tree and sneezed endlessly from a year's worth of dust. I took Kili out first and showed her the beginnings of a tree coming together. Then I let her perch on her training stand at a distance to watch.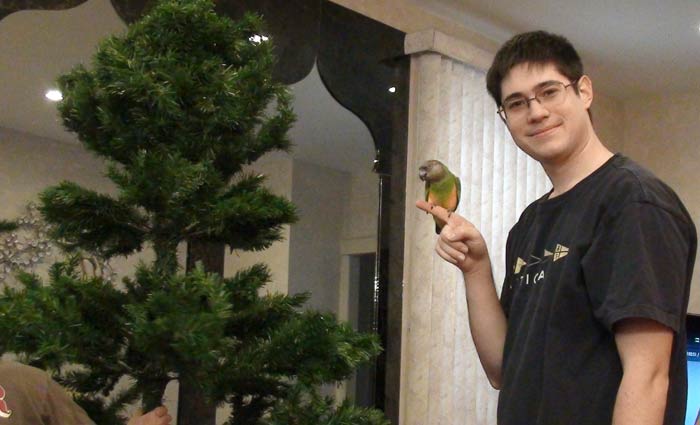 Although a bit cautious, Kili was not scared of the new environment and activity. She was most happy sitting on the sidelines watching rather than being directly involved. On occasion Kili would fly back to me to be more involved or I would recall her over to help out. There was no trouble getting her to come as she was eager to see what was going on. Kili rode my shoulder while my brother and I strung out the colored lights onto the xmas tree.

Truman watched from his travel cage, so none of it was a big surprise to him when I took him out and let him join us. One time he slipped off my shoulder and flew through several rooms and landed on the chair in the kitchen. I was happy to know he could find a safe landing place. Another time he flew off, went to another room, circled around, and came right back to me. He's a good flier and can think well on the fly. He did not knock anything over, poop anywhere, or do anything someone would fear a bird doing as a visitor in their home. Whenever the birds needed to poop, they went back to the training perch I had set up for them (with a newspaper below).

While we put up fragile decorations, I put the birds back into their carriers for a break. After clean up, when the tree was finished, I took the parrots out one more time to see the transformation that had happened. They looked on in astonishment and just dreamed of how incredibly awesome it would be to chew every bit of it all into tiny shreds. I did a few more flight recalls with the birds and they had no fear of flying around the Christmas tree. They didn't fly into anything or cause any trouble.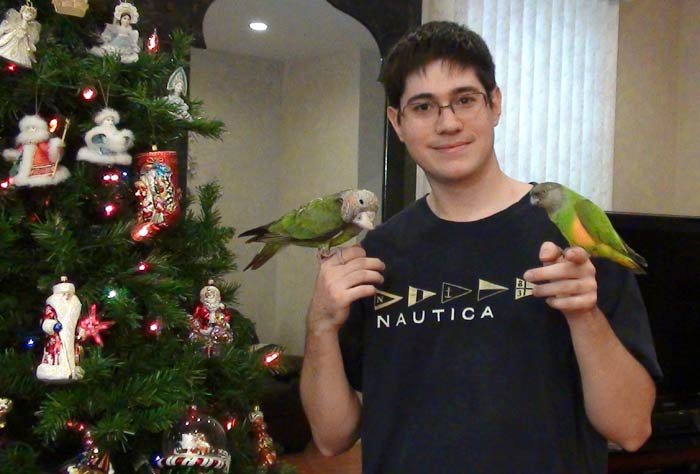 This is just one of many such social outings I take my parrots on. I want them to be exposed to as many different environments and situations possible while they are still young. Since they are flighted, every time they get to fly some place different, it builds their flight skills and makes the chances of recovering them if they get out better with every time.

While the parrots were out, I took several precautions for their safety. I locked the doors and made sure there was no cooking going on in the kitchen. I put their carriers out in a place where they can see everything but also such that they could fly back to them while out. I brought a familiar Parrot Training Perch from home not only to provide a comfortable perching location but also a safe spot to fly back to if spooked. The birds got used to a new situation, had fun, and lightened my day through all the labors of holiday preparations. What are your parrots doing for the holidays? Leave a comment.



Part of: Blog Announcements, Cape Parrots, Senegal Parrots
Kili Senegal Parrot Truman Cape Parrot Christmas Tree Socialize