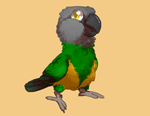 Kili
Type: Senegal Parrot
Genus: Poicephalus
Species: Senegalus
Subspecies: Mesotypus
Sex: Female
Weight: 120 grams
Height: 9 inches
Age: 15 years, 5 months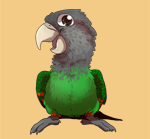 Truman
Type: Cape Parrot
Genus: Poicephalus
Species:Robustus
Subspecies: Fuscicollis
Sex: Male
Weight: 330 grams
Height: 13 inches
Age: 13 years, 8 months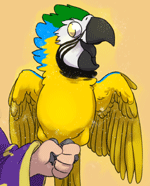 Rachel
Type: Blue & Gold Macaw
Genus: Ara
Species:ararauna
Sex: Female
Weight: 850 grams
Height: 26 inches
Age: 11 years, 5 months

List of Common Parrots:
Parakeets
:
Budgerigar (Budgie)
Alexandrine Parakeet
African Ringneck
Indian Ringneck
Monk Parakeet (Quaker Parrot)
Parrotlets
:
Mexican Parrotlet
Green Rumped Parrotlet
Blue Winged Parrotlet
Spectacled Parrotlet
Dusky Billed Parrotlet
Pacific Parrotlet
Yellow Faced Parrotlet
Lovebirds:
Peach Faced Lovebird
Masked Lovebird
Fischer's Lovebird
Lilian's (Nyasa) Lovebird
Black Cheeked Lovebird
Madagascar Lovebird
Abyssinian Lovebird
Red Faced Lovebird
Swindern's Lovebird
Lories and Lorikeets
:
Rainbow Lorikeet
Conures
:
Sun Conure
Jenday Conure
Cherry Headed Conure
Blue Crowned Conure
Mitred Conure
Patagonian Conure
Green Cheeked Conure
Nanday Conure
Caiques:
Black Headed Caique
White Bellied Caique
Poicephalus Parrots
:
Senegal Parrot
Meyer's Parrot
Red Bellied Parrot
Brown Headed Parrot
Jardine's Parrot
Cape Parrot
Ruppell's Parrot
Eclectus
:
Eclectus Parrot
African Greys:
Congo African Grey (CAG)
Timneh African Grey (TAG)
Amazons:
Blue Fronted Amazon
Yellow Naped Amazon
Yellow Headed Amazon
Orange Winged Amazon
Yellow Crowned Amazon
Cockatoos:
Cockatiel
Galah (Rose Breasted) Cockatoo
Sulphur Crested Cockatoo
Umbrella Cockatoo
Moluccan Cockatoo
Bare Eyed Cockatoo
Goffin's Cockatoo
Macaws
:
Red Shouldered (Hahn's) Macaw
Severe Macaw
Blue And Gold Macaw
Blue Throated Macaw
Military Macaw
Red Fronted Macaw
Scarlet Macaw
Green Winged Macaw
Hyacinth Macaw
Glossary of Common Parrot Terms
| | | |
| --- | --- | --- |
| | | Tuesday December 24th, 2013 |
I got myself a macaw today for Christmas. Actually this has been in the works for a year now but today was finally the day. As you may know I was supposed to be getting a baby Green-Winged Macaw from a breeder earlier this year but unfortunately the unnamed baby passed away at the breeder's before I ever got to meet it. That heart-breaking situation made me think twice about getting a baby and I began looking at rescue options.

Over the last few months, I got to know about Lazicki's Bird House & Rescue from several sources. I first heard of them at the Connecticut Club Birdie Bash when I inquired about rescue macaws. The organization was later mentioned to me by others and I heard about it in the news.

Originally I had my own ideas about what I wanted in my third, and most likely final, bird. It had to be huge! It had to be friendly, motivated, a ham on stage, and most importantly flighted. When you deal with rescue, you don't necessarily get complete say over what you want and it's important to see how the bird likes you just the same. Without even meeting the bird, the rescue had already picked out the one for me. They knew what I was looking for and they knew the birds best so they said that Santina would work best for me.

I flew out to the Rhode Island rescue a month back to meet the bird and learn about her. I waited until after my big circum-Caribbean trip (videos coming soon) to bring her home. So today was the big day to finally get the bird. Because of weather, I opted to drive to the rescue rather than fly. It took over 9 hours of driving there and back but the trip was well worth it; the cargo I brought back: priceless.

I will be sharing more about the adoption process, Santina, and the homecoming in days to come but in the mean time here are some pictures and Santina's first video.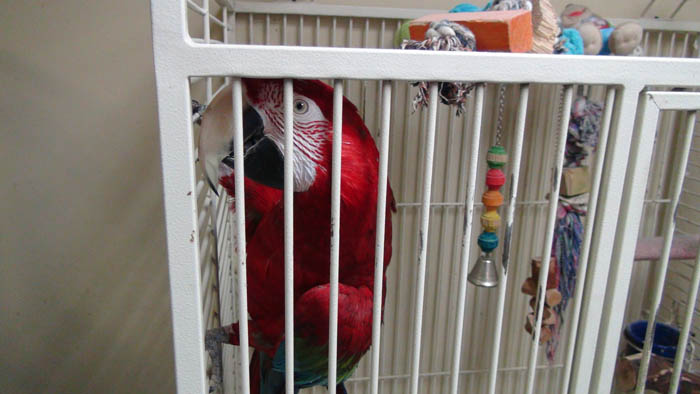 Santina in her cage at the rescue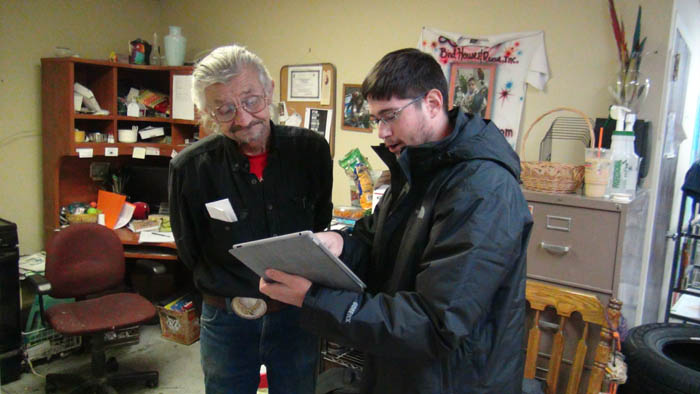 Going over paper work and photos at the rescue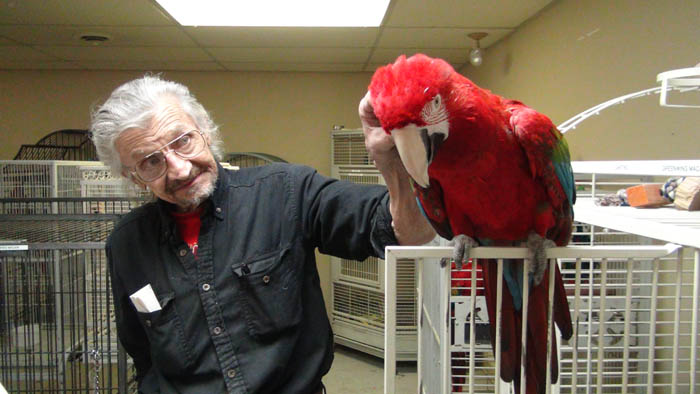 Steve with Santina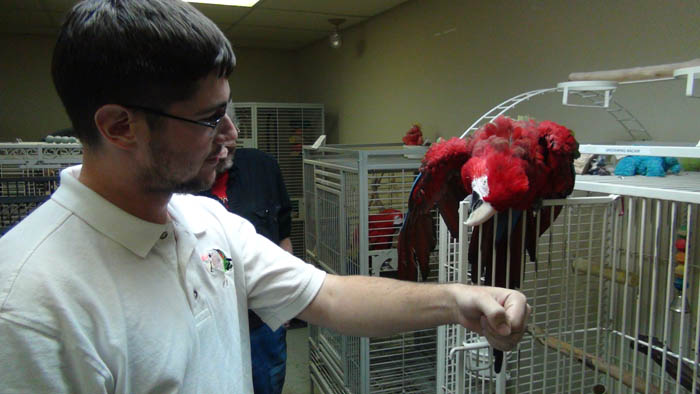 Santina trying to bite me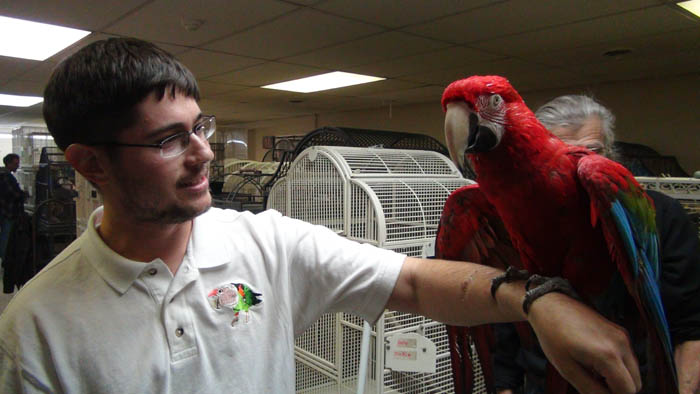 Steve put Santina on my arm despite that she didn't want to so she bit me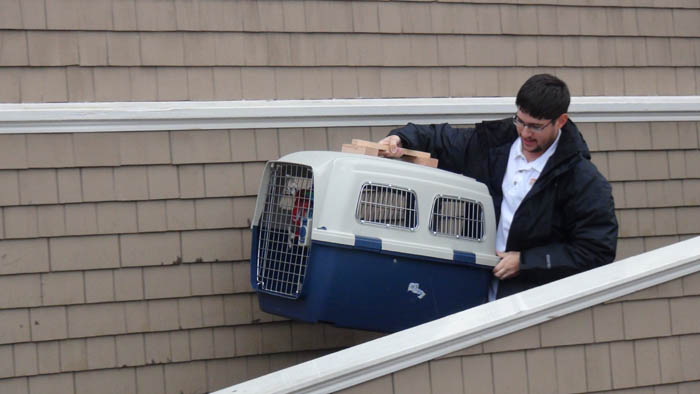 Santina leaving the rescue to come home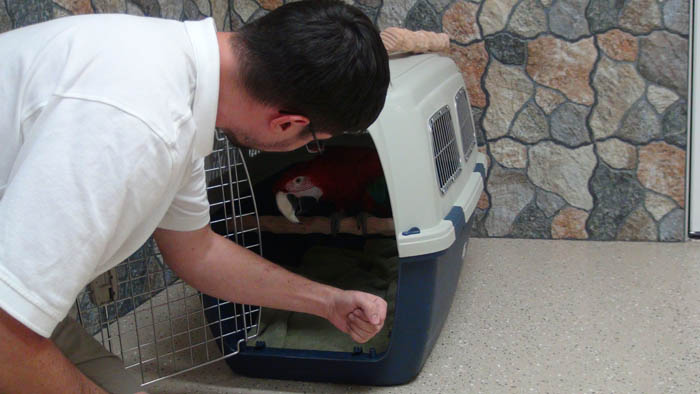 Rescue Green-Winged Macaw coming out of the carrier at home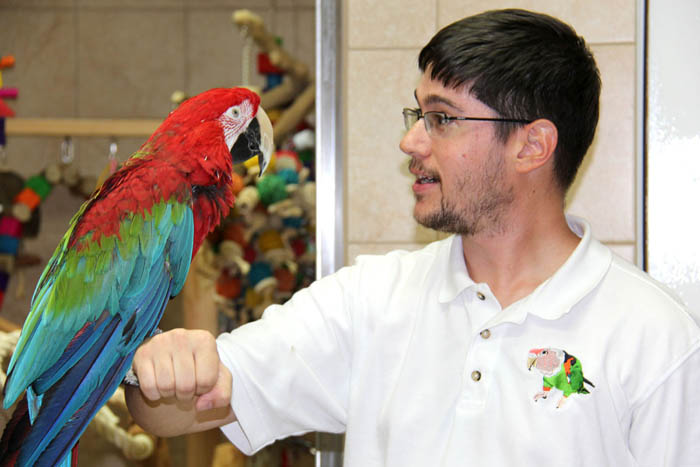 Santina steps up for me at home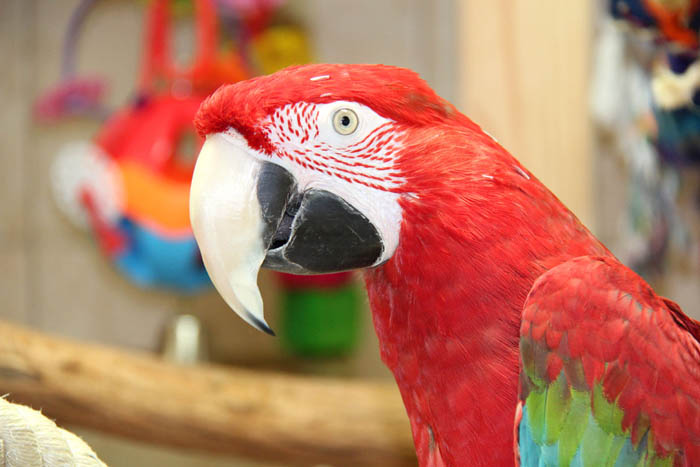 Santina, a 14 year old female rescue Green-Winged Macaw





Part of: Blog Announcements, Macaws, Rescue
Santina Green-Winged Macaw Homecoming Rescue Parrot Macaw
Comments
Post Your Response



Pokerchix

Posted on December 24, 2013 03:43AM

Beautiful!!! Can't wait to see more
scooter4n

Posted on December 24, 2013 05:01AM

WOW, good bird. Congrats, looking forward to see the progress.



Weka

Posted on December 24, 2013 05:53AM

Congrats! While I cannot fault anyone for getting a bird directly from a responsible breeder, (as we too had originally planned) I think there's something lovely about giving a "second-hand" bird a secure home. Warmest Christmas wishes to you and yours, Weka
eternalwhitemoon

Posted on December 24, 2013 08:13AM

Super mega congratulations! She's such a beautiful bird! I, too, just got a rescue parrot just recently, so your videos with your lovely Santina will be especially helpful.



cml

Posted on December 24, 2013 12:00PM

Congratulations Michael!
GreenWing

Posted on December 24, 2013 09:57PM

WOW! What an awesome Christmas gift, to yourself, Michael, and especially to Santina, for giving her a loving home! I am so happy for you, and excited that your flock had grown! Congrats -- she is SO beautiful! ? I can't WAIT to see what you teach her, and hear more about her, too!
Dbeguy

Posted on December 27, 2013 05:44PM

Congrats Michael! How will you introduce Santina eventually to Kili & Truman? Also what method did you use for tameness training?
CSLFiero

Posted on December 28, 2013 02:24AM

You wanna know if parrot tastes like chicken, parrot wants to know what human tastes like. Ouch!
GreenWing

Posted on December 29, 2013 09:20PM

[quote="Michael":20ua3k6g]Video of Santina a month ago at the rescue on my first visit. She wanted nothing to do with me! https://www.youtube.com/watch?v=iZF_1HtUggk[/quote:20ua3k6g] Hah! It was the same with Chance. When we first met, she wanted nothing to do with me and wouldn't step-up for me, either. It can take time for the rescues to "choose" you; they've been hurt/dumped and their trust needs to be earned. But when they do accept you and learn you're a friend, they will open their hearts, as Chance did. ? I've already said it, but I am so happy you and Santina found each other. How's Kili and Truman adjusting to their new flockmate?
Post Your Response