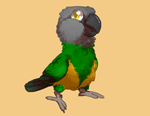 Kili
Type: Senegal Parrot
Genus: Poicephalus
Species: Senegalus
Subspecies: Mesotypus
Sex: Female
Weight: 120 grams
Height: 9 inches
Age: 15 years, 5 months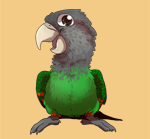 Truman
Type: Cape Parrot
Genus: Poicephalus
Species:Robustus
Subspecies: Fuscicollis
Sex: Male
Weight: 330 grams
Height: 13 inches
Age: 13 years, 8 months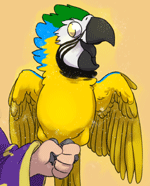 Rachel
Type: Blue & Gold Macaw
Genus: Ara
Species:ararauna
Sex: Female
Weight: 850 grams
Height: 26 inches
Age: 11 years, 5 months

List of Common Parrots:
Parakeets
:
Budgerigar (Budgie)
Alexandrine Parakeet
African Ringneck
Indian Ringneck
Monk Parakeet (Quaker Parrot)
Parrotlets
:
Mexican Parrotlet
Green Rumped Parrotlet
Blue Winged Parrotlet
Spectacled Parrotlet
Dusky Billed Parrotlet
Pacific Parrotlet
Yellow Faced Parrotlet
Lovebirds:
Peach Faced Lovebird
Masked Lovebird
Fischer's Lovebird
Lilian's (Nyasa) Lovebird
Black Cheeked Lovebird
Madagascar Lovebird
Abyssinian Lovebird
Red Faced Lovebird
Swindern's Lovebird
Lories and Lorikeets
:
Rainbow Lorikeet
Conures
:
Sun Conure
Jenday Conure
Cherry Headed Conure
Blue Crowned Conure
Mitred Conure
Patagonian Conure
Green Cheeked Conure
Nanday Conure
Caiques:
Black Headed Caique
White Bellied Caique
Poicephalus Parrots
:
Senegal Parrot
Meyer's Parrot
Red Bellied Parrot
Brown Headed Parrot
Jardine's Parrot
Cape Parrot
Ruppell's Parrot
Eclectus
:
Eclectus Parrot
African Greys:
Congo African Grey (CAG)
Timneh African Grey (TAG)
Amazons:
Blue Fronted Amazon
Yellow Naped Amazon
Yellow Headed Amazon
Orange Winged Amazon
Yellow Crowned Amazon
Cockatoos:
Cockatiel
Galah (Rose Breasted) Cockatoo
Sulphur Crested Cockatoo
Umbrella Cockatoo
Moluccan Cockatoo
Bare Eyed Cockatoo
Goffin's Cockatoo
Macaws
:
Red Shouldered (Hahn's) Macaw
Severe Macaw
Blue And Gold Macaw
Blue Throated Macaw
Military Macaw
Red Fronted Macaw
Scarlet Macaw
Green Winged Macaw
Hyacinth Macaw
Glossary of Common Parrot Terms
A week since I got Truman, my new baby Cape Parrot, I have already had my first successful flight recall. Since he came to me not clipped - and never will be clipped - safely managing his flight is essential. He is not yet a good flier and does not know well how to get from point A to point B. I can use his ignorance to my advantage by catalyzing his learning of flight and shaping it in direction and purpose that suits me. The number one most important thing is that I want him to learn to fly to me. Then I'd like to teach him to fly to appropriate places in my apartment and not others.

I began the basis for Truman's recall training just a few days after he had arrived. I built a pair of training stands similar to the ones I used to teach Kili to fly. I immediately began familiarizing Truman with the stands by putting him on them frequently. I also got him used to eating food on those stands and did some clicker conditioning while I was at it.

I kept the two stands with the perches parallel to each other and within walking distance. I lured Truman to walk between the stands when offering treats. Originally I was putting food straight into his beak because he wasn't eating well on his own so I decided why not at least make him walk for it. As I spread the distance he would reach harder and harder to get across. But as soon as the gap got too large to step across, he would give up trying to cross. It amazed me because he could fly across the room but not across an 8" gap. I continued the walk across exercises with him.

On occasion he would slip as he crossed and reflexively would flap his wings to stabilize. This is the part of the exercise that actually teaches the parrot to use his wings to make it across the gap. I taught Kili to get across the gap in exactly the same way except that I targeted her across with a stick. Since Truman doesn't know the target behavior yet, I simply offered him goodies on the other end. I would rather teach him flight recall before target training (although target training is an excellent method for teaching recall) because I want him to have the longest practice of flight recall in his life. I want it to be his first and most practiced trick. If he forgets everything, I want flight recall to me to be the most remembered and reliable thing in his repertoire. This is why I'm skipping the other stuff for now and going straight to flight recall which is generally a more advanced behavior to teach. Also I want to use his quick baby age learning and willingness to make the most of teaching recall.

A cue is already starting to emerge although it is just temporary. I no longer have to show him the treat or toy that he will get for coming across. I can just tap and point to the perch I want him to go to and he flaps across to it. I am going to practice this just a little more but as soon as he is recalling to my hand I will only practice the recall cue specifically and stop all luring and temporary cues.

Managing Truman's motivation for this basic informal training was fairly simple. He is not on any sort of food or weight management. In fact, he seems to be more motivated by toys many times than food. He's a curious baby and likes to explore so anything that is of interest to him can be positively reinforcing for preempted behavior. However, since Truman has been eating rather poorly on his own in the cage (mostly from a fear of climbing down to where the bowls are), he's been pretty hungry and would gladly take pellets from my hand. I have not yet even developed any treats for him and just feed him any of bland or colored pellets and almonds.

Thus I put all of these skills together and produced the first preempted flight recall with Truman. It is true that he has flown to me prior, however, that was either because he himself wanted to or because I happened to be a convenient place to land. However, this time, by doing the pointing cue like I had used on the perch, I was able to call him to my hand specifically. I just turned the second training perch away and put my arm where it used to be and in the same manner as cuing him to the training perch, I cued him to my hand.

Now increasing distance is quite simple and merely a matter of practice. Now the important thing to work on is developing a solid recall cue and practicing to no ends.

I highly recommend these training stands to anyone that has a flighted parrot or wants to teach a fledgling (or if they let the feathers grow back) to fly and eventually flight recall. You can use the stands to build practice jumping across a gap and then eventually flying to your hand. The height is adjustable so that you can keep the parrot at a comfortable height for your training. Very soon I will be offering these stands at 2x for $99 + shipping so stay tuned.





Part of: Taming & Basic Training, Flight Recall, Cape Parrots
Truman Cape Parrot Poicephalus Robustus Fuscicollis Flight Recall Training
Comments
Post Your Response



thejoie

Posted on July 3, 2010 03:40AM

That's awesome!!! I'm going to start recall training with Capri tomorrow. She's been here only about 24 hours. She's bonding to both me and Jer so I think it's time! These videos are GREAT- thanks for posting them!! I'm going to Capri will be my first "recall trained" bird. My Hahns macaw hates to fly!



lainmai

Posted on July 3, 2010 03:44AM

Wow, way to go!I actually was clapping when he finally did it, lol! Are those new stands adjustable for height? Each time I see them now I'm curious as to hat is below what you see on camera.



bmsweb

Posted on July 3, 2010 05:13AM

Nice work. Its awesome seeing a young bird develop



Brittanyv326

Posted on July 5, 2010 05:09PM

Props on teaching Truman so quickly! Will you be including the slides you make when you sell the training stands? Those are just too cute



MandyG

Posted on July 5, 2010 06:12PM

Good job Truman!



CarlosQuaker

Posted on December 23, 2012 07:55AM

As soon as my Quaker's flight feathers grow back, I'll start working on his recalls
Tiff

Posted on April 10, 2013 02:09AM

My bird's flight feathers were terribly clipped back. He had no blue feathers left at all. He is with me since September 2012. After I got the OK from the vet, I started taking Gonzo outside to hang out with me. Now 4 or 5 flight feathers have come out and I tried to encourage him to fly in my apartment under my watch. He is a chicken. My boyfriend has a caique who hangs out with my bird. They love each other. So when we outside now Gonzo flies after us when he start running away from them. The problem has been he landed on the roof twice and refused to come down so we had to get him. He always came to me or my boyfriend for a sunflower seed. So since then I am trying him to land on my hand on command. He refuses to land on my hand. He flies to my bed or in the kitchen. I use target training combined with click training and tons of seeds. But he refuses to land on my hand (finger). Any ideas what I can do to make him land on my finger? I am afraid he will fly off and wont come back. He has a harness but he likes to just bite it when he wears it and dont fly with it.
missis19

Posted on June 5, 2020 12:58AM

As in the response I left to your post on getting a parrot into its cage easily, there are much more and I believe better ways of training flighted recall. How do i know? I trained a macaw to freefly in Central Park, (my second red front) and flew them in the busiest areas of the park (sheep meadow, the great lawn, north meadow, as well as other parks around the city). How long did that take me to train? Three weeks, about 15 minutes a day. Will you or others be able to do it like that? I have no idea, but I would bet there wouldn't be many with the appropriate skill level to do so. Now keep in mind, that was outside. For indoor flight, it depends on the bird and how good it is (and you are) with targeting, but i've taught the basics in maybe an hour or less. Again, ymmv, but its not that difficult, and doesn't really need all the steps you put in. Also, for indoor stuff, weight management isn't necessary and sorry to say special perches aren't needed either. If people are free feeding, that needs to be corraled, but otherwise isn't needed. I'm sure you're not going to like this post, but I see some serious deficiencies in how you work and train and I would really like to help you get it right if you're going to teach others how to train. Again PM me if you want to continue this conversation.
Pajarita

Posted on June 5, 2020 06:24PM

Thank you for your contribution but the post you are replying to is 7 years old and the OP is no longer with us. As to free flying birds... well, I do hope you don't lose one but we do not believe that free-flight is safe for pet birds or even necessary for them to stay healthy and happy.
Post Your Response