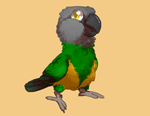 Kili
Type: Senegal Parrot
Genus: Poicephalus
Species: Senegalus
Subspecies: Mesotypus
Sex: Female
Weight: 120 grams
Height: 9 inches
Age: 11 years, 7 months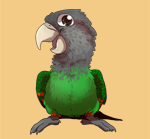 Truman
Type: Cape Parrot
Genus: Poicephalus
Species:Robustus
Subspecies: Fuscicollis
Sex: Male
Weight: 330 grams
Height: 13 inches
Age: 9 years, 10 months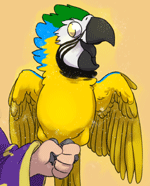 Rachel
Type: Blue & Gold Macaw
Genus: Ara
Species:ararauna
Sex: Female
Weight: 850 grams
Height: 26 inches
Age: 7 years and 7 months old

List of Common Parrots:
Parakeets
:
Budgerigar (Budgie)
Alexandrine Parakeet
African Ringneck
Indian Ringneck
Monk Parakeet (Quaker Parrot)
Parrotlets
:
Mexican Parrotlet
Green Rumped Parrotlet
Blue Winged Parrotlet
Spectacled Parrotlet
Dusky Billed Parrotlet
Pacific Parrotlet
Yellow Faced Parrotlet
Lovebirds:
Peach Faced Lovebird
Masked Lovebird
Fischer's Lovebird
Lilian's (Nyasa) Lovebird
Black Cheeked Lovebird
Madagascar Lovebird
Abyssinian Lovebird
Red Faced Lovebird
Swindern's Lovebird
Lories and Lorikeets
:
Rainbow Lorikeet
Conures
:
Sun Conure
Jenday Conure
Cherry Headed Conure
Blue Crowned Conure
Mitred Conure
Patagonian Conure
Green Cheeked Conure
Nanday Conure
Caiques:
Black Headed Caique
White Bellied Caique
Poicephalus Parrots
:
Senegal Parrot
Meyer's Parrot
Red Bellied Parrot
Brown Headed Parrot
Jardine's Parrot
Cape Parrot
Ruppell's Parrot
Eclectus
:
Eclectus Parrot
African Greys:
Congo African Grey (CAG)
Timneh African Grey (TAG)
Amazons:
Blue Fronted Amazon
Yellow Naped Amazon
Yellow Headed Amazon
Orange Winged Amazon
Yellow Crowned Amazon
Cockatoos:
Cockatiel
Galah (Rose Breasted) Cockatoo
Sulphur Crested Cockatoo
Umbrella Cockatoo
Moluccan Cockatoo
Bare Eyed Cockatoo
Goffin's Cockatoo
Macaws
:
Red Shouldered (Hahn's) Macaw
Severe Macaw
Blue And Gold Macaw
Blue Throated Macaw
Military Macaw
Red Fronted Macaw
Scarlet Macaw
Green Winged Macaw
Hyacinth Macaw
| | | |
| --- | --- | --- |
| | | Wednesday January 8th, 2014 |
A very common question parrot owners ask is how much time should my parrot spend out of the cage? Or they ask what are the minimum number of hours my ________ (fill in the species) needs to spend outside of the cage every day? The problem with this question is that it asks for a quantitative answer to a qualitative question. Here's my answer. It doesn't matter how long your parrot spends outside of the cage every day! What matters is how it spends its time out of the cage!

Too many parrots get their wings clipped and placed on a tree for hours at a time. The tree thus serves as nothing more than another cage! The bird cannot leave the tree and do what it truly wants (at least within the confines of the house). I'm not saying it's bad to put your bird into different "cages" throughout the day for variety but if the bird isn't free, this isn't "out of cage" time.

In the case of social companion parrots, the parrot wants to spend time with you do and do what you do. Putting the parrot down on a stand while you check email is no less boring to the bird than sitting in the cage. Out of cage time needs to serve as interactive time between you and your parrot for it to really count. The parrot needs to be part of what you are doing and you must be part of what your parrot is doing. No quantity of hours sitting out can replace this.

Parrots want to be in the middle of everything, the center of attention, and do what you do. They cannot be content being a passive part of your life.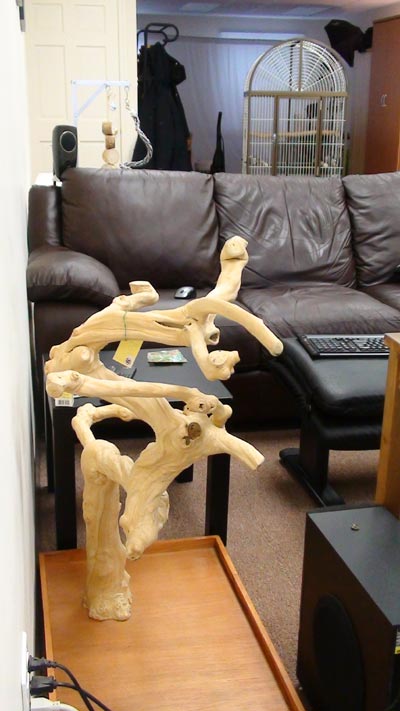 Cage vs tree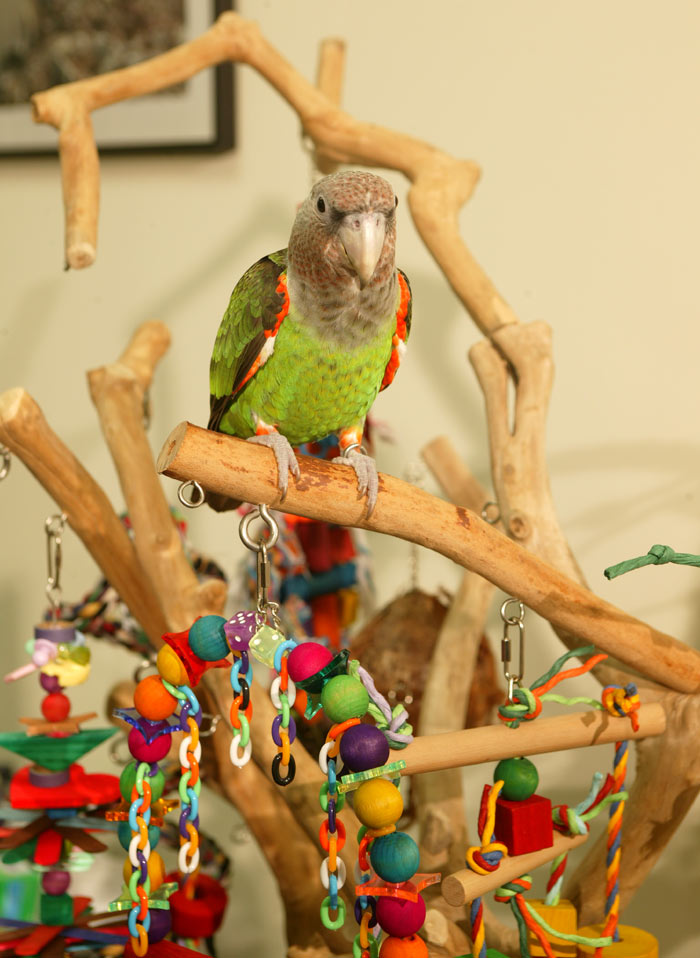 Is the tree not just another cage if the parrot isn't free to go elsewhere by flight? You wouldn't realize how much your parrot likes or doesn't like its tree unless you can observe it choosing to go there or choosing to leave. Despite how awesome I thought this tree is, it took Truman less time to get bored of it than it took me to build it!


The other issue is that some parrots don't really want to be out. In that case, forcing out of cage time only harms your relationship. Grabbing a parrot out of the cage with a towel to make it serve it's mandated "out of cage time" only makes the relationship even worse. It will only cause stress and distrust. The parrot will not enjoy that time and even though it received out of cage time, it entirely missed the purpose of that time. To achieve a great relationship, the parrot should want to come out and to spend time with you. When you use some of the out of cage time to serve positive interactive purposes such as trick training, it sets real goals for your parrot and reasons to want to be out.

If the parrot isn't enjoying being out, out of cage time is actually doing more harm than good!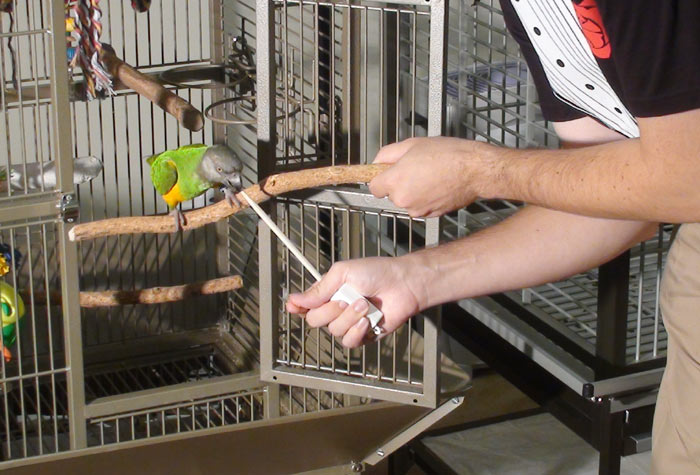 Use target training to teach parrots to enjoy coming out of the cage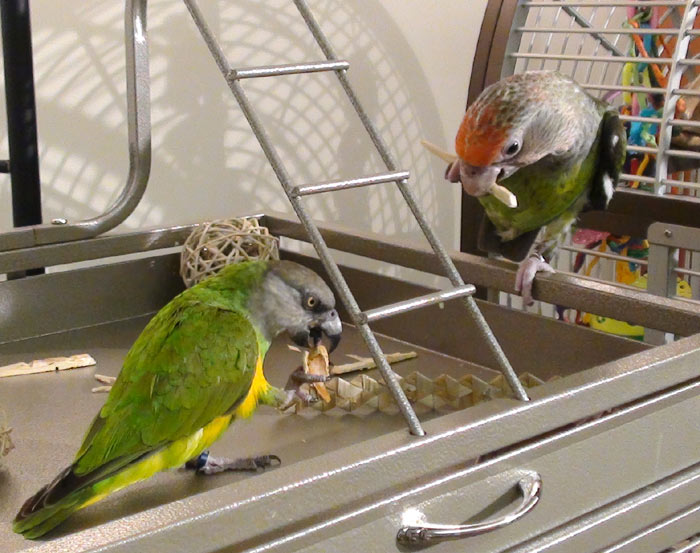 Parrots enjoying meaningful out of cage time (playing with toys) while exhibiting acceptable behavior. I want to encourage as much out of cage time like this as possible but put them away before they can get bored of toys and engage in nuisance behavior


Actually, I don't think there is a minimum amount of out of cage time. Rather there is a minimum amount of daily interaction, minimum amount of positive reinforcement, minimum amount of flying exercise, and minimum amount of a love that a parrot must have. These minimums aren't known so it is best to give as much as possible that your parrot wants to ensure you are not below minimum (as we all know parrots that don't get enough of these may resort to behavioral problems such as plucking).

In terms of good behavior, less is more. It is actually easier to set a maximum value for out of cage time for parrots than minimums. Although the parrot may wish to be out to interact and play as much as possible, if we let the parrot stay out too long, inevitably undesirable behavior will ensue. Almost no companion parrot can spend all day out of the cage without resorting to doing things that annoy us. Whether it's chewing up furniture, screaming, flying to us endlessly, nipping/biting people, or getting in fights with the rest of the flock, these are all the results of boredom from being out too long. To make the most of your parrot's out of cage time, perform parrot training and keep interactions direct and focused. However, put the parrot back in the cage before it has the opportunity to turn to nuisance behavior. If the parrot becomes accustomed to spending too much time out of the cage, it will be less inclined to be well-behaved and more likely turn to nuisance behavior to seek attention or entertain itself. You must use preemptive measures to keep the parrot trained or occupied. However, eventually these run out. The parrot is no longer hungry for training rewards, the parrot has had its fill of attention, etc. This is when the parrot turns to nipping the owner for fun or attention, chewing the curtains, attacking others, etc. Worse yet, whatever you end up doing in response to such undesired behavior (hurt parrot, put parrot away, yell at parrot, say 'no', etc), will only make things worse. The bad behavior is already learned and the parrot becomes reinforced to seek your attention with it.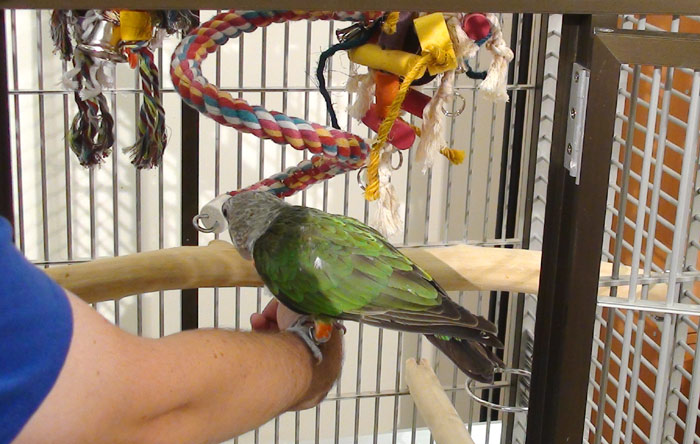 Put the parrot back into its cage before the onset of bad behavior. Work on increasing duration with time


Thus the parrot must be put away into the cage while things are still good. Leave some desire for next time to enjoy being out. Keeping out of cage time short but well-behaved is far better than long and chaotic (the parrot will hurt itself or the owner will burn out before you know it). As the parrot develops good habits during short but guided out of cage sessions, it will become more accustomed to behave that way whenever out. You can progressively have the parrot out for longer durations but the habitual good behavior will persist for longer spans of out of cage time!

For new parrot owners or owners with problematic parrots, doing short target training sessions for spans of 5-10 minutes and then putting the parrot away for a meal in the cage is a great way to start building up good behavior. You can progressively expand durations of time and introduce more play/interaction with time. Before you know it the parrot can be spending hours out where the parrot behaves in an acceptable manner to people and the parrot gets to enjoy the things it wants while out.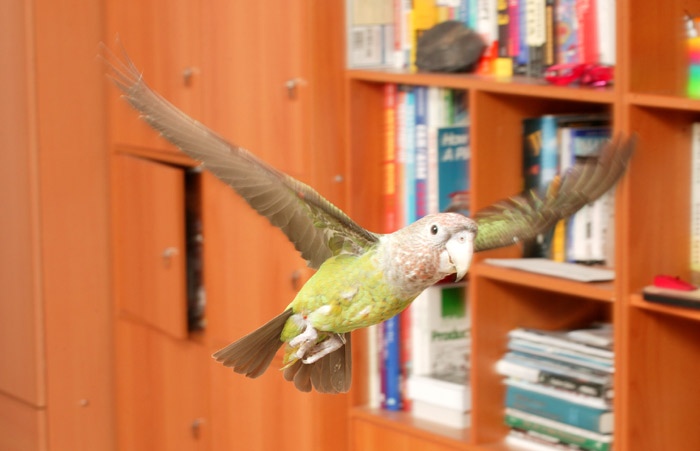 Out of cage time provides room for flying


One of the top benefits of out of cage time to a bird is the space to fly. The cage almost never provides room to fly and even most outdoor aviaries are inadequate. However, in the space of your living room, the parrot has the space to stretch its wings and exercise. The parrot does not need to be flying all day long to get exercise but to make up for all the time on its legs in the cage, getting to fly while out is essential.

The other type of out of cage time we must seek to offer is out of [house] cage time. Taking your parrot outdoors is very enriching. The sights, sounds, smells, etc are all something different for the parrot to take in. Also the bird requires outdoor time for its health (vitamin D and calcium production). Use a harness to take your parrot outdoors as much as possible. Inevitably this turns into focused together time and is a top way to provide valuable out of cage time.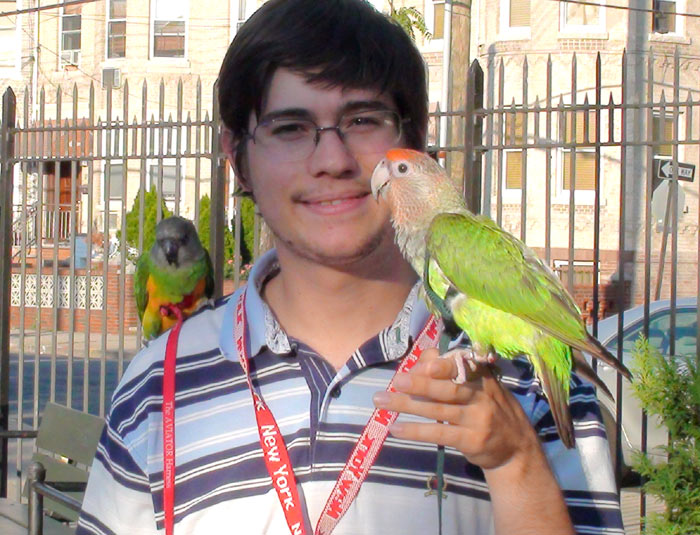 Outdoor time provides some of the best benefits of out of cage time: fresh air, exercise, sunshine, enrichment


It is good to have a fair amount of predictable routine for your parrot when it comes to the out of cage time schedule. Give your parrot something to look forward to every day. But once in a while, break it up. Some days take your parrot out for longer, take your parrot some place outdoors, or leave it in its cage entirely. This helps the parrot adjust to a more varied lifestyle and prepare it for any changes. The parrot should enjoy out of cage time but it shouldn't be helpless without it.

So rather than imposing silly minimums like "A budgie should get at least 30 minutes a day of out of cage time, a conure should spend an hour outside of the cage, an African grey should get at least 3 hours of out of cage time, and a cockatoo needs to spend all day with you," you should put far more focus on the quality of time the parrot spends outside the cage instead. This is the out of cage time that truly matters. That said, try to provide as much out of cage time as you are able but instead of stressing about the exact amount, focus on making it more interactive, exercising, and stimulating for your parrot.

The out of cage time should be both enjoyable to the parrot but also to the owner. There must be balance such that both owner and parrot are happy for this long term arrangement to last. Keep early out of cage times short and sweet but stretch your parrot's endurance. Practice having the parrot out longer and longer but be sure to put the bird away before things can get bad. Having a well-behaved parrot that enjoys its out of cage time is a win/win for everybody.

Part of: Taming & Basic Training, Housing, General Parrot Care, Indoor Freeflight, Outdoor Harness Flight
Parrot Cage Out of Cage Time Time Tree Play Fly Flying Outdoor Harness
Comments
Post Your Response
Graeme

Posted on January 9, 2014 07:18AM

Well our Sun Conure, Bailey, is out of his cage most of the day. He is flighted and enjoys our company. He either hangs out on me or he likes to play on his play gym. When he has had enough and wants some alone time, he will fly to his perch in the games room where it is quiet and just chill out for awhile. He does get some "time out" sessions though in his cage through out the day. All in all I would say h is a very contented bird.



cml

Posted on January 9, 2014 05:35PM

Great topic! I agree that we need to work on that out of cage time should be quality time. But how do you define quality time? Is it only when you are 100% committed to interacting with your parrot or does this vary with situations? I think so! Take our example, we have two birds who are the best of friends (most of the time anyway ). They absolutely LOVE spending time together, regardless of where that is. If they are out of the cage at the same time (and they always are unless we are training or showering them), they will seek out each others company as much (or more) as ours. They goof about, play with toys, fly around the appartment and explore together. Its a joy to watch and they have a lot of fun and are always eager for it. Would you not consider that quality time? Of course, when we have the parrots out, we also interact with them and dedicate our attention to them. Some of the time 100% (recalls, interaction, play etc), others maybe as low as 30% (?), meaning I know they're there, talk to them and do a recall now and then, but I can also go about my own stuff. This type of mixed out of cage time they get for at least a few hours everyday. We also have truly dedicated out time everyday with training, weighing, showering etc which accounts for perhaps 1hr. I consider all of the time they are out to be quality time. Whats your take on it?



Michael

Posted on January 9, 2014 06:38PM

The bird will let you know what it[/b:hvi539wv][/i:hvi539wv] considers quality out of cage time (if it's wings aren't clipped!!!). This is why I say that quality out of cage time has a lot to do with freedom, not just interaction. However, from our[/b:hvi539wv][/i:hvi539wv] perspective, if we are not part of that bird's out of cage time, why do we have a social pet? So for our sake, we must ensure that out of cage time for the bird is quality time for us (and I mean not just now but also in the future depending on the behaviors we encourage now). But if the bird enjoys flying around and playing, that's great. It just isn't quality time to sit on the same tree every day for hours at a time with no chance to change that up. If the bird can fly and chooses to sit, then it's quality time because the bird chose to do that! So when we talk about a parrot necessitating out of cage time, what we really mean is that the parrot needs to have some kind of free time (as in liberty) in order to be content and healthy. The cage is obviously restrictive and not freedom so out of cage time, in order to serve the purpose of out of cage time, must come with freedom of movement and choice. Training of course is based largely on choice so it falls into this category. Being able to move around and make choices is the opposite of being idle and bored. Harness/outdoor time may be more restricted but it is also mentally engaging and healthy. It too is opposite to idle indoor cage time. Point is we gotta make out of cage time be as opposite to cage time as possible to make it count! Clearly many people put value on a parrot's out of cage time and realize it's important. It's just really important not to forget the reasons it is important and that the main purpose of out of cage time is to provide the things the parrot misses out on while remaining in the cage... activity, interaction, flight, exercise, outdoors!
rio

Posted on January 23, 2014 10:02PM

Hello, I'm new to your forum and have read your article on" how much out of cage time". Rio is a lovebird, he's mixed peach and black face. He was not hand raised. I've had him for 2 plus years. He was really easy to train to step up, do tricks. He was anyway. I have let him have free reign of the house because he hated being in a cage. When his wings grow out, I let him fly for awhile, then get them clipped again when he starts setting the house alarm off. I bring him in to the pet store for them to clip his wings, and I found if I hide while they clip his wings, he won't be mad at me. But if he sees me or hears me talk while he's getting his wings clipped, He will stop interacting with me. So thats where he's at now. He runs away when I ask him to step up. He knows what step up means. He'll try to do all his other tricks for a treat, but I'm trying to get him to step up again. Rio has always hated me handling him, so we do tricks instead. However, he's gotten more wild and so I've tried holding him to see if he could get tamer. The more I've held him, the more wild he 's gotten. So I'm assuming I should not handle him at all but just do more tricks and interaction. Is that what you would assume? After reading your article, I have started locking him up in his cage, and re-introducing step up again in his cage. Lovebirds are so fast that even if he steps up in the cage. He runs away as soon as I take him out. Unlike a parrot, using a perch for a training spot won't work becasue he's like a fast little monkey, and heads back to where his cage area is and hides. I guess leaving a bird out to run free all of the time has resulted in a bratty bird. What would you suggest?
Tikki

Posted on January 24, 2014 01:44PM

Tikki is out of her cage when ever we are home to supervise.



cml

Posted on January 24, 2014 05:25PM

What would you suggest?[/quote:o3286ty6] I would suggest suggest letting him regain flight, securing your home for a flighted parrot (parrot proofing) and then starting over with basic taming from the very beginning, earning trust and getting the bird to do what you want because it wants to, rather than being forced to. I am sure that will get you a much happier and more tame bird in the long run!



Apothecia

Posted on May 27, 2017 02:48AM

My yellow-naped amazon is about 23. He is very social but well-behaved for the most part. When my roommate first brought him to our house 2 years ago, he spent a lot of time locked in his cage because his owner thought that he would have discipline problems if he were allowed too much free time. My roommate moved out, and I kept the parrot and now I just leave his cage door open and he goes in and out as he pleases. Sometimes he sleeps perched on top of his open door, sometimes he roosts inside of the cage. I believe he enjoys life much more now that he is not locked inside for several hours per day. His wings are not clipped, but he never flies. I don't think he knows how. There is a dwarf apple tree outside that he loves (>loves<) to sit in and sometimes he will stay outside for hours and won't move that much. I know he doesn't want to come in because I will hold my finger out for him and he takes it if he wants to leave, but will make his annoyed noise when he wants to stay. I just got him a pak-o-bird backpack, and he loves going places with me like to the library when I'm working on papers. I tricked it out a bendy-perch and some toys so he can perch half in and half out of the backpack when we're stationary for a bit. In my bird's case, he does not seem any more aggressive now that he is never locked up inside of his cage, but he certainly seems much less depressed and bored. I used a garden glove as a training tool whenever he would try to get aggressive during the first few months. It only took a few times of me putting the glove on when he would bite for him to figure it out, so now he knows the word "glove" and might protest by growling when annoyed if I make him do something he doesn't want to do, but doesn't bite me hard when he steps up. So much is taken away from birds when they are domesticated, I am trying to give him back as much freedom as I can. Thank you for this post.
Pajarita

Posted on May 27, 2017 06:59PM

Please don't take this the wrong way but I would not consider taking a bird without a harness outside because I think he can't or wont fly. They don't fly until they do and, when they do, they get lost.
stevesjk

Posted on May 28, 2017 09:33AM

He will fly one day and you will lose him, guaranteed.



liz

Posted on May 28, 2017 10:42AM

[quote="stevesjk":v0l77geo]He will fly one day and you will lose him, guaranteed.[/quote:v0l77geo] I used to work at a farm store. One of the customers always came with a parrot on her shoulder. She had been doing it for many years. She said he won't fly away. But he caught a strong wind and did and she could not get him back.
Trick or 'Tiel

Posted on May 28, 2017 09:30PM

A parrot should only ever be taken outside in a harness or carrier, or if the parrot was professionally trained for freeflight. Everyone is telling you that you will lose your bird someday because they are correct. All you need to do is get a harness and train him to wear it and then you can take your bird outside with no worries.
Pajarita

Posted on May 29, 2017 03:13PM

Hmmm, I would not say that professionally trained birds are OK with free flight... too many of them have been lost to their 'professional' trainers.
Post Your Response