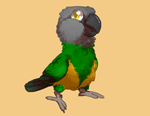 Kili
Type: Senegal Parrot
Genus: Poicephalus
Species: Senegalus
Subspecies: Mesotypus
Sex: Female
Weight: 120 grams
Height: 9 inches
Age: 14 years, 5 months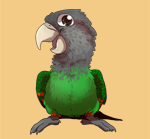 Truman
Type: Cape Parrot
Genus: Poicephalus
Species:Robustus
Subspecies: Fuscicollis
Sex: Male
Weight: 330 grams
Height: 13 inches
Age: 12 years, 9 months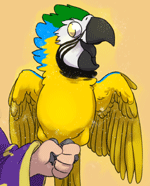 Rachel
Type: Blue & Gold Macaw
Genus: Ara
Species:ararauna
Sex: Female
Weight: 850 grams
Height: 26 inches
Age: 10 years, 5 months

List of Common Parrots:
Parakeets
:
Budgerigar (Budgie)
Alexandrine Parakeet
African Ringneck
Indian Ringneck
Monk Parakeet (Quaker Parrot)
Parrotlets
:
Mexican Parrotlet
Green Rumped Parrotlet
Blue Winged Parrotlet
Spectacled Parrotlet
Dusky Billed Parrotlet
Pacific Parrotlet
Yellow Faced Parrotlet
Lovebirds:
Peach Faced Lovebird
Masked Lovebird
Fischer's Lovebird
Lilian's (Nyasa) Lovebird
Black Cheeked Lovebird
Madagascar Lovebird
Abyssinian Lovebird
Red Faced Lovebird
Swindern's Lovebird
Lories and Lorikeets
:
Rainbow Lorikeet
Conures
:
Sun Conure
Jenday Conure
Cherry Headed Conure
Blue Crowned Conure
Mitred Conure
Patagonian Conure
Green Cheeked Conure
Nanday Conure
Caiques:
Black Headed Caique
White Bellied Caique
Poicephalus Parrots
:
Senegal Parrot
Meyer's Parrot
Red Bellied Parrot
Brown Headed Parrot
Jardine's Parrot
Cape Parrot
Ruppell's Parrot
Eclectus
:
Eclectus Parrot
African Greys:
Congo African Grey (CAG)
Timneh African Grey (TAG)
Amazons:
Blue Fronted Amazon
Yellow Naped Amazon
Yellow Headed Amazon
Orange Winged Amazon
Yellow Crowned Amazon
Cockatoos:
Cockatiel
Galah (Rose Breasted) Cockatoo
Sulphur Crested Cockatoo
Umbrella Cockatoo
Moluccan Cockatoo
Bare Eyed Cockatoo
Goffin's Cockatoo
Macaws
:
Red Shouldered (Hahn's) Macaw
Severe Macaw
Blue And Gold Macaw
Blue Throated Macaw
Military Macaw
Red Fronted Macaw
Scarlet Macaw
Green Winged Macaw
Hyacinth Macaw
Glossary of Common Parrot Terms
| | | |
| --- | --- | --- |
| | | Friday November 19th, 2010 |
You don't need to wait till Black Friday to get a fantastic holiday gift sale this year. Give your parrot the gift of training with a set of Parrot Training Perches. These stands come in a variety of perch sizes and the height is instantly adjustable.

Uses for Parrot Training Perches are endless. You can teach your parrot tricks like wave, shake, nod, turn around, and wings. Use a training perch for target stick practice and focusing your parrot on step up. Parrot Training Perches are best used for parrot flight training. You can teach your parrot to fly from stand to stand and eventually to your hand. Potty train your parrot to return to its training perch whenever it needs to poop. Parrot Training Perches make a convenient place for your parrots to hang out with you without going on "people places." They are portable and you can bring them with you if you travel with your birds.

As a bonus holiday incentive to promote my Parrot Training Perches, I am including a free 2011 Parrots and Parakeets 16 Month Calendar. It is a beautiful full color calendar featuring some of your favorite parrot species. All you Poicephalus lovers will especially appreciate the Jardine's Parrot cover shot.



Please don't wait long to order a set. Not only is it important to afford sufficient time for shipping, calendars are available in limited quantities. Once the calendars I have available are gone, I will have to end the bonus feature. Visit TrainingPerch.com to order a Parrot Training Perch Kit with Bonus Calendar!

Part of: Blog Announcements
Training Perch Christmas Holiday Gift
Comments
Post Your Response



zazanomore

Posted on November 19, 2010 09:40PM

I love how they were eyeballing the calendar. You can tell they wanted to shred it



Roger P

Posted on November 19, 2010 10:55PM

I have always liked the look of the perches, love the adjustable height. However, according to your site they are only available in the continental U.S. No availability to get them in Canada? Pity.



Michael

Posted on November 20, 2010 01:10AM

I can ship to Canada. I don't include it on the site because I have to analyze the shipping cost on a case by case basis. To Edmonton, I can either ship for $10 more than the normal price or for the standard price but without the calendar bonus. Sorry for the inconvenience, this just has to do with significantly greater travel distance for the package. If you have any further questions, feel free to PM me or email through the training perch website.
ldallas04

Posted on November 20, 2010 03:47AM

My SO and I will be purchasing a kit within the next couple of weeks, calendar or no! We have a nearly three month old sun conure coming home tomorrow and a two month old green cheek at home. Target training is going well!
Post Your Response