Merry Christmas and Happy Holidays to everyone from Parrot Wizard and TrainedParrot.com! It has been a fun filled year of parrot training and I hope you have been enjoying the experience as well.

Despite having just arrived, I had a special Christmas present in store for Santina, the gift of training! I got her a Parrot Training Perch Kit from the Parrot Wizard (oh yeah, that's me) because it is the most powerful training tool you can have for a parrot. Not only does the kit include two training stands, it also comes with a clicker, target stick, and basic instructional DVD to get you started. I think becoming social, learning to fly, and simply developing a mutual form of communication is the best thing for a captive parrot.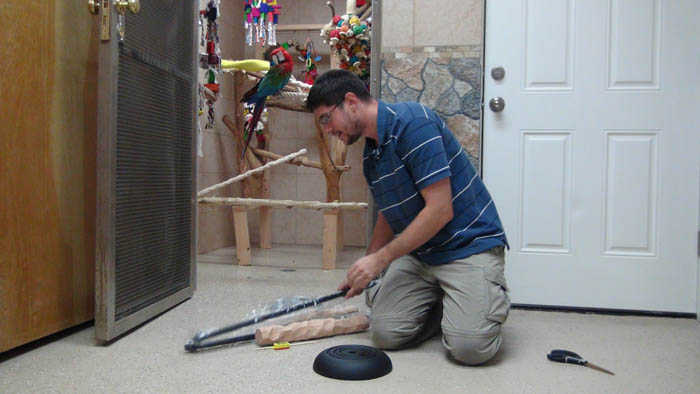 I unwrapped Santina's present and had the perches set up in no time. I made for her a set of T-Perches in size Extra-Large because she has some massive feet (about the size of my hands!). I assembled the perches in play sight but not too close so she could see what's going on and not get frightened (after all it's only been a day since she had come from the rescue). In no time I had her up on the Training Perches stepping on and off. She got super excited about her Christmas surprise and did a little dance!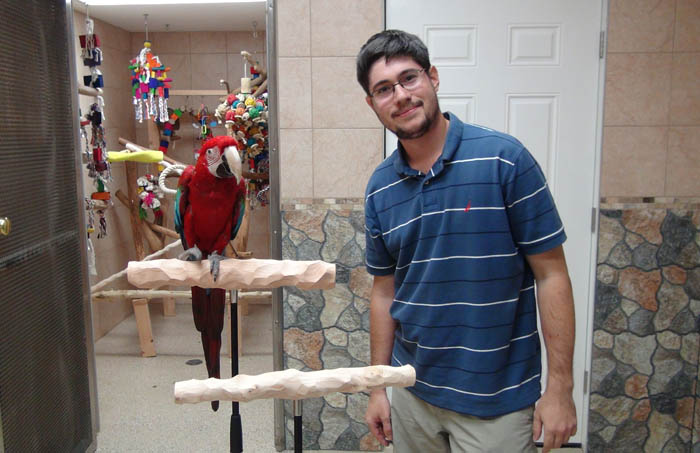 The stands took a big weight off my shoulders.... quite literally! Santina weighs more than two pounds and can be quite a handful. My arm feels like it's going to fall out of its socket after a few minutes of holding her. Part of the problem is that I try to hold her away from my body just to be safe that she can't bite my face. The bigger issue, however, is that she has a killer grip and digs her talons into my arm. Worse yet she starts to slip as she leans back and the claw slides across my skin making a long cut. By having these training perches, I can take her out of the cage room and have a place to set her down to begin training.

But this is only the beginning, I look forward to teaching her tricks and more importantly flight using these stands. There's no better gift for your parrot than the gift of training and Parrot Training Perches help you make that happen! Merry Christmas to all and to all a good night!


You don't need to wait till Black Friday to get a fantastic holiday gift sale this year. Give your parrot the gift of training with a set of Parrot Training Perches. These stands come in a variety of perch sizes and the height is instantly adjustable.

Uses for Parrot Training Perches are endless. You can teach your parrot tricks like wave, shake, nod, turn around, and wings. Use a training perch for target stick practice and focusing your parrot on step up. Parrot Training Perches are best used for parrot flight training. You can teach your parrot to fly from stand to stand and eventually to your hand. Potty train your parrot to return to its training perch whenever it needs to poop. Parrot Training Perches make a convenient place for your parrots to hang out with you without going on "people places." They are portable and you can bring them with you if you travel with your birds.

As a bonus holiday incentive to promote my Parrot Training Perches, I am including a free 2011 Parrots and Parakeets 16 Month Calendar. It is a beautiful full color calendar featuring some of your favorite parrot species. All you Poicephalus lovers will especially appreciate the Jardine's Parrot cover shot.



Please don't wait long to order a set. Not only is it important to afford sufficient time for shipping, calendars are available in limited quantities. Once the calendars I have available are gone, I will have to end the bonus feature. Visit TrainingPerch.com to order a Parrot Training Perch Kit with Bonus Calendar!