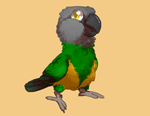 Kili
Type: Senegal Parrot
Genus: Poicephalus
Species: Senegalus
Subspecies: Mesotypus
Sex: Female
Weight: 120 grams
Height: 9 inches
Age: 15 years, 3 months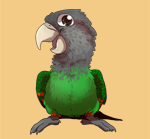 Truman
Type: Cape Parrot
Genus: Poicephalus
Species:Robustus
Subspecies: Fuscicollis
Sex: Male
Weight: 330 grams
Height: 13 inches
Age: 13 years, 6 months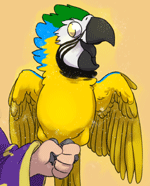 Rachel
Type: Blue & Gold Macaw
Genus: Ara
Species:ararauna
Sex: Female
Weight: 850 grams
Height: 26 inches
Age: 11 years, 3 months

List of Common Parrots:
Parakeets
:
Budgerigar (Budgie)
Alexandrine Parakeet
African Ringneck
Indian Ringneck
Monk Parakeet (Quaker Parrot)
Parrotlets
:
Mexican Parrotlet
Green Rumped Parrotlet
Blue Winged Parrotlet
Spectacled Parrotlet
Dusky Billed Parrotlet
Pacific Parrotlet
Yellow Faced Parrotlet
Lovebirds:
Peach Faced Lovebird
Masked Lovebird
Fischer's Lovebird
Lilian's (Nyasa) Lovebird
Black Cheeked Lovebird
Madagascar Lovebird
Abyssinian Lovebird
Red Faced Lovebird
Swindern's Lovebird
Lories and Lorikeets
:
Rainbow Lorikeet
Conures
:
Sun Conure
Jenday Conure
Cherry Headed Conure
Blue Crowned Conure
Mitred Conure
Patagonian Conure
Green Cheeked Conure
Nanday Conure
Caiques:
Black Headed Caique
White Bellied Caique
Poicephalus Parrots
:
Senegal Parrot
Meyer's Parrot
Red Bellied Parrot
Brown Headed Parrot
Jardine's Parrot
Cape Parrot
Ruppell's Parrot
Eclectus
:
Eclectus Parrot
African Greys:
Congo African Grey (CAG)
Timneh African Grey (TAG)
Amazons:
Blue Fronted Amazon
Yellow Naped Amazon
Yellow Headed Amazon
Orange Winged Amazon
Yellow Crowned Amazon
Cockatoos:
Cockatiel
Galah (Rose Breasted) Cockatoo
Sulphur Crested Cockatoo
Umbrella Cockatoo
Moluccan Cockatoo
Bare Eyed Cockatoo
Goffin's Cockatoo
Macaws
:
Red Shouldered (Hahn's) Macaw
Severe Macaw
Blue And Gold Macaw
Blue Throated Macaw
Military Macaw
Red Fronted Macaw
Scarlet Macaw
Green Winged Macaw
Hyacinth Macaw
Glossary of Common Parrot Terms
July 18/19 2015, a game-changing parrot training seminar was held in Russelsheim Germany outside Frankfurt. The seminar was the culmination of nearly a year's worth of online webinar sessions during the scope of which I was teaching training methodology and harness training for parrots of all levels.

After a brief visit to NY, it was time to get Hope back to Germany. Hope came onboard the Lufthansa flight to Frankfurt with us. Like in NYC, we took hope for a visit to Frankfurt:



The Germans accepted us with great hospitality. Bratwursts and pork chops were plentiful. We got to meet many members of the German flight club and their birds during the barbecue the night before the seminar.

During the Seminar we alternated between lectures, outdoor flight demonstrations, and feedback sessions for members. Flight club members would show me what they have accomplished with their own parrots and I gave them pointers and feedback on their training. Overall I was very happy to see so much progress and success since we began the webinar series.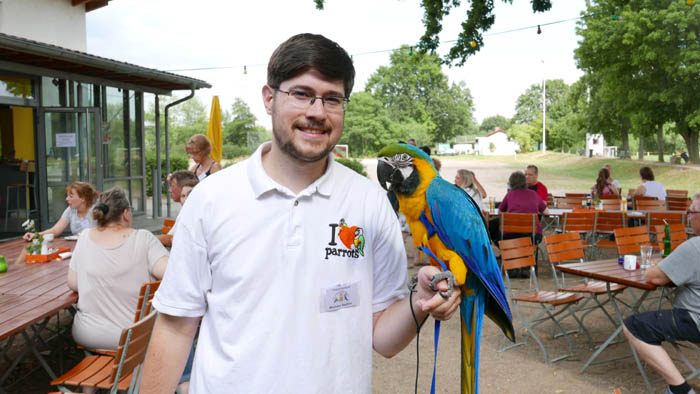 During intermissions, there were outdoor flight training demonstrations. Most of the parrots flown were on harnesses with long leashes. But a few birds were even free flown. The Germans are convinced that flight and particularly outdoor flight is necessary to maintain a parrot's health.

In Germany, they have a particularly bad epidemic of aspergillus in parrots. The flight club, with the help of several avian veterinarians, maintains that outdoor flight is the only prevention/cure to the infectious lung disease. More and more people are learning to fly their parrots outside for fun and for health.

In the following video you can see some of the flights that were made. They use particularly long flight lines to fly the birds across a soccer field. Some of the flights by more experienced fliers were successful while some of the beginners ran into some trouble. In one case, a pair of blue and gold macaws flew to the end of the line several times in a row. One cockatoo somehow decided to turn around 180 and fly the wrong way. But in all cases of screw ups, the aviator harness prevented the parrots from getting into serious trouble and safely brought them down to the ground in a recoverable place. Further webinars and training will be necessary to improve recall flight reliability.



On the Sunday following the seminar, many of the attendees came on a historic parrot outing. Over 20 people and 15 parrots set out by ferry, foot, and by wing to explore the German countryside. A long walk was rewarded with a pleasant lunch at a tavern.

Flight club members received matching shirts at their seminar "graduation." They all proudly wore them to the parrot walk. If it wasn't obvious by the parrots on their shoulders, the matching shirts confirmed the group unity. Marianna and I received an honorary induction into their group after lunch.

Here is a video of the walking adventure: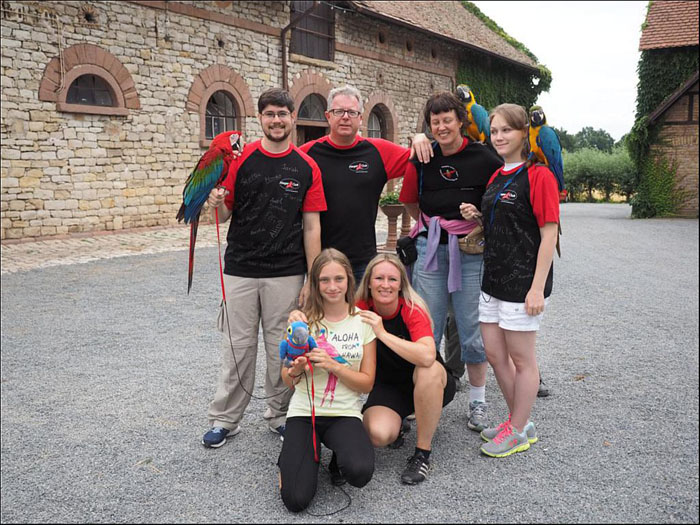 After lunch, a few of us headed to a nearby field to fly some parrots. Florian brought his Harlequin and Blue and Gold Macaw with him. Before we reached the flying location, Saphira the Harlequin Macaw flew off of his shoulder and into a tall tree. Moments later, the Blue and Gold took flight to follow. While the Harlequin is accustomed to freeflight, the Blue and Gold would only sit with a harness. The force of the macaw flying off at full speed coupled with a badly chewed harness, broke the connection and the macaw took off into the tall tree. Florian watched the macaw flying away while I grabbed my camera and caught the moment.

The Blue and Gold tried to land on the branch with the Harlequin but somehow scared her out of the tree. Florian did not seem worried. He said this had happened before and he expected the two macaws to come back. After ten minutes of watching and calling passed, I realized the birds were not going to just come back. I said, "we need more birds" and ran back to where the rest of the club was relaxing. I grabbed a few people with macaws and told them to bring their flight lines.

The idea was to start flying other parrots (safely) to try to entice the lost parrots to come and join them. Unfortunately the parrots being harness flown weren't particularly enthusiastic about flying and the lost parrots were not eager to come back. Florian kept watching and calling but it was of no use. We watched leaves and branches falling out of the tall tree as the parrots were having the time of their life. An all you can chew parrot play ground is not an easy place to get a lost parrot to come back from.

Florian normally used the harnessed Blue and Gold Macaw as a motivator for the freeflight Harlequin to come back. But now that they were both gone, he could not even manage to get the Harlequin to come back. He tried to use treats and Saphira the freeflight capable macaw even came back once for a treat. But no sooner did Florian give the treat that the bird took back off into the tree.

The harness did not break for no reason. A new or well maintained harness would not have broken under similar circumstances. Other members of the group had noticed Zazou chewing on his harness and notified Florian. Unfortunately Florian did not accept that the harness was damaged until he stood there holding nothing more than the black end of the leash. An important lesson learned is not to leave parrots with harnesses unattended and to check them for damage prior to every outing.

More than an hour later, the Harlequin vacated the tree. First she flew to a shorter tree some distance away. But as Florian kept calling, she finally came to him. Florian hoped that Saphira would help call Zazou back. But it wasn't working. The group had to head back. So we left Florian and a few others to work on getting Zazou back. Some friends brought Florian's RV camper to the site so he could spend the night and continue his efforts in the morning.

We did not get to witness the recovery. But from what we learned, Florian was unable to recover Zazou all day. Zazou got rid of what was left of the harness and got driven away by predators. When all hope was lost and night set in, Florian went into his motorhome for the night. No sooner did he close the door that he heard Zazou outside. He came out to find that Zazou flew down and landed on the roof of the camper on her own. Here is a video of the parrots flying away and a discussion of the recovery effort:



Part of: Outdoor Harness Flight, Outdoor Freeflight, Blog Announcements, Macaws
Germany Parrot Seminar Training Flight Freeflight Harness Lost
Comments
Post Your Response