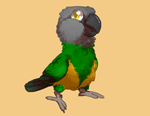 Kili
Type: Senegal Parrot
Genus: Poicephalus
Species: Senegalus
Subspecies: Mesotypus
Sex: Female
Weight: 120 grams
Height: 9 inches
Age: 15 years, 5 months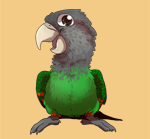 Truman
Type: Cape Parrot
Genus: Poicephalus
Species:Robustus
Subspecies: Fuscicollis
Sex: Male
Weight: 330 grams
Height: 13 inches
Age: 13 years, 8 months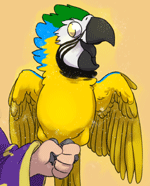 Rachel
Type: Blue & Gold Macaw
Genus: Ara
Species:ararauna
Sex: Female
Weight: 850 grams
Height: 26 inches
Age: 11 years, 5 months

List of Common Parrots:
Parakeets
:
Budgerigar (Budgie)
Alexandrine Parakeet
African Ringneck
Indian Ringneck
Monk Parakeet (Quaker Parrot)
Parrotlets
:
Mexican Parrotlet
Green Rumped Parrotlet
Blue Winged Parrotlet
Spectacled Parrotlet
Dusky Billed Parrotlet
Pacific Parrotlet
Yellow Faced Parrotlet
Lovebirds:
Peach Faced Lovebird
Masked Lovebird
Fischer's Lovebird
Lilian's (Nyasa) Lovebird
Black Cheeked Lovebird
Madagascar Lovebird
Abyssinian Lovebird
Red Faced Lovebird
Swindern's Lovebird
Lories and Lorikeets
:
Rainbow Lorikeet
Conures
:
Sun Conure
Jenday Conure
Cherry Headed Conure
Blue Crowned Conure
Mitred Conure
Patagonian Conure
Green Cheeked Conure
Nanday Conure
Caiques:
Black Headed Caique
White Bellied Caique
Poicephalus Parrots
:
Senegal Parrot
Meyer's Parrot
Red Bellied Parrot
Brown Headed Parrot
Jardine's Parrot
Cape Parrot
Ruppell's Parrot
Eclectus
:
Eclectus Parrot
African Greys:
Congo African Grey (CAG)
Timneh African Grey (TAG)
Amazons:
Blue Fronted Amazon
Yellow Naped Amazon
Yellow Headed Amazon
Orange Winged Amazon
Yellow Crowned Amazon
Cockatoos:
Cockatiel
Galah (Rose Breasted) Cockatoo
Sulphur Crested Cockatoo
Umbrella Cockatoo
Moluccan Cockatoo
Bare Eyed Cockatoo
Goffin's Cockatoo
Macaws
:
Red Shouldered (Hahn's) Macaw
Severe Macaw
Blue And Gold Macaw
Blue Throated Macaw
Military Macaw
Red Fronted Macaw
Scarlet Macaw
Green Winged Macaw
Hyacinth Macaw
Glossary of Common Parrot Terms
| | | |
| --- | --- | --- |
| | | Thursday February 21st, 2013 |
The greatest perceived safety hazard to keeping fully flighted parrots is the potential for escape. Once outside of the human household, the parrot is exposed to infinite dangers from starvation to predation. Therefore it is critical for owners of all parrots (including clipped ones because they have been known to have just enough might to fly out the door and into a tree) to maintain a 100% safety record in terms of preventing accidental escape.

This article is about ways to bird proof your home or set up your parrot's out of cage time in order to guarantee safety. There aren't many pictures because this is a more conceptual article but I hope you take this into full consideration nonetheless. It is my hope that all parrot owners can come away from reading this with a better understanding of how to keep their parrots safe indoors whether they are flighted or clipped. Furthermore, I hope that for owners of clipped parrots this will give them a means of providing safety so that they could allow their parrot flight in their home.

The most common way a companion parrot is unexpectedly lost is actually by taking it outside unrestrained and not out from the house. This happens to clipped and flighted parrots alike. The owner doesn't realize the parrot's potential for flight and then is shocked when it takes off and drifts away out of sight. This mostly happens to clipped parrots because their owners don't realize that clipped parrots, although poorly, are still capable of flight. A less common way is when owners of flighted parrots think their parrot is reliable enough that it will stay with them or come back. The problem with this is that without the proper training, the bird may simply be unprepared to deal with wind and outdoor factors adequately. And the other way is when owners of flighted parrots walk outside with their flighted parrot on them without remembering. Folks will go out to pick up the mail with their parrot on their shoulder and then something scares it into flying off. For all of these reasons, it is absolutely necessary that owners do not intentionally or accidentally take their parrot outdoors without proper restraint (carrier or harness). It only takes one time so it's necessary to use proper precautions every time.

From inside the house, the most suspect escape path is the front door. This door is most frequently (and unexpectedly) opened so it should receive the most thoughtful attention. Ideally, there should always be 2 doors between where the parrot is and outside. Only one door must ever be open at a time. In my situation, I have a front door at street level which leads to a staircase and another door at the second floor entrance. This is a perfect safety catch and has the added bonus of the vertical separation in addition to two doors. I realize most people do not have this convenience so I will mention options I have thought about and DIY means of ensuring there are 2 doors between the parrot and outside. If you have birds and are planning on moving, definitely keep this two door entry situation in mind when searching for a new place.

For home owners that have a front door that leads straight into their living room (or through hallways but without doors), I very highly suggest installing a second safety door. When you realize that your parrot will be living there with you for 20-80 years easily, it is an invaluable investment that will ensure that your parrot lives out that entire span safely with you. This is by far the easiest and most secure solution but it is also the more costly. If you already have an entry room or hallway that goes from the front door into your living area, you may be able to mount a door directly in that space. Ideally you should have a professional or someone handy do it. But if you don't care as much how it looks, you can save a lot of money by buying a couple 2x4s and a prehung door at Home Depot and installing it yourself. This can be done for as little as $200. That is just $10 a year or less than a dollar a month in the lifespan of a single 20 year living parrot! You will end up spending more on bird food to keep it alive so don't overlook this important means of keeping it in and alive.

If you absolutely can't put a solid door but have that narrowing area to hang something, you can try to find a sliding curtain to hang. I don't recommend strings of beads for small birds because I have seen them fly through that or at least land on them. If you have more than one or two people living there, I would strongly suggest hanging a sign on the inside door or in plain sight to remind people "Live Birds - Only open one door at a time."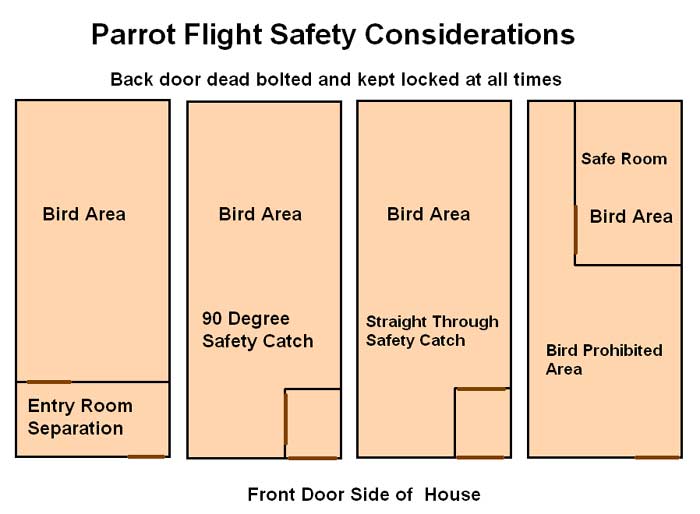 The next scenario is a front door that drops you smack into the living area without any narrowing area or hallway for a second door. In this case my best suggestion is to build out a small piece of wall to produce a small hallway to mount a door. It can be as small as 3ftx3ft but allows sufficient space to have a second door to ensure safety. If you are serious about keeping a parrot for the many years that it will live, this is still a small price to pay to ensure its safety. The beauty of having two doors is that it is virtually fool proof. There is still a bit of risk involved in the event that someone opens both doors at once but it still makes things tighter and the bird is more likely to be caught in the safety catch room. If there is any chance to have a 90 degree turn upon entrance, that makes things even safer than a straight two door run.

If you live in a situation where is is outright impossible to make modifications and a second door is not possible, there are other ways to ensure that a parrot is kept safe behind two doors or to ensure a procedure for entry that prevents escape. For example, it is possible to limit the parrot to out of cage time only in a removed room that has its own door (that door makes the remainder of the home act as a safety catch prior to the front door. Although, less fool proof, keeping a parrot on an upper or lower floor separated by an open staircase, it is much less likely to fly that angle AND out the door in the same flight. Still it is best to add a door at one end of the staircase or at least hang some form of curtain to ensure safety.

Another way to establish a safety catch and second door is to put the second door outside instead of inside. It may be possible to enclose a portion outside with netting or walls and add a second door outside to avoid taking up space on the inside. Just keep in mind that security, screen, and storm doors are no substitute for a separate safety door.




Now for the scenario of a rented one room studio with an outside facing single door or someone who could make the modifications but is too cheap, you can change the lock to a dead bolt and always keep it locked. Whenever anyone from the household arrives, they must ring the bell or call anyone who is already inside the house to arrange that birds be put away into their cages prior to opening the door. The reason I specifically suggest a deadbolt is because it forces anyone opening the door from inside to go out to take the time to get a key which slows things down just enough to think and not do it spontaneously. For example, doorbell rings for a delivery or you hear a siren outside, having to go through the process of locating a key and opening the extra door should provide some reminder that this is done to ensure parrot safety. Of course having a sign on the door as a reminder is a great idea too. For fire hazard safety it is best to hang a copy of the key near the door inside. A sliding latch lock from inside is another option.

I don't suggest hanging a sign outside whenever bird is out because this is more easily forgotten. Instead, the standard operating procedure must be that no one goes in or out without first checking with someone (best designate one person in charge) that the bird is secured. And it goes without say that prior to opening the sole front door, it is an absolute must that the bird be enclosed in a cage or another room. For families with young children that come and go, it may be necessary not to give them keys but to always have them ring the doorbell or call in order to ensure safe operation of the door to prevent an unexpected entry when a bird is out.

For additional outside facing doors such as the back door, the best procedure is to dead bolt the door shut and agree not to use it. If there are multiple people, hang a sign on the door to say not to use that door except in an emergency. The same applies to sliding doors. Some people have sliding doors that lead to balconies or porches. It is a great idea to enclose the porch so that both you and your parrot can enjoy it together. The fewer doors that are used, the simpler it is to keep track of things. There is no point of going through the effort to add a safety catch to each door if only the front door is utilized and has a safety system in place.

If the back door must be used on occasion, keep it well lock and always ensure that the bird is away prior to use. If the back door must be used regularly, install an indoor or outdoor safety catch as described previously for front doors. This is really the only way to be able to safely open doors without risk of the parrot ending up out doors.

Windows are the other way by which parents end up getting outside. Since the window is relatively small it makes it easy for the bird to get out but hard to get back in. The bird most likely has never even seen your house from outside so it would be entirely lost once it makes it outside. For this reason all windows should stay closed whenever parrots are out. The real problem with windows is remembering to ensure they are closed when parrots are taken out. For this reason it is best to make the system foolproof instead. Put screens on all windows (even though they might not prevent a curious chewing parrot from getting out, they will prevent a flying one) or a security mesh. Make a habit of keeping windows closed to the extent possible. Keep blinds or curtains over the windows that let air but not birds through so that the birds don't even think of flying there (whether they are closed or not).

Another terrible danger to flying parrots is ceiling fans. Just remembering not to use them isn't enough. Someone can accidentally throw the wrong switch when turning on the lights or just have one of those moments when they forget. You must disable the fan all together to prevent a catastrophe waiting to happen. There are only two foolproof ways of doing this without completely replacing the device. Either have an electrician disable the electric switch for the ceiling fan or remove the fan blades yourself. I know there are people who think it is ok to use the fan when the parrot isn't out and that they will remember to shut it off when the parrot is taken out, but this simply isn't enough. There will be that one time when you have friends over midday and the fan is running and you suddenly get the urge to show them your parrot and completely forget about the fan. This is why it is best disabled entirely. An air conditioner or an enclosed fan are the best replacements.

I have already written extensively about other commonly cited safety hazards to parrot flight such as toilets, pots of boiling water, crashing into windows, and other pets in this article. But just for a quick recap, these dangers are very easily avoidable (much more so than the ones discussed above). Always keep bathroom doors closed. Don't worry about the toilet seat, if the door is closed, then the parrot can't get to it. If you want to be extra cautious, you can close both. Never cook or perform dangerous tasks while your bird is out (even if it is clipped). Cover windows with blinds or curtains at least partially. Never let birds and other pets out simultaneously to ensure their safety.

It is essential to make foolproof safety measures and not to rely on standard operating procedures. Telling everyone not to do something isn't as reliable as making it difficult to impossible to do. Marking windows and doors with notes may help remind people not to do things more in the moment than a general verbal warning. Even if you live alone, you may not be completely safe. I recall a time when I was seriously ill and my mother brought a meal over. She said it was really stuffy and opened windows while my birds were out. Luckily there are screens on the windows so this wasn't a catastrophic risk. Had there not been screens and the system simply relied on my remembering to close windows, things could have been different. So keep in mind that making all these safety measures aren't necessarily against yourself but other people who live with you or may show up unexpectedly. The more robust the safety measures you have in place, the safer your parrot will be regardless of the circumstances.

Foolproof safety measures must be implemented regardless of how well trained your parrot is. However, having an extensively flight recall trained parrot should greatly help should something ever happen despite all possible physical safety boundaries in place. I not only practice flight recall inside at home, but also outside on a harness, and at a large gym. Should recovery of my parrots ever be necessary, they have extensive prior experience both flying in large spaces and outdoors. Don't wait until your parrot is lost to think about flight training. If your flighted parrot isn't already flight recall trained, start working on it now. If all else fails, it could be the thing that gets it back.

One thing to keep in mind is that every home, parrot, and situation is different. These are general guidelines to help you start thinking about implementing robust flight safety. However, you must take into consideration all escape routes, people involved, location of the bird, and other variables. Be sure to analyze the situation fully and adjust the suggestions to work in your situation.

Please don't think that clipping a parrot's wings in any way absolves you from undertaking these extensive safety measures. Although these types of accidents are more frequent in flighted parrots, they do happen to clipped parrots just the same. These types of accidents would not happen to clipped or flighted parrots if the proper safety precautions were taken in advance. Don't wait until something bad happens and don't think that clipping has anything to do with this. Birds have wings and birds fly. Please remember this and do everything necessary to keep your flying family members safe.

Part of: Health, Nutrition, and Diet, Toys, Accessories, and DIY, General Parrot Care, Indoor Freeflight, Blog Announcements
Flight Safety Hazards Precautions Clipping Indoor Freeflight Bird Proof
Comments
Post Your Response



marie83

Posted on February 23, 2013 04:49PM

Excellent article Michael, if it only prevents one parrot from escaping then it will be well worth the time it took you to write this. Hopefully this will help people realise that even with the most careful owner that accidents do happen but an accident doesnt have to be a disaster with a back up method in place.



janetafloat

Posted on February 24, 2013 11:16PM

Thanks for this Michael - since I live in a small house that has a front door and a patio door opening straight into the living room it's been on my mind that I need to get more robust measures in place, particularly as the warmer weather comes. This article has highlighted the dangers and given me some ideas about how I could address them
angelblue

Posted on May 5, 2013 10:15PM

Ok I have always lived in a house with ceiling fans so I never even thought about flight training. Now I live in an apartment and the fans are gone and I have two parrots that are still working on step up training. I am thinking about what I will need to keep them safe as their wings grow out. Does anyone have ideas that could be used in an apartment-- a rental I can't alter? The front door is around a curve which in this case provides a hallway but the back is a large sliding door. I can't put a catch over it--at least I can't figure out what I could do that would not be unsightly and dangerous. I would love a suggestion, and please note I am not a builder so I need something made for me---inexpensively. Thanks for anyone with ideas.
Post Your Response