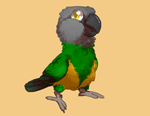 Kili
Type: Senegal Parrot
Genus: Poicephalus
Species: Senegalus
Subspecies: Mesotypus
Sex: Female
Weight: 120 grams
Height: 9 inches
Age: 15 years, 5 months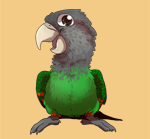 Truman
Type: Cape Parrot
Genus: Poicephalus
Species:Robustus
Subspecies: Fuscicollis
Sex: Male
Weight: 330 grams
Height: 13 inches
Age: 13 years, 8 months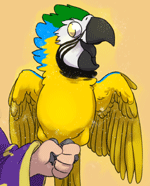 Rachel
Type: Blue & Gold Macaw
Genus: Ara
Species:ararauna
Sex: Female
Weight: 850 grams
Height: 26 inches
Age: 11 years, 5 months

List of Common Parrots:
Parakeets
:
Budgerigar (Budgie)
Alexandrine Parakeet
African Ringneck
Indian Ringneck
Monk Parakeet (Quaker Parrot)
Parrotlets
:
Mexican Parrotlet
Green Rumped Parrotlet
Blue Winged Parrotlet
Spectacled Parrotlet
Dusky Billed Parrotlet
Pacific Parrotlet
Yellow Faced Parrotlet
Lovebirds:
Peach Faced Lovebird
Masked Lovebird
Fischer's Lovebird
Lilian's (Nyasa) Lovebird
Black Cheeked Lovebird
Madagascar Lovebird
Abyssinian Lovebird
Red Faced Lovebird
Swindern's Lovebird
Lories and Lorikeets
:
Rainbow Lorikeet
Conures
:
Sun Conure
Jenday Conure
Cherry Headed Conure
Blue Crowned Conure
Mitred Conure
Patagonian Conure
Green Cheeked Conure
Nanday Conure
Caiques:
Black Headed Caique
White Bellied Caique
Poicephalus Parrots
:
Senegal Parrot
Meyer's Parrot
Red Bellied Parrot
Brown Headed Parrot
Jardine's Parrot
Cape Parrot
Ruppell's Parrot
Eclectus
:
Eclectus Parrot
African Greys:
Congo African Grey (CAG)
Timneh African Grey (TAG)
Amazons:
Blue Fronted Amazon
Yellow Naped Amazon
Yellow Headed Amazon
Orange Winged Amazon
Yellow Crowned Amazon
Cockatoos:
Cockatiel
Galah (Rose Breasted) Cockatoo
Sulphur Crested Cockatoo
Umbrella Cockatoo
Moluccan Cockatoo
Bare Eyed Cockatoo
Goffin's Cockatoo
Macaws
:
Red Shouldered (Hahn's) Macaw
Severe Macaw
Blue And Gold Macaw
Blue Throated Macaw
Military Macaw
Red Fronted Macaw
Scarlet Macaw
Green Winged Macaw
Hyacinth Macaw
Glossary of Common Parrot Terms
This article is about how to teach a parrot to fetch. I will only cover the bare basics and get into more advanced object retrieves another time. The basic fetch trick involves giving an object to a parrot, saying fetch, and then the parrot carries the object and drops it into a receptacle. In a later update I will cover how to get the parrot to go to retrieve the object on its own but this most basic version simply involves handing it to the parrot.

Fetch is a basic trick that can be trained to any parrot. Even parakeets can learn how to fetch. The time span for teaching this trick can vary from a few minutes to a few weeks. Typically it should take 3-7 training sessions to get the most basic version of the trick learned. It is beneficial but not absolutely necessary that the parrot knows some basic tricks like target and wave prior to learning the retrieve.

To teach the parrot to fetch is pretty straightforward and simple. You give the parrot an object to hold and then place a bowl underneath and wait for the parrot to drop it. Catch the object in the bowl, click, and reward the parrot. Over many repetitions of this process, the parrot will learn that dropping the object earns it a treat. To teach the parrot specifically to drop the object into the bowl rather than just anywhere, let it miss the bowl when it drops the object from time to time and don't reward. This narrows down the demands specifically to dropping the object into the bowl.

While the first few training sessions simply involve dropping the object straight down or a slight turn of the head, you should eventually work on having the parrot walk across a perch to take the object from you and then to walk some more to drop it. I highly recommend using Parrot Training Perches for the initial training of this trick. By using this kind of stand you can eliminate distractions and alternate paths of travel. The parrot can pay attention to you and since it can only walk in two directions, increases the likelihood that it will bring the object toward the bowl rather than run off with it.

Here is video footage of the original training sessions of how I taught Truman the basics of fetch in just 3 training sessions:


Donovidge

Posted on May 20, 2013 01:00PM

My Indian Ringneck is learning a bit of fetch. He really initiated it himself and i managed to expand on it. He would fly down to my desk to steal objects presumably to get me to respond. Well at some point he showed interest in a wooden ball (that was his anyway). He would sling it around or pick it up and drop it off the side of the desk. I got to where I would say, "throw me the ball" while he was messing with it and hold my hand over the edge of the desk and if the ball landed in my hand he got a click and a treat.. if he flew off with it or missed my hand he got nothing. Sometimes he likes to actually throw the ball at me, and sometimes he rolls it, and sometimes he walks it over to me and places it in my hand. At first i gave him smaller treats for making the effort and larger treats for successes. Now I can roll it across the floor and he'll go back and get it. He's mostly locked into the idea of dropping it off the side of the desk, but i'm working on that by starting to put him in new locations around the house for it. I can tell when he's done playing because he takes it up to a nest he built (sorta built, don't ask) Anyway, the point here is that there is more than one way to train for this. Although I should change "Throw me the ball" to just "bring it here" that applies to all delivery methods and objects.
NivN

Posted on October 31, 2013 03:32PM

Hey Michael, I find you articles very helpful so first of all I wanted to thank you! Now, I have one question about the fetch trick.. I have psittacula and I bought a plastic ball with little holes like you used with Truman.. My parrot is afraid from the ball, what can I do to make him want to play and fetch it? Thank you very much
LadyFearless

Posted on October 26, 2014 09:38AM

thanks for all your video's it has been a lot of help. this is my first parrot im training and been going relatively good. she can wave and turn in both directions so far. but struggling with this one. she will take the ball, hold it and drop when i give the cue but as soon as i move the bowl she doesn't move with it she just stands still and drops it. i don't give her a treat when she does this but don't no how to get her to move to the bowl
Post Your Response