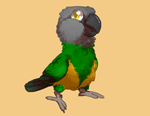 Kili
Type: Senegal Parrot
Genus: Poicephalus
Species: Senegalus
Subspecies: Mesotypus
Sex: Female
Weight: 120 grams
Height: 9 inches
Age: 15 years, 5 months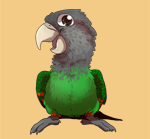 Truman
Type: Cape Parrot
Genus: Poicephalus
Species:Robustus
Subspecies: Fuscicollis
Sex: Male
Weight: 330 grams
Height: 13 inches
Age: 13 years, 8 months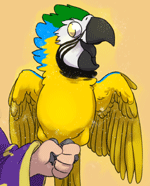 Rachel
Type: Blue & Gold Macaw
Genus: Ara
Species:ararauna
Sex: Female
Weight: 850 grams
Height: 26 inches
Age: 11 years, 5 months

List of Common Parrots:
Parakeets
:
Budgerigar (Budgie)
Alexandrine Parakeet
African Ringneck
Indian Ringneck
Monk Parakeet (Quaker Parrot)
Parrotlets
:
Mexican Parrotlet
Green Rumped Parrotlet
Blue Winged Parrotlet
Spectacled Parrotlet
Dusky Billed Parrotlet
Pacific Parrotlet
Yellow Faced Parrotlet
Lovebirds:
Peach Faced Lovebird
Masked Lovebird
Fischer's Lovebird
Lilian's (Nyasa) Lovebird
Black Cheeked Lovebird
Madagascar Lovebird
Abyssinian Lovebird
Red Faced Lovebird
Swindern's Lovebird
Lories and Lorikeets
:
Rainbow Lorikeet
Conures
:
Sun Conure
Jenday Conure
Cherry Headed Conure
Blue Crowned Conure
Mitred Conure
Patagonian Conure
Green Cheeked Conure
Nanday Conure
Caiques:
Black Headed Caique
White Bellied Caique
Poicephalus Parrots
:
Senegal Parrot
Meyer's Parrot
Red Bellied Parrot
Brown Headed Parrot
Jardine's Parrot
Cape Parrot
Ruppell's Parrot
Eclectus
:
Eclectus Parrot
African Greys:
Congo African Grey (CAG)
Timneh African Grey (TAG)
Amazons:
Blue Fronted Amazon
Yellow Naped Amazon
Yellow Headed Amazon
Orange Winged Amazon
Yellow Crowned Amazon
Cockatoos:
Cockatiel
Galah (Rose Breasted) Cockatoo
Sulphur Crested Cockatoo
Umbrella Cockatoo
Moluccan Cockatoo
Bare Eyed Cockatoo
Goffin's Cockatoo
Macaws
:
Red Shouldered (Hahn's) Macaw
Severe Macaw
Blue And Gold Macaw
Blue Throated Macaw
Military Macaw
Red Fronted Macaw
Scarlet Macaw
Green Winged Macaw
Hyacinth Macaw
Glossary of Common Parrot Terms
| | | |
| --- | --- | --- |
| | | Thursday February 27th, 2014 |
This is a special edition of the Trained Parrot blog coming to you from Baghdad, Iraq. Kili & Truman are at my old place, Santina still in quarantine in my new place, and I'm in Iraq. Yet everyone is doing just fine. The reason is that all of my birds have been accustomed to my absence beforehand, including Santina who I got just 2 months ago. I am also fine, knowing that they are handling things with ease.

Obviously Kili & Truman have been used to me going away at times since I've had them as babies. But Santina is different. She's a 14 year old rescue macaw that has known a single home, a rescue, and my home just recently. I did not want to chance coming home to a plucked bald bird. Although I have had this Green-Winged macaw just briefly, she has already bonded to me. So without preparation, my absence could be traumatizing.




Since shortly after acquiring Santina, her preparation for my eventual absence had begun. For the first week or so, I was careful to build schedule, routine, and trust. But once she took to me, the importance of preparing for my absence was even more essential than further taming and bonding. Having a parrot melt down in your absence is even worse than having insufficient bonding. Over-bonding is something best avoided because the psychological ramifications on the parrot in your absence would be devastating.

I talk about absence rather than vacations because there can be many different reasons why your parrot doesn't see you when it may expect to. It could be coming home late, meeting a friend, having a situation to deal with, getting injured/hospitalized, or just having something else that needs to be taken care of. So as much as this article is about preparing a parrot for being absent on vacation, it is also about preparing your parrot for you being gone for any reason.

The first steps in preparing Santina for my eventual absence was to break routine schedule from time to time. Most days I would play with, train, and take care of her at around the same time. Well some days I would do this an hour earlier or later than usual so that she would not absolutely expect me at a certain time. As I removed my own constraints on the timing of her care, I would even go so far as to skip occasional sessions entirely or come at a completely unexpected hour.




When my friend Ginger was in town, that really turned things upside down. Some days we spent a lot more time with Santina and other days I did not do anything with her at all. Ginger and I were busy running around town so this was a healthy introduction to my absence for Santina at the same time.

Usually I don't intentionally skip sessions with my birds. Life happens and I just let it. I try to be routine and there for them 6 out of 7 days a week. Normally I avoid making plans that make me miss my normal parrot sessions but once in a while I allow this to happen full knowing that it is the best thing for my birds in the long run. If I didn't occasionally have reasons to miss my bird sessions, then I would intentionally do so from time to time because it is so important for their long term well-being. But since there are naturally occurrences for this from time to time, I just allow them to happen and don't have to go out of my way to skip bird time.

In this way, little by little, Santina became accustomed to the fact that I usually come to spend time with her at certain times but not always. In the week prior to my departure, I was very busy catching up on work and preparing to leave. This again caused me to miss or delay bird sessions and helped make the transition from being there with her for extensive periods twice a day, to being gone much smoother. Of course I have someone taking care of her while I'm gone but obviously it's not the same. So I began skipping single sessions and at times even both sessions in a day so that she would not be surprised when I was not there at all. On the other hand I also started transitioning in my brother who would be taking care of her while I would be away. Kili & Truman have been through the routine countless times so I did not bother doing anything at all to prepare them this time. I'm sure they had it all figured out from the moment they saw me crack out the suitcase and they were just eagerly awaiting party time the moment I'd be out the door. With Santina, I took stronger precautions as this would be the first time I left her since coming home from the rescue.

Here are some tips for preparing your parrot for your absence:
-Practice throughout the year by occasionally not showing up at normal parrot times
-Keep routines but sometimes mix them up
-Take your parrot places because this prepares it for greater changes
-Socialize your parrot to other people so they can be cared for by others
-Put lots of favorite toys in the cage a week or two before you go
-Ease the transition prior to your departure (if planned) by having the care taker fill a greater role

The most important thing is to start this process NOW! Don't wait until the day or even week before you need to be away to start preparing your parrot. Begin now. Whether or not you have trips or events planned down the line, it is imperative that you begin preparing your parrot for your absence now because it will eventually happen and quite likely unpredictably. To prevent agony to your bird and for your own peace of mind during that inevitable time when you cannot be with them, make these preparations now. And take a break from your birds from time to time. It will do everyone some good and provide for a healthy long lasting relationship.



Part of: General Parrot Care, Blog Announcements, Macaws, Rescue
Santina Green-Winged Macaw Travel Absence Iraq Baghdad
Comments
Post Your Response
sighthoundlover

Posted on February 27, 2014 07:27PM

Michael, Thank you so much for this post. I have a 9 year old Maximillian Pionus that I adopted 2 years ago and although I have taken two short trips to New York in that time where I left him for 4 or 5 days at a time, this time (in May) I plan to go to Italy for 17 days. I have been worried what he will be thinking and how he will adapt during what will be the longest separation we have had. I work 5 days a week so he is used to me coming and going during the week and then leaving to run errands on weekends (although he lets me know he doesn't like it when I go out on weekends and shows me by puffing up and spreading his tail . I have to say though that when I returned home from the last trip, I felt he was extremely happy to see me - although it might have been projection . In the past I have had a young girl well-versed in all thing parrot take care of him in my home but unfortunately or fortunately as the case may be, she is getting married and taking a honeymoon at the exact time of my vacation. This time I will board him at my vet's office. He's never been boarded there before - another concern I have. I even thought that maybe I should put him there for a weekend in March and one in April just so he knows I come back to get him from there and he isn't there permanently. These things concern me because I am his third owner and he has a forever home with me and I want him to feel and know that. Any comments, advice or additional suggestions you have would be greatly appreciated. What on earth are you doing in Iraq?



Michael

Posted on February 27, 2014 07:54PM

Part of my approach is just not to worry too much. I don't treat my birds like babies. I give them the benefit of the doubt that they can handle things. By having such an attitude, they get the opportunity to learn to handle things and it works out. I think the more dangerous attitude is the "oh my parrot will be too upset if I go away for a few days so I don't." That's the kind of parrot that does not learn to deal with things and probably can't handle it. I'm gonna have another post soon with some more info.



ginger

Posted on February 27, 2014 08:50PM

SightHoundLover... One thing I'd like to mention about leaving a bird for so many days is that it might be easier on you, and the bird, is if you prepare him for boarding. Here is a way that I advise my adopters... Take your bird in and board him overnight. Then wait a week and do it again, but this time leave him two days. For an extended period, like the one you are planning, I would recommend another stay for a few days (maybe three) and that should do it. I know it can be an additional expense for you, but I know that this does work well for many owners and their birds. Another thing is to bring something that is familiar to your bird, like a toy that he likes. Unless, of course, you are boarding him with his cage. I know that Michael thinks I baby my birds, and maybe I do, but I just think that by preparing them in this way it helps them for the future. Then, if you need to board them in an emergency for some reason, they will already understand the routine. It is just another thing that you can do to help you bird become accustomed to things outside his small comfort level. Oh, and Michael, of course this was a great article. You always do such a great job. But in this case it was awesome because you mentioned me.
sighthoundlover

Posted on March 1, 2014 12:30AM

Thank you Ginger. That's just what I had been thinking. Maybe board him at the vet's for 2 or 3 days and then the following month, board him again for 3 or 4 days. Then, in May, board him during my actual 17 day trip. It is an added expense but I think it would allow him to adapt to the change and see that I return. It's my first long trip since I've had him and this is all probably more for my peace of mind than anything else - our pet children are probably a lot more resilient than we give them credit for. In any case, I appreciate the suggestion!! Thank you!!
Yoven

Posted on March 1, 2014 03:47PM

Hey buddy, i understand what kind of bird u want, that is popular in iraq and kuwait, but you can also find its in kuwait, idk wht the bird called yet, but that bird get friendly with you in less then weeks... but he's not clever like the parrot family, yet he can fly to you, he loves you, and cute! but boring...and that i have it at home but i just cannot train that bird!! ---> (not the ones i was talking about on top of my subject)
sighthoundlover

Posted on March 10, 2014 10:19AM

Today I am taking my Pionus Verdi to the vet's for boarding for 2 days as part of the preparation for my Italy trip in May. For anyone who's interested, I'll post here to say how it went after I pick him up on Wednesday.



ginger

Posted on March 10, 2014 08:07PM

I'm interested. I'd love to know how things are going. Keep me posted.
sighthoundlover

Posted on March 15, 2014 12:15PM

I boarded Verdi (my Pionus) at the vet's on Monday and picked him up on Wednesday afternoon around 4:30 PM. When he saw me and heard my voice he immediately got excited. I opened the cage door, petted and kissed him excessively, he got on my shoulder, looked at me and said "I love you!". Now you can't get any better than that !! It was a very successful board and everything was completely back to normal at home. I plan to do this again in April - not sure if I'll do the same 2 days or extend it a little longer (my May trip will be for 17 days). I'll post again after the April board.
Post Your Response