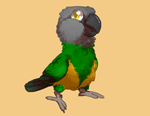 Kili
Type: Senegal Parrot
Genus: Poicephalus
Species: Senegalus
Subspecies: Mesotypus
Sex: Female
Weight: 120 grams
Height: 9 inches
Age: 14 years, 9 months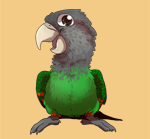 Truman
Type: Cape Parrot
Genus: Poicephalus
Species:Robustus
Subspecies: Fuscicollis
Sex: Male
Weight: 330 grams
Height: 13 inches
Age: 13 years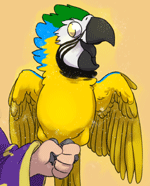 Rachel
Type: Blue & Gold Macaw
Genus: Ara
Species:ararauna
Sex: Female
Weight: 850 grams
Height: 26 inches
Age: 10 years, 9 months

List of Common Parrots:
Parakeets
:
Budgerigar (Budgie)
Alexandrine Parakeet
African Ringneck
Indian Ringneck
Monk Parakeet (Quaker Parrot)
Parrotlets
:
Mexican Parrotlet
Green Rumped Parrotlet
Blue Winged Parrotlet
Spectacled Parrotlet
Dusky Billed Parrotlet
Pacific Parrotlet
Yellow Faced Parrotlet
Lovebirds:
Peach Faced Lovebird
Masked Lovebird
Fischer's Lovebird
Lilian's (Nyasa) Lovebird
Black Cheeked Lovebird
Madagascar Lovebird
Abyssinian Lovebird
Red Faced Lovebird
Swindern's Lovebird
Lories and Lorikeets
:
Rainbow Lorikeet
Conures
:
Sun Conure
Jenday Conure
Cherry Headed Conure
Blue Crowned Conure
Mitred Conure
Patagonian Conure
Green Cheeked Conure
Nanday Conure
Caiques:
Black Headed Caique
White Bellied Caique
Poicephalus Parrots
:
Senegal Parrot
Meyer's Parrot
Red Bellied Parrot
Brown Headed Parrot
Jardine's Parrot
Cape Parrot
Ruppell's Parrot
Eclectus
:
Eclectus Parrot
African Greys:
Congo African Grey (CAG)
Timneh African Grey (TAG)
Amazons:
Blue Fronted Amazon
Yellow Naped Amazon
Yellow Headed Amazon
Orange Winged Amazon
Yellow Crowned Amazon
Cockatoos:
Cockatiel
Galah (Rose Breasted) Cockatoo
Sulphur Crested Cockatoo
Umbrella Cockatoo
Moluccan Cockatoo
Bare Eyed Cockatoo
Goffin's Cockatoo
Macaws
:
Red Shouldered (Hahn's) Macaw
Severe Macaw
Blue And Gold Macaw
Blue Throated Macaw
Military Macaw
Red Fronted Macaw
Scarlet Macaw
Green Winged Macaw
Hyacinth Macaw
Glossary of Common Parrot Terms
| | | |
| --- | --- | --- |
| | | Thursday January 26th, 2017 |
On a recent trip to South Africa, I had the amazing opportunity to see Cape Parrots in the wild. I also got to meet Sanjo from the Cape Parrot project to learn more about the project and about the wild Cape Parrots.

The South African Cape Parrots are restricted to a fairly small habitat, the subtropical cloud forests of the eastern Cape. It is a dense wet forest environment with frequent mist and rainfall. The temperatures are cooler because of the 3,000ft+ elevation. It can be fairly warm in the summer but in winter time, these birds can be dealing with below freezing conditions.

This is why it should be no surprise that it was very difficult to get to see them. Not only did we have to travel to a fairly remote part of South Africa, that was only the beginning! Their population is very small and they are quite hard to find. They are considered quite large for an African Parrot, however, they are still a medium parrot at best when you compare with Cockatoos and Macaws. Green parrot, green trees, misty forest, and a broad range makes them a tremendous challenge to see. They travel for many miles from roosting to feeding sites so there is only a brief span of time when you can see them where they live. At night they are sleeping and in the day time they are spread out feeding. Only in the early hours of morning and at dusk can you catch a glimpse of them heading out and coming back.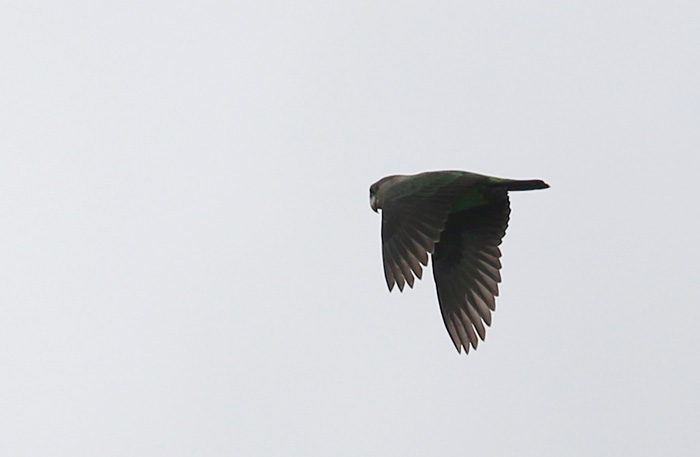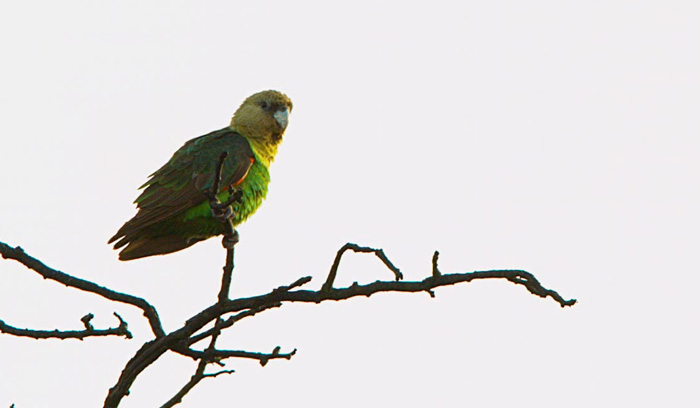 With the help of Sanjo from the Cape Parrot Project, we set out early in the morning looking for the birds. We woke up and were out by 5AM to catch them as the sun was rising. Unfortunately a thick fog blanketed the entire area. We drove to higher ground to break out of the fog but still could not find them. We walked around several places known to be visited by Capes before we so much as heard a single call from them. Following the calls we saw a small group flying and followed them to the tree they finally landed in. We were lucky to be standing in enough of a clearing to even see where they went. Standing in the forest, it would be impossible to track them.

It was a joy to watch flocks of Capes flying and to listen to their familiar calls. The beautiful South African Cape Parrots are truly a sight to behold. But finding and seeing them is extremely tricky. Although they stay in groups, they aren't quite a "flock bird." The trees they land on are high and dense. They aren't ostentatious like Conures and other parakeets I've seen in the wild. Nor are they shy like Senegal Parrots and other small Poicephalus. They really do fall somewhere in between. They are certainly more shy and prone to spook than other types of parrots but at the same time, they are the most courageous of the Poicephalus genus.

What does that mean? Well, in regards to how close you can approach them or how predictable their movements are, that is how I rank them to be somewhere in between. It was not impossible to get footage of them but it was quite difficult. You have to be very patient, know where to look, and be even more patient still. It took us hours of observation across two days to get to spend just about 15 minutes in their majestic presence. And then, as quickly as they had come, they were gone.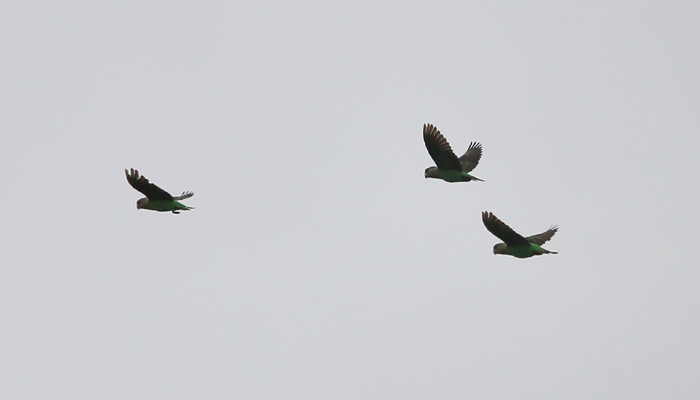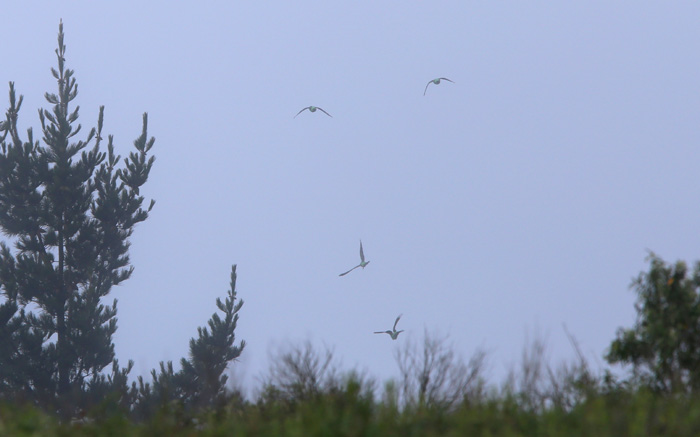 It was so exciting to watch the resemblance of these wild Cape Parrot to Truman, my pet Cape Parrot at home. I got to see preening, calling, and playing behavior in the wild Capes that was essentially identical to the behavior that Truman exhibits. It was just so familiar even though I had never seen a South African Cape in person before.

What is the difference between Truman and the Cape Parrots in South Africa?
Truman is a different subspecies. He is definitely not the Poicephalus robustus robustus subspecies. He is one of the other two and most likely the Brown-Necked subspecies (Poicephalus robustus fuscicollis) which is endemic to the semi-rainforests of Sierra Leone region of West Africa. You will notice in the pictures that Truman's subspecies is a bit larger while the South African Cape Parrots have an olive yellow head. Otherwise, they do look the same.

The South African Cape Parrots are extremely rare to find in aviculture or captivity. The ones you find as pets in the US and Europe are of the Brown-Necked Fuscicollis or Grey-Headed Suahelicus subspecies. They are more similar to each other than to the South African Robustus Cape Parrot. We encountered one Robustus Cape at a bird park in Johannesburg and heard that there are a few breeders of them in South Africa. I have yet to see or hear of any Robustus Capes outside of South Africa.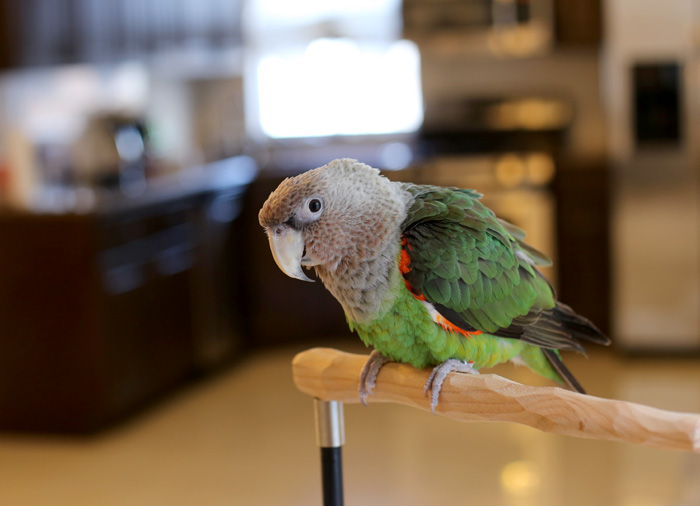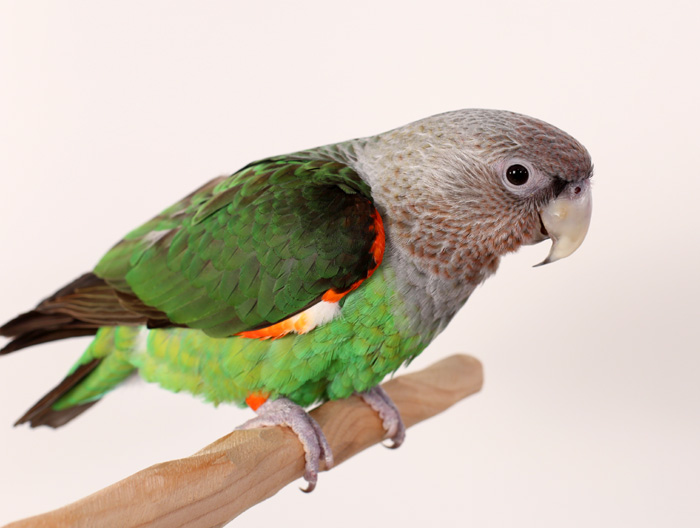 There has been research done by South African researchers and the Cape Parrot project to reclassify the South African Cape Parrot (P. r. r.) as a separate species from the two northern subspecies. They hope that by naming it a separate species, it could end up on the endangered species list and receive CITES protection. However, even as of 2016, Bird Life International and the IUCN Redlist, have not accepted there to be sufficient evidence to name them separate species. Heck, the differences between Timneh and Congo Greys or between Jardine's Parrot subspecies are far more significant than between the most distant Capes.

The biggest difference between South African Cape Parrots and the other two subspecies are not in their appearance but in their living habits. The South African Capes rely almost religiously on the yellowwood tree. They refuse to nest in anything but natural cavities of the yellowwood tree and they also rely on it for food. Not only do they eat the seeds of the fruit of the yellowwood tree, it has been discovered that properties of the yellowwood fruit help give these birds an immune system boost that helps them battle a beak and feather disease epidemic. Their survival depends on the yellowwood tree for fighting disease as well as for feeding and nesting.

Still, regardless of classification, science, politics, or what you call it, the fact that the South African Cape Parrot is critically endangered still stands. There are fewer than 2,000 known South African Parrot Parrots remaining. Deforestation of their peculiar habitat, widespread disease, and some remaining poaching is making their survival questionable. The Cape Parrot Project is performing research to learn more about these birds in order to focus best efforts on their protection. A main focus is replanting yellowwood forests to protect the Capes' natural habitat. The Cape Parrot project receives funding through donations to the Wild Bird Trust.

Here is an interview with Sanjo about Capes and the Cape Parrot Project along with my footage of Cape Parrots in the wild:

| | | |
| --- | --- | --- |
| | | Sunday December 18th, 2016 |
It has been a tumultuous few years between adopting Santina, inheriting Rachel through marriage, and having sick birds all over the house. But now, for the first time in over a year, Truman gets reunited with the flock.

The last time Truman had seen Rachel (not counting a brief distant encounter at the wedding), was while I was birdsitting Rachel after the NYC Parrot Adventures Group outings at which I met Marianna. When Marianna moved in with Rachel, we opted to keep Rachel separate while the original three (including Santina) were dealing with health problems in the bird room. Every time we medicated the three, it would appear that Kili and Truman would do better but Santina's condition would return and then some weeks later, everyone else was back to square one.

We decided to experiment with quarantining every bird from each other. This was very difficult and time consuming with hand washing or showering between visiting each bird. After several medications and a lot of time passing, Kili and Rachel improved. Santina was still doing badly and Truman was a bit questionable. So, we had to juggle birds around and do a lot of sanitizing in order to get Rachel and Kili together in the bird room and Santina and Truman quarantined separately.

This September, I rehomed Santina to Lori in Pittsburgh. This was an effort to harmonize my own flock while getting Santina and Lori a wonderful pet situation. Mostly, Truman was doing better but now and then he was still symptomatic. We ended up giving him one more round of medication before going any further.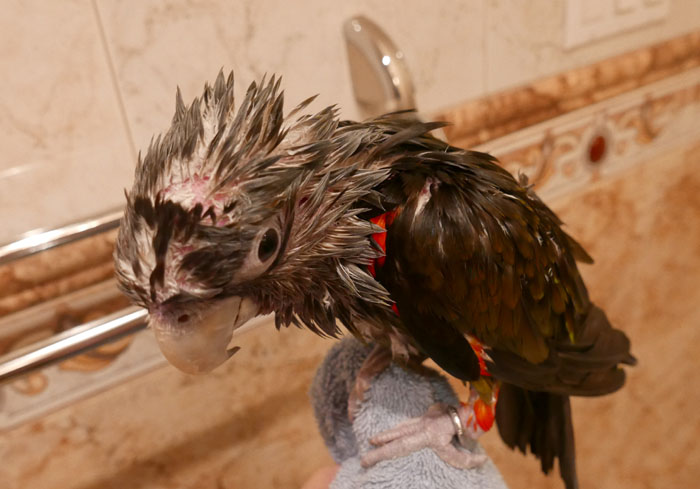 Without contact with Santina and since medication, the birds appear to be doing well so now it is time to have Truman united with Kili and Rachel. We thoroughly cleaned and sanitized Truman's cage, replaced all of his toys/perches with new ones, and were ready to move him in with the other birds. Just one more thing to do, to give Truman a really thorough washing. Marianna got him really soaked and clean before reintroducing him to the flock.

This is not the first time Truman was reunited with Kili. There was the time Truman was lost for a few days. Also, there were times that Marianna would take Truman to her home for some days at a time. So, it was not a massively surprising situation for Kili, but after going so long without him, she certainly displayed a lot of excitement. Rachel was curious but mainly indifferent. For now he will stay in the same room but a little bit separate during the adjustment period. Check out this video of the Trained Parrot flock reunion:


A year ago today, I married the love of my life. As we celebrate our one year wedding anniversary, I would now like to share with you memories of that special day.

Sorry that I didn't have a chance to post about the wedding sooner. Right after the wedding we left for three weeks to Australia on honeymoon. Then when we got back we had a lot to catch up on and married life to adjust to. I spent a lot of time editing together footage of Australia parrots so that set me even further behind on getting to the wedding footage. By the time I had a chance to work on the wedding video, it was the harsh middle of winter. I was just posting pictures of parrots and snow. Posting footage of a summer wedding would just be out of place that time of year. So we decided it would be best to wait till August and share with you the wedding on the same day, one year later.

The quick version of how I met my bride: Truman, that little flying monkey, got lost in New York City. I received help searching for Truman from a random stranger. Him and I started the New York City Parrot Adventures Group and hung out in Coney Island with our parrots. Marianna, who already had a Blue and Gold Macaw, learned of these outings through my youtube channel. She joined the group and started coming to our parrot outings. She fell in love with Truman, and I with her, and she with me. Long story short, we ended up getting married. Full story of how we met is here.

Fast forward to August 8, 2015. It was a cool summer morning in northern New Jersey. Crickets were chirping and songbirds singing. A thin layer of fog formed on the lake that would serve as the backdrop for the wedding ceremony. A few of us spent the night at the lakehouse for an early start. But the majority of guests (and the birds) began arriving in the later part of the morning. Our bird friends Ginger and Kristine were responsible for bringing all of the parrots from our house that day. Once our parrots arrived, we went out to take some pictures.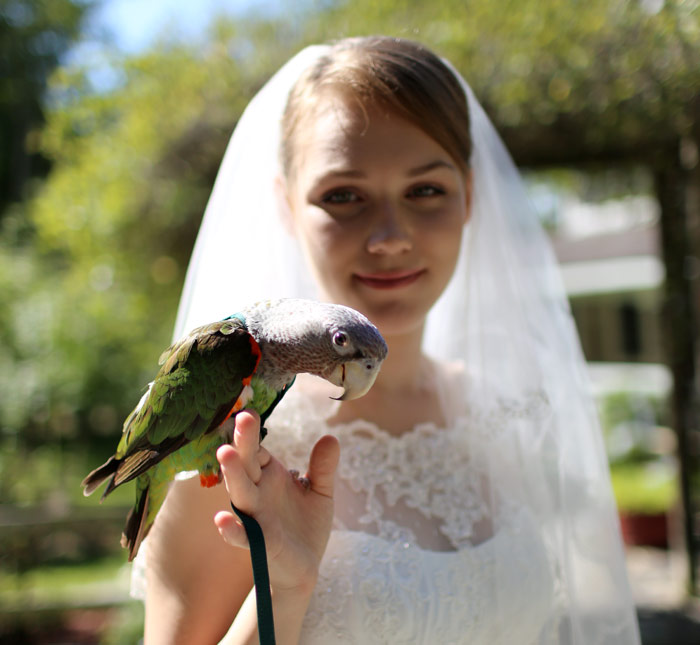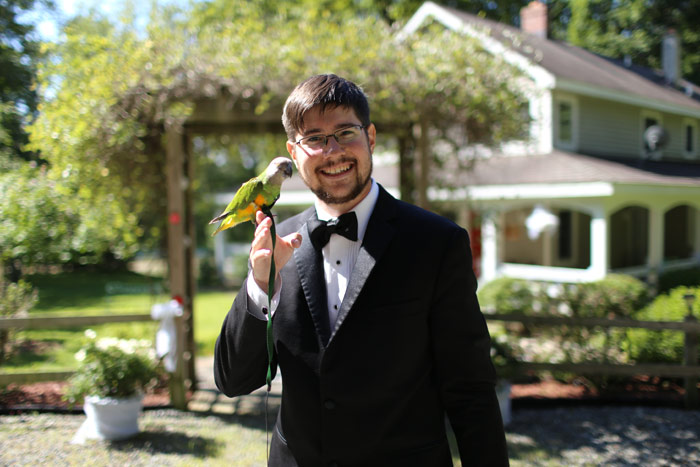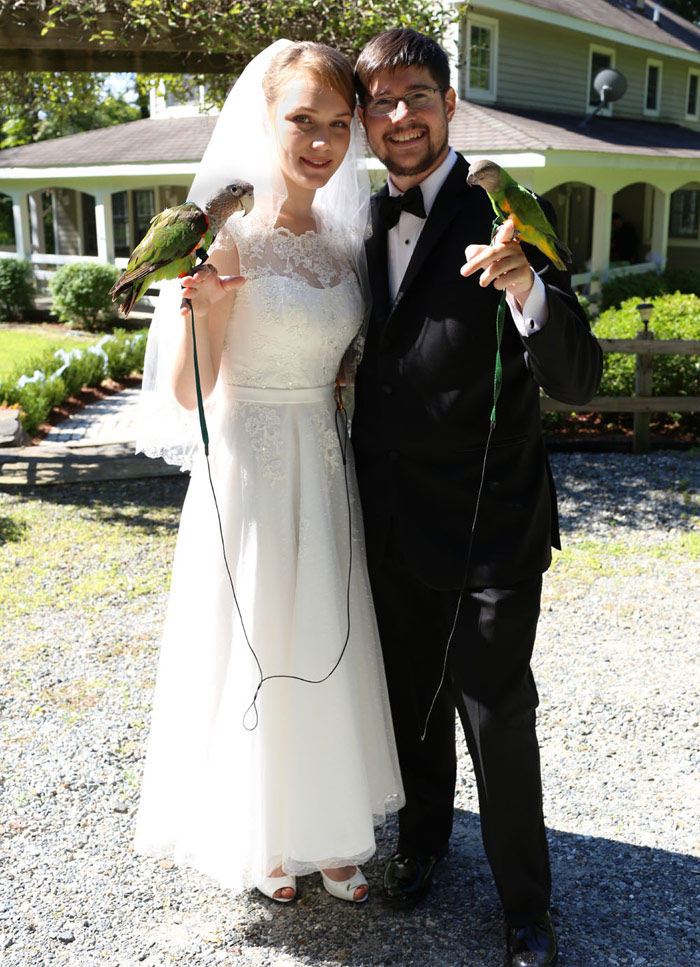 We continued taking photos with family and friends until the ceremony which started at noon. Kili and Truman not only were the ring bearers but they were also the wedding party. Kili was the best bird and Truman was the bird of honor. It is understandable that Kili would not allow to be any bird but the best. Rachel and Santina, the big macaws, were placed on specially decorated Training Perches at the sides.

At the lead of the bridal processional, Kristine and Ginger brought out the wedding party parrots. Then came the bride with her father. The ceremony was held on a shady peninsula that stretches into the lake. The ceremony went much like any other with the "I dos" and promises of eternity. Kili and Truman helped provide the rings.

At the ceremony's end, we had a video drone fly over to get aerial footage of the wedding ceremony. The birds welcomed the robotic whirlybird. It was no surprise to Truman as he had been exposed to flying drones before.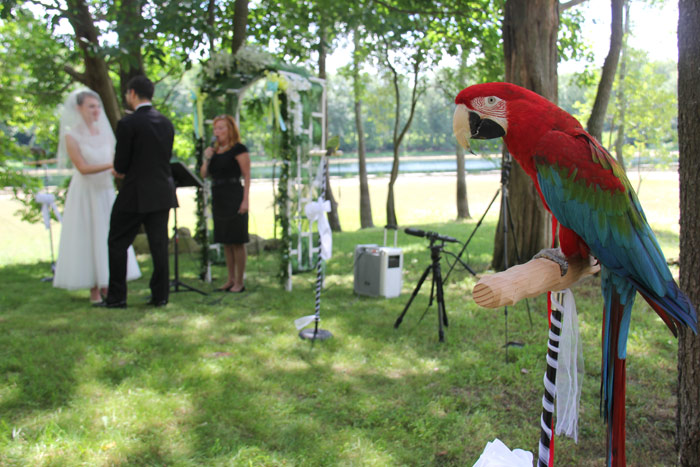 We had a tent erected over the deck for the reception. It provided cool shade in the August sun while everyone sat at one very long table. Bacon wrapped scallops, ginger lamb bites, and steak were catered to everyone's delight. For desert, guests dipped fresh fruit and marshmallows in a chocolate fountain. Blue and Jewel from the movie Rio, topped the wedding cake.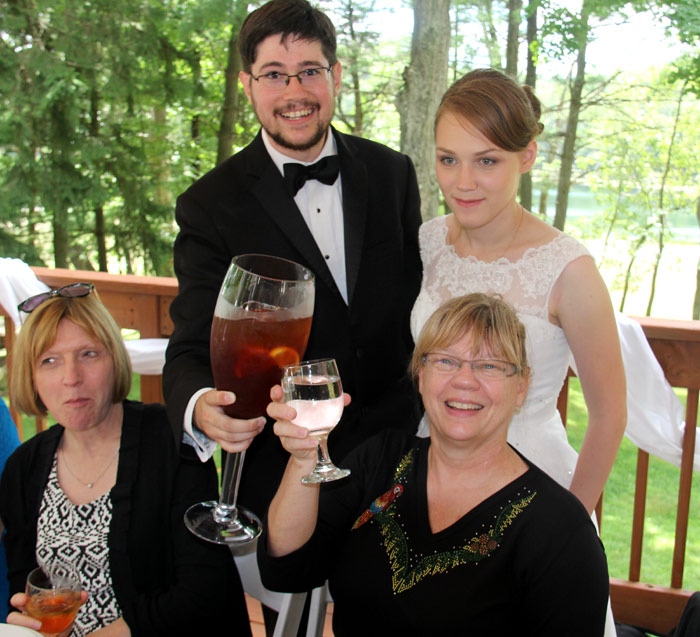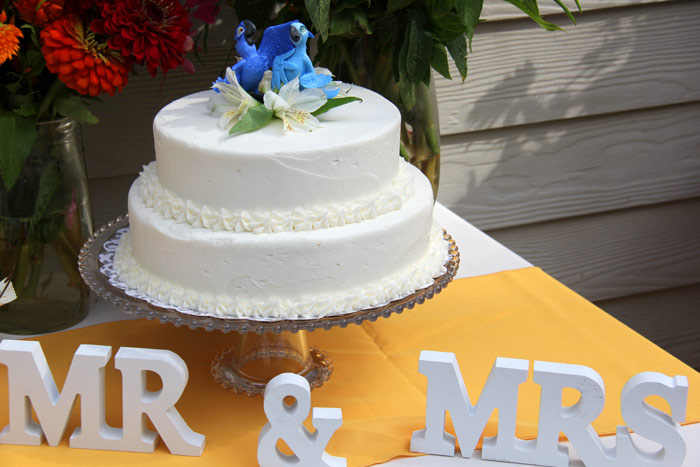 Marianna received Truman as a wedding gift. It was his calling all along. His purpose was to make a special someone in my life happy. And like wine, with age he gets better. When he was young, he was pretty difficult. Going through his terrible twos (and more like terrible twos, threes, and fours), he was a menace. But with those years behind him and lots of training, Truman is as good a pet as ever. Marianna was ecstatic to receive this feathered monkey of joy on her wedding day.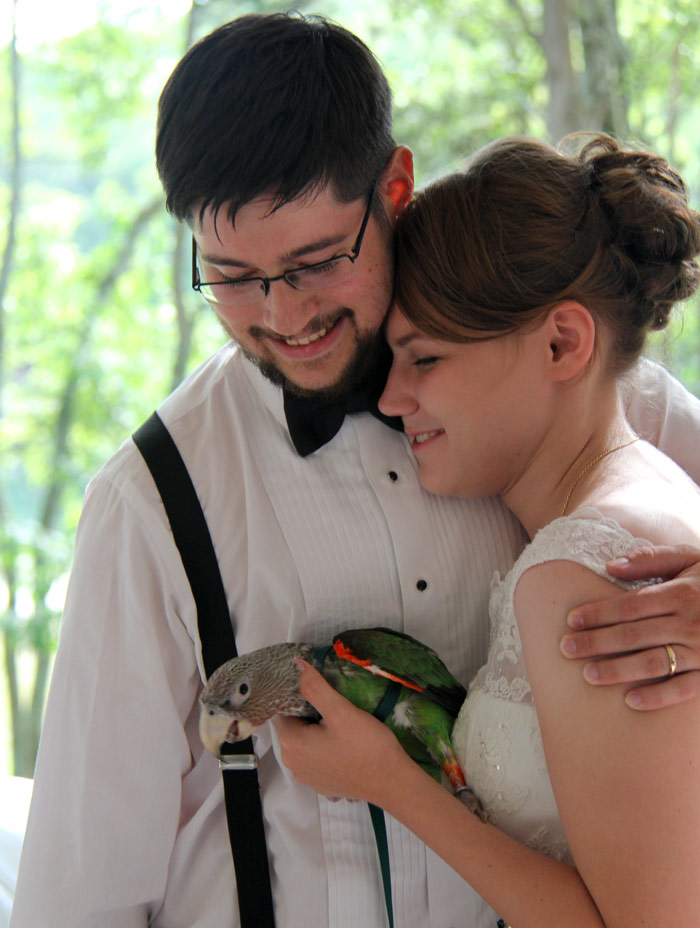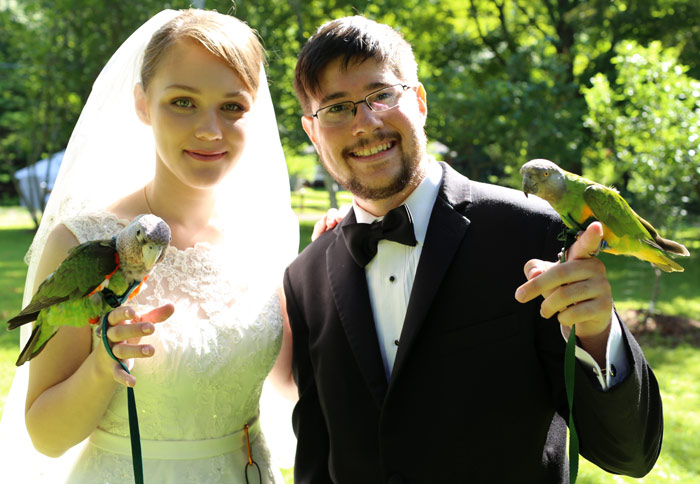 After the reception, my bride and I boarded a white stretch limo. It took the long scenic route to the airport while many of the guests took a shortcut to get there sooner. The limo arrived to the airport and drove across the runway. Our guests greeted us at my decorated airplane. We took some pictures and then transferred from our limo ride to the airplane. The guests waved goodbye as the newly married Mr. and Mrs. Sazhin flew off into the sunset. Dreams do come true!


Here is a video where Kili and Truman do interviews of different people around Central Park in New York City and what they know about parrots.


| | | |
| --- | --- | --- |
| | | Thursday December 18th, 2014 |
This article is about giving medication to multiple parrots in a multi-parrot home. For instructions on giving medication to a single (particularly untrained) parrot, I previously wrote about giving medication to my Green-Winged Macaw.

My flock was diagnosed with Clostridium so now they all have to take medication for 21 days. Santina previously had it and received treatment but it did not stop the other birds from catching it as well. It is not clear if it is the food, environment, or other bird that is the cause. But regardless the entire flock needs to be medicated. The medication is administered orally once a day. The trouble is the duration for which it has to be given. This is a long enough of a period that the parrots must be trained to accept medication. Clever trickery may get you by a few days or a week. But anything longer and the parrot must be on board.

In most cases where a parrot requires medication in a multi-parrot home, the rest of the flock should receive the medication even if they don't show symptoms. My birds all seem to have it because they have been having smelly poop.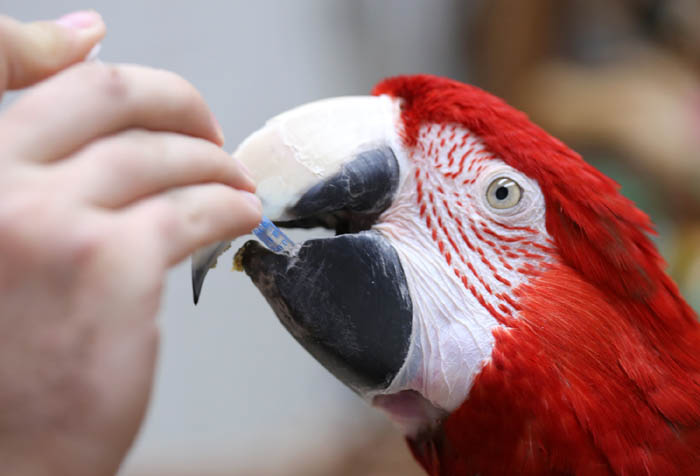 So on to the process of medicating a bunch of birds together. This may seem like a lot of work but actually if done right makes things a heck of a lot easier! Using modeling and a healthy dose of competition can get the birds to be more excited about doing something undesirable (like taking medication)!

I medicate the entire flock together and have turned it into a fun game for them. I have been taking advantage of each of my bird's strong points while avoiding their weaknesses in this medication process. This makes it appear to each of the other birds that the one they are watching really loves getting medication.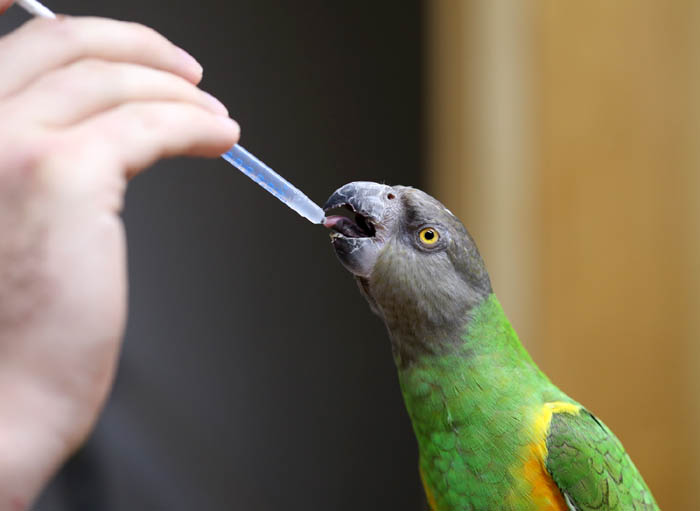 Kili is a super trained parrot so for her I set taking medication to be like a trick. I taught her to target the syringe, then to sip water, and finally to sip and swallow. Thus when I make the unexpected switch to real medication she just takes it. Santina is a great follower. She likes to do what the others are doing. So between the original medication sessions that I had with her modeling off of me and the recent ones of modeling from the other birds, she is doing very well. Truman is a bit of a runt and doesn't want to take medication but I've been working past that with him as well. He drinks water like a camel so I've been letting him get thirsty and then enjoy drinking a lot of water from the syringe. Because each bird appears eager to participate in the medication process (although each for different reasons) it encourages the remaining birds to cooperate and try harder. Nobody wants the competition to get more!

Here are some more elements that have made the process so successful. I practice the "medication process" with just water in the syringe twice a day although medication only comes once. For every 1 sip of medication, the birds are probably getting 40 sips of water. This makes the undesirable medication not only unpredictable but also fairly negligible in the greater scheme of getting water from the syringe. The birds get pellets as treats so this makes them more thirsty for water sips from the syringe. The pellets also soak up medication in their beaks and ensure that it is swallowed. Also I stopped providing water in the cage and have been giving it by hand only to ensure that the birds desire fluids at the necessary time. Spitting out and not receiving the medicine is far worse. So instead I let them sip some of their drinking water from the syringe and the rest they get from a bowl in my hands. This is similar to when we travel so they are perfectly used to it.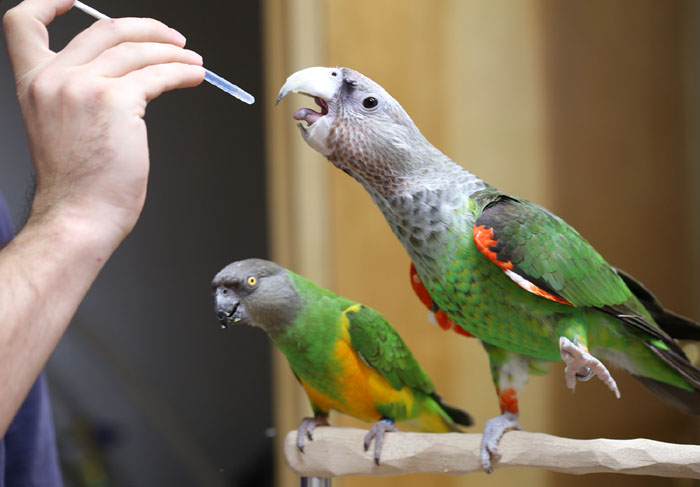 The thirstier/hungrier birds are far less picky. They used to spit out pellets that got medication on them from inside their beaks. Truman in particular would shake his head and spit out the medication. But now with this training system in place, the birds are far more cooperative. With practice, they now know the routine very well and are even more cooperative. In their competition with each other to get water and treats, they seem to forget their resistance to the medication and it is a win/win for everyone.

It is important to understand that the objective is not to simply get the medicine into the bird but to succeed in completing the entire medication process. Tricking or forcing the bird to take medication will only work a few times. In an emergency, you do what you gotta do. But if the bird is in condition to be trained, it is far far better to have a bird that wants to take medication than a bird that flies away or bites you because it knows what is coming. This is why even after the birds get the real medication, I keep practicing with them with the water. In fact, I would say they get the real medication about a quarter of the way into the session. This is when motivation is highest and it makes it least predictable as to when it will happen. Since they all come over to me when they see a syringe, I know I have succeeded in applying positive reinforcement to taking medication!