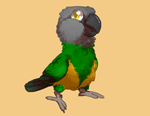 Kili
Type: Senegal Parrot
Genus: Poicephalus
Species: Senegalus
Subspecies: Mesotypus
Sex: Female
Weight: 120 grams
Height: 9 inches
Age: 15 years, 5 months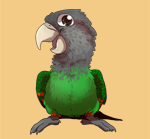 Truman
Type: Cape Parrot
Genus: Poicephalus
Species:Robustus
Subspecies: Fuscicollis
Sex: Male
Weight: 330 grams
Height: 13 inches
Age: 13 years, 8 months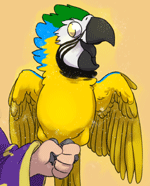 Rachel
Type: Blue & Gold Macaw
Genus: Ara
Species:ararauna
Sex: Female
Weight: 850 grams
Height: 26 inches
Age: 11 years, 5 months

List of Common Parrots:
Parakeets
:
Budgerigar (Budgie)
Alexandrine Parakeet
African Ringneck
Indian Ringneck
Monk Parakeet (Quaker Parrot)
Parrotlets
:
Mexican Parrotlet
Green Rumped Parrotlet
Blue Winged Parrotlet
Spectacled Parrotlet
Dusky Billed Parrotlet
Pacific Parrotlet
Yellow Faced Parrotlet
Lovebirds:
Peach Faced Lovebird
Masked Lovebird
Fischer's Lovebird
Lilian's (Nyasa) Lovebird
Black Cheeked Lovebird
Madagascar Lovebird
Abyssinian Lovebird
Red Faced Lovebird
Swindern's Lovebird
Lories and Lorikeets
:
Rainbow Lorikeet
Conures
:
Sun Conure
Jenday Conure
Cherry Headed Conure
Blue Crowned Conure
Mitred Conure
Patagonian Conure
Green Cheeked Conure
Nanday Conure
Caiques:
Black Headed Caique
White Bellied Caique
Poicephalus Parrots
:
Senegal Parrot
Meyer's Parrot
Red Bellied Parrot
Brown Headed Parrot
Jardine's Parrot
Cape Parrot
Ruppell's Parrot
Eclectus
:
Eclectus Parrot
African Greys:
Congo African Grey (CAG)
Timneh African Grey (TAG)
Amazons:
Blue Fronted Amazon
Yellow Naped Amazon
Yellow Headed Amazon
Orange Winged Amazon
Yellow Crowned Amazon
Cockatoos:
Cockatiel
Galah (Rose Breasted) Cockatoo
Sulphur Crested Cockatoo
Umbrella Cockatoo
Moluccan Cockatoo
Bare Eyed Cockatoo
Goffin's Cockatoo
Macaws
:
Red Shouldered (Hahn's) Macaw
Severe Macaw
Blue And Gold Macaw
Blue Throated Macaw
Military Macaw
Red Fronted Macaw
Scarlet Macaw
Green Winged Macaw
Hyacinth Macaw
Glossary of Common Parrot Terms
| | | |
| --- | --- | --- |
| | | Tuesday November 2nd, 2010 |
Getting your parrot accustomed to being held with a towel is a fairly important exercise. There will be times in its life that toweling will be necessary such as vet visits, grooming, drying, or frantic capture. Unfortunately most people go about toweling completely the wrong way and make their parrot more and more fearful of the towel. In this article I will tell you about why Truman became phobic of towels and how I trained him to be toweled in just three days.

After I had discovered that Truman was phobic of towels, I contacted his breeder and learned she had never toweled him. I suspected this by the fact that he was cautious around towels in the first place. I had never bothered toweling him myself since I got him as he is completely tame. He always stepped up and I was able to grab him, so I never even considered toweling him. However, during Truman's last vet visit, I noticed he was very uncomfortable being grabbed by a towel. The harsh treatment during the procedure probably contributed to his phobic response to towels. I realized that this towelphobia was serious when I walked past Truman with a towel and he took flight. I knew we would need to work on this.

First of all, I would like to say that toweling should never be the primary means of taking a parrot out of a cage or handling. This will only make the parrot more fearful of the towel and make the aggression you are trying to block with the towel even worse. While I do say in my taming guide that a towel could be used to extract the parrot out of the cage for the first time, positive reinforcement training must immediately be employed to overcome the distress caused by the circumstances. Such toweling should not be used beyond the first few times being taken out (or better yet avoided all together by targeting). The parrot should not be chased with, cornered, or trapped under a towel. All towel interactions should be positive.

I am horrified by the advice I hear given to newbies at pet stores and online about forcibly toweling the parrot regularly to make it used to handling. This is terrible advice not only because it is ineffective but also because it does not build a relationship based on trust. The parrot has no reason to like its human just because it has been broken to stop fighting a towel. And yet, this is possibly one of the most advised methods out there. Please do not use or advise toweling as a method for taming a parrot to handling. Instead, use my Taming/Training guide for a better approach. This Toweling article builds on that taming approach to extend it to toweling but is not a primary means of taming.

Just because you can capture/grab a parrot with a towel does not mean that you should. It is easy to break feathers or possibly a wing in such rough handling. These types of incidents elicit a fight or flight reflex and teach the parrot to be fearful both of you and the towel. Ideally, positive toweling should be introduced prior to any unavoidable negative toweling (vet, grooming, etc). If the parrot becomes accustomed that the majority of toweling is positive and the rare vet visit is unpleasant, the parrot will still remain towel tame. A big mistake that many people make is to only use the towel when necessary and therefore all towel interactions are averse.

The first step in towel taming a parrot is to let it observe the towel in a harmless way. How long this needs to be done will depend on how scared the parrot is of towels or new objects. I prefer to use a specific towel for parrots only but this is optional, just don't use a used towel because there could be mold on it. Begin by hanging the towel on a chair or placing it inconspicuously at a great distance from the cage for the first day. In the span of several days to a week, leave the same towel out close and closer to the parrot's cage. Once the parrot is used to the site of it, just walk around the cage area holding it but without much attention on the parrot. Definitely do not come straight at the parrot with the towel. Just walk around casually to and from the cage holding the towel and even play around with it. This will show the parrot that the towel is harmless.

The prior steps can be done with a completely untame parrot, however, to continue with towel taming, it is important that the parrot is already accustomed to coming out of the cage and stepping up. If it is not, follow the steps in my taming guide prior to continuing with towel taming.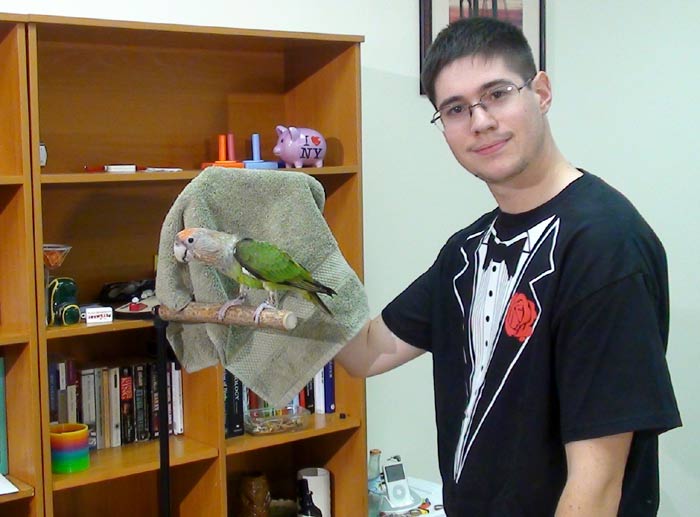 Now begins the formal towel training. I recommend putting the parrot on a Training Perch because it will keep it focused on you with limited space to go. The training perch will keep your hands free for manipulating the towel and parrot. Put the parrot on the perch. Once again show the towel from some distance and approach slowly. Hold the towel casually and not pointed straight at the parrot. Drape the towel over your shoulder or arm and handle your parrot normally. Cuing some tricks (such as targeting) and providing treats is a good way to get your parrot to relax in preparation for towel taming. Only at this point will you try to gauge your parrot's fear threshold to towels. Hold a small tip of the towel out and let the rest hang away. Slowly approach the small tip of the towel toward the parrot. The moment it begins to back away or attempt to bite, stop and hold the towel there for a few seconds. Withdraw the towel and reward the parrot with your other hand. It is important not to push too far to the point of eliciting biting or flight. If the parrot is given the chance to bite or fly away, it will become negatively reinforced for that response.

Continue the approach and hold method with the towel for several training sessions. Eventually you should be able to hold the tip of the towel closer and show a greater portion of it. The reason for showing just a small tip at first is to make it less big and frightening looking. But as the parrot becomes more familiar, you can show more. You will keep practicing this until you can gently touch the parrot's back with the tip of the towel. Lay a corner of the towel on the parrot's back and give it a toy or treat to play with while the towel is there. If the parrot still pays attention to the towel, you need to practice the previous steps further. But if the parrot entirely ignores the towel and enjoys the reward, negative reinforcement is no longer necessary because the parrot is not scared of the towel. What this means is that taking the towel away from the parrot is no longer the main reward but the treat/toy is.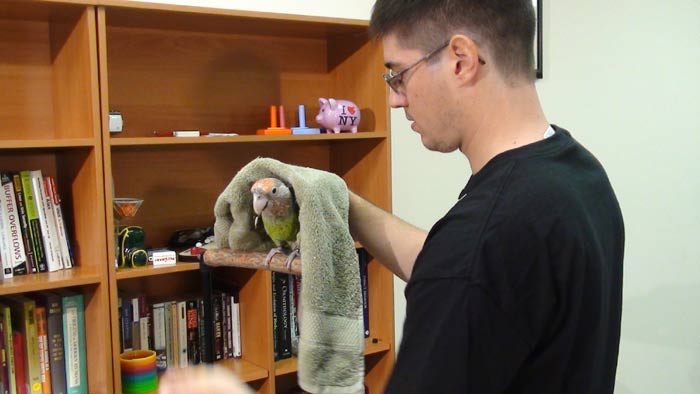 All that is left now is to go from touching the parrot with towel to grabbing it. This is kind of the tough part if the parrot is afraid of being grabbed with a towel. The mistake I made the first day was approaching Truman with the towel to grab and giving him the chance to fly away. Every time he got to fly away from being grabbed by the towel, negatively reinforced flying away from towels. He was learning that flying away is the best way to deal with his fear of towels. This might work great for him but it is counter productive to my goal of towel training him. Here we reach a fork in the road where it is necessary to choose between flooding and strict positive reinforcement.

The positive reinforcement approach is probably "nicer" in practice but will take drastically longer to achieve. To use the strictly positive reinforcement approach, continue practicing the method mentioned previously squeezing with ever slightly more pressure with every approach of the towel and then rewarding. This will need to be practiced and practiced until the parrot can be grabbed and held with the towel.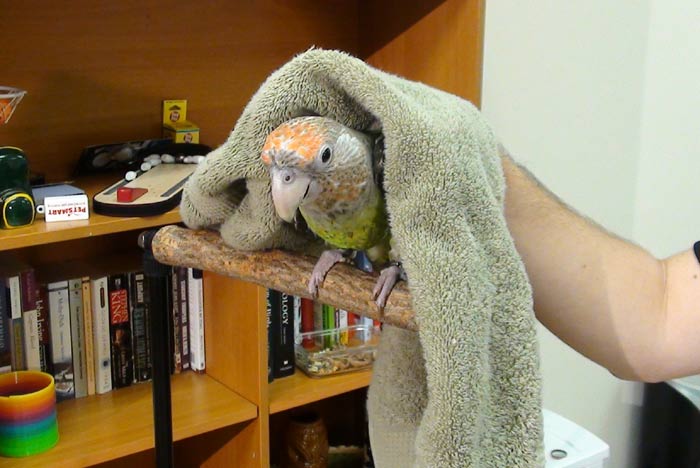 The positively reinforced flooding method is much more effective though. It accelerates the training and helps you be over with this procedure sooner. It should not be used as a short cut to avoid careful and deliberate training. It is just a way of showing the parrot straight out what is required and reconciling rather than taking a long time to let it figure it out on its own. Do not skip the previously mentioned steps and jump straight to flooding because then you won't achieve the tameness required for a parrot to voluntarily accept toweling. Once you are confident that the parrot is not fearful of being touched by the towel, place the towel on the parrot and squeeze to hold the parrot. Use your other hand to block the parrot from flying out of the towel while the towel is approaching. Essentially you force the parrot to be in the towel and grabbed. Once the parrot is grabbed, it can no longer kick or flap. Wait a few seconds for the parrot to calm down and release it back to its perch with a preferable reward. Continue practicing this by either holding the parrot prior to applying the towel or at least keeping another hand up to block it from avoiding the towel. If the parrot is having a major panic attack here, this training will not be effective and you need to go back to the basic taming listed above. However, if the parrot is tolerating the towel with only slight discomfort, you are making progress. Continue practicing this until you no longer need to block the parrot from flying away from the towel. Do this by keeping the blocking hand looser and then further away with each try. Successful completion of towel taming is when you can hold a towel in your palm, approach it to the parrot, and grab it without any resistance.

While in the training progress you may have forced the parrot to be in the towel against its will (otherwise, how would it find out that it won't hurt and a treat will be given if it never tried?), it is important to get to a point where the parrot accepts toweling voluntarily. Treats and painless interaction will erase the fear originally created by the towel or mild flooding process. Continue practicing toweling in a positive manner from time to time to maintain the comfort. Eventually you can reward toweling less and less frequently but the parrot will have no reason to resist because it knows the towel is harmless. You can transition to social rewards in place of food/toys for toweling. You can make toweling fun by toweling the parrot and then cuddling/petting it. On a cold day or after a shower, toweling will in itself be rewarding to keep warm. If you practice toweling in these positive ways, the occasional bad experience of necessary toweling will not outweigh all the good ones. It is just important that the vast majority of toweling times be good, that's all.



Part of: Taming & Basic Training, General Parrot Care, Cape Parrots
Truman Cape Parrot How to Towel Grab Tame
Comments
Post Your Response



entrancedbymyGCC

Posted on November 2, 2010 09:21PM

I'll have to give this a try, when I have some time to spare. Scooter came to us towel-phobic and I started desensitizing him to it by wearing a towel around, draped over my head or shoulder, but he was reluctant even to deal with that. However, he's considerably more settled now and it may be time to give it a go. One question... how do you time the reward with the withdrawal of the towel? It seems to me there might be some danger of having the reward associated with the towel being "chased away" rather than with tolerating the towel. One thing I've been unsure of, that you may have a good answer to, is what the maximum time gap is over which a parrot will associate two actions. In other words, how long can I wait to bridge and reward or reward the bird and have the bird connect the reward to the action I want to be reinforcing? I'm sure there is a technical term for this, but it is eluding me at the moment. With a horse it is said to be 3 seconds. I think it is longer with a parrot, but I'm not sure how long.



Michael

Posted on November 2, 2010 11:53PM

I think it has less to do with the gap of time than with additional behavior. If the parrot gets a chance to execute another behavior before the reward is given, you risk it associating the reward with the wrong behavior. So from my training experience, it's not the gap of association but the time gap prior to the parrot doing something else that is most influential. As for towel, I simply take the towel away first as negative reinforcement and then provide positive reinforcement later. As long as the parrot did not move or contribute any new behavior, I don't see the time gap being a problem. If the parrot starts squirming as soon as you release the towel, then you should reward while still covered with the towel. Thus when you remove it, the parrot will be busy with the treat and not contribute alternative behavior. The reason I prefer to reward after release is to allow the negative reinforcement to take effect and to teach the calm behavior before, during, and after toweling.



entrancedbymyGCC

Posted on November 3, 2010 12:19AM

[quote="Michael":3ewyw2e2]The reason I prefer to reward after release is to allow the negative reinforcement to take effect and to teach the calm behavior before, during, and after toweling.[/quote:3ewyw2e2] That makes sense.
Post Your Response