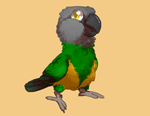 Kili
Type: Senegal Parrot
Genus: Poicephalus
Species: Senegalus
Subspecies: Mesotypus
Sex: Female
Weight: 120 grams
Height: 9 inches
Age: 14 years, 3 months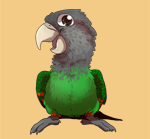 Truman
Type: Cape Parrot
Genus: Poicephalus
Species:Robustus
Subspecies: Fuscicollis
Sex: Male
Weight: 330 grams
Height: 13 inches
Age: 12 years, 7 months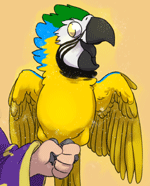 Rachel
Type: Blue & Gold Macaw
Genus: Ara
Species:ararauna
Sex: Female
Weight: 850 grams
Height: 26 inches
Age: 10 years, 3 months

List of Common Parrots:
Parakeets
:
Budgerigar (Budgie)
Alexandrine Parakeet
African Ringneck
Indian Ringneck
Monk Parakeet (Quaker Parrot)
Parrotlets
:
Mexican Parrotlet
Green Rumped Parrotlet
Blue Winged Parrotlet
Spectacled Parrotlet
Dusky Billed Parrotlet
Pacific Parrotlet
Yellow Faced Parrotlet
Lovebirds:
Peach Faced Lovebird
Masked Lovebird
Fischer's Lovebird
Lilian's (Nyasa) Lovebird
Black Cheeked Lovebird
Madagascar Lovebird
Abyssinian Lovebird
Red Faced Lovebird
Swindern's Lovebird
Lories and Lorikeets
:
Rainbow Lorikeet
Conures
:
Sun Conure
Jenday Conure
Cherry Headed Conure
Blue Crowned Conure
Mitred Conure
Patagonian Conure
Green Cheeked Conure
Nanday Conure
Caiques:
Black Headed Caique
White Bellied Caique
Poicephalus Parrots
:
Senegal Parrot
Meyer's Parrot
Red Bellied Parrot
Brown Headed Parrot
Jardine's Parrot
Cape Parrot
Ruppell's Parrot
Eclectus
:
Eclectus Parrot
African Greys:
Congo African Grey (CAG)
Timneh African Grey (TAG)
Amazons:
Blue Fronted Amazon
Yellow Naped Amazon
Yellow Headed Amazon
Orange Winged Amazon
Yellow Crowned Amazon
Cockatoos:
Cockatiel
Galah (Rose Breasted) Cockatoo
Sulphur Crested Cockatoo
Umbrella Cockatoo
Moluccan Cockatoo
Bare Eyed Cockatoo
Goffin's Cockatoo
Macaws
:
Red Shouldered (Hahn's) Macaw
Severe Macaw
Blue And Gold Macaw
Blue Throated Macaw
Military Macaw
Red Fronted Macaw
Scarlet Macaw
Green Winged Macaw
Hyacinth Macaw
Glossary of Common Parrot Terms
I try to keep my parrots outside in the aviary nearly every day from April till November. I found an acceptable temperature range to be from about 45F as the low till about 100F as the high. Anywhere from 60F-80F requires little concern. But the lower and higher temperatures require some special considerations. Here I will talk about some of the summer time things I apply to outdoor parrots.

First of all, my parrots sleep indoors at night. So they are not fully acclimatized aviary parrots. If they spent 24/7 outdoors, they would have been able to grow accustomed to the heat more gradually. The two key things to worry about in the summer are extreme heat (mainly over 90F) and shock changes in temperature (bringing parrots inside from 90F-70F). Since I don't want to make drastic changes in temperature for my parrots, I try to keep them outside all day rather than take them back inside when it gets too hot. This way it may be in the 70-80s when I take them outside and about the same when I bring them inside. This way when they switch from the hot outdoor temperatures to the cool indoor air conditioned temperatures, the change in temperature is less sudden. If I do take my parrots outside for a short time, I generally do it in the late afternoon when the temperature difference between inside and outside is less severe.

A few signs I look for overheating in my parrots are open beaks, drooped wings, and panting. It seems that this is the approximate order of severity of overheating as well. When the parrot sits with just open beak, it tells me that it is hot but nothing severe is going on. However, if the wings are drooped, overheating is imminent. And during panting overheating is already occurring. I don't let my parrots get to the panting stage when caged outdoors. However, I have seen them start panting after flying them outside in the summer which tells me to slow down a bit and give them time to cool off.

I take several precautions to keep Kili and Truman from overheating in their aviary. First of all the aviary came with a roof built into it. This keeps the sun off the birds and is a huge help. Second of all, I leave a bowl of cold water in the aviary whenever the birds are in there. If they get too hot, they always have the chance to go and drink or take a bath. Finally, on the hottest days I spray them down with a hose every few hours. This really helps them stay cool. I just continue monitoring them to make sure they are not getting too hot and when they are I just spray them down again.

The heat makes the birds more mellow so it is easier to trust them to spend all day in there together without fighting. Kili seems too hot to even bother trying to instigate Truman. And likewise Truman is too hot to go and get himself in Kili's way. I have not had a single bird fight on the very hot days but on subsequent cooler days I saw more signs that could lead to fighting (like one bird venturing into the other one's space but not yet starting to fight). So in a way I like these hot summer days for keeping the birds outside because it helps maintain the peace. They just sit there and enjoy some fresh air and sprinkle of water from time to time.

Please take extreme care not to overheat your bird outside in the summer and use suitable safety precautions. The temperature ranges I presented are what work for my parrots and may not work in other circumstances or species. Learn your parrots own tolerances by starting them outside on less hot days and continue observing them progressively as days get hotter and hotter. Here's a video of Kili and Truman in the aviary on a hot summer day:



Part of: Housing, Poicephalus, Cape Parrots, Senegal Parrots
Kili Senegal Parrot Truman Cape Parrot Aviary Summer
Comments
Post Your Response



Zula

Posted on June 17, 2011 04:46AM

[color=#4040BF:wjuqz8fj]Very good entry, Michael. Having a roof in the outdoor aviary def. helps. I could see the nice shade it creates. I liked all the hanging toys in there. Might steal an idea or two from you as I am creating a second play area for my birds. Two Qs: 1. What kind of hose nozzle are you using? I like it because it creates nice mist. 2. You talked about how to avoid temp shock when moving birds from one place to another. I wonder if that cold misting bath was too cold for the birds. You said the temp was 93 F and you held that nozzle v. close to your birds, esp. when misting Truman. [/color:wjuqz8fj]



Michael

Posted on June 17, 2011 01:13PM

I dunno how to describe the nozzle. It's the generic one they sell at Home Depot. They have big bins full of these. It has six modes I think ranging from jet, shower, and mist. The mist setting is what I use. At first I let it mist above the bird and fall on them by gravity. But once they are more comfortable I can point it straight at them. It doesn't hurt them because it comes out in tiny drops but it gets them soaked all the way through. I don't think it overcools them to spray them because it's like rain and they are still outside in the heat. Coming inside into a cold, dry, air conditioned environment seems more extreme to me. Also they can move to the sunnier sides of the aviary if the water makes them cold. But I really don't think it does. We enjoy going for a swim in the summer and likewise they seem to enjoy a misting.



laducockatiel

Posted on June 18, 2011 05:22PM

Hi, I am thinking of getting an aviary for my beloved cockatiel. The thing is I live in England and summers not that hot and I'm wondering if I could still get one for him. Any suggestions?



Zula

Posted on June 18, 2011 07:17PM

Thanks Michael. Next time I am in HD, I will look for that nozzle.



Lokums

Posted on June 19, 2011 03:18AM

[quote="laducockatiel":1v1ppllr]Hi, I am thinking of getting an aviary for my beloved cockatiel. The thing is I live in England and summers not that hot and I'm wondering if I could still get one for him. Any suggestions?[/quote:1v1ppllr] Google "pet bird aviary" and you will see several examples. Home made ones to purchased and put together (like Michael's) and even people turn their back yards into one big flight cage. Mike



zazanomore

Posted on June 19, 2011 03:43PM

I love the set up. Einstein does the same beak clicking thing when he's happy.
Post Your Response