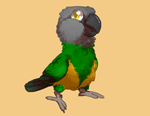 Kili
Type: Senegal Parrot
Genus: Poicephalus
Species: Senegalus
Subspecies: Mesotypus
Sex: Female
Weight: 120 grams
Height: 9 inches
Age: 14 years, 7 months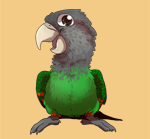 Truman
Type: Cape Parrot
Genus: Poicephalus
Species:Robustus
Subspecies: Fuscicollis
Sex: Male
Weight: 330 grams
Height: 13 inches
Age: 12 years, 11 months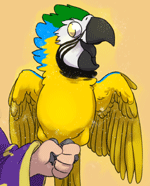 Rachel
Type: Blue & Gold Macaw
Genus: Ara
Species:ararauna
Sex: Female
Weight: 850 grams
Height: 26 inches
Age: 10 years, 7 months

List of Common Parrots:
Parakeets
:
Budgerigar (Budgie)
Alexandrine Parakeet
African Ringneck
Indian Ringneck
Monk Parakeet (Quaker Parrot)
Parrotlets
:
Mexican Parrotlet
Green Rumped Parrotlet
Blue Winged Parrotlet
Spectacled Parrotlet
Dusky Billed Parrotlet
Pacific Parrotlet
Yellow Faced Parrotlet
Lovebirds:
Peach Faced Lovebird
Masked Lovebird
Fischer's Lovebird
Lilian's (Nyasa) Lovebird
Black Cheeked Lovebird
Madagascar Lovebird
Abyssinian Lovebird
Red Faced Lovebird
Swindern's Lovebird
Lories and Lorikeets
:
Rainbow Lorikeet
Conures
:
Sun Conure
Jenday Conure
Cherry Headed Conure
Blue Crowned Conure
Mitred Conure
Patagonian Conure
Green Cheeked Conure
Nanday Conure
Caiques:
Black Headed Caique
White Bellied Caique
Poicephalus Parrots
:
Senegal Parrot
Meyer's Parrot
Red Bellied Parrot
Brown Headed Parrot
Jardine's Parrot
Cape Parrot
Ruppell's Parrot
Eclectus
:
Eclectus Parrot
African Greys:
Congo African Grey (CAG)
Timneh African Grey (TAG)
Amazons:
Blue Fronted Amazon
Yellow Naped Amazon
Yellow Headed Amazon
Orange Winged Amazon
Yellow Crowned Amazon
Cockatoos:
Cockatiel
Galah (Rose Breasted) Cockatoo
Sulphur Crested Cockatoo
Umbrella Cockatoo
Moluccan Cockatoo
Bare Eyed Cockatoo
Goffin's Cockatoo
Macaws
:
Red Shouldered (Hahn's) Macaw
Severe Macaw
Blue And Gold Macaw
Blue Throated Macaw
Military Macaw
Red Fronted Macaw
Scarlet Macaw
Green Winged Macaw
Hyacinth Macaw
Glossary of Common Parrot Terms
| | | |
| --- | --- | --- |
| | | Tuesday September 22nd, 2015 |
I have owned parrots since 2008. Now, 7 years later I have 4 parrots, 30,000 subscribers on youtube, over 17 million views, and selling thousands of copies of my book. I would like to thank all of my subscribers, followers, readers, and fans for being a part of the whole Parrot Wizard experience. I am really happy to be sharing this with you and helping you achieve a great relationship with your bird as well.

Most of all I would like to thank my parrots for putting up with all the lights and cameras so that I could share them with you and the world. I have compiled a short sizzle reel to highlight some of the really cool stuff these magnificent performing parrots can do: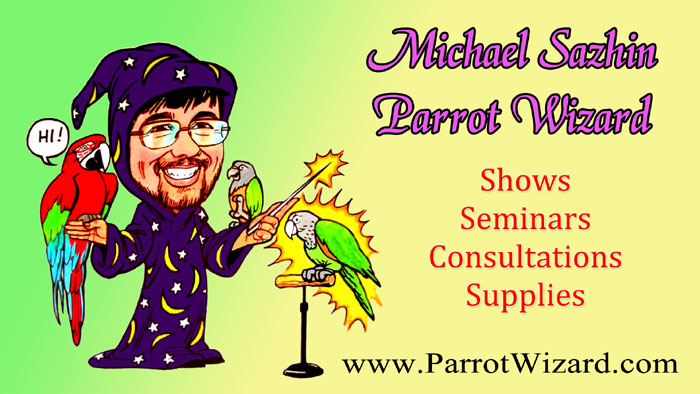 Kili knows over 30 tricks and I have actually lost count. The coolest thing is that she just knows how to work with me so I can come up with cool new videos like (Kili Swift Shake it Off) without specifically having to train anything new. We use commands that she is familiar with or she learns her new cues on the spot with a clicker. She is just a star actress.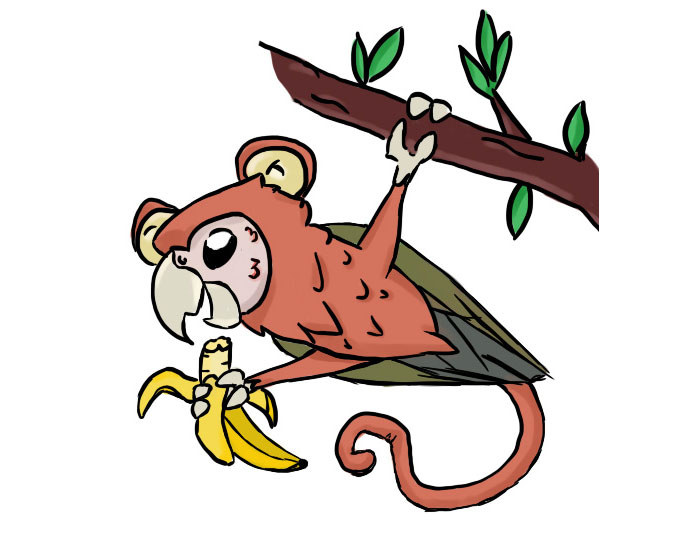 Truman is a total monkey bird. He is always making a mess or getting into some kind of trouble. Still, he's the most lovable bird in the family and impossible to get mad at. He's very cuddly and hand tame. He is my go to bird for letting people hold. He has literally never bit anyone ever.

Santina is the rescue bird and still working on her skills to get along with other people. She was featured on my Harness Training DVD about how she learned to wear a harness in just a week!

I am working full time being a Parrot Wizard. When I'm not doing shows, consultations, or seminars, I am busy developing new tricks and products to sell. In my Parrot Wizard online store you will find a collection of products I have hand selected or invented to make parrot keeping more enjoyable. Trick training toys, perches, books, DVDs, and Parrot Training Perches can be purchased on that site. My book, The Parrot Wizard's Guide to Well-Behaved Parrots contains my complete approach to parrot training. It is exactly the system I have used on all of my parrots and the system that I recommend to other parrot owners. It is a lot of information so it took an entire book to contain it.

I am available for parrot shows for TV, general audience, or parrot clubs. Please contact me if you are a producer or organizer. I travel a lot, so there are occasionally opportunities to come and see one of my seminars in the US or around the world. I live in New York City and am especially available for events in the area.

You can follow little day to day updates and picture on the Trained Parrot facebook page.

I continue to work on new videos, tricks, and products. Thank you for watching and stay tuned for more exciting blog articles!

Part of: Parrot Trick Training, Blog Announcements, Cape Parrots, Senegal Parrots
Parrot Wizard Michael Sazhin
Comments
Post Your Response
JessiMuse

Posted on September 22, 2015 09:42PM

Sorry, I don't mean to nag or anything, but... You said you own 4 parrots, but there were only 3 in the video, as well as 3 that you've mentioned. Is the fourth one Rachel, your wife's bird? If so, then it's perfectly understandable, as to why you didn't say anything. I would imagine Marianna works with her more than you do, anyways.



Michael

Posted on September 22, 2015 11:12PM

Exactly. I haven't done that much with Rachel yet so I didn't show her as my achievement. But we're getting there.
Pajarita

Posted on September 23, 2015 04:59PM

I think Marianna is Michael's girlfriend and not his wife - is this right, Michael, or have you gotten married?



ParrotsForLife

Posted on September 23, 2015 05:31PM

[quote="Pajarita":2j27n6ym]I think Marianna is Michael's girlfriend and not his wife - is this right, Michael, or have you gotten married?[/quote:2j27n6ym] He got married thats why his shop was closed because he was on his Honeymoon.Michael how much is your book in Euro and is it good to have even if your birds are tame.
youssef

Posted on January 9, 2016 08:49PM

whos the 4th bird. What happned to duke ? Last question, have you ever had a cockatiel



ParrotsForLife

Posted on January 9, 2016 08:57PM

[quote="youssef":3klp55i4]whos the 4th bird. What happned to duke ? Last question, have you ever had a cockatiel [/quote:3klp55i4] He has Truman the Cape parrot and Kili the Senegal and Santina his green wing macaw and the 4th bird is Rachel a Blue and Gold Macaw.
Post Your Response