I'm excited to announce two new parrot toys that I designed for St. Patrick's day: the Shamrock Parrot Toy and the Shamrock Junior. These two toys are bound to be a hit with parrots of all sizes.

The Shamrock Parrot Toy features a large 7" clover and not one, but two strands of smaller clovers below. This toy is meant for medium and larger parrots such as Cockatoos, Amazons, African Greys, and Macaws. On the other hand, the Shamrock Junior is built with the little guys in mind. Colorful paper strings, pacifiers, and wooden stars adorn the single 3" clover. This toy is best for Cockatiels, Conures, Senegal Parrots, Quakers, Lovebirds and Parakeets.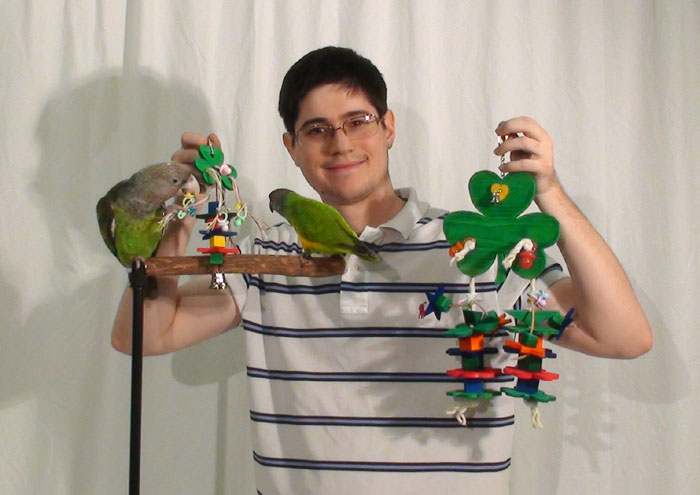 Kili and Truman fell in love with the Shamrock Junior Parrot Toy at first sight. Check out the video below to see their first ever interaction with the toy. Usually Truman is a tad cautious but playful with new toys whereas Kili doesn't care too much about toys at all. Perhaps after a few weeks in her cage, she will privately chew a toy down, but catching a glimpse of her playing is rare. Well when Kili saw the new shamrock toy, she got really excited and did her little excited bird dance.

If I didn't give Truman a bite at the toy immediately after, he would have probably pushed Kili off the perch to get to it. Two parrots that are normally adversaries eagerly shared the toy as they both preferred to put their differences aside and focus on the toy. I know these two aren't the most playful parrots out there, so if my birds like the toys so much, I'm sure if you order one, yours will too! I honestly believe these two are the best toys I've come up with so far and hope everyone gets a chance to try them out with their parrots. So go ahead and bring some spring time fun to your parrots and order one or both of these exciting toys at the Parrot Wizard store, www.ParrotWizard.com.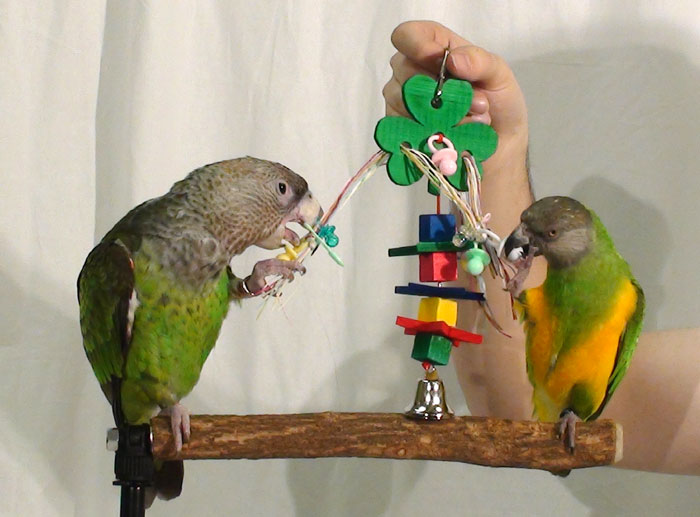 Part of: Toys, Accessories, and DIY, Cape Parrots, Senegal Parrots
Kili Truman Shamrock Parrot Toy Parrot Wizard