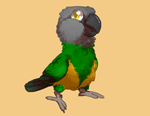 Kili
Type: Senegal Parrot
Genus: Poicephalus
Species: Senegalus
Subspecies: Mesotypus
Sex: Female
Weight: 120 grams
Height: 9 inches
Age: 15 years, 5 months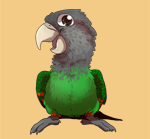 Truman
Type: Cape Parrot
Genus: Poicephalus
Species:Robustus
Subspecies: Fuscicollis
Sex: Male
Weight: 330 grams
Height: 13 inches
Age: 13 years, 8 months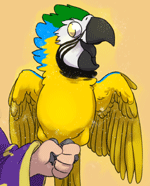 Rachel
Type: Blue & Gold Macaw
Genus: Ara
Species:ararauna
Sex: Female
Weight: 850 grams
Height: 26 inches
Age: 11 years, 5 months

List of Common Parrots:
Parakeets
:
Budgerigar (Budgie)
Alexandrine Parakeet
African Ringneck
Indian Ringneck
Monk Parakeet (Quaker Parrot)
Parrotlets
:
Mexican Parrotlet
Green Rumped Parrotlet
Blue Winged Parrotlet
Spectacled Parrotlet
Dusky Billed Parrotlet
Pacific Parrotlet
Yellow Faced Parrotlet
Lovebirds:
Peach Faced Lovebird
Masked Lovebird
Fischer's Lovebird
Lilian's (Nyasa) Lovebird
Black Cheeked Lovebird
Madagascar Lovebird
Abyssinian Lovebird
Red Faced Lovebird
Swindern's Lovebird
Lories and Lorikeets
:
Rainbow Lorikeet
Conures
:
Sun Conure
Jenday Conure
Cherry Headed Conure
Blue Crowned Conure
Mitred Conure
Patagonian Conure
Green Cheeked Conure
Nanday Conure
Caiques:
Black Headed Caique
White Bellied Caique
Poicephalus Parrots
:
Senegal Parrot
Meyer's Parrot
Red Bellied Parrot
Brown Headed Parrot
Jardine's Parrot
Cape Parrot
Ruppell's Parrot
Eclectus
:
Eclectus Parrot
African Greys:
Congo African Grey (CAG)
Timneh African Grey (TAG)
Amazons:
Blue Fronted Amazon
Yellow Naped Amazon
Yellow Headed Amazon
Orange Winged Amazon
Yellow Crowned Amazon
Cockatoos:
Cockatiel
Galah (Rose Breasted) Cockatoo
Sulphur Crested Cockatoo
Umbrella Cockatoo
Moluccan Cockatoo
Bare Eyed Cockatoo
Goffin's Cockatoo
Macaws
:
Red Shouldered (Hahn's) Macaw
Severe Macaw
Blue And Gold Macaw
Blue Throated Macaw
Military Macaw
Red Fronted Macaw
Scarlet Macaw
Green Winged Macaw
Hyacinth Macaw
Glossary of Common Parrot Terms
Did you know that there are wild parrots living in the United States? Since the extinction of the Carolina Parakeet there are no native parrot species to the US. However, there are several populations of feral parrots once brought over as pets.

In Brooklyn, New York, there are several populations of feral Monk Parakeets - Myiopsitta monachus - also known as Quaker Parrots. Legend has it that around 1967, a shipment of Monk Parakeets got accidentally released at JFK airport and was the foundation of the urban psittacine population. Lost or released pet quakers may have also joined up with those flocks. Since then, the parrots have bred and multiplied.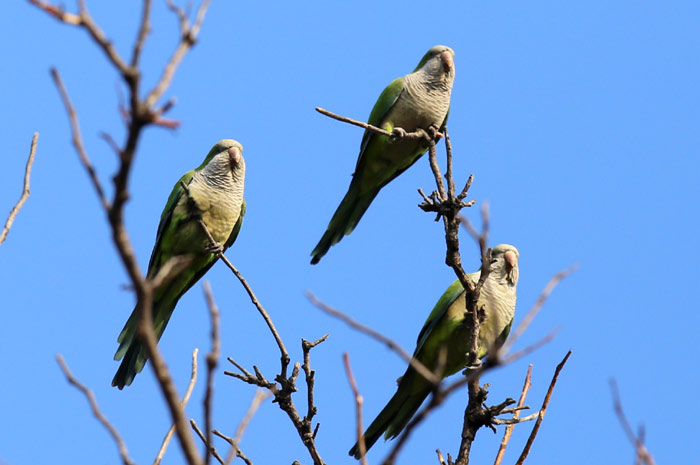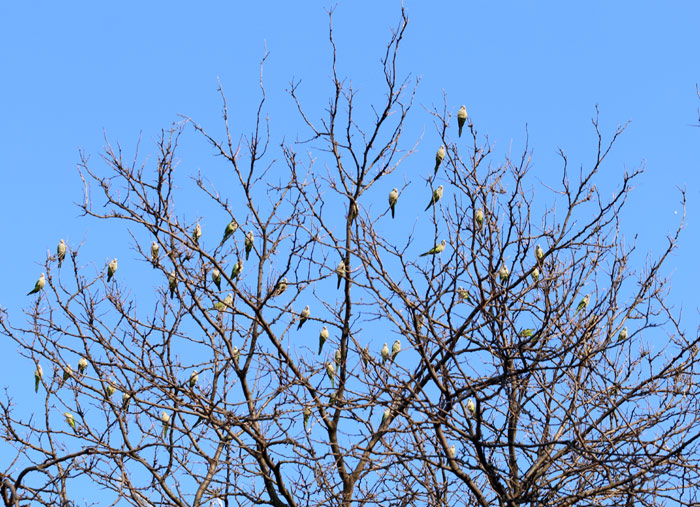 But life is no walk in the park for these lean green parrots! For a non-migratory tropical bird to survive the cold New York winter's is nearly miraculous. The Monk Parakeets are the only parrot species known to be able to survive these freezing winters because of their instinct to build communal nests. Not only that, they have learned to build these nests on power transformers and make use of a little free heating without paying a bill! The power company despises the destruction caused by these birds but some New York natives stand up for them and ensure they are allowed to survive.

I have heard that some city residents try to capture the parakeets to keep as pets. Since they are non-native, I don't think there is any law stopping them. However, bird watchers and fans of the parakeets do their best to stop this perhaps not illegal, but certainly undesirable poaching.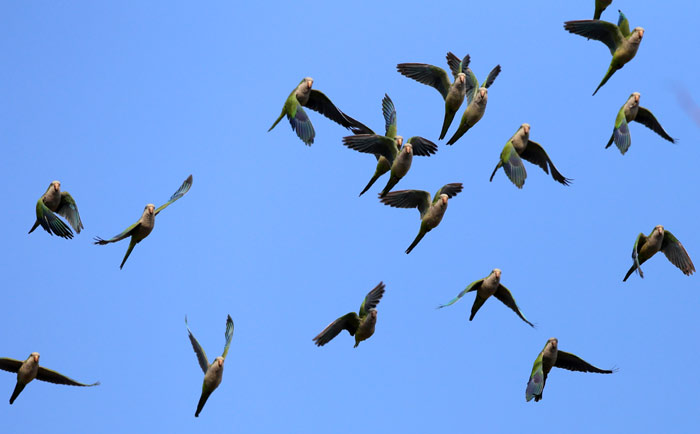 I wanted to see how the parakeets were doing after one of the coldest New York winters I can remember. On a brisk spring day, I headed to one of the locations the parakeets frequent. I was happy to hear their calls and discover that they had made it through the cold. But besides cold and humans, the parrots have yet another enemy to their survival!

While shooting footage of the Monk Parakeets going about their normal parrot business, we managed to catch a slow motion video of a Cooper's Hawk capturing a Quaker Parrot straight out of a tree! It happened in the blink of an eye, but the green color of the Hawk's victim was unmistakable! As the attack occurred, the rest of the flock scattered in all directions. It took at least ten minutes until any of the other birds had courage to come back to the same tree.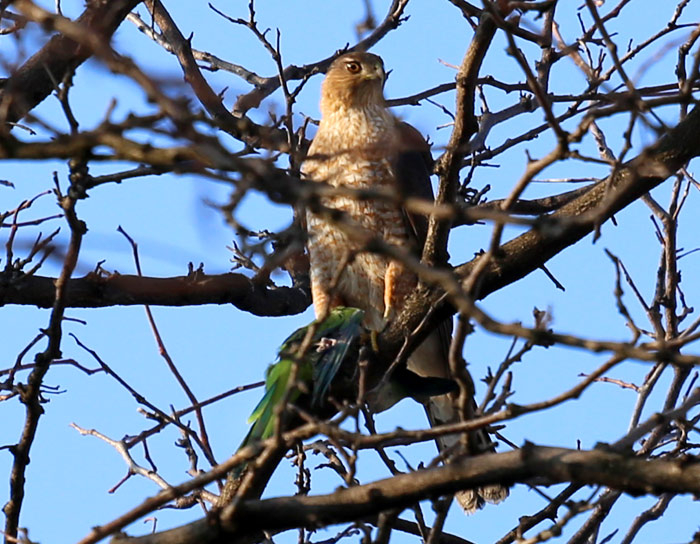 The mature Cooper's Hawk flew onto a roof with its catch but later came back to the same tree while still holding its prey. An observation I have made of the hawks that only occasionally visit this city is that they tend to stay in the natural environments (like parks and trees) and avoid excessively urban places. The hawk's red eyes were a firey blaze while the lifeless green bird dangled in its talons.

Just another day in New York City. The rest of the flock lives on. The next public "Parrot Safari" will be led by Steve Baldwin on April 4, 2015.



Part of: Outdoor Freeflight, Blog Announcements
Brooklyn Monk Parakeet Quaker Parrot Wild Feral Hawk Cooper's Hawk
Comments
Post Your Response
shiraartain

Posted on March 24, 2015 12:50AM

Well, that's the cycle of life. I dontbunderstand why someone would want to capture a wild Quaker though. Sounds like a very cruel idea, entirely too much work. Much easier to locate one on craigslist or at a shelter.
Wolf

Posted on March 24, 2015 01:04AM

Some people only look at dollars and they could sell them for that.
Navre

Posted on April 2, 2015 12:10AM

There are large flocks of noisy green birds flying around Yale University. I assume that they are Quakers. Back in '90, when I bought my grey, Quakers were outlawed in MA because of the possibility of feral populations. I see them being sold now, however. Perhaps they gave up.



Jhaynes1230

Posted on June 30, 2015 04:33PM

We have a colony in Dallas near White Rock Lake. My wife and I took an afternoon and our binoculars and paid them a visit recently. It was absolutely fascinating to see them in the wild, albeit not their natural habitat. This was my first time seeing a Monk other than internet pics. I was actually surprised by their size. I guess it's their long tail, but they appear to be much larger than they do in pics.
Post Your Response