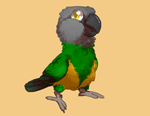 Kili
Type: Senegal Parrot
Genus: Poicephalus
Species: Senegalus
Subspecies: Mesotypus
Sex: Female
Weight: 120 grams
Height: 9 inches
Age: 13 years, 11 months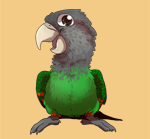 Truman
Type: Cape Parrot
Genus: Poicephalus
Species:Robustus
Subspecies: Fuscicollis
Sex: Male
Weight: 330 grams
Height: 13 inches
Age: 12 years, 2 months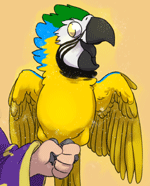 Rachel
Type: Blue & Gold Macaw
Genus: Ara
Species:ararauna
Sex: Female
Weight: 850 grams
Height: 26 inches
Age: 9 years, 11 months

List of Common Parrots:
Parakeets
:
Budgerigar (Budgie)
Alexandrine Parakeet
African Ringneck
Indian Ringneck
Monk Parakeet (Quaker Parrot)
Parrotlets
:
Mexican Parrotlet
Green Rumped Parrotlet
Blue Winged Parrotlet
Spectacled Parrotlet
Dusky Billed Parrotlet
Pacific Parrotlet
Yellow Faced Parrotlet
Lovebirds:
Peach Faced Lovebird
Masked Lovebird
Fischer's Lovebird
Lilian's (Nyasa) Lovebird
Black Cheeked Lovebird
Madagascar Lovebird
Abyssinian Lovebird
Red Faced Lovebird
Swindern's Lovebird
Lories and Lorikeets
:
Rainbow Lorikeet
Conures
:
Sun Conure
Jenday Conure
Cherry Headed Conure
Blue Crowned Conure
Mitred Conure
Patagonian Conure
Green Cheeked Conure
Nanday Conure
Caiques:
Black Headed Caique
White Bellied Caique
Poicephalus Parrots
:
Senegal Parrot
Meyer's Parrot
Red Bellied Parrot
Brown Headed Parrot
Jardine's Parrot
Cape Parrot
Ruppell's Parrot
Eclectus
:
Eclectus Parrot
African Greys:
Congo African Grey (CAG)
Timneh African Grey (TAG)
Amazons:
Blue Fronted Amazon
Yellow Naped Amazon
Yellow Headed Amazon
Orange Winged Amazon
Yellow Crowned Amazon
Cockatoos:
Cockatiel
Galah (Rose Breasted) Cockatoo
Sulphur Crested Cockatoo
Umbrella Cockatoo
Moluccan Cockatoo
Bare Eyed Cockatoo
Goffin's Cockatoo
Macaws
:
Red Shouldered (Hahn's) Macaw
Severe Macaw
Blue And Gold Macaw
Blue Throated Macaw
Military Macaw
Red Fronted Macaw
Scarlet Macaw
Green Winged Macaw
Hyacinth Macaw
Glossary of Common Parrot Terms
| | | |
| --- | --- | --- |
| | | Monday November 1st, 2010 |
It was a fun Halloween experience with the parrots. I dressed up as Captain Hook, Kathleen was Peter Pan, my brother as Tick Tock the Crocodile, and my little sister as Tinkerbell. As a pirate, it was of no surprise to be adding a parrot of the old world to match my ensemble.

The whole concept started out with the parrots. I wanted to incorporate the parrots into my costume so naturally I had to be a pirate. Then I wondered how to get Kathleen involved as well. At first I was just going to make her another pirate but that would be boring. So I pondered the antithesis of pirates and who serves better than Peter Pan himself. At that point there was no doubt that my little sister would be Tinkerbell, and Tick Tock the crocodile was great for my brother.

Saturday night Captain Hook, Peter Pan, and Tick Tock went to a Halloween party accompanied by Kili the Senegal Parrot. She sat on my shoulder for nearly 2 hours at a bustling party with no trouble. I did keep her on a harness but she didn't really try flying off anyway. The harness was just a precaution. She was incredible well behaved. She did not rip my costume apart or even poop on me the entire time. She added spunk to the costume and played along very well. Kili was friendly and the party was a good socialization outing to work on her people skills.

On Sunday we took Tinkerbell and Truman out for trick or treating. Truman is not as used to being out so the party was no place for a young energetic parrot. However, a brief outdoor outing was just the thing. Unfortunately I couldn't keep him on my shoulder for more than 30 seconds at a time without him trying to destroy everything. Then getting him off wasn't easy as he'd velcro himself to my shoulder or grab onto any assortment of things to hold onto. However, he was still very friendly and of course a huge attention grabber. Once again, a successful parrot social outing. Perhaps by next year I'll be able to trust him on my shoulder for longer outings just like Kili.

I think Kili really just wanted to be a Cape Parrot for Halloween because she was constantly imitating Truman's contact call! And Truman? He was just being his mischievous Cape self.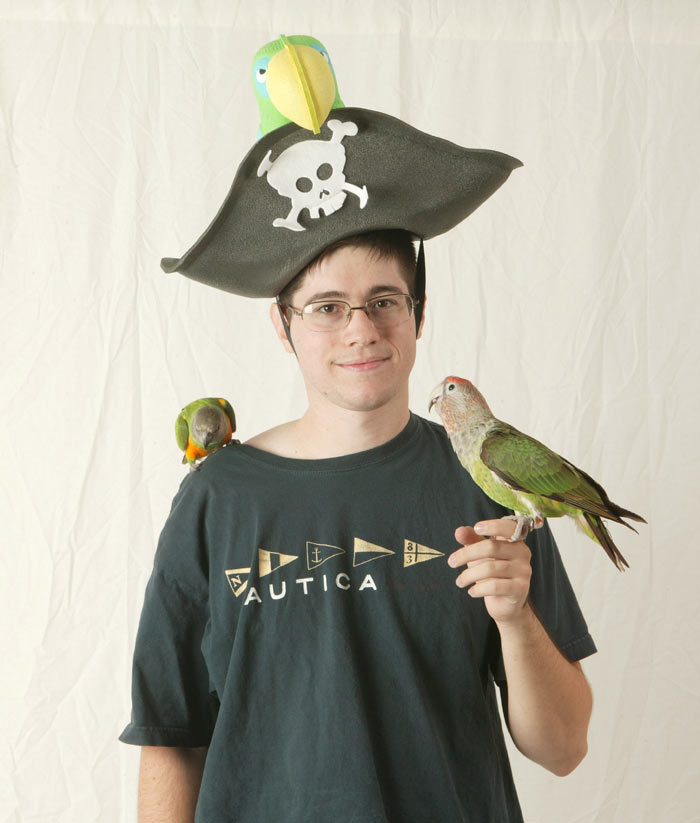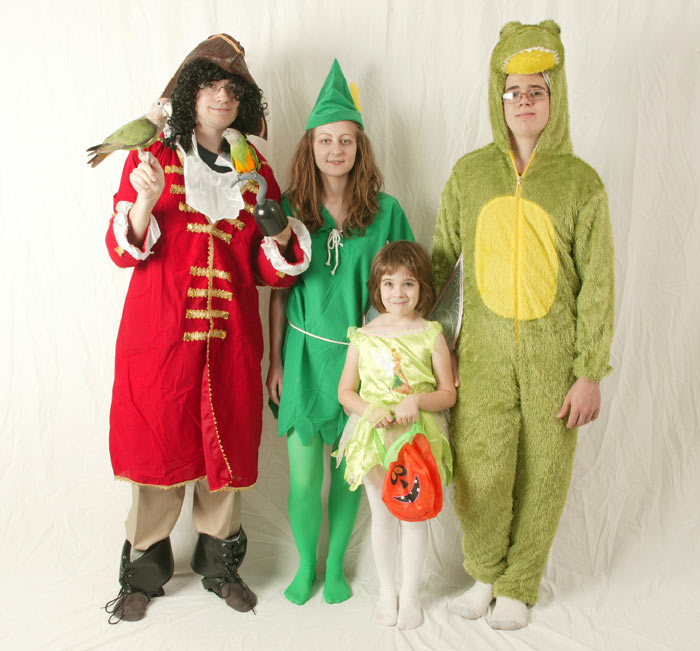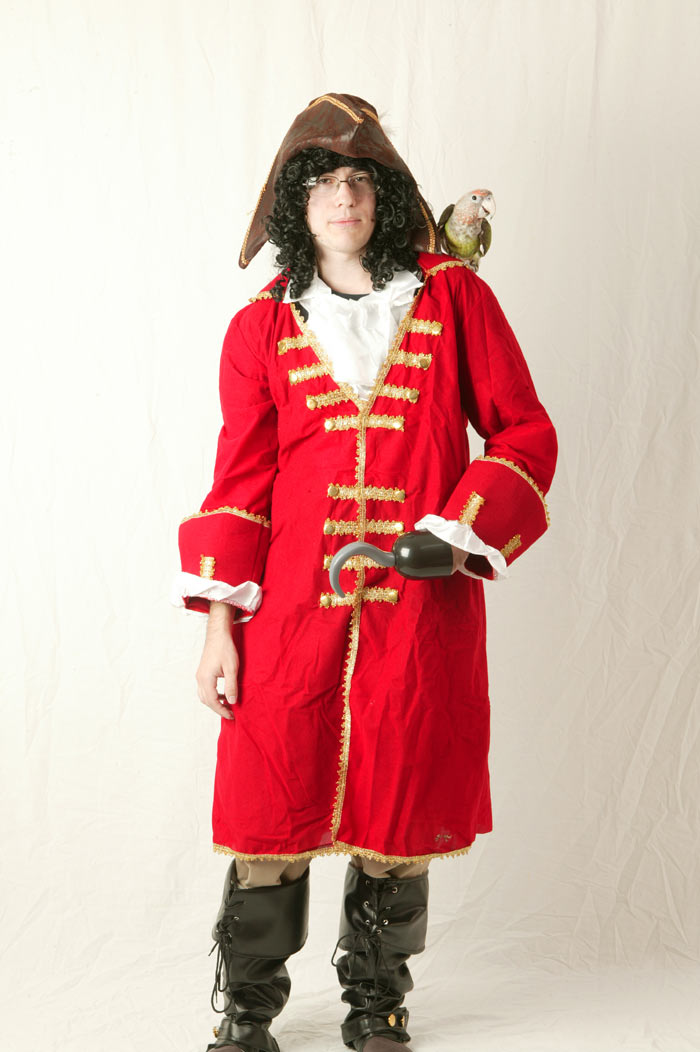 Part of: Blog Announcements, Cape Parrots
Halloween Captain Hook Pirate Kili Truman
Comments
Post Your Response



ginger

Posted on November 1, 2010 06:28AM

You are all such fun! Thanks for sharing your Halloween experiences with us. You all look fantastic!



entrancedbymyGCC

Posted on November 1, 2010 05:45PM

Too cute! We were thinking next year we'd dress the front porch up as a ship and sit out as pirates with parrots, but we got really only two largish groups of trick-or-treaters this year and nobody else.



rebeccaturpeinen

Posted on November 1, 2010 05:48PM

happy halloween!!... we dont have halloween here in denmark.... we are missing out on a lot of fun



Kim S

Posted on November 1, 2010 08:48PM

Whahahahaha.... you look so friggin; badass. Whahahahaha..... *tips off sofa* Such a shame Trumans leg healed so well, he would have looked awesome with a wooden one



Jenny

Posted on November 1, 2010 11:12PM

Captain Hook's wig is priceless!
Moonpet

Posted on November 3, 2010 08:02PM

I am so happy I had the opportunity to meet all of you, including Truman, on Sunday. Hope to see you around the neighborhood again soon!
Rebellious

Posted on September 28, 2013 11:59PM

Cute costume!Truman looks so proud of himself Just wondering...is Kathleen your sister?
Post Your Response