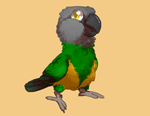 Kili
Type: Senegal Parrot
Genus: Poicephalus
Species: Senegalus
Subspecies: Mesotypus
Sex: Female
Weight: 120 grams
Height: 9 inches
Age: 15 years, 5 months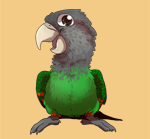 Truman
Type: Cape Parrot
Genus: Poicephalus
Species:Robustus
Subspecies: Fuscicollis
Sex: Male
Weight: 330 grams
Height: 13 inches
Age: 13 years, 8 months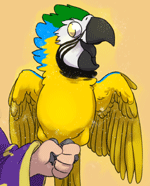 Rachel
Type: Blue & Gold Macaw
Genus: Ara
Species:ararauna
Sex: Female
Weight: 850 grams
Height: 26 inches
Age: 11 years, 5 months

List of Common Parrots:
Parakeets
:
Budgerigar (Budgie)
Alexandrine Parakeet
African Ringneck
Indian Ringneck
Monk Parakeet (Quaker Parrot)
Parrotlets
:
Mexican Parrotlet
Green Rumped Parrotlet
Blue Winged Parrotlet
Spectacled Parrotlet
Dusky Billed Parrotlet
Pacific Parrotlet
Yellow Faced Parrotlet
Lovebirds:
Peach Faced Lovebird
Masked Lovebird
Fischer's Lovebird
Lilian's (Nyasa) Lovebird
Black Cheeked Lovebird
Madagascar Lovebird
Abyssinian Lovebird
Red Faced Lovebird
Swindern's Lovebird
Lories and Lorikeets
:
Rainbow Lorikeet
Conures
:
Sun Conure
Jenday Conure
Cherry Headed Conure
Blue Crowned Conure
Mitred Conure
Patagonian Conure
Green Cheeked Conure
Nanday Conure
Caiques:
Black Headed Caique
White Bellied Caique
Poicephalus Parrots
:
Senegal Parrot
Meyer's Parrot
Red Bellied Parrot
Brown Headed Parrot
Jardine's Parrot
Cape Parrot
Ruppell's Parrot
Eclectus
:
Eclectus Parrot
African Greys:
Congo African Grey (CAG)
Timneh African Grey (TAG)
Amazons:
Blue Fronted Amazon
Yellow Naped Amazon
Yellow Headed Amazon
Orange Winged Amazon
Yellow Crowned Amazon
Cockatoos:
Cockatiel
Galah (Rose Breasted) Cockatoo
Sulphur Crested Cockatoo
Umbrella Cockatoo
Moluccan Cockatoo
Bare Eyed Cockatoo
Goffin's Cockatoo
Macaws
:
Red Shouldered (Hahn's) Macaw
Severe Macaw
Blue And Gold Macaw
Blue Throated Macaw
Military Macaw
Red Fronted Macaw
Scarlet Macaw
Green Winged Macaw
Hyacinth Macaw
Glossary of Common Parrot Terms
Awesome news, live parrot events are starting to make a comeback! Parrot Stars will be hosting a Summer Festival the weekend of July 9, 2022 and I'll be the headlining speaker!

Come see Parrot Wizard presentations about parrot behavior, training, and how to enhance your relationship with your parrot while enhancing its life!

In all likelihood, I will be bringing Kili & Truman, the Trained Parrot duo for performances! Kili will put on a tricks show and Truman will do some talking and be his goofy self! Come meet me and the birds for book signing, presentations, and great fun!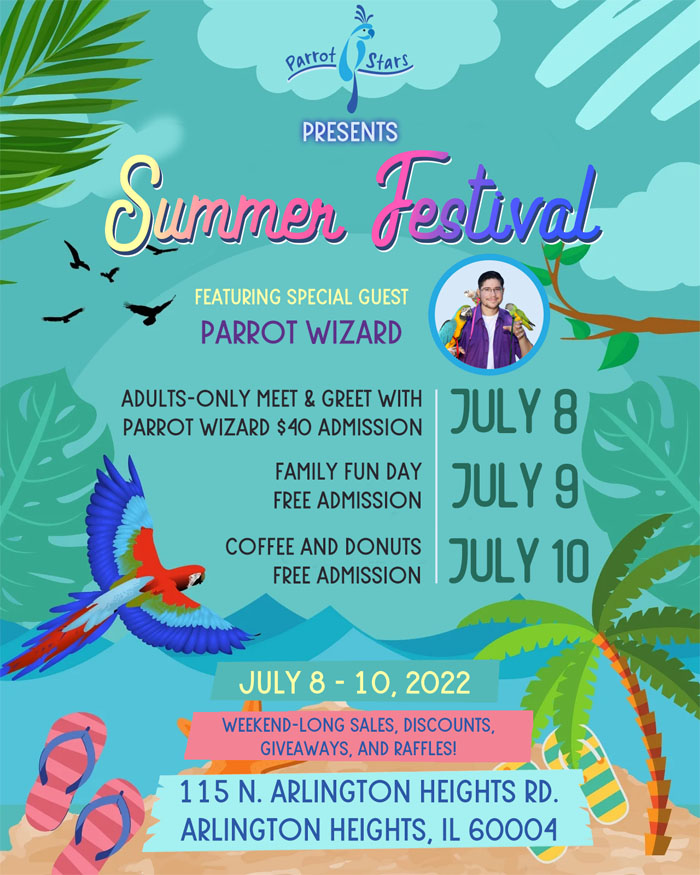 The main event is Saturday July 9 from 10AM till 5PM. There will be food, activities, sales, giveaways, and presentations throughout the day. Every presentation will be a different topic, so come stay for the whole day!

Friday July 8 will be a little different. This will be a closed door adult only Meet & Greet from 5:30-7:30PM at the store. Tickets are $40 and available in limited quantity for this exclusive event. It's a chance to beat the crowd, meet me and my birds, get a copy of my book signed, and chat. I'm particularly looking forward to this chance to make personal connections and meet people without the crowd.

The event ends Sunday July 10 with a shortened day 10AM-3PM. Come for free coffee and donuts, Sunday only raffle, and one more of my presentations.

It's going to be a terrific event and a great opportunity to present and talk to fans in the Chicago area. So, come on out to Parrot Stars at 115 N Arlington Heights Rd, Arlington Heights, IL 60004 on the weekend of Saturday July 9, 2022 for an awesome time with parrots!



Part of: Blog Announcements
Parrot Wizard Parrots Stars Store Event Announcement
Comments
Post Your Response
Pajarita

Posted on June 19, 2022 01:06PM

Congrats!!
pantyhabitual

Posted on November 9, 2023 09:24AM

Really looking forward to the event continuing next year. [size=1:2hpobpia][url=https://snake-io.io/:2hpobpia][color=#FFFFFF:2hpobpia]snake io[/color:2hpobpia][/url:2hpobpia][/size:2hpobpia]
petroben

Posted on November 13, 2023 06:58PM

That sounds like a fantastic event! Looking forward to the Summer Festival at Parrot Stars. Exciting activities, presentations, and the chance to meet incredible parrots – count me in! #ParrotStars #SummerFestival
Post Your Response