Awesome news, live parrot events are starting to make a comeback! Parrot Stars will be hosting a Summer Festival the weekend of July 9, 2022 and I'll be the headlining speaker!

Come see Parrot Wizard presentations about parrot behavior, training, and how to enhance your relationship with your parrot while enhancing its life!

In all likelihood, I will be bringing Kili & Truman, the Trained Parrot duo for performances! Kili will put on a tricks show and Truman will do some talking and be his goofy self! Come meet me and the birds for book signing, presentations, and great fun!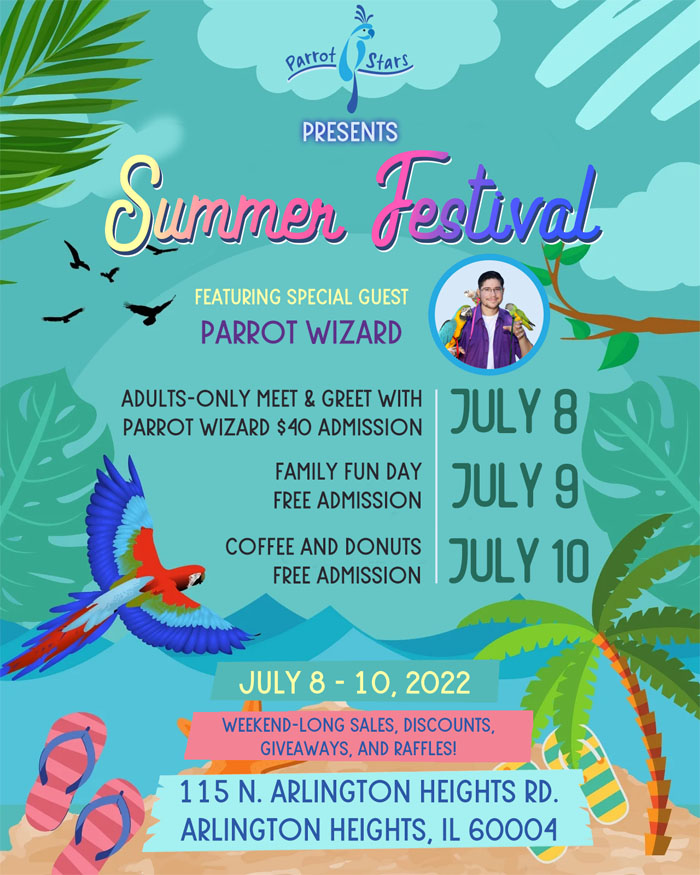 The main event is Saturday July 9 from 10AM till 5PM. There will be food, activities, sales, giveaways, and presentations throughout the day. Every presentation will be a different topic, so come stay for the whole day!

Friday July 8 will be a little different. This will be a closed door adult only Meet & Greet from 5:30-7:30PM at the store. Tickets are $40 and available in limited quantity for this exclusive event. It's a chance to beat the crowd, meet me and my birds, get a copy of my book signed, and chat. I'm particularly looking forward to this chance to make personal connections and meet people without the crowd.

The event ends Sunday July 10 with a shortened day 10AM-3PM. Come for free coffee and donuts, Sunday only raffle, and one more of my presentations.

It's going to be a terrific event and a great opportunity to present and talk to fans in the Chicago area. So, come on out to Parrot Stars at 115 N Arlington Heights Rd, Arlington Heights, IL 60004 on the weekend of Saturday July 9, 2022 for an awesome time with parrots!



Part of: Blog Announcements
Parrot Wizard Parrots Stars Store Event Announcement