The 2019 Bird Paradise Parrot Palooza is right around the corner. It's coming up on Saturday and Sunday October 12/13. I will have 3 free presentations on Saturday and 2 on Sunday.

The schedule has just been posted and I would like to briefly mention the topics of the talks. I'm keeping things fresh and doing presentations on topics I have not done at prior events.

Of course there will be the same free food, toy making, contests, prizes, and more from the hosts.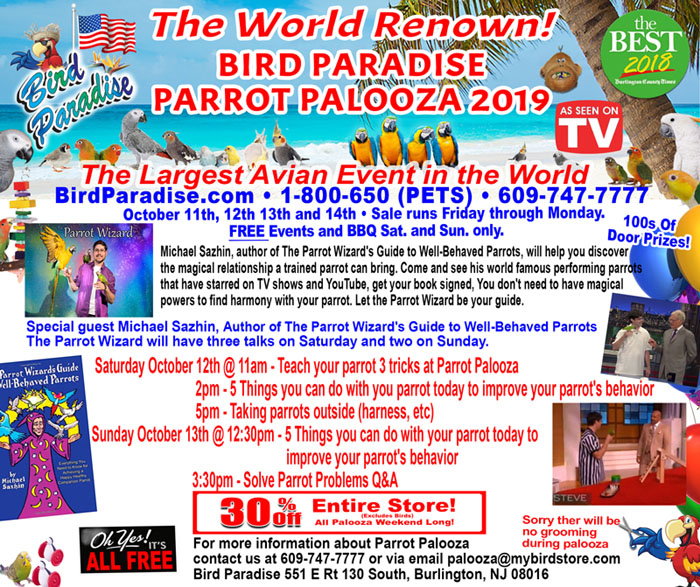 Parrot Wizard Presentations will be as follows.

Saturday October 12:

11:00AM Teach your parrot 3 tricks at Parrot Palooza - I will be teaching how you can train your parrots some fun and easy tricks

2:00PM 5 things you can do with your parrot today to improve your parrot's behavior - Some practical suggestions that you can implement easily in order to bring better behavior out of your companion parrot. Many aspects of parrot keeping and training take a long time but this talk will focus on some of the easier things that can help almost immediately.

5:00PM Taking your parrot outside (harness, etc) - I get a lot of questions and fascination from attendees that see my parrots wearing their harnesses all day long outside at the event. At this presentation, I will discuss not only proper use of the harness but also general advice about taking parrots outdoors safely.


Sunday October 13:

12:30PM 5 things you can do with your parrot today to improve your parrot's behavior - A repeat of Saturday's headline talk for those who come on Sunday instead.

3:30PM - Solve Parrot Problems Q&A - An open discussion question and answer session with the audience to give practical tips and guidance for solving the issues that concern you.

I will have a limited assortment of trick training toys and books available for purchase at the Palooza. Get your book signed and meet my birds throughout the day. Here is a video announcement about the presentations:



Part of: Blog Announcements
Parrot Wizard Parrot Palooza Event