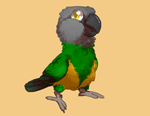 Kili
Type: Senegal Parrot
Genus: Poicephalus
Species: Senegalus
Subspecies: Mesotypus
Sex: Female
Weight: 120 grams
Height: 9 inches
Age: 14 years, 2 months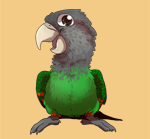 Truman
Type: Cape Parrot
Genus: Poicephalus
Species:Robustus
Subspecies: Fuscicollis
Sex: Male
Weight: 330 grams
Height: 13 inches
Age: 12 years, 5 months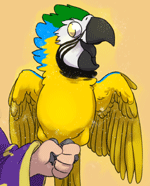 Rachel
Type: Blue & Gold Macaw
Genus: Ara
Species:ararauna
Sex: Female
Weight: 850 grams
Height: 26 inches
Age: 10 years and 2 months old

List of Common Parrots:
Parakeets
:
Budgerigar (Budgie)
Alexandrine Parakeet
African Ringneck
Indian Ringneck
Monk Parakeet (Quaker Parrot)
Parrotlets
:
Mexican Parrotlet
Green Rumped Parrotlet
Blue Winged Parrotlet
Spectacled Parrotlet
Dusky Billed Parrotlet
Pacific Parrotlet
Yellow Faced Parrotlet
Lovebirds:
Peach Faced Lovebird
Masked Lovebird
Fischer's Lovebird
Lilian's (Nyasa) Lovebird
Black Cheeked Lovebird
Madagascar Lovebird
Abyssinian Lovebird
Red Faced Lovebird
Swindern's Lovebird
Lories and Lorikeets
:
Rainbow Lorikeet
Conures
:
Sun Conure
Jenday Conure
Cherry Headed Conure
Blue Crowned Conure
Mitred Conure
Patagonian Conure
Green Cheeked Conure
Nanday Conure
Caiques:
Black Headed Caique
White Bellied Caique
Poicephalus Parrots
:
Senegal Parrot
Meyer's Parrot
Red Bellied Parrot
Brown Headed Parrot
Jardine's Parrot
Cape Parrot
Ruppell's Parrot
Eclectus
:
Eclectus Parrot
African Greys:
Congo African Grey (CAG)
Timneh African Grey (TAG)
Amazons:
Blue Fronted Amazon
Yellow Naped Amazon
Yellow Headed Amazon
Orange Winged Amazon
Yellow Crowned Amazon
Cockatoos:
Cockatiel
Galah (Rose Breasted) Cockatoo
Sulphur Crested Cockatoo
Umbrella Cockatoo
Moluccan Cockatoo
Bare Eyed Cockatoo
Goffin's Cockatoo
Macaws
:
Red Shouldered (Hahn's) Macaw
Severe Macaw
Blue And Gold Macaw
Blue Throated Macaw
Military Macaw
Red Fronted Macaw
Scarlet Macaw
Green Winged Macaw
Hyacinth Macaw
Glossary of Common Parrot Terms
| | | |
| --- | --- | --- |
| | | Thursday April 21st, 2016 |
I received a question from a follower about whether or not it is possible for someone with a handicap/disability to put an Aviator Harness on a parrot with just one hand. I was about to just say the first thing that came to mind, "no!" But I had no experience with this either way so instead I said that I would look into it. After all, who better to try it out and find out?

I realize that there are many people with disabilities that keep parrots. Some are in a wheelchair or have shaky hands from PTSD. Others have trouble just from age while some are young and dealing with a temporary injury. So although the video included here is based on one single type of disability, I would like to use this as an encouragement for any physically challenged owner that there are ways to succeed in training your parrot despite your impairment.

Note that although this article is about one specific type of impairment and about one kind of training example, the mindset conveyed here may be helpful for all sorts of parrot issues and for any person having trouble with their parrot.

Granted Santina is fully harness trained already, this experiment was solely about whether or not it is even possible to consider harnessing a parrot with the use of just one hand. Well, I am happy to say that I learned that it is. Santina had not even worn a harness since last year and yet she was cooperative at putting it on. This is largely due to the fact that she was taught to wear the harness using positive reinforcement from the start and looks forward to it whenever she sees it. Since the harness was never forced on her, she has no reason to freak out when she sees it for the first time in a while. I did just one normal run with the harness to make sure she was still ok with it.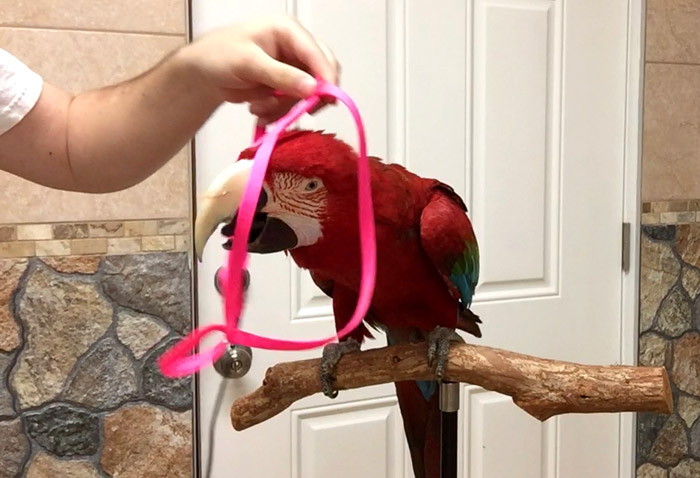 So I dangled the harness in front of Santina and she just stuck her head straight into the collar the way she was taught. Getting the collar onto the bird myself with one hand would have been much harder and simply impossible if the bird resisted. But since she actually wants to get it on, her assistance made it substantially easier! Pulling the straps through and around the wings was only more time consuming but no harder than usual. The hardest part I found was to pull all the extra material through the bird-proof clasp with one hand! Without the ability to hold the clasp in one hand and feed the material through with the other, it was a challenge of dexterity to do it with my fingers. But with practice it got better and by the second take, I kind of had it down. I would recommend anyone with a disability working with the harness, or any kind of training, practice all the mechanics of it ahead of time to reduce strain on the bird.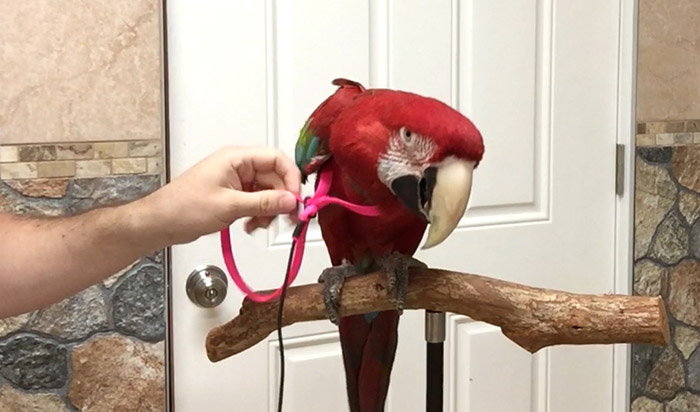 Besides a few nuts, Santina got to go outside for the first time this season, a reminder of how wonderful it is to wear a harness and go out. I didn't pester her further with my own clumsiness to take it off with one hand because she was eager to get back to her normal bird business when we returned. However, I am sure that the exact same process could be repeated in reverse. My conclusion is that if you can tie your shoe laces with one hand and go about daily tasks, putting an Aviator Harness on a parrot with one hand is at least possible!

The key part is the training. More precisely than ever, the bird with the impaired owner requires the most accurate of training. Yes, the parrot can be taught to fill some of the role of the owner and help in the harnessing process! But the training must be correct and thorough. More patience, self discipline, and attention will be required. But if your goal is to beat your impairment and achieve the same things with your parrot, then I think it can be done!



Sometimes I find myself impaired during parrot training even with two hands. Some things I do with the birds makes me wish I had three or four hands to accomplish all the training at the same time. But since that won't be happening, I have to make do with what I have. I find ways to either break behaviors down into smaller portions, devise tools to help me do more within my capabilities, or worst case scenario, I seek help from someone else to get more hands into the training scenario. No reason the same can't be done going from two hands to one, or working from a wheelchair, or dealing with a different impediment.

I suggest that anyone planning on having their parrot wear a harness to safely go outside, follow the steps covered in my Harness Training DVD. Further, it is important that the bird be prepared to begin this advanced training by performing the requisite basic training explained in my book. There is an automatic special discount built in on my online store. If you order a Book + DVD or Harness + DVD, DVD is 50% off. Book + Harness and the DVD is free.

What I found interesting was how not-unusual the challenge was! Although it was challenging, it was challenging the same way that any parrot training task is. There is a goal to accomplish x and y with the parrot with limited means and communication. So I work on solving the puzzle through trial and error, positive reinforcement, reading body language, and all the usual tools used to train behavior to the birds. What I discovered was that harnessing a parrot with one hand is really the exact same thing just with the added step of using less appendages and more patience. This turned out to only be one step more complicated than harness training a parrot in the first place. There are loads of other challenges in getting a parrot to wear a harness so this is just an extension of that and just adds one more challenge and nothing more. The same problem solving mindset that needs to applied to teaching the bird to wear a harness in the first place can just as well help overcome the added physical demands.

This system for overcoming disability and accomplishing things with our parrots stems far beyond just harness training. Target training, trick training, taming, flight training, and all that good stuff can be achieved through patient persistent application of the training methods that I teach. I'm not saying it will be easy. You will have to tailor these methods to your specific conditions. But following this system, you will find success with your bird.

Part of: Taming & Basic Training, Parrot Trick Training, General Parrot Care, Outdoor Harness Flight, Macaws
Santina Green-Winged Macaw Aviator Harness Harness Training Handicap Disability
Comments
Post Your Response
rorobrowne

Posted on June 8, 2016 04:28AM

Hi, I am new on your blog. I am 15 years old and in a wheelchair, and i am looking to rescue a parrot. I have limited hand mobility but perfect arm mobility. I also have no leg movement. I live in Nassau County NY. Do you think it is a possibility for me to own a parrot. I am very enthusiastic about this topic. Thanks!!!!
Wolf

Posted on June 8, 2016 10:35AM

Would it be possible for you to have a parrot? Yes, it would. That is the short answer. Now, I would suggest that you examine why you would want a parrot for a companion animal. Parrots are loud and destructive, they bite and are not predisposed to following orders or commands and their medical bill are expensive. Some of them will outlive you and they never grow up, in that they are like having the same child of between 4 to 6 years old for 50 to 80 years. What I am trying to say is that we are easily impressed by what these birds can do, but we rarely are informed about the things that they do that we don't want them to do, and most of these things are natural behaviors that we must accept and live with as they can't be trained out of them. Parrots are not the best choice for a pet. I just think you need to do your homework and look at both sides of the coin before acting as there are reasons that there are so many in rescues.