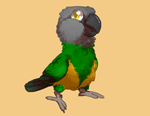 Kili
Type: Senegal Parrot
Genus: Poicephalus
Species: Senegalus
Subspecies: Mesotypus
Sex: Female
Weight: 120 grams
Height: 9 inches
Age: 14 years, 11 months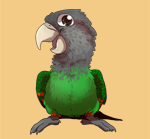 Truman
Type: Cape Parrot
Genus: Poicephalus
Species:Robustus
Subspecies: Fuscicollis
Sex: Male
Weight: 330 grams
Height: 13 inches
Age: 13 years, 2 months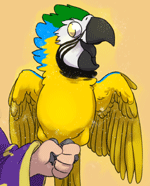 Rachel
Type: Blue & Gold Macaw
Genus: Ara
Species:ararauna
Sex: Female
Weight: 850 grams
Height: 26 inches
Age: 10 years, 11 months

List of Common Parrots:
Parakeets
:
Budgerigar (Budgie)
Alexandrine Parakeet
African Ringneck
Indian Ringneck
Monk Parakeet (Quaker Parrot)
Parrotlets
:
Mexican Parrotlet
Green Rumped Parrotlet
Blue Winged Parrotlet
Spectacled Parrotlet
Dusky Billed Parrotlet
Pacific Parrotlet
Yellow Faced Parrotlet
Lovebirds:
Peach Faced Lovebird
Masked Lovebird
Fischer's Lovebird
Lilian's (Nyasa) Lovebird
Black Cheeked Lovebird
Madagascar Lovebird
Abyssinian Lovebird
Red Faced Lovebird
Swindern's Lovebird
Lories and Lorikeets
:
Rainbow Lorikeet
Conures
:
Sun Conure
Jenday Conure
Cherry Headed Conure
Blue Crowned Conure
Mitred Conure
Patagonian Conure
Green Cheeked Conure
Nanday Conure
Caiques:
Black Headed Caique
White Bellied Caique
Poicephalus Parrots
:
Senegal Parrot
Meyer's Parrot
Red Bellied Parrot
Brown Headed Parrot
Jardine's Parrot
Cape Parrot
Ruppell's Parrot
Eclectus
:
Eclectus Parrot
African Greys:
Congo African Grey (CAG)
Timneh African Grey (TAG)
Amazons:
Blue Fronted Amazon
Yellow Naped Amazon
Yellow Headed Amazon
Orange Winged Amazon
Yellow Crowned Amazon
Cockatoos:
Cockatiel
Galah (Rose Breasted) Cockatoo
Sulphur Crested Cockatoo
Umbrella Cockatoo
Moluccan Cockatoo
Bare Eyed Cockatoo
Goffin's Cockatoo
Macaws
:
Red Shouldered (Hahn's) Macaw
Severe Macaw
Blue And Gold Macaw
Blue Throated Macaw
Military Macaw
Red Fronted Macaw
Scarlet Macaw
Green Winged Macaw
Hyacinth Macaw
Glossary of Common Parrot Terms
| | | |
| --- | --- | --- |
| | | Wednesday April 2nd, 2014 |
Kili & Truman are moving to the new house where Santina has already been in quarantine. Now that Santina is clear of infection and moved to the big room, the smaller room - originally planned for cages - is now vacant. Having had a powder coat steel cage for Kili and aluminum Kings cage for Truman, I knew immediately what I'd be getting the birds at the new house.

After having Truman and his cage for 4 years, I continue to stand by the original review I did of the aluminum cage. It's expensive and it's not perfect. But it's the best cage for the money hands down. Powder coat cages just aren't sufficient in quality. Inevitably after a lot of use and washing, the coating comes off and they rust. Stainless steel cages are unbearably expensive. The aluminum cage is lighter in weight, easy to assemble, and overall good quality.

For the price, I think the aluminum cage line provides the best bang for the buck. At roughly double the price of a comparable powder coat cage, you get the benefit of non-corrosiveness that you can get from stainless steel at even twice more. As you folks probably know by now, I'm more value driven. I don't mind spending more but I hate spending more when I don't feel a sufficient benefit to justify the price. That's why I think a cage made from aluminum is the perfect compromise.

When you think about the long lifespan of a parrot and estimate the value you will get out of a cage, paying more up front for a cage makes more sense. Let's say the parrot will live 20+ years but the cage won't even make it that far. Depending on how bad you're willing to let the cage get before replacing it, I'd say it is reasonable to say that 5-10 years is realistic for the powder coat and 10-20 for the aluminum. Stainless might last even longer but if it's poor quality stainless it might not. Usually the hardware, hinges, food doors, etc will fail before the bars and the hassle will make the cage need replacement regardless. So if the aluminum cage can solidly last twice as long, at about twice the price it's a good deal. This is because you're getting a better cage with thicker bars during that time. There won't be any rust or chipping even when the cage begins to be less than desirable to keep.

Only one company makes aluminum parrot cages so there's no shopping around, Kings Cages. There is only one cage design to choose from but two sizes. I just call them the small aluminum cage and the big one. Kili is getting the small one which measures in at a sizable 25"x22"x45". This cage has 5/8" bar spacing and is great for Senegal Parrots, Conures, Cockatiels, Quakers, and other similar sized parrots. Considering that Kili is moving up from a 18x18x32 powder coat cage, it's an immediately obvious improvement. Back when I got Kili and that cage, I didn't know any better and until I was moving didn't find the chance to replace it. Truman on the other hand is getting a new version of the same cage he used to have as well. This one is 33"x25"x49" and makes a good sized cage for a Cape Parrot, Timneh Grey, Galah, or Smaller Amazon. I'm not sure if I would keep a CAG in this cage though. Maybe a smaller CAG yes but not the really big 600g ones.

The Aluminum Kings cages in 2 sizes come in 3 styles: standard, arch top, and play top. To me, all but the dometop are a waste of money. The playtop is expensive and not beneficial. Parrots will play on top of their cages with or without one and frankly a separate tree or stand is much better to have. The standard cage loses a lot of good living space without the archtop (playtop version included). For just a few $100 more and not a substantial amount in proportion to the main price, the living space is greatly expanded. There is a downside to the dometop though. Clumsy and baby birds can have trouble climbing around on it. When Truman was a baby he used to have trouble getting around and would fall off. But for agile adult birds this is no factor. It's also a bit of a pain trying to reach up and around to clean the dometop from inside.



I am handy with tools so the fact that the Kings Cage is so easy to put together plays little role. But, for most consumers this is a huge plus. It comes in just 8 pieces and all but the top two of the arch just snap together. The arch top connects with just 4 standard screws. Assembly is easy but you must pay attention that alignment is perfect or it won't come together. It only took 10 minutes to assemble the small cage by myself and then 10 minutes to assemble the big one with the help of my brother.

As I said in my first review, I don't like the wood dowels and plastic food cups.I immediately replace these with stainless steel cups and natural or NU Perches. The cage is actually a bit harder to clean than the powder coat one but not substantially enough to make it less worthy. The lighter weight and mobility make up for that. Another issue is plastic handles for the food doors can potentially be chewed off by any parrot. Most of the flaws are little nit picks and nuisances whereas the cage overall is solid, durable, and reliable.

So is it my dream cage? Does it have every feature/quality I'd want in a bird cage? No. But it is by far the best quality and value cage I have encountered and the one that I choose for my parrots Kili & Truman.



Part of: Housing, Blog Announcements, Product Reviews
Aluminum Kings Cages Cage Assembly
Comments
Post Your Response
audys

Posted on July 26, 2014 08:52PM

I have 2 aluminum bird cages (one large, one travel) purchased directly from Kings Cages in February 2014. The cages come with plastic feeder bowls that hang over the top of the feeder door. The only way to get the bowls in and out is to open the feeder door. The feeder doors are secured with U shaped plastic feeder door locks. After only 18 WEEKS of use, all 3 feeder door locks cracked & broke on my aluminum cage and no longer lock. The bird can slide the lock open from the inside since the plastic parts no longer lock. The feeder door locks cannot be replaced because the company is out of these parts. Over the last month, I have communicated with Kings Cages many times by phone and email. They did send me 3 new plastic door locks but are not able to offer any reasonable long term solution. They even sent me a video of how to change the plastic cage door locks with a person's voice saying "we don't have it anymore". I have used Kings Cages powder coated cages for over a decade but these aluminum cages are a huge disappointment. They advertise excellent customer service but my customer service experience with Kings Cages has been poor because they are slow to respond and do not answer my questions. Save yourself the frustration and look for a cage without plastic door locks!