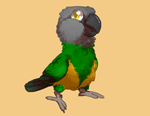 Kili
Type: Senegal Parrot
Genus: Poicephalus
Species: Senegalus
Subspecies: Mesotypus
Sex: Female
Weight: 120 grams
Height: 9 inches
Age: 15 years, 3 months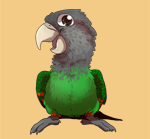 Truman
Type: Cape Parrot
Genus: Poicephalus
Species:Robustus
Subspecies: Fuscicollis
Sex: Male
Weight: 330 grams
Height: 13 inches
Age: 13 years, 6 months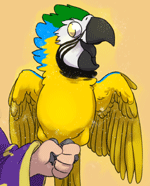 Rachel
Type: Blue & Gold Macaw
Genus: Ara
Species:ararauna
Sex: Female
Weight: 850 grams
Height: 26 inches
Age: 11 years, 3 months

List of Common Parrots:
Parakeets
:
Budgerigar (Budgie)
Alexandrine Parakeet
African Ringneck
Indian Ringneck
Monk Parakeet (Quaker Parrot)
Parrotlets
:
Mexican Parrotlet
Green Rumped Parrotlet
Blue Winged Parrotlet
Spectacled Parrotlet
Dusky Billed Parrotlet
Pacific Parrotlet
Yellow Faced Parrotlet
Lovebirds:
Peach Faced Lovebird
Masked Lovebird
Fischer's Lovebird
Lilian's (Nyasa) Lovebird
Black Cheeked Lovebird
Madagascar Lovebird
Abyssinian Lovebird
Red Faced Lovebird
Swindern's Lovebird
Lories and Lorikeets
:
Rainbow Lorikeet
Conures
:
Sun Conure
Jenday Conure
Cherry Headed Conure
Blue Crowned Conure
Mitred Conure
Patagonian Conure
Green Cheeked Conure
Nanday Conure
Caiques:
Black Headed Caique
White Bellied Caique
Poicephalus Parrots
:
Senegal Parrot
Meyer's Parrot
Red Bellied Parrot
Brown Headed Parrot
Jardine's Parrot
Cape Parrot
Ruppell's Parrot
Eclectus
:
Eclectus Parrot
African Greys:
Congo African Grey (CAG)
Timneh African Grey (TAG)
Amazons:
Blue Fronted Amazon
Yellow Naped Amazon
Yellow Headed Amazon
Orange Winged Amazon
Yellow Crowned Amazon
Cockatoos:
Cockatiel
Galah (Rose Breasted) Cockatoo
Sulphur Crested Cockatoo
Umbrella Cockatoo
Moluccan Cockatoo
Bare Eyed Cockatoo
Goffin's Cockatoo
Macaws
:
Red Shouldered (Hahn's) Macaw
Severe Macaw
Blue And Gold Macaw
Blue Throated Macaw
Military Macaw
Red Fronted Macaw
Scarlet Macaw
Green Winged Macaw
Hyacinth Macaw
Glossary of Common Parrot Terms
I took Kili and Truman to the park today in the usual manner wearing their aviator harnesses. First I flew Truman using the long leash and he did an outstanding job with over 20 flights. Not only did I call him back and forth the length of the leash from the same perch, I ran around to give him more distance to fly. I had him go to different benches and places in the park. He's been getting pretty good lately, but this was by far his best day.

Before I go any further, I must very sternly warn you: DO NOT TRY THIS AT HOME. Don't do it. Don't think about doing it. Just don't. With extensive research, 5 years of very extensive training experience, and a very special circumstance, I knew that this was something I could safely do. I didn't think it was going to be ok, I knew it (which I'll explain further). This is not a training guide or a suggestion of what you can or should do. You simply shouldn't do it. I'm not sharing this to be a role model but simply because it is something I've done. This is not something parrot owners should be doing with their pets. Watch this video in full and you will lose any thought about taking your pet parrot outside unrestrained (even if it's clipped!).

Now when Kili's turn came to fly, in the spur of the moment I decided to take her harness off and let her fly unrestrained! It's not a decision that came lightly but it wasn't something I set out to the park to do. At that moment, I simply KNEW that Kili would do what I was expecting. I could sense absolute and complete motivation from her. Sometimes her motivation is good and sometimes it is bad. In that range it is often hard to tell if she will really choose to perform or not. However, this time I was able to sense the most intense motivation from her with certainty.

A combination of factors lead to this unmistakable motivation. First of all I weighed the two parrots in before heading to the park and found that their weights were pretty low (still well within healthy range), lower than most park sessions. However, this is not something to exclusively gauge motivation on. Motivation, particular outdoors, can be affected by many factors. Temperature, humidity, wind, distractions, and other birds can play a big role. I've already noticed in the past that my parrots get especially motivated to eat (regardless of weight) prior to rain or thunderstorms and sure enough there is a thunderstorm forecast for tonight.

I can also have a good idea how the second bird will fly based on the first. Usually either both birds fly well or both fly poorly. When it's too hot, both don't want to fly. If there are too many distractions, it usually affects both birds. But today the circumstances were just perfect. The temperature was warm but not too hot. The wind was near calm. The kids at the park were a well behaved audience. This plays an important role because sometimes there are obnoxious kids that distract or bother the birds. Today I saw that they just tagged along but did not get in the way. Given the right group of kids, they actually can motivate the parrots to fly better for their attention.

Given all of these optimal conditions, I knew that it would be no challenge for Kili to do a perfect job harnessing flying all over the park. Having flown her extensively at home, in theaters, in a large gym, and in the park on a harness, I have had enough previous experiences where I experienced this "perfect motivation" that I knew today was the day. I don't remember the last time Kili "flew off" outside and I depended on the leash to save her. After years of socialization, desensitization, and going through this same flying routine at the park, I knew this was going to be like any other day minus the harness. Rather than take Kili to some desert or special place to freefly, I knew she was safest flying in the same park where she is accustomed to flying on her harness. If she can fly outside with the harness without a hitch and can fly in large gyms without a hitch, thus I know she can do this outdoors unrestrained as well.

HOWEVER, there is still the risk. Even if most of the time she does everything right on harness or indoors, there is absolutely no room for error outdoors. If Kili were to end up outside the park, there's no telling where she could end up. Senegal Parrots are particularly unsuitable for outdoor freeflight because they are small, quiet, and green. If one were to get lost in a tree, it would be damn near impossible to find. While some kinds of parrots could be lost and then found again, with a Senegal it's closer to all or nothing which is why I've avoided freeflight all this time.

But after so much routine and habit of harness flying in the park, I felt confident that even if someone were to scare her (which almost certainly wouldn't happen cause she's seen it all over the years), that she would either fly back to me or to some perch in the park. I didn't even fear her going into a tree because she has had opportunities to do this in the harness as well. But out of training and habit, she has learned only to land on the benches and low fences. I know that she simply would not consider landing elsewhere. I could not stand the thought or even the chance of losing her. But this day the circumstances just so happened to be that I knew it couldn't happen.

I took Truman off the leash extension and was about to apply it to Kili's harness. This was the moment when I decided that she would fly without it instead. I put the extension in my pocket, got Truman up on my shoulder, asked the kids to back up and make some more room, got some treats out, and then proceeded to take Kili's harness off. This was probably the most nerve-racking moment of truth and my hands were shaking a little. It was not that I was afraid she'd fly away but it was just something difficult to get myself to do. It was like taking the step out of an airplane to jump with a parachute, it was the moment of truth. I heard folks gasp as I took the leash off. People really couldn't believe what I was about to do. I took Kili's harness off and left it on the ground while I took some steps away and called her.

She instantly flew over to me and got a nice treat prior to returning to where she had perched. By this point I was too focused on the training session and almost forgot that she was untethered. I ran around the park calling her and flying her to different places like she would while wearing a harness. I never had to call more than once because her flight recalls were perfect. She came every time without delay. She got big treats but still not every time. Since she normally flies for a variable ratio reinforcement schedule, I felt no reason to change this now. I did, however, give her bigger and better treats than usual to reward her especially for doing such a great job. I was able to recall her for longer distances than I usually can with the limitation of the leash length. I tried to avoid taking my eyes off of her but I did at moments while stepping away or looking around. But this was ok because it was no different than when she is normally harnessed. She did not do anything she would not have done while wearing the harness which made me certain that I had interpreted her behavior correctly.

I continued to fly her for nearly 20 recalls to different locations in the park, almost no different than if she were harnessed. We did many back to back recalls where she flew multiple times to get just a single treat. I was going to end things early just to be extra safe. I reached in my pocket to get more treats to reward her for putting the harness back on but I could sense her eagerness to keep going. So instead, I had her play flighted fetch unrestrained. She did such an outstanding job flying up off the floor with the ball without the added weight of the harness. I also had her fly to the floor to play dead (again uninhibited by the cumbersome harness). I finished off the session with a few more flight recalls for big treats and then put Kili back in her harness for one final treat. I did not bother flying her any further in the harness and took this as a good opportunity to end the session and go home. Kili got her dinner extra early to celebrate doing such an outstanding job flying. She even had leftover training motivation by normal training time to outfly Truman for some extra treats!

It was a really exciting experience and I am so proud of her ability. She has always proven me right whenever I took chances flying her in challenging environments whether it was on big stages with unreachable ceilings, in gyms, or on the harness. I have a good feeling for when she is motivated, and especially when she is a sure shot. It was a lot of fun and a good experience, but I will not let it cloud my judgement and make me think I can just do that any time. I will continue using a harness (possibly with similar exceptions under the right circumstances) when I take her out to eliminate risks of loss entirely. Losing her simply is not a chance I can take. However, this experience has taught me a lot and I think to Kili as well. We have strengthened our bond and she has proven how capable she really is. Most importantly, doing this even further reduces the likelihood of ever losing her in a circumstance where she could inadvertently find herself unrestrained outside.

Edit: Some Afterthoughts. Although I made no specific preparations for this flight, all of Kili's life we have been preparing for this. I was always taming/training her (and especially when it comes to indoor freeflight and outdoor harness flight) to be able to safely recover her should she end up outdoors. She has been trained to fly down from high places, she has been trained to turn around and come back to me, she has been trained to think on the fly. All of these skills gave me the confidence that she could fly her way back to me and stay within the confines of the park.

Furthermore, there's the endless desensitization and socialization. She's extremely used to everything going on at the park and none of that scares her. I still have a video of her at the park from a few weeks back I have yet to share to show this. I can set off a cap gun right next to her and instead of getting scared she can rationally think through doing her trick. I really can't think of what can spook this bird or what has in recent years. The birds of prey factor was still present but to the same degree it is present for harness flying so that was not something extra to consider. If there was one place Kili could do a flawless job, it was at the park she always flies at.

I did not feel like I was evaluating risk, it was more like evaluating opportunity. Up till then, I always saw the idea of freeflight strictly as risk. However, during this special encounter and the motivation I observed, I felt confident (to the 99.9% degree) that Kili would not fly off in the first place. To compound that, I felt confident (99%) that if she were to fly off, that she would fly to me or remain within the confines of the park. The long harness I fly my birds with affords them the opportunity to fly up and get stuck in a tree and even out of the park at times. Yet they just don't do it. It's not because the harness holds them back but because of the safe places and altitudes they have learned to fly at. Kili did not need a leash to keep her flying between me and the park benches. I also feel that this exercise helps ensure that if she were to accidentally get loose, that she would find her way to the park and I'd end up finding her sitting on a park bench doing tricks begging passerbys for food.

This was not the scariest endeavor I have undertaken with Kili which is also a big part. Having her on the huge stage (like 80+ ft high ceilings) for America's Got Talent with unknown/unrehearsed lights and noises going off had me much more worried. And although we were inside a building, the places she could get lost should she fly off were endless. It was also my first encounter where the stakes were so high regarding a fly off. She didn't perform that well but she didn't contemplate flying off which was a huge deal. Flying her in the huge gym with 60ft rafters and plenty of those high places to land was also a scarier time. I was less certain of the outcome in that gym than I was at the park. Although she would remain confined in the gym should she fly off, I had absolutely no idea how I'd be getting her (and moreso Truman) from those places. At the park, I have seen exactly what she would do countless times with her harness. I try to fly the birds such so that the harness never actually confines them by moving around myself to allow for slack.

I was not out to prove anything or show this to anyone. I did not do it for the purpose of sharing it online either. Just in retrospect I thought it was an interesting story. I was just there in the moment and I knew this was something that could be done. Kili was poised to fly to me no matter what so I realized it really didn't matter if she was harnessed or not.

Kili's first outdoor freeflight was nothing like I might have pictured. There was no safety line, no netting, no transmitter, no pre-printed "lost parrot" fliers (although I do have one made up on my computer for each parrot but more with the mindset of in case of an accidental house escape), no helper or spotter, no camera. I did not even tell anyone in advance to be available just in case. I did not come to the park with the intention of freeflying and this was probably the best part of preparing both myself and the bird. We just did everything exactly the same as we would normally do so it wasn't unpredictable or frightening. In fact it was very predictable. The relationship and training experience holding Kili in my vicinity was far stronger than any harness! This is the main reason I feel safe using the harness in the first place.

All that said, I still have anxiety over all this and will continue to use the harness for my own peace of mind. I am glad her skills are there and perhaps under the same perfect circumstances we will repeat this. But for the most part, I will opt to keep using that lifeline that lets me sleep at night knowing my parrot is alive and well.

Part of: Flight Recall, Outdoor Harness Flight, Outdoor Freeflight, Blog Announcements, Poicephalus, Senegal Parrots
Kili Senegal Parrot Harness Unrestrained Outdoor Freeflight Freeflight
Comments
Post Your Response
9Beaks

Posted on May 23, 2013 07:35AM

Michael, I can't help but feel you are putting your bird at uneccessary risk by allowing her to fly outdoors unrestrained. Anytime your bird is outside of a controlled environment (ie: your bird-safe home), you cannot possibly contemplate or control what could happen. Other people, animals, birds, gusts of wind, really anything, could happen that might cause you to lose Kili in the blink of an eye. Every aspect of Kili's life is in your hands, she has no choice but to trust you to watch out for her, in the very world you have created for her. To place her unrestrained in the outside world is irresponsible, as Kili has zero means of taking care of herself outside of her world of Michael. I have no doubt the love you have for your birds, and know you would be devastated should you lose them. Please reconsider ever putting your birds in an unrestrained situation when outdoors.
Meehlticket

Posted on May 24, 2013 08:23AM

After living with my cockatoo since she was a week old, I feel I know her pretty well. We've lived in a variety of situations and I have flown her in a variety of places, inside and out. Almost every time she has flown unrestrained outside it has been unintentional, usually because she has unfastened her harness. My heart stops until she is back with me. It is very comforting to know my cockatoo is trained to recall. For me, those are my choices: Dependably trained to recall, regardless of surroundings, regardless of line of sight, or to have those wings clipped. As much as I wish otherwise, those times I can feel what she is feeling, and she looks at me with those eyes that say, "It's ok, I'll be ok, just trust me", I will still use a harness when flying my cockatoo outside... the thought of losing her is too horrible to contemplate. I applaud you on the exposure of your parrots to a wide variety of surroundings and people. I agree that a child audience can be negative or positive. My cockatoo is a rarity; she eagerly seeks out children. I've learned, however, to quickly turn the experience into a controlled learning opportunity for the children, and my parrot. With the emphasis on quick and control! My Pionus is an observer, easily frightened. I think that is because her nature is to be part of a flock, but she only has my cockatoo and me. While she is willing to step up for just about anyone... that is as far as she wants to go. She also has lived in a variety of environments with me, however, because of her fear outside - even in a familiar place, she will always have her wings clipped. (I frequently hear of someone losing a parrot outside because their flight feathers grew back -- that is what happened with my African Grey -- that is why I"m typing this a three in the morning - can't sleep while he is still lost. It has been five days, but that is a whole other issue - lost birds. ) I enjoy your Facebook stories and the YouTube videos very much. I think you, Kili, and Truman are amazing. I appreciate what you have to teach us. Keep them comin'!
angelblue

Posted on July 7, 2013 12:14AM

Wow. I am amazed at your bravado. I didn't read past "I took Kili's harness off and let her fly." I am assuming that she indeed did as she was trained, and returned to you. My only thought is this-- please train Kili to fend for herself in the wild before you put her health at risk again. Everyday I see careless owners trust they know what will happen, and I haven't been reading your blog long but I was sure you weren't that naive. I do hope she has a microchip.
Post Your Response