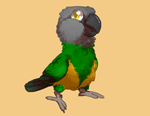 Kili
Type: Senegal Parrot
Genus: Poicephalus
Species: Senegalus
Subspecies: Mesotypus
Sex: Female
Weight: 120 grams
Height: 9 inches
Age: 15 years, 3 months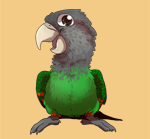 Truman
Type: Cape Parrot
Genus: Poicephalus
Species:Robustus
Subspecies: Fuscicollis
Sex: Male
Weight: 330 grams
Height: 13 inches
Age: 13 years, 6 months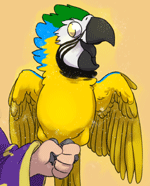 Rachel
Type: Blue & Gold Macaw
Genus: Ara
Species:ararauna
Sex: Female
Weight: 850 grams
Height: 26 inches
Age: 11 years, 3 months

List of Common Parrots:
Parakeets
:
Budgerigar (Budgie)
Alexandrine Parakeet
African Ringneck
Indian Ringneck
Monk Parakeet (Quaker Parrot)
Parrotlets
:
Mexican Parrotlet
Green Rumped Parrotlet
Blue Winged Parrotlet
Spectacled Parrotlet
Dusky Billed Parrotlet
Pacific Parrotlet
Yellow Faced Parrotlet
Lovebirds:
Peach Faced Lovebird
Masked Lovebird
Fischer's Lovebird
Lilian's (Nyasa) Lovebird
Black Cheeked Lovebird
Madagascar Lovebird
Abyssinian Lovebird
Red Faced Lovebird
Swindern's Lovebird
Lories and Lorikeets
:
Rainbow Lorikeet
Conures
:
Sun Conure
Jenday Conure
Cherry Headed Conure
Blue Crowned Conure
Mitred Conure
Patagonian Conure
Green Cheeked Conure
Nanday Conure
Caiques:
Black Headed Caique
White Bellied Caique
Poicephalus Parrots
:
Senegal Parrot
Meyer's Parrot
Red Bellied Parrot
Brown Headed Parrot
Jardine's Parrot
Cape Parrot
Ruppell's Parrot
Eclectus
:
Eclectus Parrot
African Greys:
Congo African Grey (CAG)
Timneh African Grey (TAG)
Amazons:
Blue Fronted Amazon
Yellow Naped Amazon
Yellow Headed Amazon
Orange Winged Amazon
Yellow Crowned Amazon
Cockatoos:
Cockatiel
Galah (Rose Breasted) Cockatoo
Sulphur Crested Cockatoo
Umbrella Cockatoo
Moluccan Cockatoo
Bare Eyed Cockatoo
Goffin's Cockatoo
Macaws
:
Red Shouldered (Hahn's) Macaw
Severe Macaw
Blue And Gold Macaw
Blue Throated Macaw
Military Macaw
Red Fronted Macaw
Scarlet Macaw
Green Winged Macaw
Hyacinth Macaw
Glossary of Common Parrot Terms
A few months ago, I went ahead against all odds and harness trained Santina, a 14 year old rescue Green-Winged Macaw. I wasn't sure how long it would take or how difficult it would be, but it didn't matter because I was determined to make it work. I went in figuring that it could take a month or more as Santina is not only older but also a rescue bird.

The most important thing going into the harness training was that for the 4 months I had her since adoption, that we worked on all prerequisite training that would be necessary. I had already taught her to step up, was confident she wouldn't normally bite me, was able to touch and pet her anywhere, could open her wings, and could grab and lift her. More importantly, I made sure that she learned how to learn and that training would work. I had already target trained her and built up differential motivation for different training tasks. I had not taught her a single trick though. So we were going into this more as a typical pet scenario than a performing parrot.

This wasn't my first time harness training parrots. As you may recall, Kili became phobic of the harness and required a complete rethinking of the approach. After Truman's baby year, he challenged my ability to put on his harness and had to be trained. I had also trained rescue Senegal Parrots to wear a harness (on stage in front of an audience in fact) and helped many clients succeed in training their own parrots to wear a harness.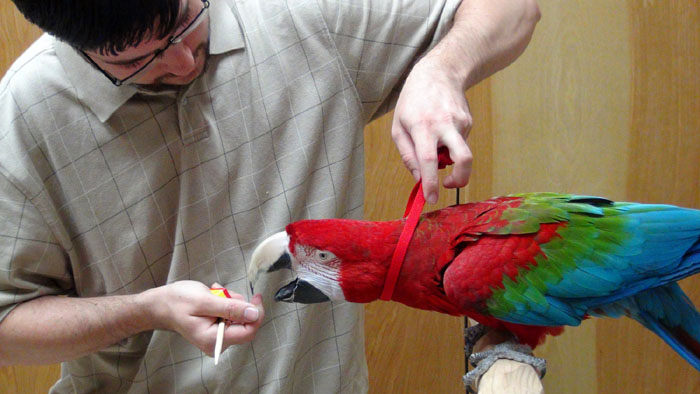 One thing I learned is that the parrot isn't going to wear the harness just because. They are all resistant to it and it will only get progressively harder to put a harness on a bird that doesn't want to wear it. This is why my biggest recommendation to everyone who hasn't put a harness on their bird before, and is going to do so for the first time, is to use this training method right from the start. Don't try it on to see how your parrot reacts. You will regret it. It will make the training many times more difficult and ultimately take more time and effort. Even if you think your parrot is ultra tame and easy about it, just don't. Kili had already been performing many tricks and was a superbly trained parrot when I stuck the harness on her the first time, well it was a disaster and I had to start much more behind than if I jumped straight to the training. Your parrot just isn't going to like it so teach it to like it preemptively for much greater success.

Santina's harness training took less than a week. Actually it was just 4 days of training and 2 days of preemptive harness desensitization. She wasn't really scared of the harness in the first place but I went through those steps just in case anyway to play it safe. Then I took my time and taught her to put the harness on. It is soooo easy to put a harness on a cooperative parrot that works with you as opposed to leaning against you. When I need to move her wings or move the harness certain ways, Santina leans with me to make it go easier. This is why, even with a tame bird it is really worth doing the training to make the harness donning easier and to prevent any chance of scaring the tame bird accidentally.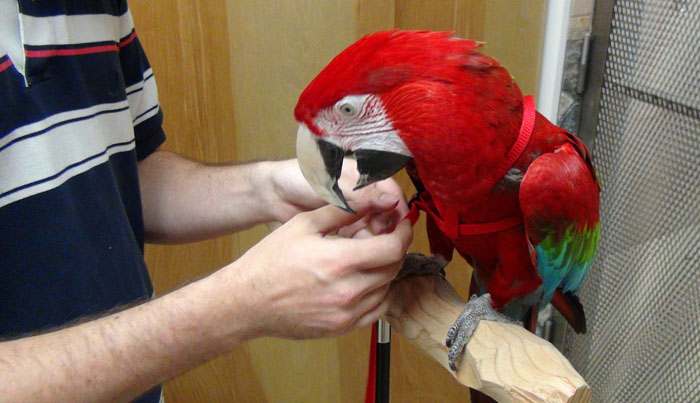 I'm really happy how Santina's Harness Training DVD came out because it shows the process in great detail start to finish on a bird that isn't a baby, a bird that wasn't raised by me, and a bird that isn't trick trained. If Santina can do it, then any bird can. And now this DVD is available for purchase. Get a copy of my book or a harness and the DVD is half off. If you get both a book and a harness from my site, then the DVD is free!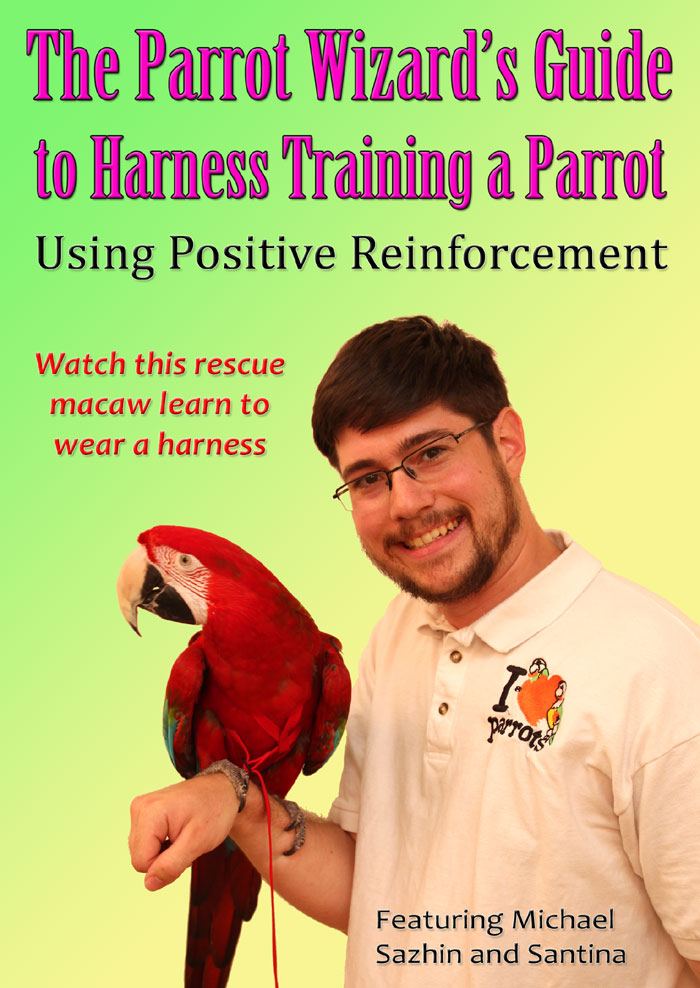 Here's the thing you must remember to be successful with the harness training approach that I present, your parrot must meet the taming prerequisites or harness training is unlikely to be successful. How can you expect a parrot to allow you to move and stuff its wings into the harness straps if it won't let you pull its wings open under normal circumstances? How will a parrot be comfortable with you manipulating a harness on if it isn't even comfortable with you touching it? These things should not create additional distress to the parrot on top of this novel harness. This is why these must absolutely be worked on first. Furthermore, harness training takes greater than usual motivation for training. These are extensive topics and far more than could possibly covered in a single DVD so the Harness Training DVD does not cover any of these topics. The Harness Training DVD is specific to taking that tame and prepared parrot and specifically teaching it to wear a harness. All of the basics required prior to beginning this harness training are covered in my book, The Parrot Wizard's Guide to Well-Behaved Parrots. This is why I offer that special combination of harness + book with free harness training DVD because this is the best combination to ensure success with the harness from the start.

In the 2 months since learning to wear a harness, Santina has made colossal progress with going outside. She went from being quite scared and choking my arm with her grip to enjoying outings all around the city. I've been taking her on the subway and to remote places and she is getting to enjoy time outside and together with me thanks to this awesome harness capability. Here's a video of Santina putting her harness on entirely for the very first time (2 months ago) and trailer to her Harness Training DVD.



Part of: Taming & Basic Training, General Parrot Care, Outdoor Harness Flight, Macaws
Santina Green-Winged Macaw Harness Training Aviator Harness
Comments
Post Your Response
Nokota

Posted on July 8, 2014 12:14PM

Where is the clip of Santina putting the harness on for the first time? All the links take you to the DVD's page which doesn't seem to have the link either...