While I still believe that trick training is both the best mental exercise and relationship building for parrot and owner, good foraging toys are a must for when the owner is away. Just an hour or two of trick training and interaction per day simply isn't enough to meet a parrot's intellectual needs. I would argue that a good training session (especially involving flight and complex behaviors) can make up for hours of down time, but still not a complete substitute. This is why stimulating toys are a must.

Parrot toys come in three categories: chewing, playing, and foraging. Ideally a parrot should have at least one of each category in its cage at all times. Chewing toys are usually comprised of a lot of wooden parts that are appropriate for the parrot's size and beak strength. These are the toys that you come home to see bare not long after hanging them. These are important to keep your parrot busy and beak trimmed. Better that they be chewing on that then your furniture when they are out. The play toys are often made of tougher materials and involve the parrot interacting with them in non-destructive ways such as pushing, pulling, swinging, ringing, etc.

Finally, foraging toys are the third category of parrot toys. In a way these are the ultimate toy because they involve both play and destruction. Foraging toys can best be described as toys with goodies inside. In the simplest sense they are toys with food treats inside but I'd like to talk about going beyond just treats. Since I do a lot of formal parrot training, I don't approve of food oriented toys because then the parrot won't be hungry when I get home and want to do training. So instead, I try to focus on non food based foraging toys.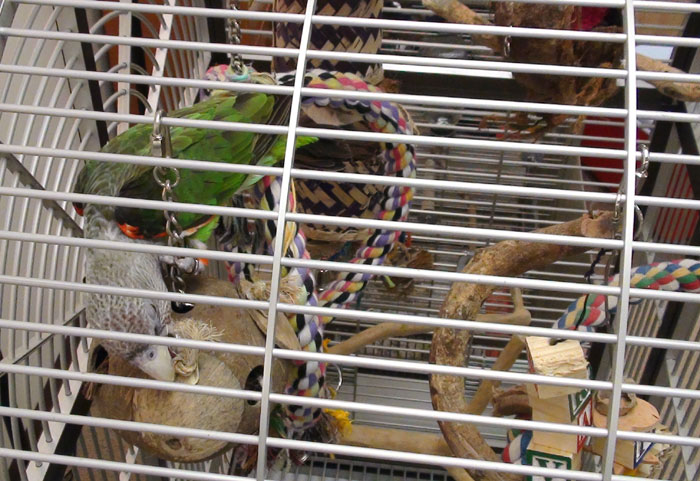 Truman can spend hours trying to get a hold of the toys inside this coconut foraging toy



For a parrot that doesn't know how to play with toys but is treat oriented, hiding food in toys is a great way to get them started. However, for a naturally inquisitive/playful bird like Truman, just having more toys inside is enough. When toy shopping for my parrots, I especially look out for sophisticated toys like this.

Another thing I like to do is to hang toys near swinging perches rather than solid ones. If the parrot is perched on a solid perch, it is all too easy to shred a toy to smithereens in no time. However, if the parrot is standing on an already swinging perch and the toy moves, it really provides a challenge. Not only is it mentally challenging to move the swing and toy to reach, it is also great exercise. The parrot has to use all of its muscles to balance, hold, and play. In the video below you can see how Truman is holding onto his swinging atom with one foot and the coconut foraging toy with the other. It's both an exercise and a challenge to keep him busy while I am away.



Part of: Toys, Accessories, and DIY, Cape Parrots, Product Reviews
Truman Cape Parrot Foraging Toy