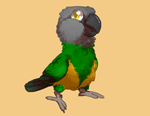 Kili
Type: Senegal Parrot
Genus: Poicephalus
Species: Senegalus
Subspecies: Mesotypus
Sex: Female
Weight: 120 grams
Height: 9 inches
Age: 14 years, 5 months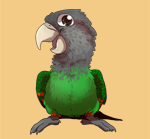 Truman
Type: Cape Parrot
Genus: Poicephalus
Species:Robustus
Subspecies: Fuscicollis
Sex: Male
Weight: 330 grams
Height: 13 inches
Age: 12 years, 8 months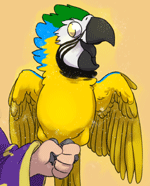 Rachel
Type: Blue & Gold Macaw
Genus: Ara
Species:ararauna
Sex: Female
Weight: 850 grams
Height: 26 inches
Age: 10 years, 5 months

List of Common Parrots:
Parakeets
:
Budgerigar (Budgie)
Alexandrine Parakeet
African Ringneck
Indian Ringneck
Monk Parakeet (Quaker Parrot)
Parrotlets
:
Mexican Parrotlet
Green Rumped Parrotlet
Blue Winged Parrotlet
Spectacled Parrotlet
Dusky Billed Parrotlet
Pacific Parrotlet
Yellow Faced Parrotlet
Lovebirds:
Peach Faced Lovebird
Masked Lovebird
Fischer's Lovebird
Lilian's (Nyasa) Lovebird
Black Cheeked Lovebird
Madagascar Lovebird
Abyssinian Lovebird
Red Faced Lovebird
Swindern's Lovebird
Lories and Lorikeets
:
Rainbow Lorikeet
Conures
:
Sun Conure
Jenday Conure
Cherry Headed Conure
Blue Crowned Conure
Mitred Conure
Patagonian Conure
Green Cheeked Conure
Nanday Conure
Caiques:
Black Headed Caique
White Bellied Caique
Poicephalus Parrots
:
Senegal Parrot
Meyer's Parrot
Red Bellied Parrot
Brown Headed Parrot
Jardine's Parrot
Cape Parrot
Ruppell's Parrot
Eclectus
:
Eclectus Parrot
African Greys:
Congo African Grey (CAG)
Timneh African Grey (TAG)
Amazons:
Blue Fronted Amazon
Yellow Naped Amazon
Yellow Headed Amazon
Orange Winged Amazon
Yellow Crowned Amazon
Cockatoos:
Cockatiel
Galah (Rose Breasted) Cockatoo
Sulphur Crested Cockatoo
Umbrella Cockatoo
Moluccan Cockatoo
Bare Eyed Cockatoo
Goffin's Cockatoo
Macaws
:
Red Shouldered (Hahn's) Macaw
Severe Macaw
Blue And Gold Macaw
Blue Throated Macaw
Military Macaw
Red Fronted Macaw
Scarlet Macaw
Green Winged Macaw
Hyacinth Macaw
Glossary of Common Parrot Terms
So it's been 6 months since I adopted Santina; but it's also been a few months since the macaw was introduced to the other two. I'd like to take a little time to talk about the flock dynamics that are emerging.

Initially, Kili had been an only bird. Then for a short time she shared the household with a budgie and eventually with Truman. The dynamic between Kili and Truman had always been where Kili was boss. Kili could take any perch from Truman at any moment. Truman got used to being the "little bird." Now things changed yet again with the addition of another bird.

Whenever considering the addition of another bird it is absolutely essential to consider how this bird will fit into the existing flock structure. You can't just simply say "I want this kind" and disregard whether existing birds will agree or not. When it comes to Kili, I know that she will bully any bird that is smaller or several times her size. This is why when I got Truman, I was only considering birds that were bigger than her that could handle the aggression. Even at triple her weight and 1.3x her size, Truman tends to lose most fights to her.

Santina is obviously much bigger than the other two but her personality also plays a big factor. She's not aggressive, she's slow, hulking, lazy. These qualities make her a lesser threat to the existing smaller birds. In fact, she would not go after them and they could out fly her any time, even if she could fly. So that's one side of the issue eliminated. On the flip side, the biggest danger is if the little guys put themselves in the way.



Initial introductions were to build favorable first impressions, start peacefully, and get the birds used to being around each other without causing trouble. However, beyond this early acceptance, the rest they have to work out on their own. This happens little by little through experimentation as the birds cross each others paths (whether intentionally or inadvertently).

Nuts are a great device for making birdy friends. Since they require some focus and take time to crack, it gets the birds focused on a task and away from each other. This is how I initially introduced Kili & Truman to share a perch and lately Truman and Santina.




The only trouble I ran into was that Santina finished her hazelnut quickly and started to pry Truman's nut out of his beak and scared him. The trick is to keep them busy with more nuts or to separate the birds before any trouble can erupt. This gives them a chance to get used to being around each other and not have aggressive thoughts. As sitting near each other begins to work, trick training the parrots on the same perch is also a great idea to teach cooperation.

Another thing that greatly improves the flock dynamic is taking the parrots outside together. Even if enemies at home, they tend to stick together outdoors against all the other mayhem. This socialization experience builds better bonds between the parrots that you bring home with you (with time). I've been taking the parrots out two and sometimes even three at a time. I put them down on fences or benches in close proximity to each other and keep them busy with training and food. They behave very well together in this type of setting.




Interestingly, Truman was never scared of Santina (more than triple his weight and size) from the very beginning. Kili, the bird that fearlessly bullies Truman, stays away from Santina. Kili is a true bully, she'll only pick fights she knows she can win. Truman on the other hand is the bumbling dodo. Truman will cross Santina's path thoughtlessly. And I want to reiterate that he's doing this in a non-aggressive way. When Kili goes after Truman, you can tell it is with malicious intentions. Truman on the other hand, doesn't actually go after Santina but he walks by her entirely focused on whatever he is after. Truman does not notice the far bigger macaw perched there and brushes right by her. His behavior comes off as bold. But his boldness is not in him thinking that he can take on the bigger bird but him not thinking at all. This is how Truman lands himself in trouble all the time.

This is exactly what happens between Truman and Santina. They have potential together as they are both non-aggressive birds but Truman is a bit of a dummy and puts himself in her way. Half the time this happens too quickly for Santina to react. Other times she runs away not knowing how this little bird can be coming right at her. Sometimes she puts her beak out defensively though. She does not attack or bite but simply tries to defend herself. Truman has been known to try to land on her and she needs to send him a reminder that her head is not a landing pad. Here's a video that perfectly illustrates the sort of character that Truman is:



Part of: Taming & Basic Training, General Parrot Care, Indoor Freeflight, Blog Announcements, Poicephalus, Cape Parrots, Senegal Parrots, Macaws, Rescue
Truman Cape Parrot Santina Green-Winged Macaw Introduction Socialization Flock Dynamics
Comments
Post Your Response