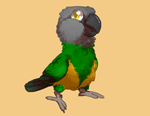 Kili
Type: Senegal Parrot
Genus: Poicephalus
Species: Senegalus
Subspecies: Mesotypus
Sex: Female
Weight: 120 grams
Height: 9 inches
Age: 11 years, 8 months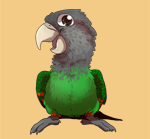 Truman
Type: Cape Parrot
Genus: Poicephalus
Species:Robustus
Subspecies: Fuscicollis
Sex: Male
Weight: 330 grams
Height: 13 inches
Age: 9 years, 11 months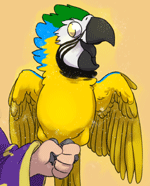 Rachel
Type: Blue & Gold Macaw
Genus: Ara
Species:ararauna
Sex: Female
Weight: 850 grams
Height: 26 inches
Age: 7 years, 8 months

List of Common Parrots:
Parakeets
:
Budgerigar (Budgie)
Alexandrine Parakeet
African Ringneck
Indian Ringneck
Monk Parakeet (Quaker Parrot)
Parrotlets
:
Mexican Parrotlet
Green Rumped Parrotlet
Blue Winged Parrotlet
Spectacled Parrotlet
Dusky Billed Parrotlet
Pacific Parrotlet
Yellow Faced Parrotlet
Lovebirds:
Peach Faced Lovebird
Masked Lovebird
Fischer's Lovebird
Lilian's (Nyasa) Lovebird
Black Cheeked Lovebird
Madagascar Lovebird
Abyssinian Lovebird
Red Faced Lovebird
Swindern's Lovebird
Lories and Lorikeets
:
Rainbow Lorikeet
Conures
:
Sun Conure
Jenday Conure
Cherry Headed Conure
Blue Crowned Conure
Mitred Conure
Patagonian Conure
Green Cheeked Conure
Nanday Conure
Caiques:
Black Headed Caique
White Bellied Caique
Poicephalus Parrots
:
Senegal Parrot
Meyer's Parrot
Red Bellied Parrot
Brown Headed Parrot
Jardine's Parrot
Cape Parrot
Ruppell's Parrot
Eclectus
:
Eclectus Parrot
African Greys:
Congo African Grey (CAG)
Timneh African Grey (TAG)
Amazons:
Blue Fronted Amazon
Yellow Naped Amazon
Yellow Headed Amazon
Orange Winged Amazon
Yellow Crowned Amazon
Cockatoos:
Cockatiel
Galah (Rose Breasted) Cockatoo
Sulphur Crested Cockatoo
Umbrella Cockatoo
Moluccan Cockatoo
Bare Eyed Cockatoo
Goffin's Cockatoo
Macaws
:
Red Shouldered (Hahn's) Macaw
Severe Macaw
Blue And Gold Macaw
Blue Throated Macaw
Military Macaw
Red Fronted Macaw
Scarlet Macaw
Green Winged Macaw
Hyacinth Macaw
Some bastard shot Kili in cold blood. She is now an ex-parrot. She has ceased to be. Crazy maniac pulled a gun on her and shot this poor birdie dead.



Part of: Parrot Trick Training, Blog Announcements, Senegal Parrots
Kili Senegal Parrot Dead Parrot
Comments
Post Your Response



cml

Posted on April 1, 2013 01:38PM

[quote="Michael":3omvwnjj][url=http://TrainedParrot.com/Dead_Parrot:3omvwnjj]Kili Shot Dead[/url:3omvwnjj] This will be my final blog post as I see no point in going on. Some maniac with a gun shot Kili in cold blood. There's even a video of this on my blog.[/quote:3omvwnjj]



Andromeda

Posted on April 1, 2013 10:43PM

It is so super hilarious how she just lies there, perfectly motionless, for 23 seconds! Man, Kili has loads[/i:28dbtd9n] of patience for a bird. Well done on training her to lie still for such a long period of time!
9Beaks

Posted on April 3, 2013 07:03AM

I KNEW this had to be an April Fool's gag, as Michael would never allow any harm to Kili! Now what would be really funny is to see Kili whip out a little birdy pistol from under her wing and shoot back! Ha ha! I really liked seeing at the end of the video Kili flipping back up and waving, I think she even tried saying "hi"? What a smart bird!
Post Your Response