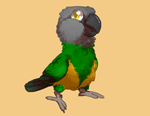 Kili
Type: Senegal Parrot
Genus: Poicephalus
Species: Senegalus
Subspecies: Mesotypus
Sex: Female
Weight: 120 grams
Height: 9 inches
Age: 14 years, 5 months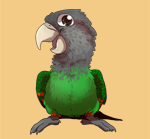 Truman
Type: Cape Parrot
Genus: Poicephalus
Species:Robustus
Subspecies: Fuscicollis
Sex: Male
Weight: 330 grams
Height: 13 inches
Age: 12 years, 9 months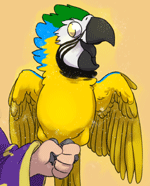 Rachel
Type: Blue & Gold Macaw
Genus: Ara
Species:ararauna
Sex: Female
Weight: 850 grams
Height: 26 inches
Age: 10 years, 5 months

List of Common Parrots:
Parakeets
:
Budgerigar (Budgie)
Alexandrine Parakeet
African Ringneck
Indian Ringneck
Monk Parakeet (Quaker Parrot)
Parrotlets
:
Mexican Parrotlet
Green Rumped Parrotlet
Blue Winged Parrotlet
Spectacled Parrotlet
Dusky Billed Parrotlet
Pacific Parrotlet
Yellow Faced Parrotlet
Lovebirds:
Peach Faced Lovebird
Masked Lovebird
Fischer's Lovebird
Lilian's (Nyasa) Lovebird
Black Cheeked Lovebird
Madagascar Lovebird
Abyssinian Lovebird
Red Faced Lovebird
Swindern's Lovebird
Lories and Lorikeets
:
Rainbow Lorikeet
Conures
:
Sun Conure
Jenday Conure
Cherry Headed Conure
Blue Crowned Conure
Mitred Conure
Patagonian Conure
Green Cheeked Conure
Nanday Conure
Caiques:
Black Headed Caique
White Bellied Caique
Poicephalus Parrots
:
Senegal Parrot
Meyer's Parrot
Red Bellied Parrot
Brown Headed Parrot
Jardine's Parrot
Cape Parrot
Ruppell's Parrot
Eclectus
:
Eclectus Parrot
African Greys:
Congo African Grey (CAG)
Timneh African Grey (TAG)
Amazons:
Blue Fronted Amazon
Yellow Naped Amazon
Yellow Headed Amazon
Orange Winged Amazon
Yellow Crowned Amazon
Cockatoos:
Cockatiel
Galah (Rose Breasted) Cockatoo
Sulphur Crested Cockatoo
Umbrella Cockatoo
Moluccan Cockatoo
Bare Eyed Cockatoo
Goffin's Cockatoo
Macaws
:
Red Shouldered (Hahn's) Macaw
Severe Macaw
Blue And Gold Macaw
Blue Throated Macaw
Military Macaw
Red Fronted Macaw
Scarlet Macaw
Green Winged Macaw
Hyacinth Macaw
Glossary of Common Parrot Terms
To commemorate posting my 200th video on youtube, I would like to host a small contest as a way to say thanks and give back to my loyal viewers and readers. At first I was just going to do it for a single clicker but I know how much fun it is to win so I decided to make three different ways to win a clicker to that more people could get one to start training their parrot. As an added bonus, a 25% off coupon for a single order of any products from my Parrot Wizard toy and training supply store is also included!

A clicker is very helpful for parrot training as it can be used as a consistent bridge and secondary reinforcer for trick training. If you are reading this blog, then chances are you've read all about clicker use in training in my articles and seen me use it in my videos. I give treats to my parrots for tricks more randomly but prefer to maintain the consistency of click for correct behavior every time. This way they learn to always do the right behaviors even if they aren't getting a treat for them because it is at least confirmed to them with a click.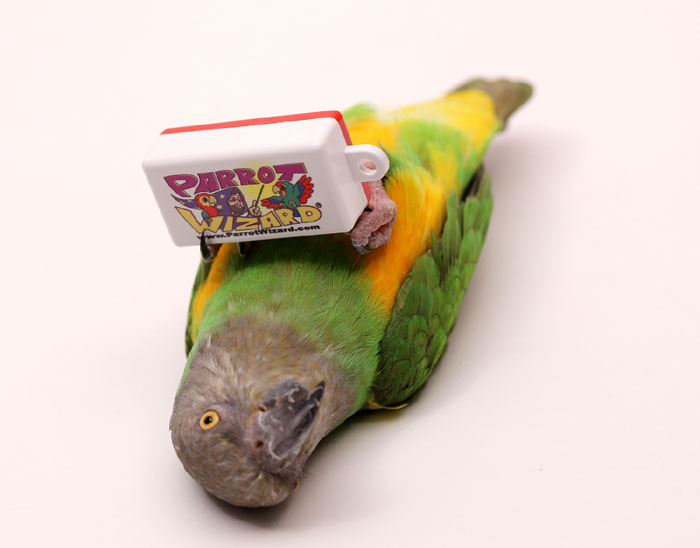 Now onto the ways to win. There will be 3 separate random drawings for a single winner from each of the following categories. This means you can win as many as 3 times or more likely just have a better chance of winning than if there were only one drawing.

1) Subscribe to the Trained Parrot blog. This is such a no brainer. Find the green box called "Subscribe to Blog" in the left hand column of any page on this site and enter your name and email. Be sure to use a valid email address or I won't be able to reach you in case you won. You can use your first or full name, but I will only mention by first name who the winners are on the site and then notify by email. Subscribing to the blog is a way of showing your support for the cause even if you don't want frequent emails about updates. You can manage you subscription and set it up for weekly updates about new blog posts or even opt out of receiving emails. Please limit 1 subscription per person.

2) "Like" the trained parrot facebook page. Simply log into facebook, visit this page, and click "like" to be a member of the trained parrot facebook community. Not only will you receive facebook notifications of new blog posts, but you will also get to hear funny stories and updates about the whereabouts of Kili & Truman that are not posted anywhere else.

If you already subscribed to the blog or liked the facebook page, there's no need to do it again! Everyone already signed up is automatically included in this contest as a thanks for your continued support.

3) Finally the last method is for owners of websites, blogs, and other web pages. Link to Trained Parrot Blog, The Parrot Forum, and/or Parrot Wizard websites from your page for a chance to win in this third drawing. You can improve your chances of winning by linking all three sites on a single site or linking my parrot sites from other websites you own. In other words, every link you make from every site counts as an additional "raffle ticket" toward winning. Limit 1 link per my parrot site on your page (one to each of the 3 sites I mentioned) but no limit to number of your own sites you can post these links on. Notify me of the sites you posted links on by entering them on this page. Feel free to submit as many times as you want as long as they are all valid and follow these guidelines. However, abusing the system could lead to disqualification.

Link to any one, two, or three of these sites you choose:

http://TrainedParrot.com
http://TheParrotForum.com
http://ParrotWizard.com

And then go to this page to enter the contest by submitting the sites you linked on. Don't forget this part or your effort won't be noted toward the contest!

Keep in mind that it has to be your own site or page. Links from forums, social networks, and other people's pages will not be counted toward the contest because I don't want to encourage anyone to go spamming in attempt to win. However, if it is your own website, blog, or public page (something like myspace would be ok, but facebook wouldn't), then feel free to link to any one of those three sites you like or all three of them to triple your chances.



The contest duration will be one month and winners will be selected on July 6th. With people going away for summer vacations and such, I want to leave sufficient time for everyone to have a chance to participate.

As you can obviously tell, the purpose of this contest is to get the word out about my parrot training sites. I hope that the more people that can see them, the more owners will be equipped with the tools and knowledge to build a loving relationship with their parrot based on trust and positive reinforcement. Thank you for your support and good luck with the contest!



Here is the fine print about the contest rules. Everyone is welcome to participate, however, only winners in US or Canada are eligible to receive clicker and coupon as no cost. International winners would be responsible for paying international shipping for clicker if they choose to claim it. International winners are still eligible for 25% coupon but are responsible for the cost of international shipping for products. 25% Parrot Wizard coupon is for all products in a one time purchase (limit 10 products) and does not apply to shipping charges. Any abuse of the contest (such as same person signing up multiple times for same contest category or submitting illegitimate sites for links) could result in disqualification from winning. If winners in each category cannot be located within 7 days of contest completion, are ineligible, or turn down their prize, the contest will continue to be redrawn in that category until a winner can be rewarded. Winners will be responsible for providing me their shipping details by email to receive their prizes but can be assured their information will be kept private. I will only announce winners by their first name and will not disclose their email or further details without their permission. I would appreciate a photo and update of winners clicker training their parrot if possible to post on the blog as a follow up. The contest details should all go as stated above but since I haven't done this before and cannot foresee what kind of issues I could run into, I reserve the right to discontinue the contest or amend the rules at any time. Thanks for your understanding and for participating.



Part of: Parrot Trick Training, Blog Announcements
Clicker Contest
Comments
Post Your Response



laducockatiel

Posted on June 8, 2011 06:06AM

Hi Michael, I live in England, I have a site and I am subscribed to your blog and are planning to put your links on my site. How much would postage and packaging cost to come to England (if I win)?



Michael

Posted on June 8, 2011 05:10PM

Shipping to most places international will only be about a dollar or two. I'd provide the exact number depending on where the winners are located. However, the Parrot Wizard 25% discount would be less lucrative to use because shipping a box of toys could easily cost $30 overseas. Feel free to participate because even if the shipping doesn't pay off compared to the value of the winnings and you decline the prize, you'd still get to feel the thrill of winning out of several hundred people



laducockatiel

Posted on June 8, 2011 05:13PM

ok, thanks very much Michael. Yes i will probably join now. I will sign up for this when i am ready!



MIKEPOPER

Posted on June 9, 2011 08:22PM

and how are you going to choose the winner? lottory? by the way michael i sent you a massage in youtube... please replly to me soon tnx =]



Michael

Posted on June 9, 2011 08:25PM

Yeah, winners will basically be chosen like a lottery, one in each category. And I already responded to your message on youtube.



MIKEPOPER

Posted on June 10, 2011 11:06AM

i have already sent you another one XD



laducockatiel

Posted on June 22, 2011 07:57PM

Put trained parrot.com, theparrotforum.com and parrot wizard.com links on my site an I hav signed up. Proper hope I win, need clicker. Fingers crossed eh



Michael

Posted on June 22, 2011 08:10PM

I hope you didn't forget to notify me for contest purposes about it here: http://trainedparrot.com/Contest/url_entry.php While I appreciate just posting links, it's important that you submit them on that page because the drawing will automatically be picked randomly from one of the entries.



laducockatiel

Posted on June 23, 2011 05:09PM

It's ok, I've already signed up



Michael

Posted on June 30, 2011 02:48AM

One more week left to participate by [url=http://www.facebook.com/trainedparrot:lutsj199]liking the facebook page[/url:lutsj199], [url=http://TrainedParrot.com:lutsj199]subscribing to the blog[/url:lutsj199], and posting links from your site ([url=http://trainedparrot.com/Contest/url_entry.php:lutsj199]don't forget to submit them as an entry[/url:lutsj199]). [url=http://trainedparrot.com/Contest:lutsj199]Here's a link to the contest page for complete details[/url:lutsj199]. Winners should be picked on July 6th.
Rashino

Posted on July 6, 2011 07:07PM

how will you no who liked your facebook page? just curious.



Michael

Posted on July 6, 2011 07:52PM

I have a list on facebook of all people who "like" the page so it was pretty easy to let the computer pick a number and find the corresponding user. Winners have been emailed and once I hear back from them, will announce on the page who won.
Post Your Response