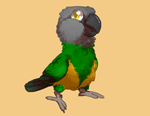 Kili
Type: Senegal Parrot
Genus: Poicephalus
Species: Senegalus
Subspecies: Mesotypus
Sex: Female
Weight: 120 grams
Height: 9 inches
Age: 14 years, 7 months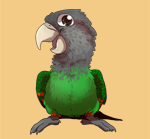 Truman
Type: Cape Parrot
Genus: Poicephalus
Species:Robustus
Subspecies: Fuscicollis
Sex: Male
Weight: 330 grams
Height: 13 inches
Age: 12 years, 11 months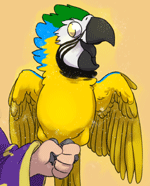 Rachel
Type: Blue & Gold Macaw
Genus: Ara
Species:ararauna
Sex: Female
Weight: 850 grams
Height: 26 inches
Age: 10 years, 7 months

List of Common Parrots:
Parakeets
:
Budgerigar (Budgie)
Alexandrine Parakeet
African Ringneck
Indian Ringneck
Monk Parakeet (Quaker Parrot)
Parrotlets
:
Mexican Parrotlet
Green Rumped Parrotlet
Blue Winged Parrotlet
Spectacled Parrotlet
Dusky Billed Parrotlet
Pacific Parrotlet
Yellow Faced Parrotlet
Lovebirds:
Peach Faced Lovebird
Masked Lovebird
Fischer's Lovebird
Lilian's (Nyasa) Lovebird
Black Cheeked Lovebird
Madagascar Lovebird
Abyssinian Lovebird
Red Faced Lovebird
Swindern's Lovebird
Lories and Lorikeets
:
Rainbow Lorikeet
Conures
:
Sun Conure
Jenday Conure
Cherry Headed Conure
Blue Crowned Conure
Mitred Conure
Patagonian Conure
Green Cheeked Conure
Nanday Conure
Caiques:
Black Headed Caique
White Bellied Caique
Poicephalus Parrots
:
Senegal Parrot
Meyer's Parrot
Red Bellied Parrot
Brown Headed Parrot
Jardine's Parrot
Cape Parrot
Ruppell's Parrot
Eclectus
:
Eclectus Parrot
African Greys:
Congo African Grey (CAG)
Timneh African Grey (TAG)
Amazons:
Blue Fronted Amazon
Yellow Naped Amazon
Yellow Headed Amazon
Orange Winged Amazon
Yellow Crowned Amazon
Cockatoos:
Cockatiel
Galah (Rose Breasted) Cockatoo
Sulphur Crested Cockatoo
Umbrella Cockatoo
Moluccan Cockatoo
Bare Eyed Cockatoo
Goffin's Cockatoo
Macaws
:
Red Shouldered (Hahn's) Macaw
Severe Macaw
Blue And Gold Macaw
Blue Throated Macaw
Military Macaw
Red Fronted Macaw
Scarlet Macaw
Green Winged Macaw
Hyacinth Macaw
Glossary of Common Parrot Terms
Parrots are extremely intelligent creatures and can learn concepts like colors, matching, and size. That's why I am always excited to teach tricks to my parrots that both challenge them and demonstrate their capabilities to others.

It was pretty easy to teach my new Colored Boxes trick to Kili. That is because she already has all of the skills required to learn the colored boxes trick. First, a parrot needs to know how to fetch. Next, the parrot needs to learn how to match colors. Finally, the parrot needs to learn how to push or pull.

Kili already learned how to match colors in the puzzle trick and ring toss trick. Kili learned to push/pull for a coin box trick and for her stroller trick. Putting all of these skills together led to the Colored Boxes trick. In this trick Kili places all of the round colored pieces into matching colored boxes. Some of the pieces are smaller and some are larger. She had to learn to ignore the size and focus exclusively on matching the colors. Then Kili learned to walk over and push all of the boxes closed.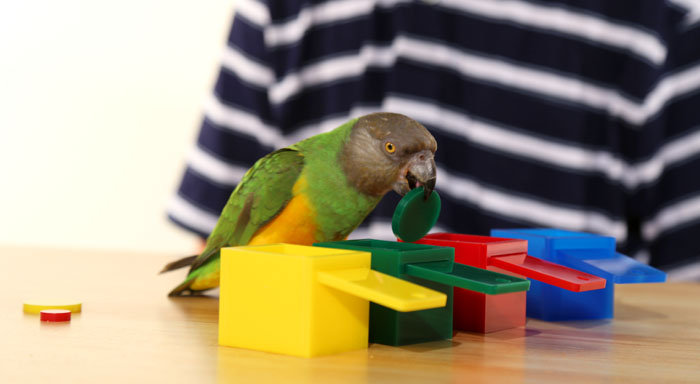 A problem that I ran into while teaching this trick was that Kili tricked me into helping her figure out where to put the pieces. Out of habit, I was clicking my clicker during the moment Kili would begin to dip the piece into right box. I realized that she would walk around dipping the piece into each box and waiting to see if there would be a click or not. In other words, she was tricking me into determining the color match and just cuing her when to drop it. So to avoid being outsmarted by the bird, I had to pay attention not to click until she would fully release the piece into the right box. She needed to receive the negative punishment of getting nothing for dropping the pieces into the wrong boxes in order to realize which ones are actually right.

When you teach a color match trick like ring toss, puzzle, or colored boxes, in the beginning the bird will only do two or three colors on pure memorization. But as you keep increasing the number of colors, a light bulb comes on in that bird's head and it realizes that the colors have to match regardless of what they are. Then the bird is able to match any color of that style trick.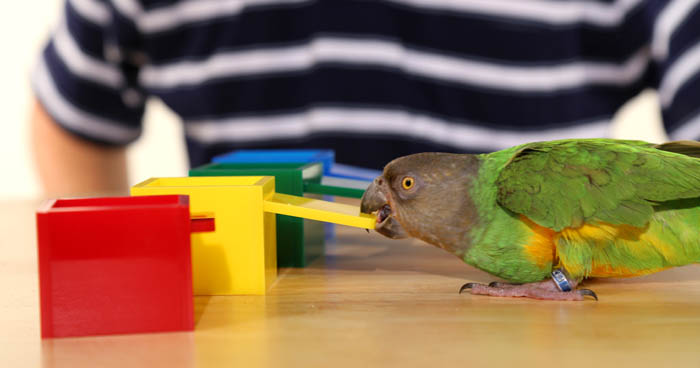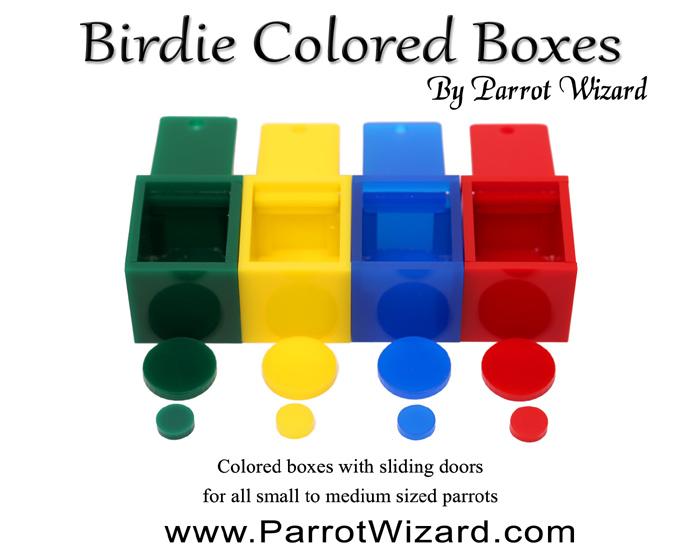 I recommend the Colored Boxes Trick for any small to medium parrots. It's too small for bigger parrots but the 6 Color Birdie Ring Toss is great for all the medium to large parrots.

Now check out this video of Kili performing her colored boxes trick:



Part of: Parrot Trick Training, Senegal Parrots
Kili Senegal Parrot Teach Trick Train Training Colored Boxes Color Match
Comments
Post Your Response
guilletto

Posted on July 11, 2015 01:20PM

Parrots not only see life in colors, but they are able to see 99M of colors more than us. While we "only" see 1 million of colors, birds can see 100 millions of them. The reason is that as tetrachromatic animals (like Amphibians and reptiles) they are able to see in the UV spectrum. So, they use this capability to regulate their calcium cycle on their own, select better males or females, or see the life in more that 4K !! Lol Did you know it?



Michael

Posted on July 11, 2015 02:35PM

Yes. And this is why I suspect Kili sometimes has trouble with color match tricks at first. She will ealk around and try the piece against every receptacle and keep moving on to the next one. She's like, "this isn't exactly the same!" While to me red and red look alike, to her they might be somewhat different shades. So it takes training to overcome this by teaching acceptable generalization.