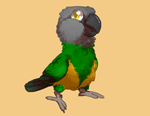 Kili
Type: Senegal Parrot
Genus: Poicephalus
Species: Senegalus
Subspecies: Mesotypus
Sex: Female
Weight: 120 grams
Height: 9 inches
Age: 14 years, 2 months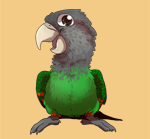 Truman
Type: Cape Parrot
Genus: Poicephalus
Species:Robustus
Subspecies: Fuscicollis
Sex: Male
Weight: 330 grams
Height: 13 inches
Age: 12 years, 5 months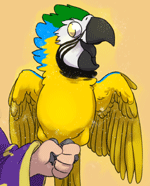 Rachel
Type: Blue & Gold Macaw
Genus: Ara
Species:ararauna
Sex: Female
Weight: 850 grams
Height: 26 inches
Age: 10 years and 2 months old

List of Common Parrots:
Parakeets
:
Budgerigar (Budgie)
Alexandrine Parakeet
African Ringneck
Indian Ringneck
Monk Parakeet (Quaker Parrot)
Parrotlets
:
Mexican Parrotlet
Green Rumped Parrotlet
Blue Winged Parrotlet
Spectacled Parrotlet
Dusky Billed Parrotlet
Pacific Parrotlet
Yellow Faced Parrotlet
Lovebirds:
Peach Faced Lovebird
Masked Lovebird
Fischer's Lovebird
Lilian's (Nyasa) Lovebird
Black Cheeked Lovebird
Madagascar Lovebird
Abyssinian Lovebird
Red Faced Lovebird
Swindern's Lovebird
Lories and Lorikeets
:
Rainbow Lorikeet
Conures
:
Sun Conure
Jenday Conure
Cherry Headed Conure
Blue Crowned Conure
Mitred Conure
Patagonian Conure
Green Cheeked Conure
Nanday Conure
Caiques:
Black Headed Caique
White Bellied Caique
Poicephalus Parrots
:
Senegal Parrot
Meyer's Parrot
Red Bellied Parrot
Brown Headed Parrot
Jardine's Parrot
Cape Parrot
Ruppell's Parrot
Eclectus
:
Eclectus Parrot
African Greys:
Congo African Grey (CAG)
Timneh African Grey (TAG)
Amazons:
Blue Fronted Amazon
Yellow Naped Amazon
Yellow Headed Amazon
Orange Winged Amazon
Yellow Crowned Amazon
Cockatoos:
Cockatiel
Galah (Rose Breasted) Cockatoo
Sulphur Crested Cockatoo
Umbrella Cockatoo
Moluccan Cockatoo
Bare Eyed Cockatoo
Goffin's Cockatoo
Macaws
:
Red Shouldered (Hahn's) Macaw
Severe Macaw
Blue And Gold Macaw
Blue Throated Macaw
Military Macaw
Red Fronted Macaw
Scarlet Macaw
Green Winged Macaw
Hyacinth Macaw
Glossary of Common Parrot Terms
| | | |
| --- | --- | --- |
| | | Saturday December 25th, 2010 |
Kili and Truman were thrilled to find their stockings filled with goodies on Christmas morning. After coming out of their cages, they checked out all the wonderful things Santa Claus left for them on their climbing tree. Truman was as (if not more) impressed with the stocking itself as he was with the contents of it. Kili, having had a similar Christmas surprise last year, was less shocked.

While Truman focused on toys, Kili munched away at the almond she got. Truman loved the foot toys he was pulling out of his stocking and almost missed the Brazilian Nut waiting inside for him. He worked at it and finally cracked it open. Kili jumped down to the table and approached stealthily. She snuck up and cautiously grabbed small leftovers of Truman's nut from the table below. Truman didn't mind sharing the little bits with Kili and she benefited from mutual cooperation. In the spirit of Christmas, the two birds did not fight at all and played nice.



Looks like the parrots got what they asked for.

Part of: Toys, Accessories, and DIY, Blog Announcements, Poicephalus, Cape Parrots, Senegal Parrots
Kili Senegal Parrot Truman Cape Parrot Christmas
Comments
Post Your Response



zazanomore

Posted on December 25, 2010 03:19PM

"This video contains content from WMG, who has blocked it on copyright grounds. Sorry about that."



Michael

Posted on December 25, 2010 07:32PM

Sorry about that. Worked for me but not when logged out so I had to re-upload it without the music. Shame that didn't work but still a really cute video nonetheless so please watch.



el-parrot

Posted on December 25, 2010 09:46PM

[quote="Michael":3ss4fs4d]Sorry about that. Worked for me but not when logged out so I had to re-upload it without the music. Shame that didn't work but still a really cute video nonetheless so please watch.[/quote:3ss4fs4d] Very cute video Michael.. funny idea with these xmas socks!



ginger

Posted on December 26, 2010 01:46AM

Merry Christmas! Thanks for sharing this great video with us. Looks like they had a great time getting their gifts. So good to seem them sharing.
Becco Lunatico

Posted on December 26, 2010 01:51AM

Kept a broad smile throughout. Ahhh the parrots that own us, it's a beautiful give-give (:



idlepirate

Posted on December 30, 2010 11:40PM

Aw Super cute video, they look really excited
Post Your Response