During my recent visit to Phoenix Arizona, I took Kili & Truman in to see Dr. Driggers. His is the first exclusively Avian and Exotic veterinary clinic in the country to have a CT scanner. He took some time to tell me about the machine and how it works.

It's really fascinating. The scanner takes 720 images in the span of about 30 seconds. The computer reconstructs these images into a full 3 dimensional display of the animal. The doctor is able to look through the organs and bones without ever hurting or cutting the animal open in the process.

I decided to get Truman scanned to check on how his prior injury has healed and also to check just in case for new ones because he is very accident prone. So they gassed him for a few minutes to anesthetize him. They need the animal to lay perfectly still during the capture so that all of the images line up for the final 3D image. Then they laid Truman out on the bed of the scanner. A team of several vet techs works together to make the process go as quickly and smoothly as possible. They hyperventilate the bird prior to the scan and then stop the breathing during the scan. It's like holding your breath to go underwater. Everyone gets out of the room while the scanner is going. The moment it stops, they were already getting a stethoscope on Truman and checking his condition. Once the scan was complete, they used a hand pump to get him breathing room air again.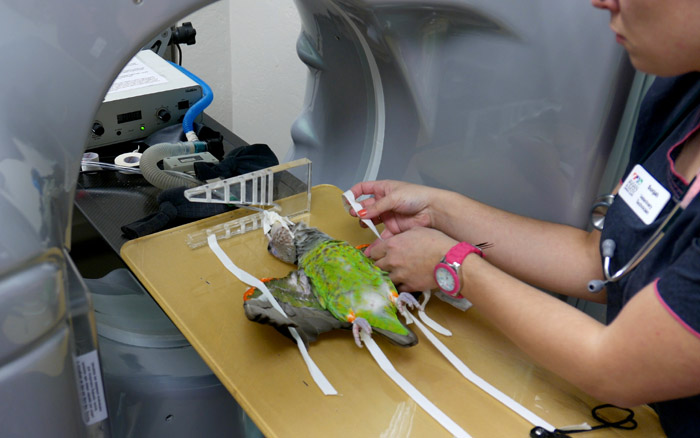 The analysis of Truman's bloodwork and CAT scan showed him to be healthy and organs in good shape. A 3D look at his skeleton showed that his original injury has healed well and is barely visible any more. On the other hand it also revealed that he has a slightly crooked keel and that he has busted his tail at some point. Nonetheless, these do not currently affect him but it's good to know what's going on. It is also reassuring to know that the previous injury has not worsened and that his organs look healthy.

I am glad to see the new CT scan technology moving along so well. I bet in a case where there is organ issues, something lodged inside the bird's gut, or a hard to locate injury, being able to use this CT scan technology will drastically improve avian medicine.

Since the Avian and Exotic Clinic is the first in the country to have a CT scanner and since Truman is their first ever Cape Parrot to be scanned, most likely this is the first and currently only 3D CT scan of the internals of a Cape Parrot (Poicephalus robustus fuscicollis). Check out this video of Dr Driggers explaining the technology and Truman, the first Cape Parrot to get CT scanned, showing us how it's done:


Part of: Health, Nutrition, and Diet, Blog Announcements, Cape Parrots
Truman Cape Parrot Veterinarian Vet CT Scan Medicine