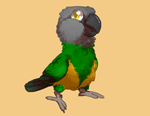 Kili
Type: Senegal Parrot
Genus: Poicephalus
Species: Senegalus
Subspecies: Mesotypus
Sex: Female
Weight: 120 grams
Height: 9 inches
Age: 15 years, 5 months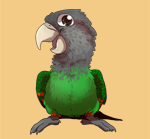 Truman
Type: Cape Parrot
Genus: Poicephalus
Species:Robustus
Subspecies: Fuscicollis
Sex: Male
Weight: 330 grams
Height: 13 inches
Age: 13 years, 8 months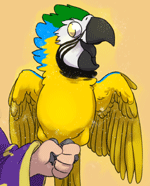 Rachel
Type: Blue & Gold Macaw
Genus: Ara
Species:ararauna
Sex: Female
Weight: 850 grams
Height: 26 inches
Age: 11 years, 5 months

List of Common Parrots:
Parakeets
:
Budgerigar (Budgie)
Alexandrine Parakeet
African Ringneck
Indian Ringneck
Monk Parakeet (Quaker Parrot)
Parrotlets
:
Mexican Parrotlet
Green Rumped Parrotlet
Blue Winged Parrotlet
Spectacled Parrotlet
Dusky Billed Parrotlet
Pacific Parrotlet
Yellow Faced Parrotlet
Lovebirds:
Peach Faced Lovebird
Masked Lovebird
Fischer's Lovebird
Lilian's (Nyasa) Lovebird
Black Cheeked Lovebird
Madagascar Lovebird
Abyssinian Lovebird
Red Faced Lovebird
Swindern's Lovebird
Lories and Lorikeets
:
Rainbow Lorikeet
Conures
:
Sun Conure
Jenday Conure
Cherry Headed Conure
Blue Crowned Conure
Mitred Conure
Patagonian Conure
Green Cheeked Conure
Nanday Conure
Caiques:
Black Headed Caique
White Bellied Caique
Poicephalus Parrots
:
Senegal Parrot
Meyer's Parrot
Red Bellied Parrot
Brown Headed Parrot
Jardine's Parrot
Cape Parrot
Ruppell's Parrot
Eclectus
:
Eclectus Parrot
African Greys:
Congo African Grey (CAG)
Timneh African Grey (TAG)
Amazons:
Blue Fronted Amazon
Yellow Naped Amazon
Yellow Headed Amazon
Orange Winged Amazon
Yellow Crowned Amazon
Cockatoos:
Cockatiel
Galah (Rose Breasted) Cockatoo
Sulphur Crested Cockatoo
Umbrella Cockatoo
Moluccan Cockatoo
Bare Eyed Cockatoo
Goffin's Cockatoo
Macaws
:
Red Shouldered (Hahn's) Macaw
Severe Macaw
Blue And Gold Macaw
Blue Throated Macaw
Military Macaw
Red Fronted Macaw
Scarlet Macaw
Green Winged Macaw
Hyacinth Macaw
Glossary of Common Parrot Terms
After receiving much interest in the stands I use for all my parrot training, I have finally decided to release these on sale to the general public. Originally I designed a simple set of stands for the purpose of teaching Kili to target back and forth between them so that she could learn to fly as I would increase the distance. Since then I have made numerous improvements to the design and have found countless uses for these stands. Just to mention a few:

· Target training
· Perch to perch flight training
· Recall flight training to your hand
· Training parrot tricks such as wave, shake, nod, turn around, wings
· Advanced and variable height flight recall
· Potty training parrot to poop from stand onto newspaper
· Socializing parrots to each other
· Place for parrot to hang out and play with toys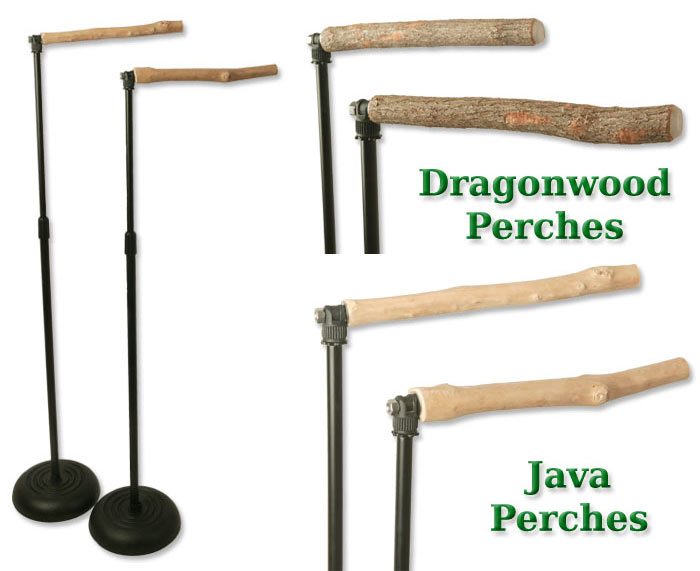 They are lightweight and portable so they can easily be moved from place to place. Yet they are heavy enough to be durable and support a small to medium parrot landing on them at speed. Some of mine I keep in a permanent location so the parrots know where they are and can fly there for safety (or toilet). The other stands I move around depending on what I am training. Typically I keep the height a bit below my head but sometimes I raise them for video or special training. If I'd like to sit in a chair, I can bring the training stands down to remain at a convenient height for training.

Parrot training perches eliminate the distraction that colorful play gyms and multi-branched climbing trees can create, keeping your parrot's attention on you for training. Since the two stands are independent, the ways you can line them up are numerous. Set them up parallel to each other to teach the parrot to fly between the two stands. Set the perches up perpendicular to each other to keep two parrots on them but not fight with each other. It is easy to add a newspaper at the base to collect any mess.

Visit www.TrainingPerch.com to order a set of stands for training your parrot.





Part of: Taming & Basic Training, Parrot Trick Training, Housing, Toys, Accessories, and DIY, Indoor Freeflight, Flight Recall, Blog Announcements, Poicephalus, Cape Parrots, Senegal Parrots
Truman Cape Parrot Kili Senegal Parrot Training Perches
Comments
Post Your Response



ginger

Posted on July 23, 2010 07:06AM

I was so excited about these that I place my order and didn't read that you said to mention my user name in the comments on the order. Will you be able to watch for my order so that I can take you up on your special "extras?" I am so glad that you were able to get these into production and that they are now available to your loyal fans! I can't wait to get mine and get things moving here with the training.



ginger

Posted on July 30, 2010 11:07PM

WOOHOO! Got the training perches today. Sammy, one of my Senegals, quickly claimed them as his. Of course they had to pass the taste test first. Michael, these perches are very high quality, not to mention a great design. They will last for years, and years. I love them! Now, we have to get busy training!



Rue

Posted on July 30, 2010 11:12PM

LOL...that's the cutest product testimonial I've ever seen!



Michael

Posted on July 31, 2010 12:18AM

I love the picture. Looks just like Kili on her stand. Don't worry, Sammy will strip that stand free of bark in no time BTW you need not worry about the parrot biting on the hardware at all. I probably didn't make a big deal about this but I went all out and got stainless steel nuts and washers. The bird might try to chew on it a few times but eventually will get bored and give up.



ginger

Posted on July 31, 2010 12:40AM

I do remember that you posted somewhere that those parts were made of stainless steel. You're right about him giving up on mouthing the hardware. He was just curious, as they all are. Once he "tasted" everything then he was content to sit on it and just look around. Wait 'til he finds out that he now has a job to do while sitting up there.
Post Your Response