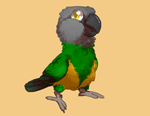 Kili
Type: Senegal Parrot
Genus: Poicephalus
Species: Senegalus
Subspecies: Mesotypus
Sex: Female
Weight: 120 grams
Height: 9 inches
Age: 15 years, 3 months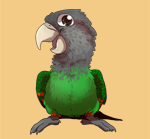 Truman
Type: Cape Parrot
Genus: Poicephalus
Species:Robustus
Subspecies: Fuscicollis
Sex: Male
Weight: 330 grams
Height: 13 inches
Age: 13 years, 6 months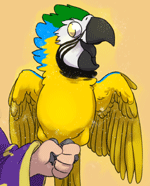 Rachel
Type: Blue & Gold Macaw
Genus: Ara
Species:ararauna
Sex: Female
Weight: 850 grams
Height: 26 inches
Age: 11 years, 3 months

List of Common Parrots:
Parakeets
:
Budgerigar (Budgie)
Alexandrine Parakeet
African Ringneck
Indian Ringneck
Monk Parakeet (Quaker Parrot)
Parrotlets
:
Mexican Parrotlet
Green Rumped Parrotlet
Blue Winged Parrotlet
Spectacled Parrotlet
Dusky Billed Parrotlet
Pacific Parrotlet
Yellow Faced Parrotlet
Lovebirds:
Peach Faced Lovebird
Masked Lovebird
Fischer's Lovebird
Lilian's (Nyasa) Lovebird
Black Cheeked Lovebird
Madagascar Lovebird
Abyssinian Lovebird
Red Faced Lovebird
Swindern's Lovebird
Lories and Lorikeets
:
Rainbow Lorikeet
Conures
:
Sun Conure
Jenday Conure
Cherry Headed Conure
Blue Crowned Conure
Mitred Conure
Patagonian Conure
Green Cheeked Conure
Nanday Conure
Caiques:
Black Headed Caique
White Bellied Caique
Poicephalus Parrots
:
Senegal Parrot
Meyer's Parrot
Red Bellied Parrot
Brown Headed Parrot
Jardine's Parrot
Cape Parrot
Ruppell's Parrot
Eclectus
:
Eclectus Parrot
African Greys:
Congo African Grey (CAG)
Timneh African Grey (TAG)
Amazons:
Blue Fronted Amazon
Yellow Naped Amazon
Yellow Headed Amazon
Orange Winged Amazon
Yellow Crowned Amazon
Cockatoos:
Cockatiel
Galah (Rose Breasted) Cockatoo
Sulphur Crested Cockatoo
Umbrella Cockatoo
Moluccan Cockatoo
Bare Eyed Cockatoo
Goffin's Cockatoo
Macaws
:
Red Shouldered (Hahn's) Macaw
Severe Macaw
Blue And Gold Macaw
Blue Throated Macaw
Military Macaw
Red Fronted Macaw
Scarlet Macaw
Green Winged Macaw
Hyacinth Macaw
Glossary of Common Parrot Terms
| | | |
| --- | --- | --- |
| | | Tuesday February 13th, 2018 |
February 13, 2018 marks the 5 year anniversary of the Parrot Wizard company. Looking back across the years, there has been so much progress. I have really enjoyed working on all the novel parrot supplies and would like to thank my buyers and followers for helping me accomplish that.

Although it's officially 5 years, I've been making parrot supplies even longer.

Here's a brief timeline of my parrot activities over the years.

September 2008 - Bought Kili from a bird store
September 2009 - Launched TheParrotForum.com
May 2010 - Launched the Trained Parrot Blog
June 2010 - Received Truman from the breeder
July 2010 - Started selling Parrot Training Perches
October 2010 - Launched Parrot Wizard.com and started selling Ring Toss and Clickers
October 2012 - Started selling NU Perches
November 2012 - Appeared on the Late Show with David Letterman
February 2013 - Incorporated Parrot Wizard and went full time
June 2013 - Published The Parrot Wizard's Guide to Well-Behaved Parrots
June 2014 - First met Marianna and Rachel in Coney Island
August 2017 - Awarded patent for NU Perch
September 2017 - Launched a line of NU Perch Trees
February 2018 - Rerelease of new and improved Birdie Ring Toss

Even more cool new Parrot Wizard stuff coming soon.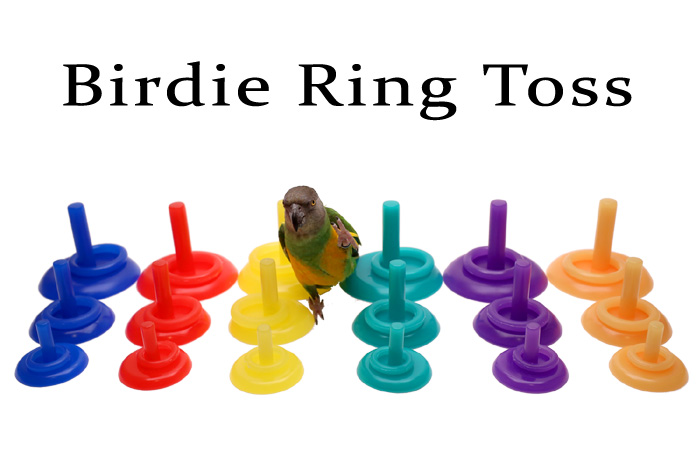 Today, on the 5 year Anniversary of the Parrot Wizard company, I am releasing a new and improved version of the Birdie Ring Toss. Now it is made entirely of parrot safe plastic so that the rings and pegs match perfectly. Going to plastic allowed me to offer more sizes as well. So now the Ring Toss trick is available in 3 sizes and 6 colors for all parrots.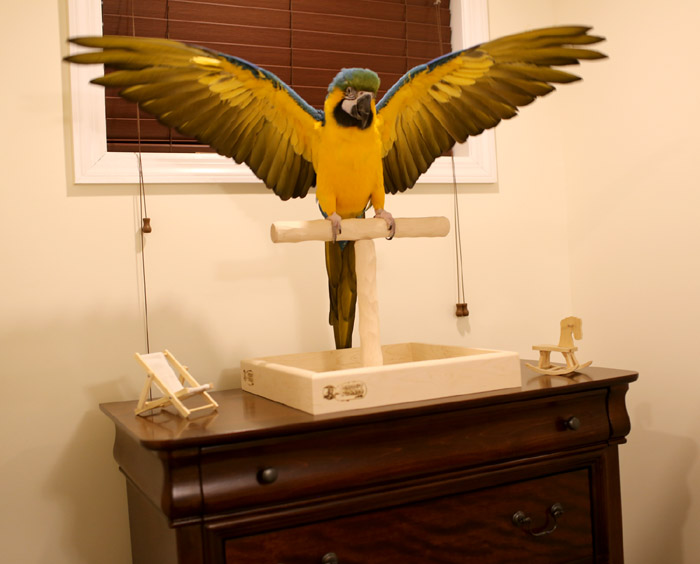 My line of NU Perches has been a pivotal part of Parrot Wizard company. I wanted to have a comfortable, natural, consistently reproducible, safe perch to use for my Parrot Training Perches but all natural perches that I could find had inconsistencies and potential hazards. So I focused my attention on developing the NU Perch. It has been the basis of a whole line of perching products including a tabletop perch, scale perch, window perch, trees, and more. Having familiar perches in the cage, for training, and around the house helps the parrot know the spots it is intended to go and helps keep the parrot off of furniture.

One more anniversary release is a Limited Edition Hardwood Large Tabletop NU Perch, an all hardwood version of the popular tabletop perch.

I've added a Video Browser to make it easy to watch all 500+ Parrot Wizard videos I have made over the years. A few more days for a chance to win some serious prizes in the Video Trivia contest.

Thank you very much for your participation and interest. Helping my viewers and customers achieve a magical experience with their pet parrots is what it's all about!



Part of: Blog Announcements, Product Reviews
Parrot Wizard Tricks Birdie Ring Toss Ring Toss
Comments
Post Your Response
Pajarita

Posted on February 14, 2018 03:43PM

Ahhh, five years since you incorporated! Because, when I first read the title, I was puzzled as I remember this site being older than five years. In any case, CONGRATS!!!!
Navre

Posted on February 14, 2018 03:54PM

Congrats!
nayeon

Posted on April 15, 2018 12:01PM

[color=#8000BF:2nn5eahv]Congratulations for the 5 year anniversary![/color:2nn5eahv] From South Korea, I read most of your posts so interestingly. I especially loved your life stories with your parrots, Kili and Truman. I also raise a parrot, which is a lovebird, GoldenCherry. Since I had lived with him for ten years, he is actually a part of my life. But he went through many health connected crisis, he has a virus over his wings since he was five. What should I do for him to stay more healthy?
Pajarita

Posted on April 15, 2018 02:57PM

A virus on his wings? What do you mean by this, exactly? Because there isn't an avian virus that attacks the wings...
nayeon

Posted on April 15, 2018 06:53PM

Thank you for your reply! The vet told me it's a virus connected with stress, but I didn't understand exactly. My parrot's feather(inner side of the wing) has been slowly fell out five years ago, and currently his back side has no feather. Even though he has been okay, but I'm worried...
Post Your Response